Unfortunately, you can't use any song you want in your podcast. You need to be careful.
Using copyrighted music without permission can get your show kicked off platforms like Apple Podcasts and Spotify. And if that happens, you'll need to start over again from scratch.
It's not worth the risk. Automated copyright infringement detection systems are getting more sophisticated by the day. They can catch you out even if you've only used seconds of a track. In short, this means no Beyoncé, no Jay-Z, and no to every other artist or band you've ever heard of.
So with most songs off limits, where can you find music for your podcast?
In this post, we'll take you on a tour of the best free and paid sources to find royalty free music for podcasts. If you'd like to dive straight in here are the sources that made the list. We've also outlined each one in more detail below.
Best Free Sources of Podcast Music
Best Paid Sources of Podcast Music
Before we look at each source in more detail, it's important to understand some legal stuff first (don't worry, we'll keep it brief). Broadly speaking, there are 3 kinds of music you're allowed to use in podcasts:
Creative Commons Music
Most music under a Creative Commons license allows you to use a piece of music for free and without permission, as long you credit the producer. Some licenses permit commercial use, whilst others don't. It's usually pretty clear labelled though. So make sure you read any specified terms carefully before using a track.
Public Domain Music
Following the death of the original copyright holder, music goes out of copyright and into the public domain after a certain number of years. 70 years after death is usually the benchmark. Lots of classical music and songs from the 20s, 30s, and 40s are now in the public domain.
Note: If a modern musician records their own version of an old song in the public domain, they hold the copyright on that new rendition, and you can't use it without their permission.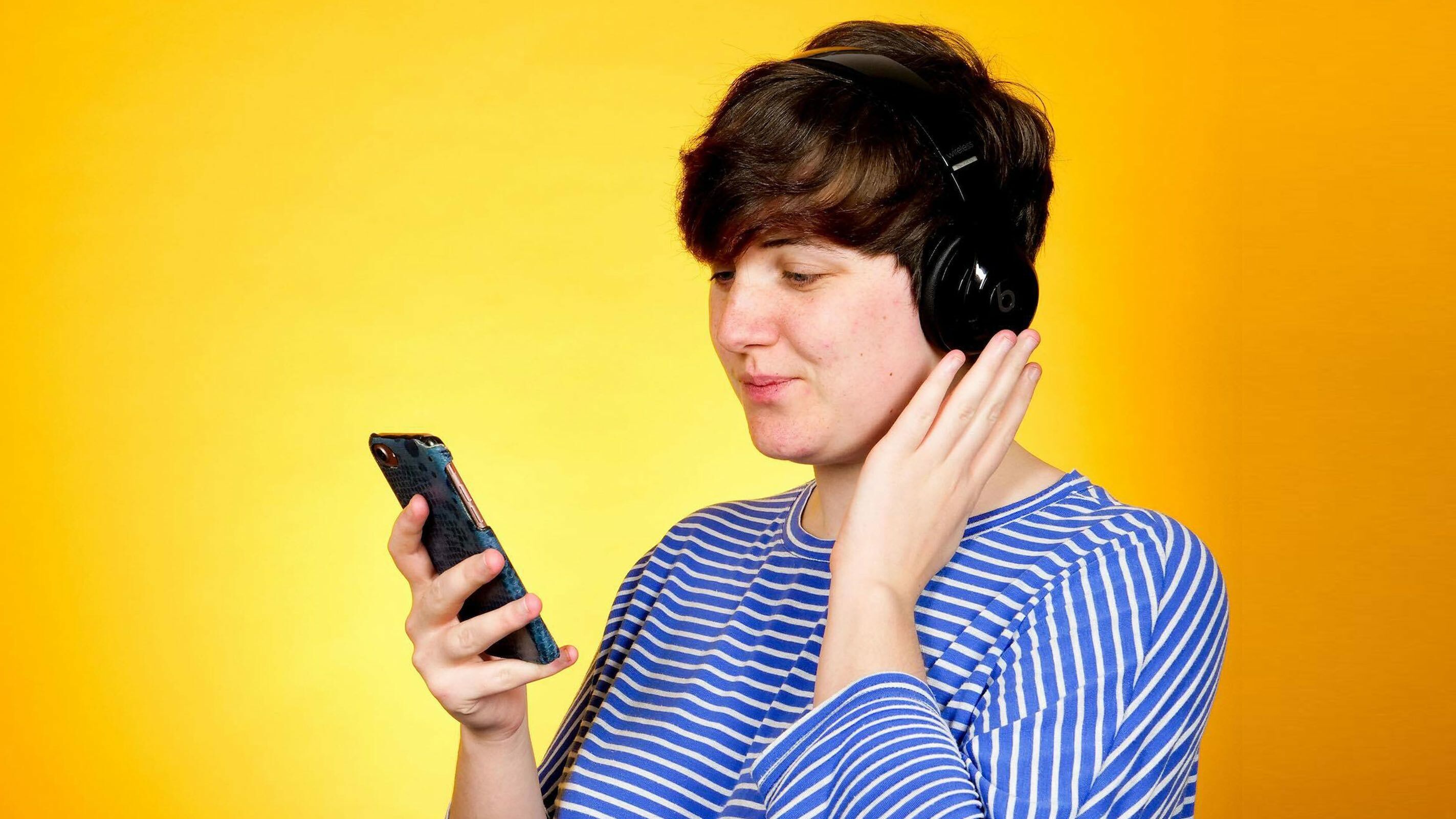 Royalty Free Music
Don't let the name fool you. You still have to buy a license to use most royalty free music. Purchasing a license allows you to use a track however you want, for the duration specified in the terms. There are two main ways to buy licenses:
One-Off Purchases - You buy a license to use one particular song. Most one-off purchases will give you a lifetime license that never expires. But be sure to check the specified terms.
Subscriptions - Lots of new services offer access to huge catalogues of professionally produced music for the price of a monthly subscription fee. Typically, you have a license to use the music as long as you have an active subscription. You don't have to go back and remove music from old episodes when you're no longer paying. But you shouldn't be adding tracks to new episodes after that point.
Note: For more info on music licensing for podcasts, check out this post.
Free Podcast Music Sources
The obvious benefit here is that the songs are 100% free to use. In some cases you'll have to credit the producer, but you won't have to pay a penny.
Even if you haven't got a budget for your podcast, free music sites will still give you plenty of options to work with. However they do have their downsides.
The production quality can sound amateurish on certain tracks. And the available libraries aren't as big or well-organised in comparison to paid services (some of the user interfaces look like they haven't been updated in years). This means if you have a very specific idea of the kind of song you want for your podcast, you might have a hard time finding something suitable.
On the other hand, if you aren't too fussy about finding the "perfect" track for your podcast, you'll have no problem finding one from the sources below. Having your own theme tunes adds an additional layer of identity to your show. But the thing that matters most is your content. Listeners will subscribe to your podcast based on the strength of what you actually say. Not because you have a cool intro song.
Podcast.co
We've produced our own podsafe album which is totally free for the podcasting community to use. You don't even need to give us credit.
Our Keep Calm & Podcast album features a selection of chilled house and downtempo beats that will have your podcast sounding cooler than a polar bear's toenails. You can sample the tracks using the player below and download the entire album for free if you find one you like.
Pixabay Music
You might have already used Pixabay before to source copyright free images. Thankfully they've also created a catalogue of completely free-to-use music. Crediting isn't required.
Using the handy filter on the left hand side of the page, you can sort songs by genre, mood, and movement. The existing catalogue of tracks is quite broad and diverse, and the user interface is sleek and easy to navigate.

Free Music Archive
Free Music Archive collects tracks from hundreds of artists and curators across the world. The user interface is easy to use and navigate. You can filter tracks by artist and genre. Again, you don't need to give credit use tracks.
They also even provide chart listings for the most popular tracks on the site over the past week, month, and year. This is particularly useful as the tracks that make it into the charts tend to be higher quality and better produced. Saves a lot of time filtering through mediocre tunes!
Freebeats.io
Freebeats.io offers access to one of the best royalty free music libraries out there. All tracks featured on the website can be downloaded and used by content creators for any project - all you have to do is follow them on social media and give them credit.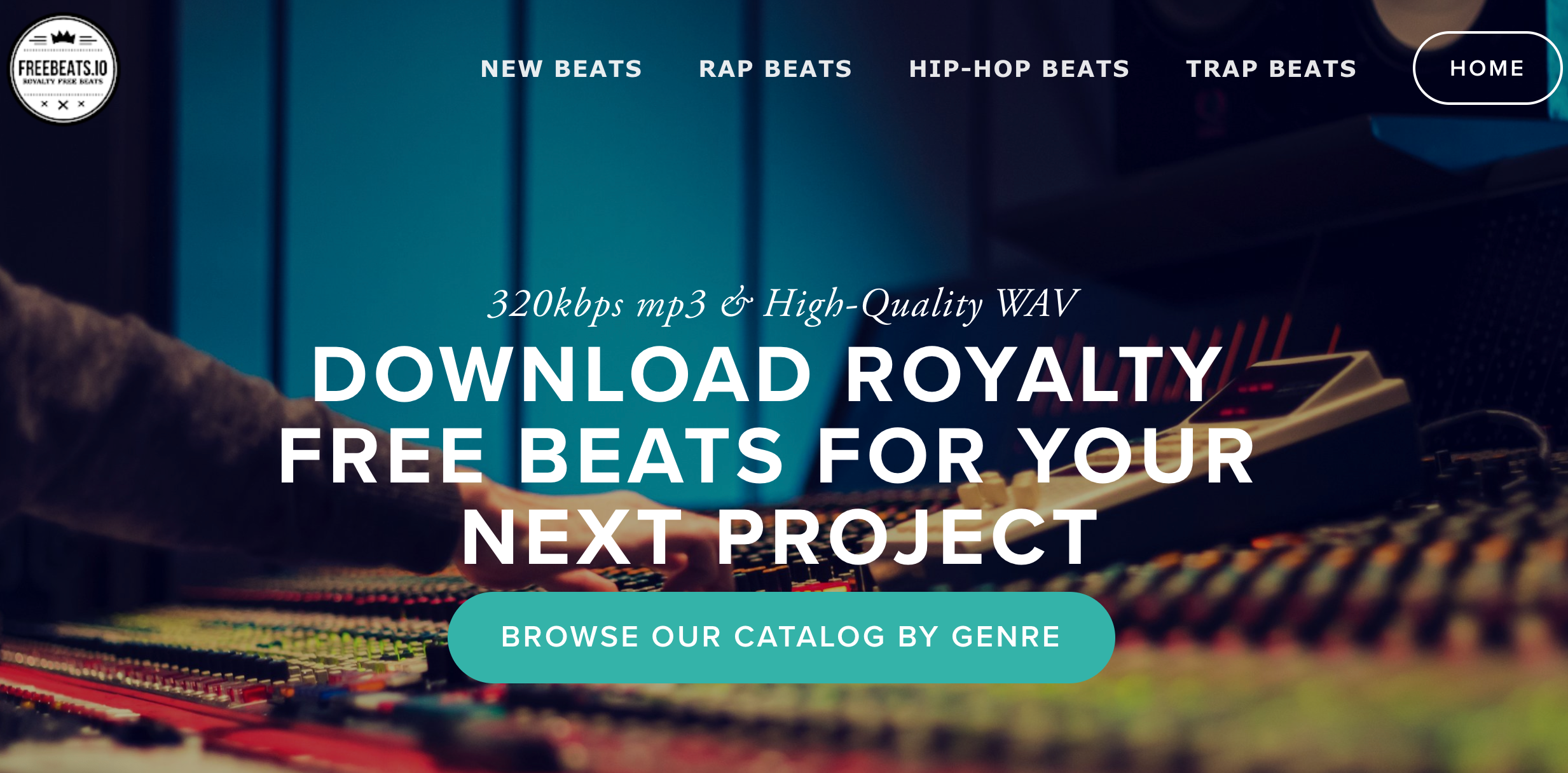 If you're looking for free modern rap, hip-hop, and EDM beats, it's the best source we've found. However, the library isn't that diverse and won't be to everyone's tastes. White Hot, a producer from Canada, is behind all the beats on FreeBeats.io. His music has been featured on Jimmy Kimmel Live and The Late Show With Stephen Colbert.
Incompetech
Incompetech offers a huge library of free-to-use music created by composer Kevin MacLeod. He produces most of his music for films and documentaries - so if you're producing a fictional or audio drama podcast, they can work really well.
But the catalogue still contains plenty of tracks that would work well for a spoken word podcast too. You can use the music on Incompetech for free, and without permission (as long as you give credit).

Silverman Sound Studios
The user interface for Silverman Sound Studios feels a bit dated, but don't let that put you off. The site features high-quality productions across the board. A long list of filtering options listed on the homepage makes it easy to refine your search. Everything on the site is 100% free to use as long as you give credit.
Purple Planet
Purple Planet feels a bit strange for a music site with its space-inspired design. But the site is particularly good if you're looking for an ambient, atmospheric feel. If you're after something different, it's probably not the best source to use. All tracks are free as long as you give credit, or you can pay a small fee for a license.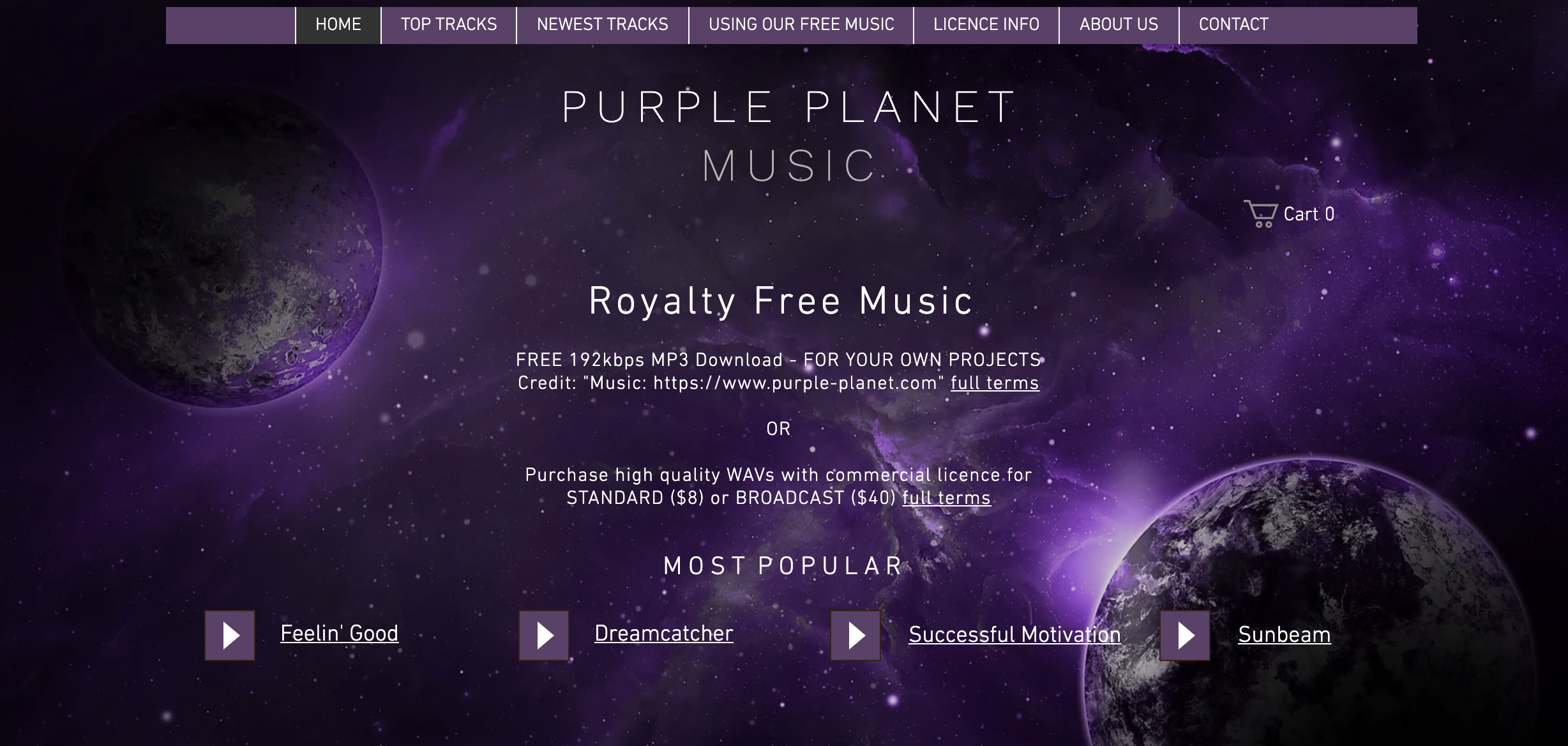 Audionautix
Audionatix has quite a few background tracks that are free to use with credit. All music on the site is produced by Jason Shaw, and there are plenty of good tracks on there. But as the catalogue is a bit limited, you might struggle to find what you're looking for.
Paid Podcast Music Sources
Paying for podcast music has two significant advantages: choice and quality.
With much bigger track libraries to choose from, it's much easier to find exactly what you're looking for. You won't have to settle for a track that's "close enough". And as you'd expect with any paid service, the quality is higher too. Most songs from paid music services feature professional-sounding production.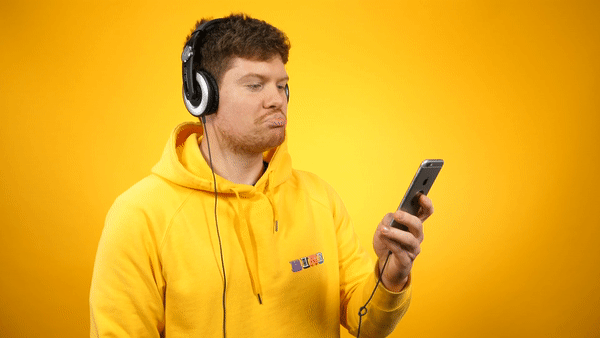 If you plan on using lots of different backing tracks and sound effects in your episodes, it's much cheaper and easier to use a subscription service. By paying a monthly fee, you'll get access to an entire library of tracks you can mix and match as you see fit.
But if all you need is a single track to use as the theme tune for your podcast, you're probably better off finding a track you love and making a one-time purchase. You can then use that song however you'd like in your podcast for years to come.
Below we've outlined the best subscription and pay-per-tack podcast music sources.
Musicbed (Subscription)
Musicbed was founded in 2011 and has long been a leader in the premium music market, with an enviable roster of musicians and easy-to-use interface. Their subscription service offers unlimited access to every track in one of the largest paid-for libraries out there.
Noah Labhart, who produces the podcast Code Story, uses different backing tracks in every episode he publishes. And he sources them all from Musicbed. When we interviewed him here's what he had to say about the service:
For $10 a month you can get a YouTuber / Podcaster account. For my taste and what else I've seen out there, Muscibed has the best quality tracks. Lots of them are produced by studio musicians. I really like simple, ambient, and occasionally some electronic music in the background to help tell the stories in my episodes and they have a lot of that.
Soundstripe (Subscription)
Soundstripe hasn't been around quite as long as Musicbed, so the library of songs isn't as big. But their pricing plans work out cheaper and their curated playlists cover everything from specific moods to project type, like advertising or radio. Once you subscribe you'll have access to the entire library.
Finding the right tracks is remarkably efficient on Soundstripe thanks to careful, logical curation - you'll be able to find what you're looking for in minutes, not hours.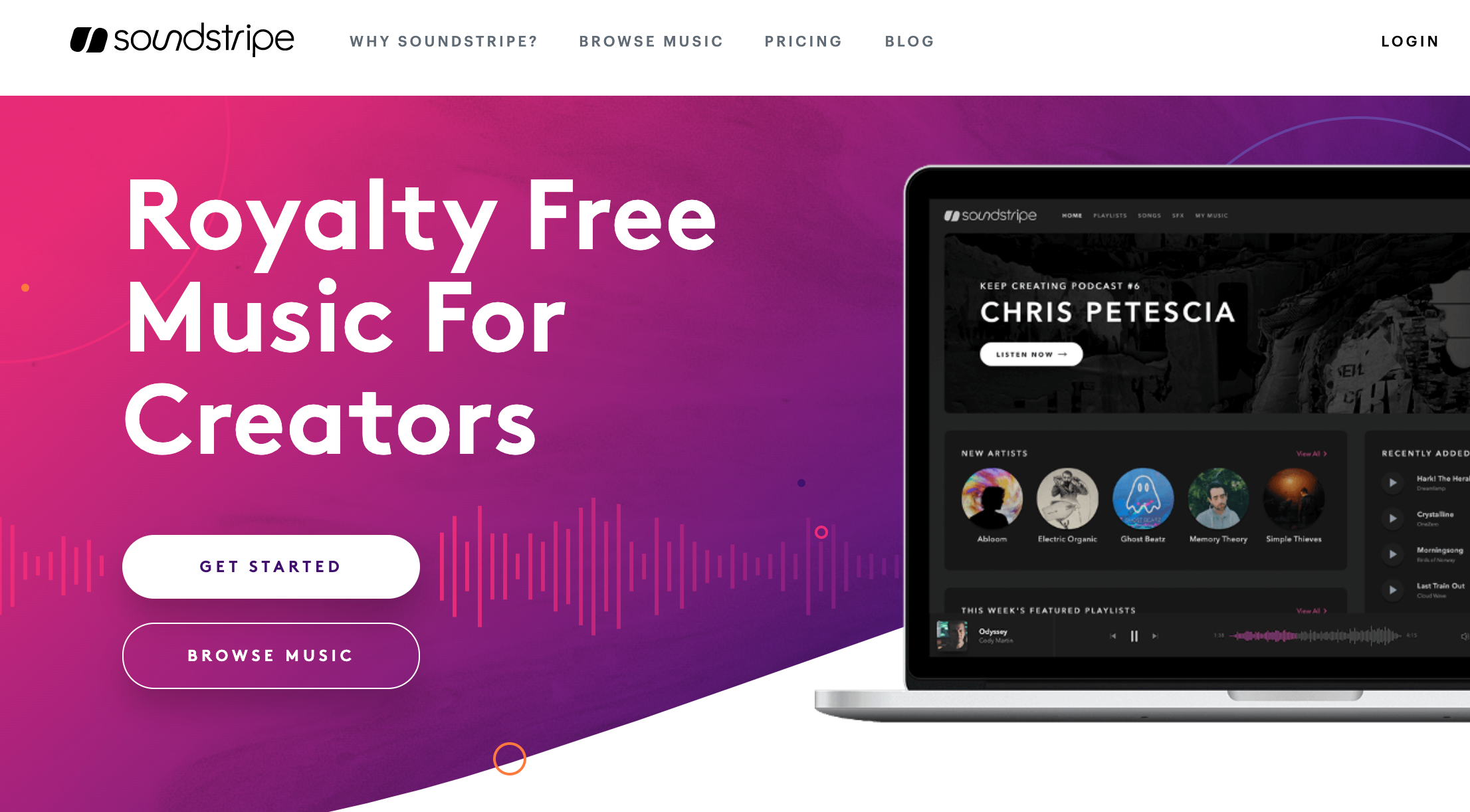 Epidemic Sound (Subscription)
Epidemic Sound boasts a library of over 30,000 tracks and over 60,000 sound effects. And it's constantly growing, with new tracks being added every week.
The search functionality is well designed, so it won't take you long to find what you need. It also has a cool feature that lets you download only a particular portion of a track, making it easier to fade in and out at exactly the right time. For a $15 subscription, you get unlimited access to the entire library, with a license that covers you forever. You can trial Epidemic Sound free for 30 days. If you like it, keep it. If not, unsubscribe before the end of your trial and you won't be charged.
Audioblocks (Subscription)
Audioblocks have a catalogue of more than 100,000 tracks, loops, and sound effects. It offers more than enough choice to find something that fits the mood and tone of any podcast. For a monthly subscription of $15 you can download as many tracks as you want and use them forever.
Music can be filtered by moods, instruments, genres, vocals, tempo, and duration. Each track also has an MP3 and WAV file format versions available for download. It's a great option for podcaster who want to use a variety of music and sound effects on a regular basis.
Jamendo (Pay-per-track)
Jamendo currently lists 200,000 tracks by over 40,000 independent artists, so you're guaranteed to find something you like. It's one of the best places to go to make one-off track purchases. So if you need to find a long-term theme tune for your podcast, it's definitely worth a look.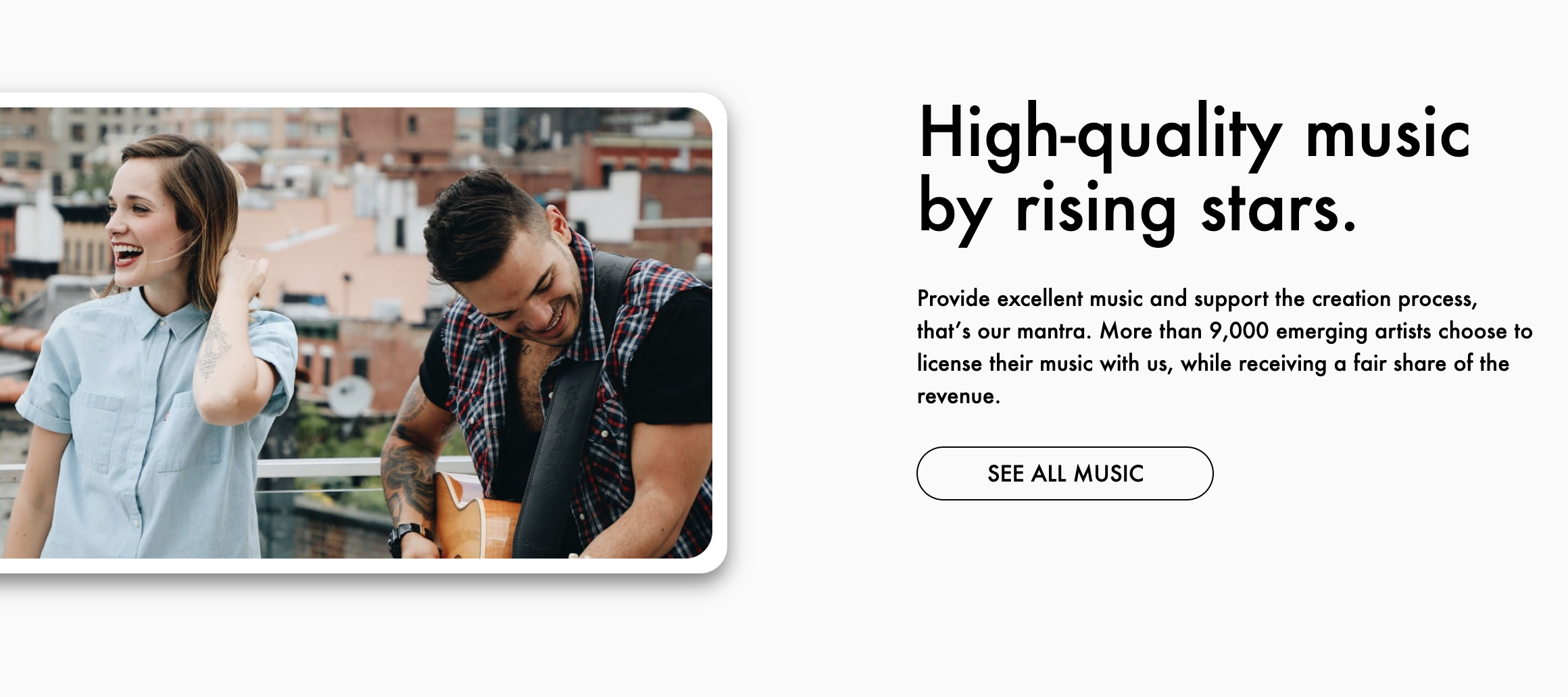 Their standard license covers commercial use and costs around $50 per track. Jamendo also offers a music composition service, so you can request to have your theme tune custom composed by a musician of your choice (obviously this will be quite a bit more expensive than the standard license).
PremiumBeat (Pay-per-track)
PremiumBeat is run by Shutterstock and offers a library of around 17,000 songs, which is a pretty extensive collection. The library is categorized into 26 main genres, each of which branches into multiple subgenres, pushing their total number of genres well over 100.
It also offers a very handy feature which allows you loop tracks to extend them as long as needed. This gets around the annoying problem of finding good songs that are too short to use for a particular segment of your show.
PremiumBeat does not operate on a subscription model. So you'll need to pay per song. Prices are uniform and straightforward across the board. You can download any of their songs for $49 or $199, depending on whether you choose the Standard or Premium license.
Pond5 (Pay-per-track / Subscription)
Pond5 is a New York based company founded in 2006. It was originally set up to sell stock video footage, but has since expanded into various other types of video editing effects, music and images too. For that reason it is very popular among YouTubers.
With over 900,000 tracks and 1.2 million sound effects, Pond5 is probably the most comprehensive source on this list. But it's not the cheapest. When it comes to buying tracks, you have two options. You can either make a one-off purchase of any track, or you can subscribe to become a member, giving you 10 downloads every month. However the fee is significantly higher when compared to services like Musicbed and Sounstripe.
AudioJungle (Pay-per-track)
AudioJungle lets you buy music for as little as $1 per track. Prices do vary across the site, but overall they are quite cheap in comparison to other services. You can search through lots of corporate sounding stock music tracks as well as more unique songs composed by indie artists.

Be wary though. Any track license purchased from AudioJungle is only good for use in a single episode. That's fine if you only need to use a track occasionally. But if you're looking for a theme song to use in every episode, having to make repeat license purchases will be unnecessarily costly.
For our full, comprehensive guide on how to start a podcast, click here.