Many businesses are reluctant to start a podcast because they don't know what the return will be. If you're investing lots of company time, energy, and money into running a show you'll obviously want it to pay off in some way. And it's not always clear how that can be achieved.
Hobby podcasters can monetise their podcast by growing their listener base and accepting donations through Patreon and PayPal. But this monetisation model doesn't work well for businesses and brands. If listeners know a podcast is already being funded by company money, they'll be extremely unlikely to donate or pay for content.
So how can businesses make podcasting work financially?
They can use podcasting as a powerful lead generation tool. A podcast can serve as an accessible entry point for potential customers to begin engaging with your brand. It's then all about taking the right steps to move them along the buyer's journey - turning listeners into leads, and leads into customers.
In this article we'll walk you through a detailed step-by-step process to generate leads from a podcast, and then convert those leads into paying customers.
Case Study: How to Generate Leads From a Podcast
Before we get into the details, let's look at an example of a business that is already generating huge numbers of leads and sales from their podcast.
Health and fitness company Mind Pump sell online workout programs. They also host a podcast of the same name where they give advice on muscle building, fat loss, and nutrition. Since launching their podcast in 2015, they've published well over 1000 episodes and have attracted a huge audience in the health and fitness space.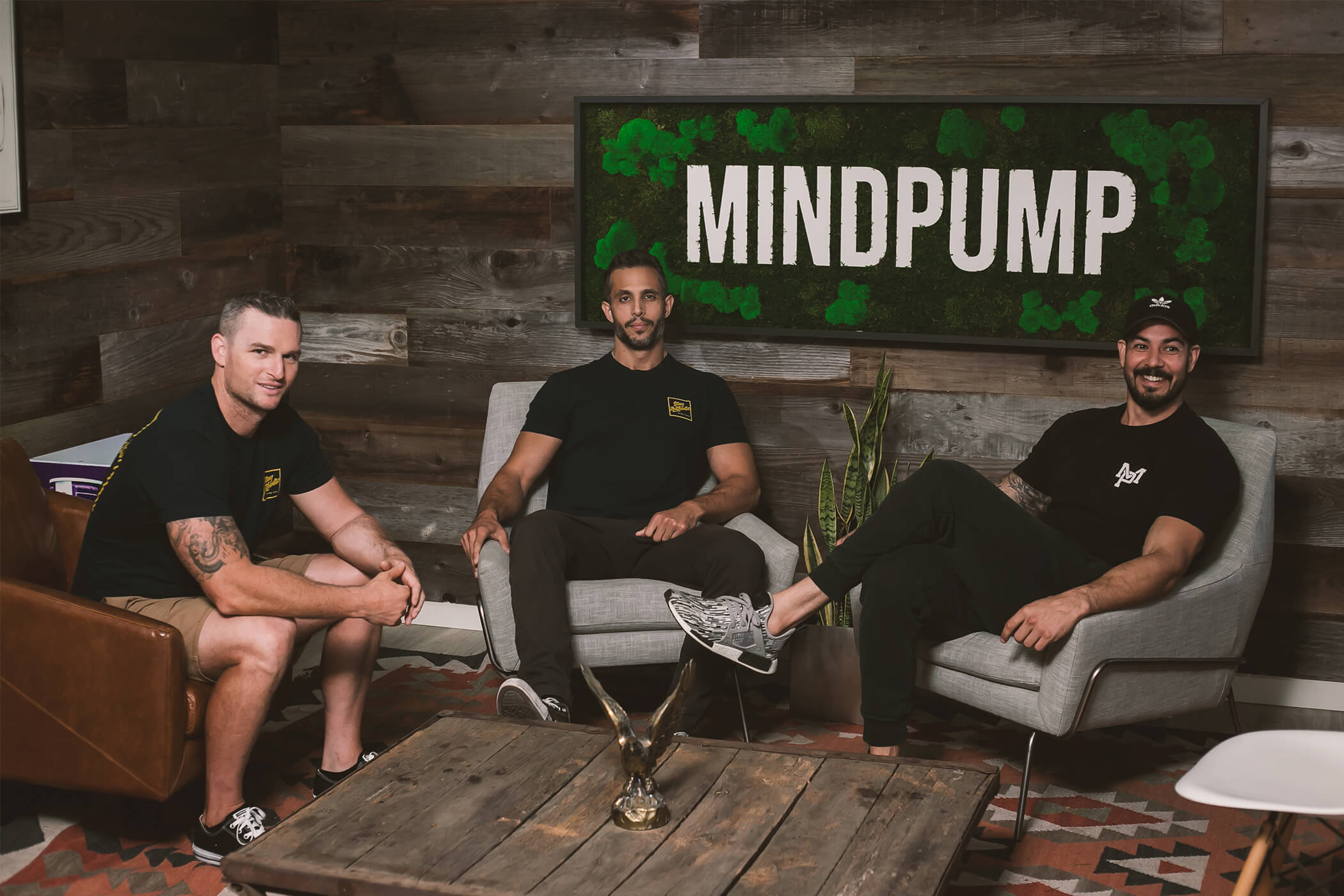 They've used marketing best practices to create a very effective system for driving sales of their workout programs through their podcast. Here's how it works:
They have a "Free Resources" page on their website with a range of downloadable guides tailored to different fitness goals. Each guide is high-quality and full of actionable information and tips.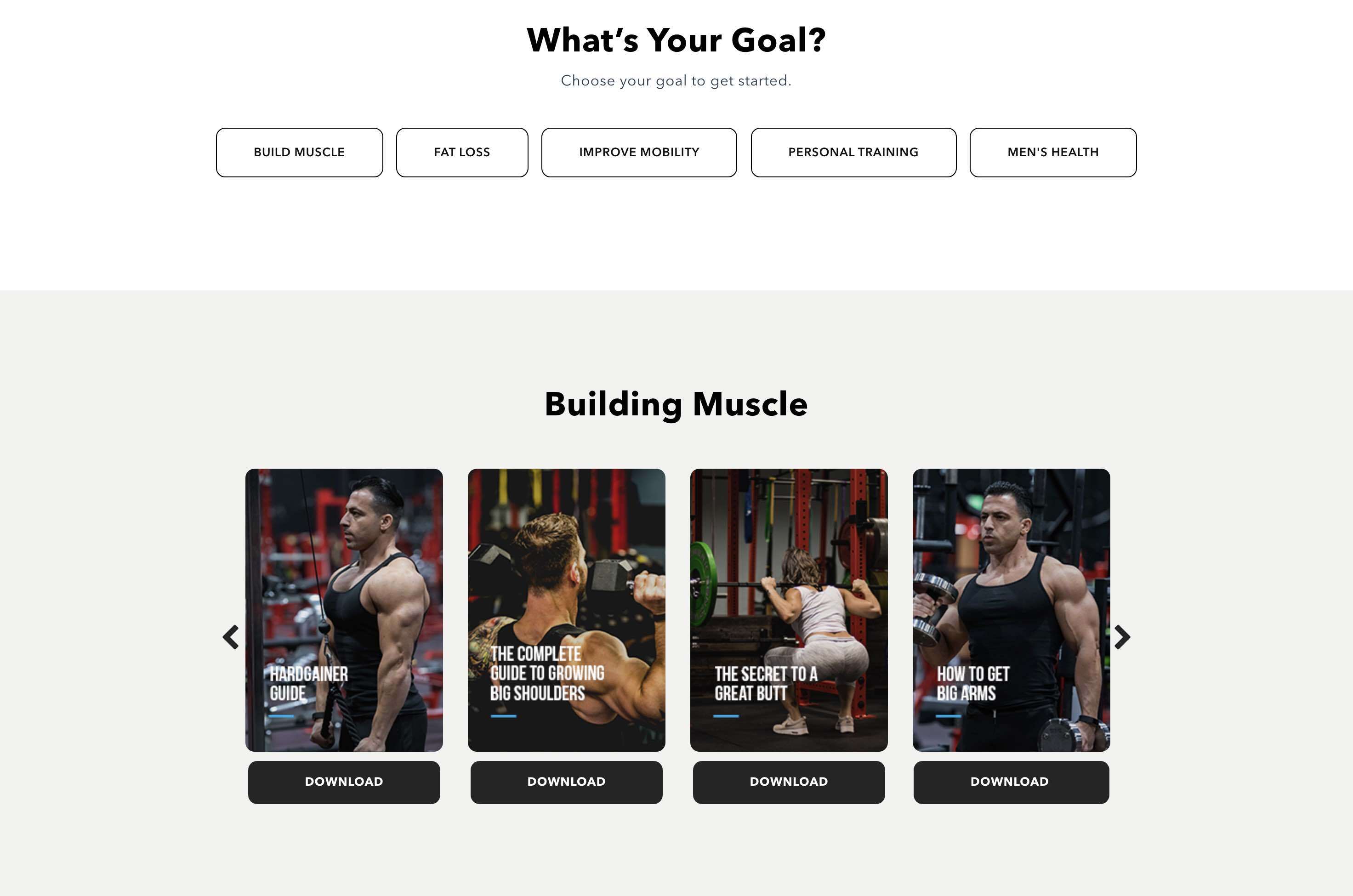 During podcast episodes, they regularly direct listeners to the page of free guides - which they can download by filling out a short form with their name and email address. When the form is completed, that listener is converted into a lead. They then use email marketing to encourage leads to purchase one of their full workout programs.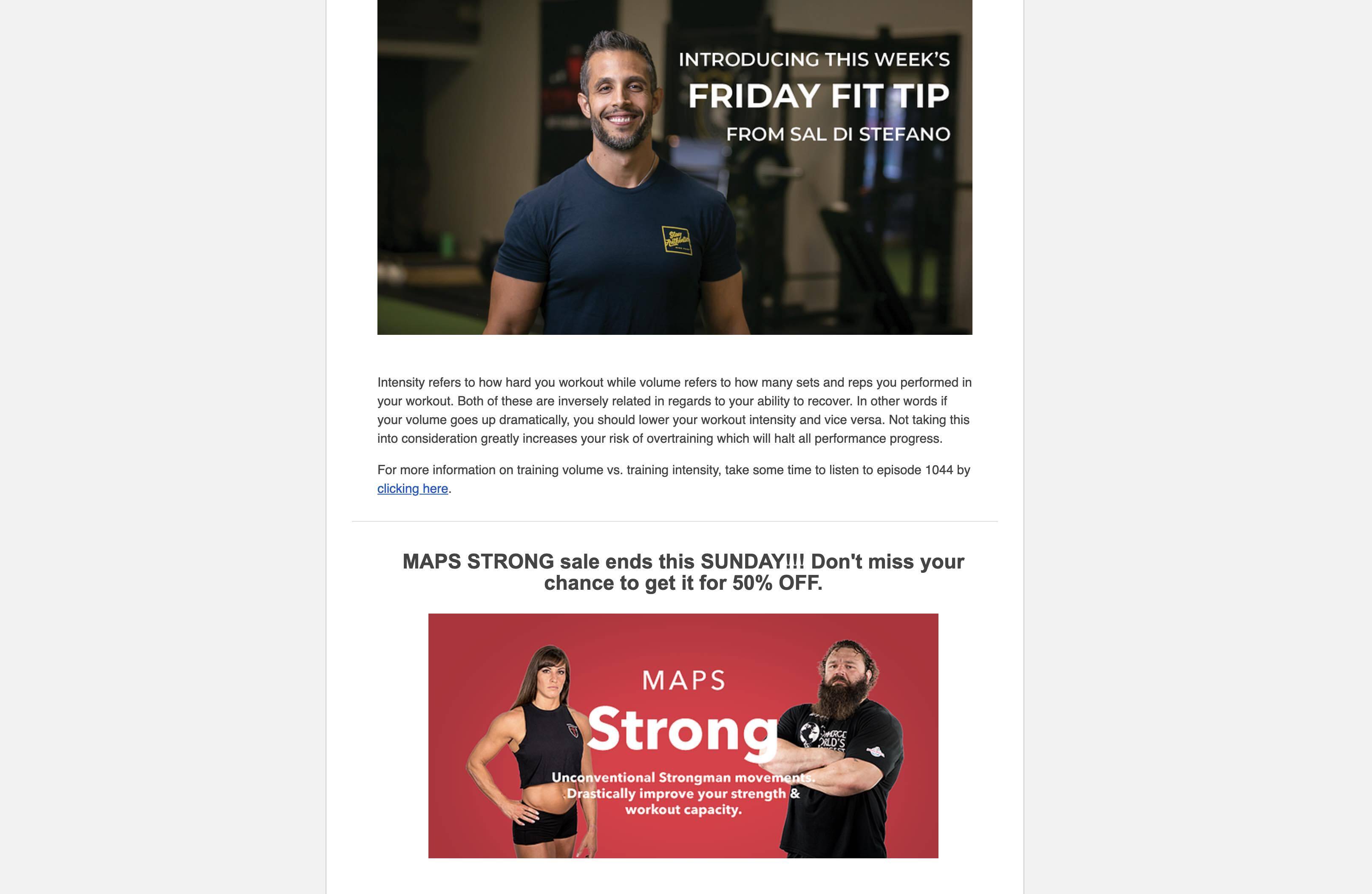 By funnelling listeners along the buyer's journey in this way, Mind Pump are able to generate lots of sales from their podcast.
We spoke to Mind Pump host Sal Di Stefano in a recent episode of our Meet The Podcasters series. Check out the interview below for behind the scenes insight on his approach to successful podcasting. You can also find the episode on your preferred podcast listening app by searching for 'Meet The Podcasters'.

Case study aside, in the steps below we'll outline how you can create a similar system for your own business.
Step 1 - Publish Valuable & Relevant Episodes
None of the other steps outlined below will be of much use if your podcast is crap. New listeners have no obligation or loyalty to your show. So if you don't hook them and give them a reason to return, they'll just go somewhere else. To generate leads from a podcast your show needs to deliver tangible value in every episode.
In a business context, the most reliable way to grow an audience and sell your product is to help people. And that basically means teaching. For example, if your business sells HR software it would make sense to run a podcast that helps business owners better manage things like onboarding, training, and payroll.
In the same way that informative and well-written company blogs rank more highly on Google, business podcasts that actually solve customer pain points in an entertaining and engaging way get more downloads. Publishing great episodes with helpful show notes also gives people an engaging reason to visit your site, even when they have no immediate need for your product.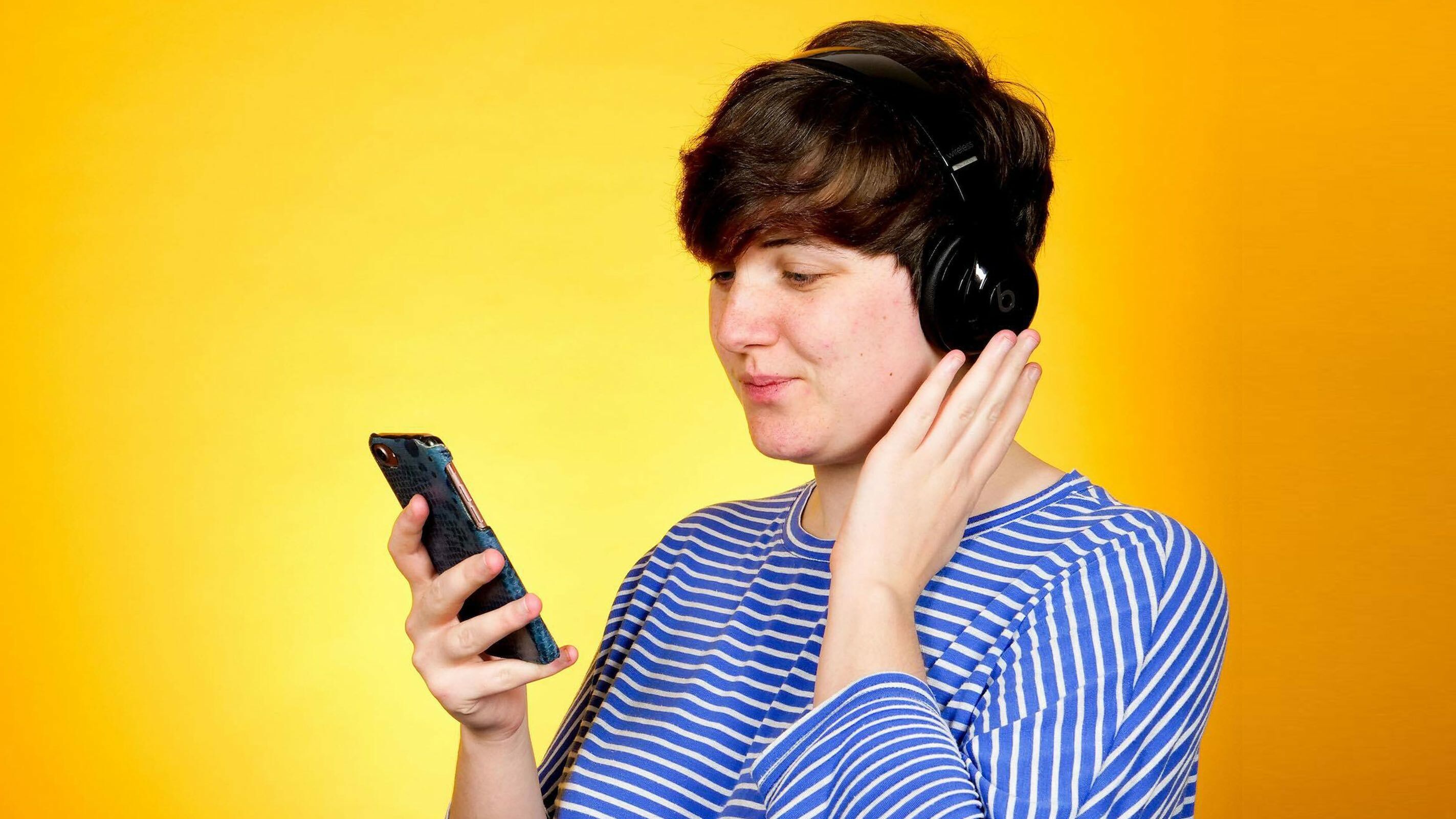 But the system only works when built on solid foundation (or in this case, podcast). You need to craft audio that sounds good and is likely to resonate with your ideal customers. Remember, you can only extract value from your audience by giving away lots of value for free first.
Getting into the details of how to create great podcast content is beyond the scope of this article. But here are some previous posts you might want to check out before you start planning your show:
Step 2 - Create Lead Magnets
Once you've created a show that appeals to your ideal customers, the next step is to build out your podcast email list. But listeners aren't going to simply hand over their details on request. Email addresses are like a form of currency online. So to generate leads, you first need to create an incentive listeners will be willing to "pay" for with their contact information.
These incentives are often called lead magnets. And there are several forms they can take, such as:
A comprehensive whitepaper or eBook e.g. "The Complete Guide to… X"
Running a contest with an enticing prize on offer
Allowing listeners to book a free consultation
It's up to you to decide which form of lead magnet will work best for your business. If you're unsure, you might want to experiment to see which brings in more leads.
Lead Magnets Should Exceed Expectations
Whatever your lead magnet is, it needs to impress! If listeners come away disappointed with a free guide or consultation, it will be really hard to convince them to purchase. They'll assume your product or service will also fail to meet expectations. So even though you are giving it away for free, you need to make sure your lead magnet is polished and delivers real value.
Creating Professional Lead Magnets on a Budget
If want to produce a guide but you don't have an in-house designer, you might want to check out Canva. It's free, easy to use, and has lots of free pre-made templates available to speed the process up.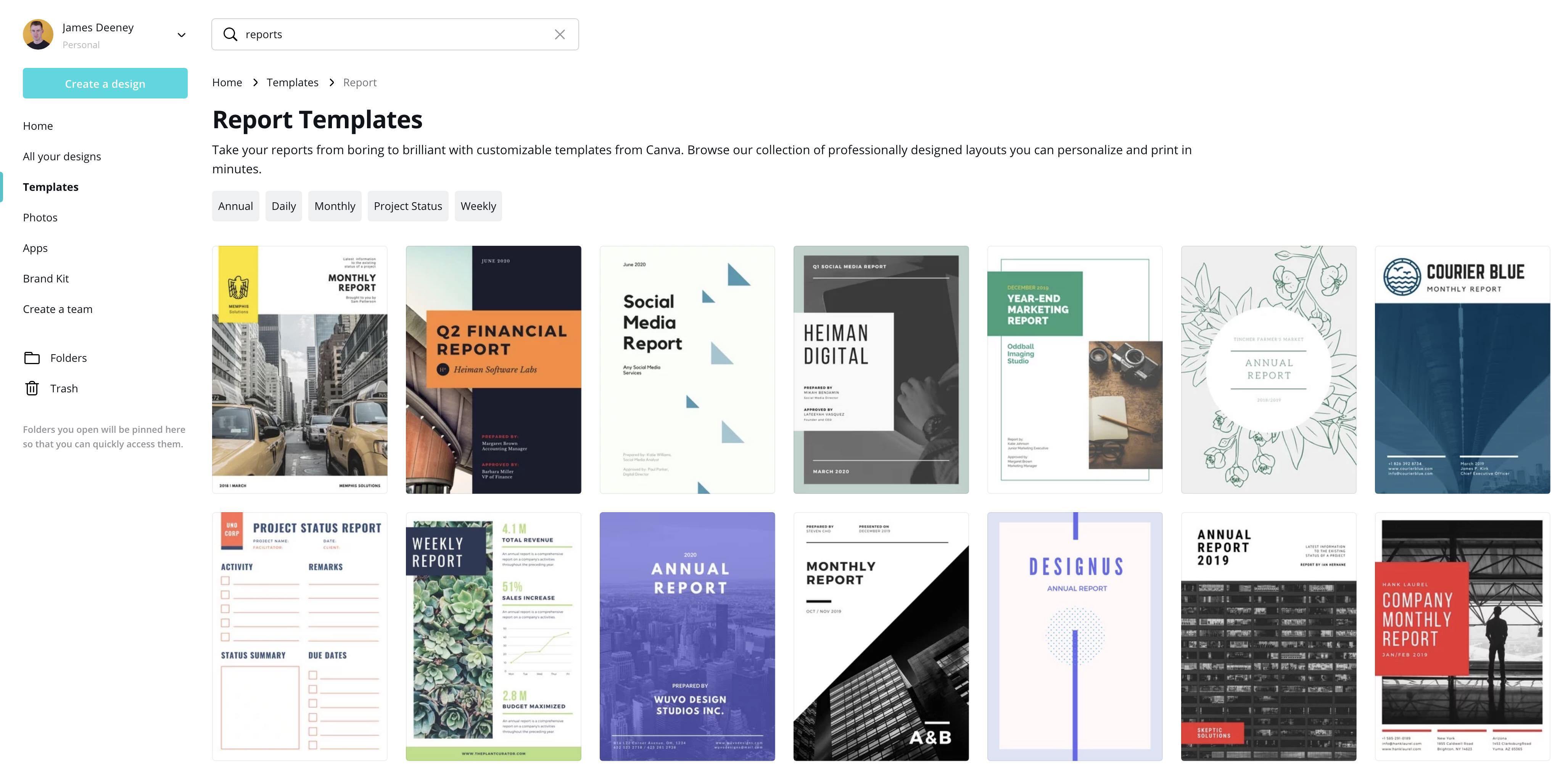 Alternatively, you could download an eBook from a publisher you love and use that as inspiration to design and format your own guide in Canva.
Step 3 - Create & Optimise Your Landing Page
Once you've created your lead magnet, you then need to put it behind an email-gate on a landing page.
An email-gate is a tool which only delivers your lead magnet to listeners when they fill out a short form with their contact information. And your landing page is where you'll direct listeners to download your lead magnet.
If you have an in-house developer you might want to build your own landing pages from scratch. However, most businesses tend to use landing page builders like Unbounce and Instapage. These tools simplify the process and add an email-gate to the page for you.
Landing Page Best Practices
Regardless of how you create your landing page, it needs to be optimised to drive conversions. Basically, the page needs to maximise the number of visitors who complete the form. According to Unbounce, here are some key landing page best practices to adhere to:
Clear and concise messaging which states exactly what value listeners can expect to get from your lead magnet.
A single call-to-action (CTA), which focuses your visitor's attention on your goal e.g. getting them to download a guide or book a free consultation.
Limit the form to collect essential information only. All you need at this point is names and email addresses so don't ask for more than that.
Use bold, contrasting colours to make your CTA button stand out.
Remove the navigation bar and other distractions by getting rid of all unnecessary links.
Keep all the important stuff "above the fold" - listeners shouldn't have to scroll down to find your CTA and form.
Feature social proof from previous happy customers.
Test and update different elements of your landing page to make sure you are converting as much as possible.
When you put all those elements together the final product should look like this: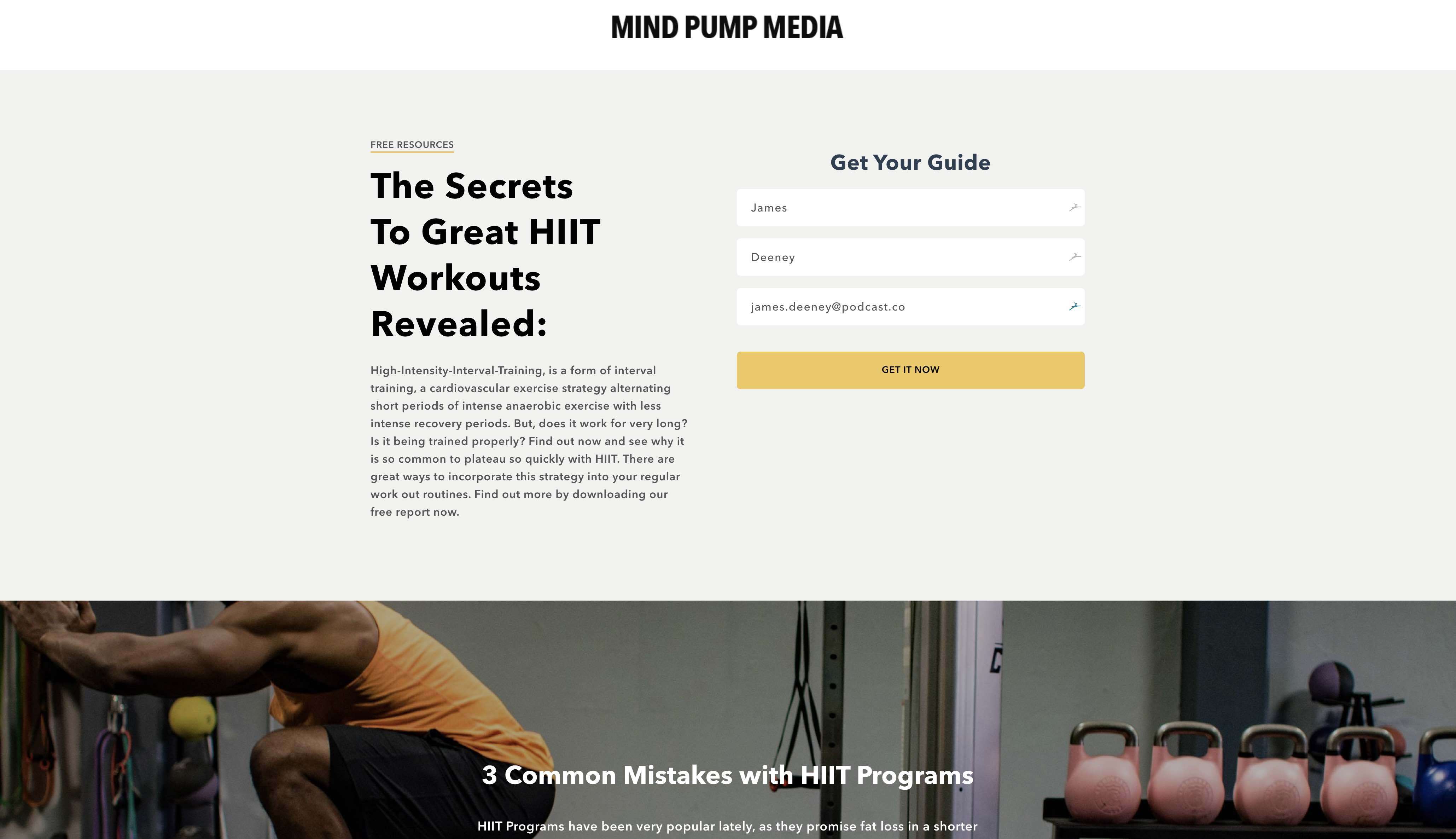 Notice that the navigation bar has been removed, the copy is clear and concise, the CTA button stands out, and the form is very short. This is the kind of page you should be directing listeners to in order to generate leads from a podcast.
Step 4 - Direct Listeners to Your Landing Page
Listeners aren't going to stumble across your landing page by magic. You need to explicitly direct them there and give them a good reason to do so. This means embedding recorded CTAs in your podcast episodes.
In-episode CTAs will vary depending your lead magnet and the specific value it offers. But the important thing is to spell out the benefits on offer in a clear and concise way. For example, a company selling SEO software might produce a podcast to help marketers build better SEO strategies. And their in-episode CTAs for lead generation might sound something like this:
The BERT update to the Google algorithm has just been rolled out and it's brought some interesting changes that will affect SEO strategy in 2020 and beyond. We've created a comprehensive guide that covers the key features of the update, how it affects SEO strategy, and what it means for content marketers. You can download the guide now for free by heading over to SEOsoftware.com/bert. Again, that's SEOsoftware.com/bert
Note: The URL for your landing page should be short and easy to remember. This will encourage more listeners to visit the page.
Ideally, you should place 3 CTAs in each of your episodes:
Pre-roll: Short and snappy CTA at the start before the episode officially starts.
Mid-roll: Placed in the middle of the podcast breaking up the content.
Post-roll: Repeat the CTA again at the very end of the show.
Your mid-roll CTA is arguably the most important due to higher levels of listener engagement. Many podcast listeners habitually skip the beginning of episodes to avoid ads, so they will likely miss your pre-roll CTA.
Decide on a single action you want listeners to take, and focus in on that. Don't bombard listeners with several different CTAs in the same episode. It dilutes your message, confuses listeners, and results in less conversions.
What if my CTA Doesn't Work?
If you find that a particular CTA isn't working, then you should experiment with a different form of lead magnet. For example, you might want to try running a competition rather than offering a free guide. It's hard to judge which form of lead magnet will work best until you've tried a few different options.
Step 5 - Use Social Media to Get More Listeners
Growing your podcast audience means your CTA will reach more people, which in turn will generate more leads. And social media is one of the best ways to promote your episodes.
When promoting your latest episodes on social media, you can't simply post a link and leave it at that. Doing so will get you very little engagement. And that's due to the nature of social media. Your podcast content has to compete with funny memes and cute puppy videos, so if it doesn't grab attention, it's going to get buried.
Repurposing your episodes into different formats will help them stand out on social media, and funnel new listeners back to full-length versions on your website.
What is Repurposing?
Content repurposing is about taking your existing content and reformatting and reworking it so it can reach a broader audience.
After all, recording a fantastic podcast episode takes an investment of time, effort and money. So by repurposing your content, you'll maximise your return on investment. You squeeze every bit of value from each episode.
How to Repurpose Your Episodes
For each episode you release, you should aim to create at least:
2 Audiograms - Audiograms are static images made into short (30sec - 2min) videos by placing audio waveforms and transcriptions over them. Because they stand out in news feeds, they have shown to generate 5X more traffic than static posts.
Podcast.co's audiogram tool allows you to quickly convert short highlight clips from your podcast episodes into eye-catching videos, like the example below: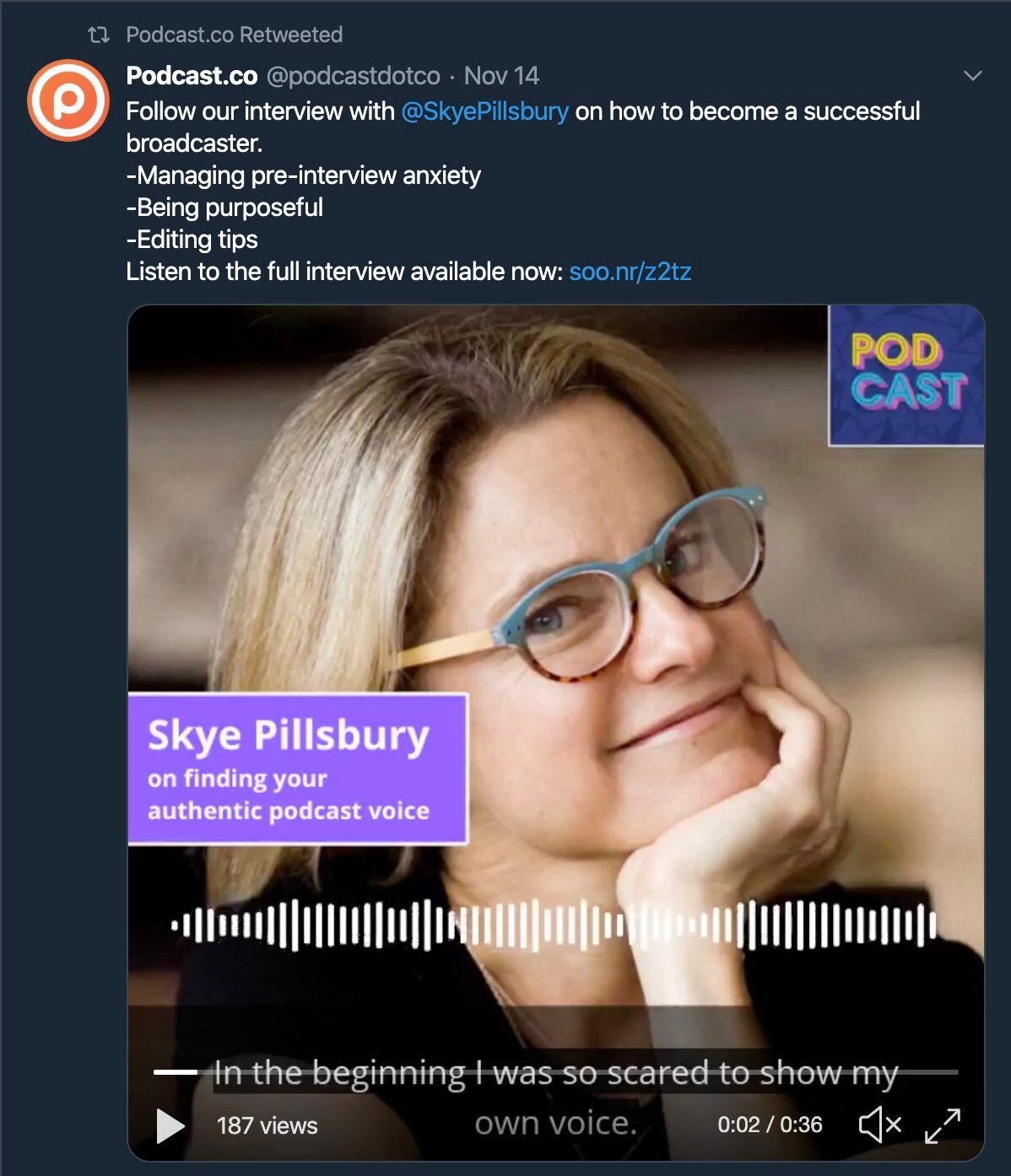 4 Image Quotes - Social media is dominated by imagery, so it makes sense to create some for your episodes. Pick out a short quote from your podcast and use that as a basis. Quotes that evoke an emotional response tend to perform best. Again, you can use Canva to create these quickly, using the examples below as inspiration: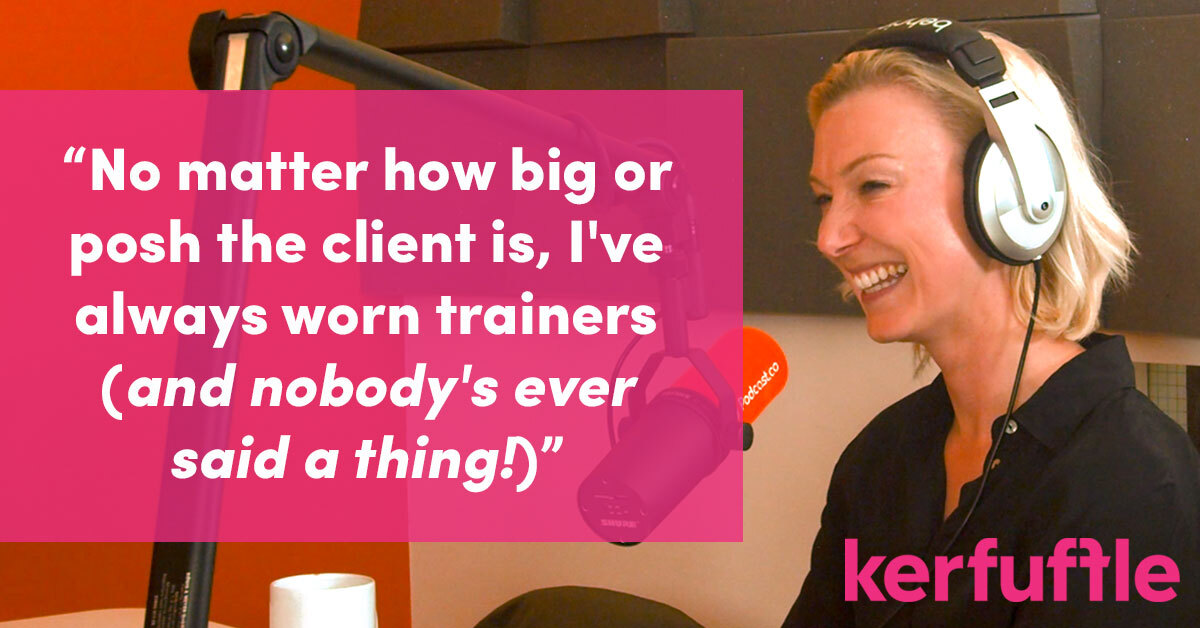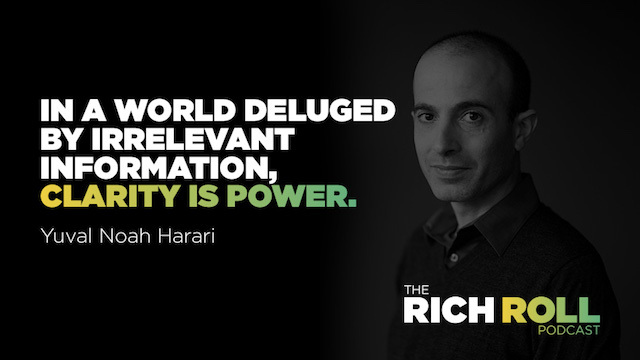 If you already have well-established company social media pages, it makes sense to post your audiograms and images there to maximise your reach. You can also create separate dedicated accounts just for your podcast, but it will probably take a while to build up a following.
Use a Social Media Scheduler
With at least 6 pieces of content to push out for every episode, using a social media scheduler like Buffer or Loomly makes the process much more manageable. You can batch out your content to automatically post after your episode has been published.
Use Link Tracking to Measure Performance
For each asset you post to social media, you need to link back to the full episode in the text. And you ideally need to know how many people click on that link across platforms. The easiest way to track these numbers is to link to your podcast episode via a tracking tool like Bitly or TinyURL.
By keeping tabs on your sources of traffic, you'll be able to determine which social media platforms are performing best. If you find one does much better than others, it makes sense to focus your attention on maximising traffic from that platform.
Alongside allowing you to monitor the performance of your social media assets, link tracking tools will also shorten the URL for you, which takes up less space and keeps your text tidy.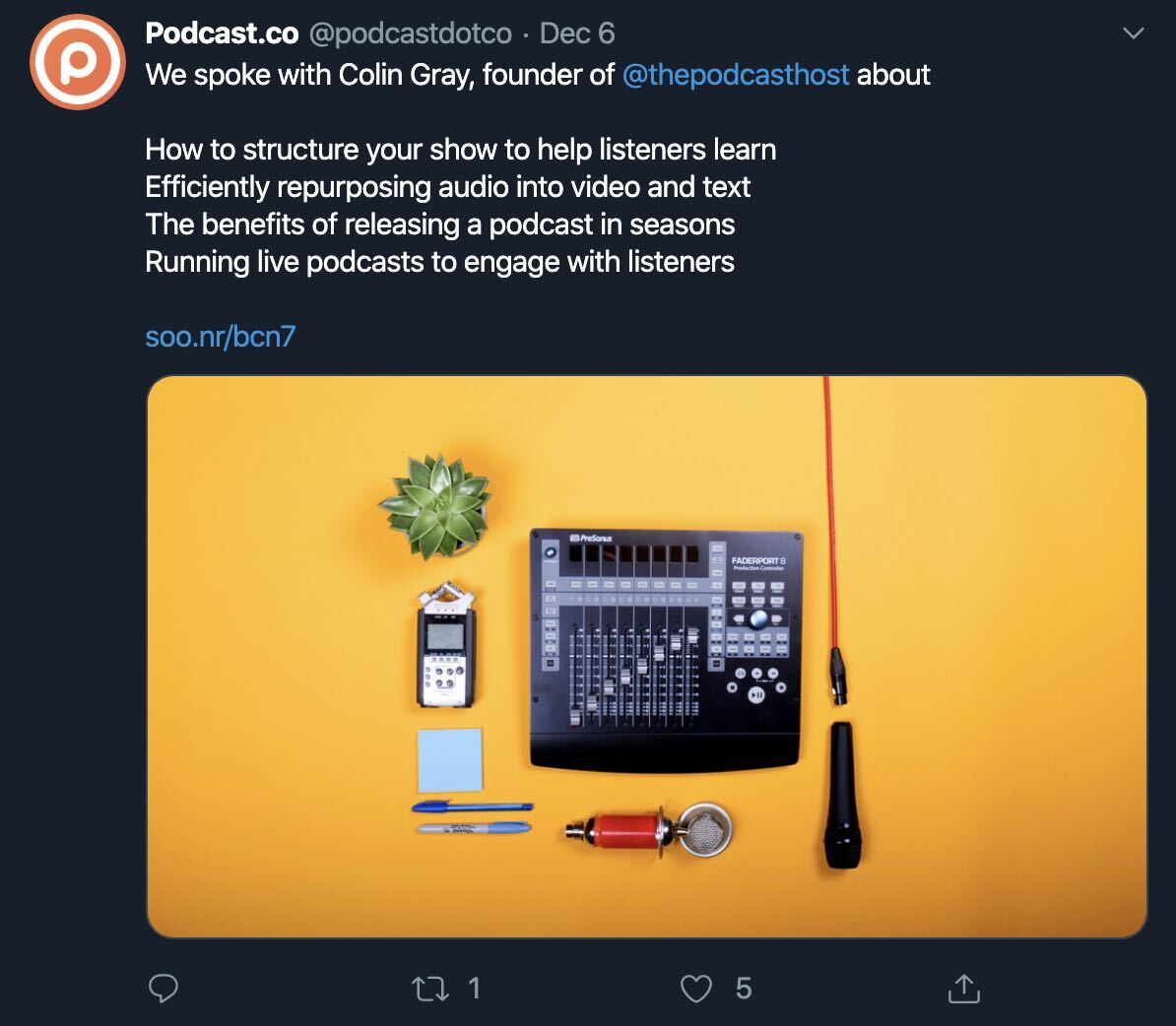 Step 6 - Use Blogs to Bring in Additional SEO Leads
Organic SEO traffic can also help generate leads from a podcast. But in order to get your episodes ranking on Google, you'll need to repurpose them into written blogs on your site, as Google can't index audio files (yet).
How to Repurpose Your Episodes into Blogs
Take the focal point of your podcast episode and build a written post about that. Keep the focus of the article on one topic only as this will help you rank better. If you try and cover lots of different topics in a single written post, it's unlikely to make it to the first page of Google.
Once you've chosen a topic, you then need to decide on a relevant keyword to optimise for. For example, for an episode that covers new emerging trends in SEO, a relevant keyword might be "SEO strategy for 2020". Basically you need to select a short and snappy keyword that is likely to be searched for on Google.
Once you've got your keyword make sure you put it in your title, headings, subheadings, and scattered throughout the text. You can then embed your podcast episode at the top of the post. When organic visitors land on the page, most of them will play the audio and hear your CTA. For more on the fundamentals of SEO, check out this post.
Podcast.co's automatic transcription service can help speed up this process. With a single click, it will create a full transcription of your episode. And you can use transcribed segments of your conversations to flesh out your articles quickly.
Step 7 - Use Email to Drive Sales
Once you've built up a list of leads using your podcast, social media assets, and lead magnets, you then need to convert them into customers through email marketing. On social media, content is filtered by the hosting platform and usually only reaches a tiny traction of your followers.
This is why email marketing is up to 40 times more effective than social media, according to a study done by McKinsey & Company. The same study also shows that the buying process happens 3 times faster than on social media.
Email Marketing Software
As you build out your list of podcast leads, you'll need a tool that allows you to automate email marketing campaigns. Sending out single emails would be a massive time sink. Some of the most popular tools currently on the market are Mailchimp and HubSpot.
What to Put in Your Emails
Firstly, don't bombard leads with one aggressive sales email after another! Your open rates will plummet and your unsubscribes will go through the roof. It takes a lot of work to generate leads, so the last thing you want to do at this point is to lose them. Obviously it's fine to promote your product or service in your emails, but you need to go about it in the right way.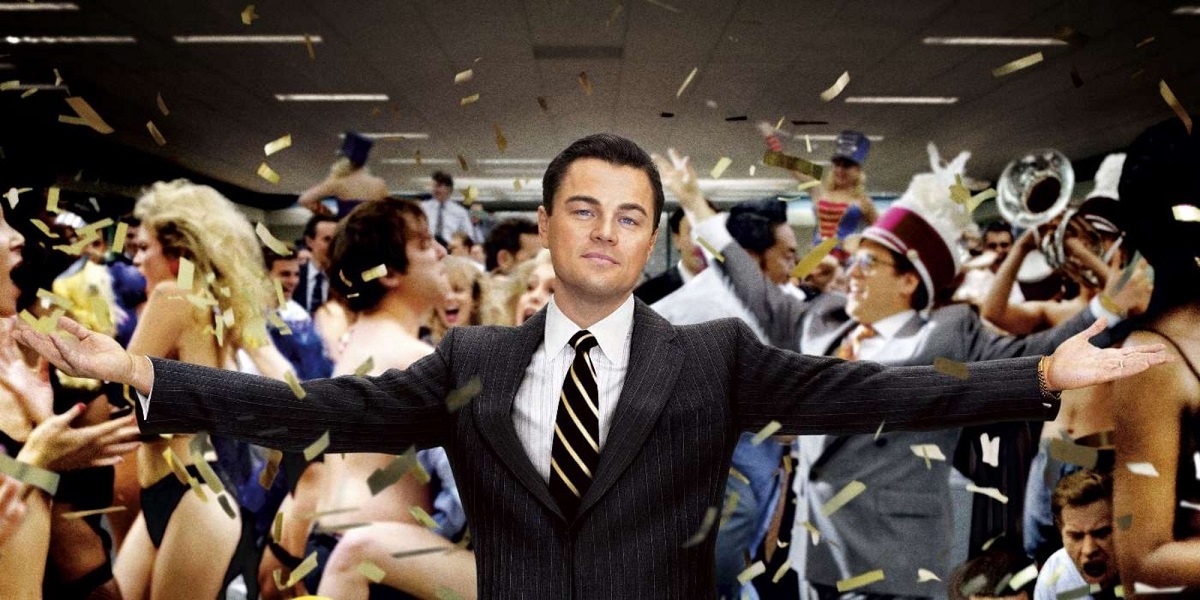 In the same way you deliver value through your podcast, you need to deliver value through your emails. If people know your emails are usually helpful or interesting, your open rates will be much higher.
Referring back to the Mind Pump example, they send out weekly "Friday Fit Tip" emails, which outline a specific tip they covered in one of their recent episodes. They then direct listeners to the full episode if they'd like to hear more information on the topic. Below that they usually have a second CTA encouraging people to buy one of their workout programs, usually at a discounted rate.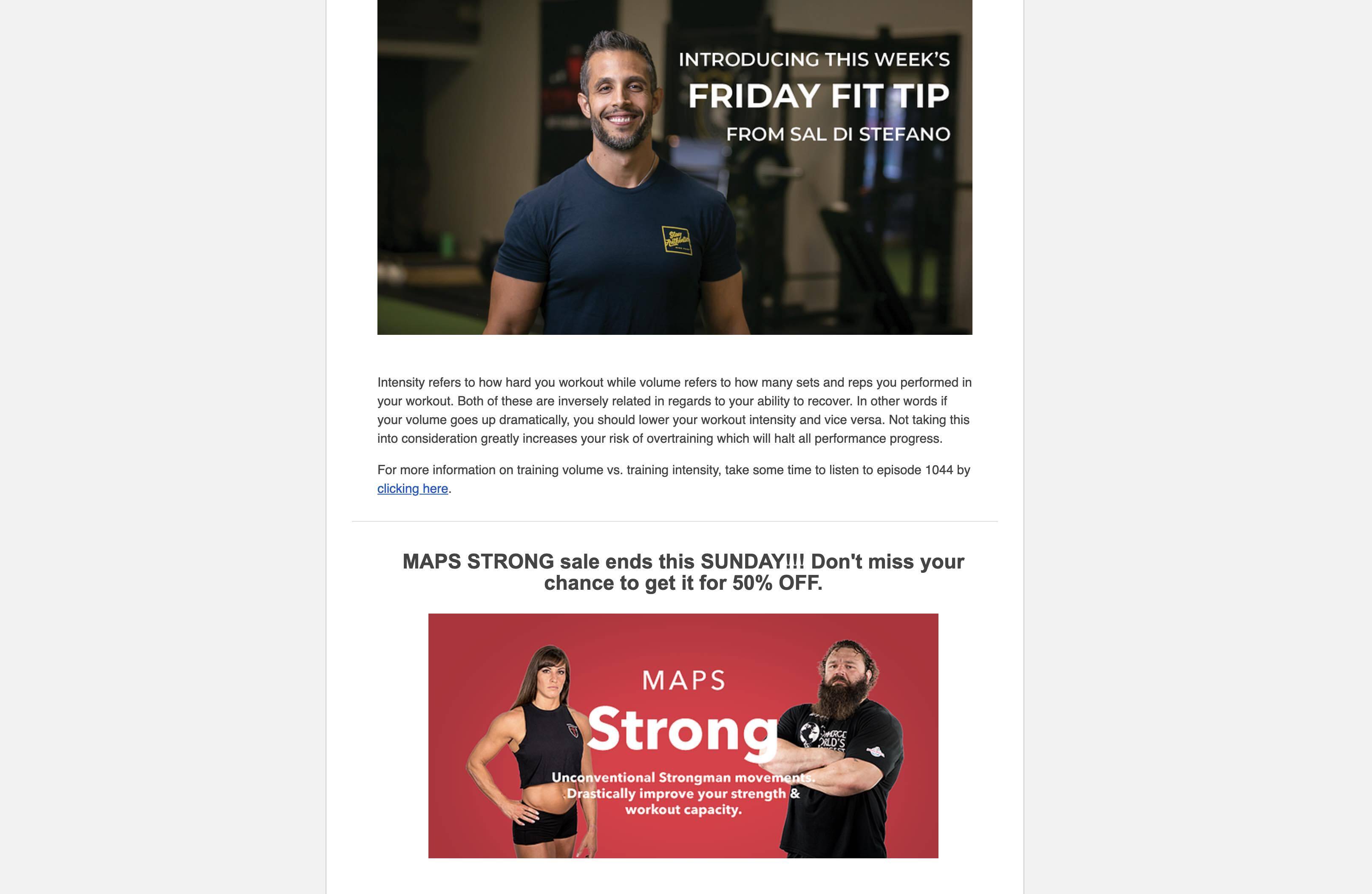 When structuring your own emails, this is a good outline to keep in mind. The main CTA in your emails should be to listen to one of your episodes. And the second should be to complete some kind of purchase or advance down your business' sales funnel. The content of these emails will vary widely from business to business, but these key elements should remain constant.
Reward Loyal Listeners with Discounts
Offering exclusive discounts to the people on your podcast email list will help drive more sales of your product or service. Listeners who have converted into leads are more engaged with your brand, so it makes sense to reward that loyalty in some way.
In your messaging, it's worth highlighting the exclusivity of the offer. Exclusivity is part of a psychological phenomenon called the scarcity principle, which states that the rarer something is, the more valuable it is perceived to be.
Grab Attention & Keep it Concise
The best email in the world isn't much use if nobody opens it. So your subject line needs to be short, snappy, and enticing. Experimentation is key here. You should try out different options to see which get the highest open rates. Make note of those and try to figure out what made them work so you can create similar variations in future.
The text in the main body of your email should get straight to the point. Present the value to readers upfront and clearly prompt the next action you want them to take. If people click on your email and are immediately hit with a big block of text, most will bounce straight back out before they even read the first line!
Conclusion
It takes effort to set up to set up an efficient lead generation system like this. But real results always take work. Hacks and shortcuts are never going to get you very far in terms of sales.
The rise of podcasting will be like the blogging revolution - but faster. More and more brands are now using the power of the medium to meet business objectives and reach a wider audience. So if you haven't already started thinking about podcast-driven content marketing, now's the time to start.
For our full, comprehensive guide on how to start a podcast, click here.