Nowadays, we all spend a large amount of time scrolling through our social feeds. According to Edison Research, 223 million people check social media throughout the day, but only the most attention-grabbing content works like photos, polls, and now audiograms.
Audiograms are fast becoming the best way for you to share your stories and engage with listeners. Discover how you can create podcast audiograms to convert your shows into video, share them on social media, and grow your listeners.

What Are Podcast Audiograms?
Podcast audiograms are short audio files converted into video. Check out the audiogram below taken from our Create Reach Inspire Podcast.
Bite-sized content like this is ideal for sharing trailers and highlights from episodes to engage with listeners on social media like Twitter and video platforms like YouTube. Create podcast audiograms for your shows and share them with your audience using Podcast.co 👇👇👇
How to Create Podcast Audiograms
If you haven't already, create yourself a Podcast.co account (it's free for the first 14 days), then login to your account.
Choose an Episode
Select an episode you want to highlight or create a trailer that really sells your show. Hover over your episode, choose the "Share Episode" icon, select "Audiogram", and "Proceed to Headliner".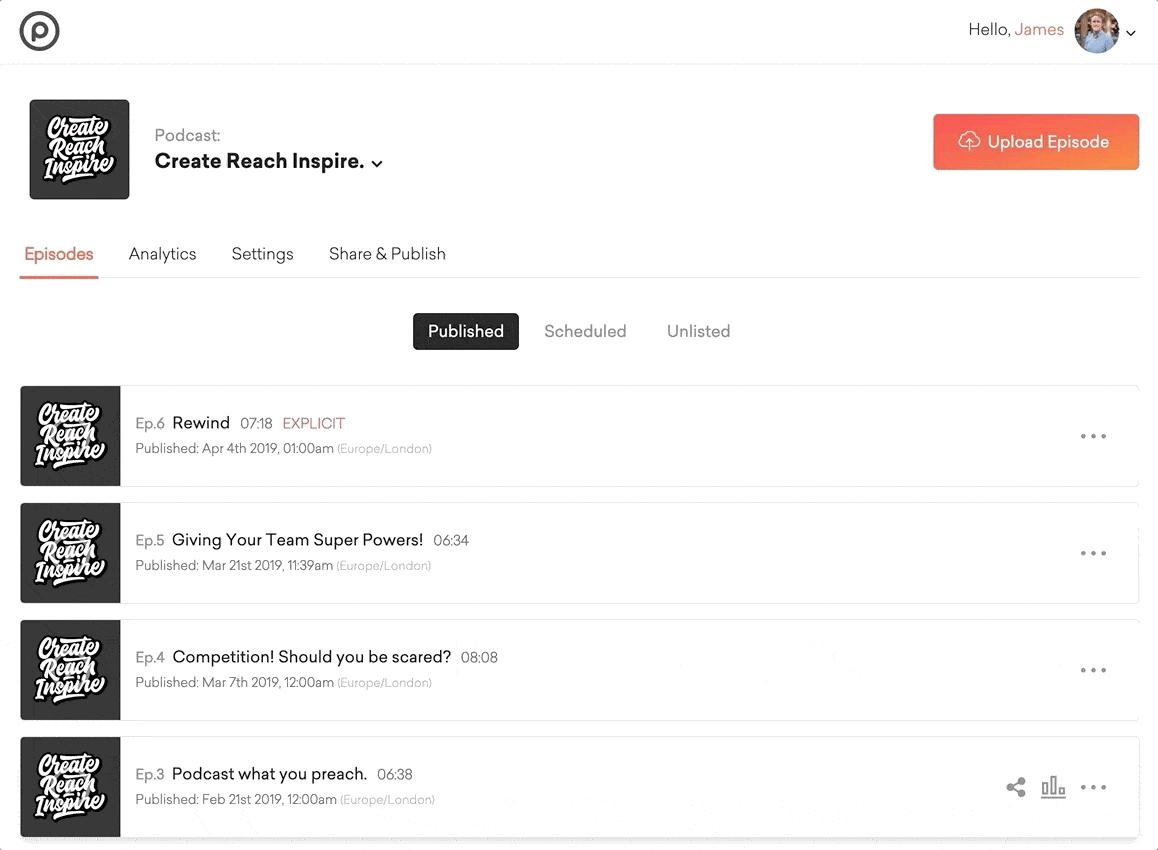 Choose an Aspect Ratio (Landscape, Square, or Portrait)
Depending on where you want to share your audiogram (YouTube, Twitter, etc), choose from either:
Landscape: 16:9, ideal for YouTube and websites.
Square: 1:1, best suited for Twitter, Instagram, and Facebook.
Portrait: 4:3, useful for Instagram stories and Snapchat.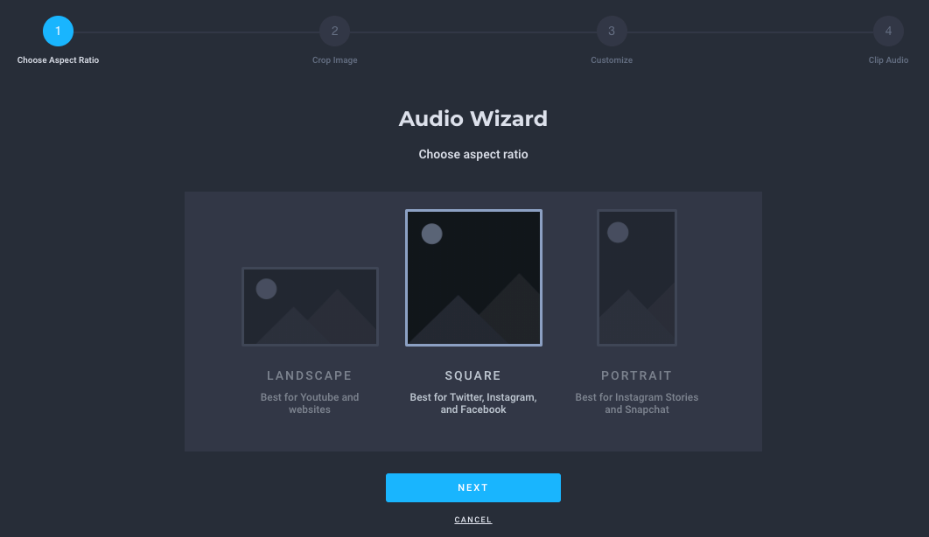 Crop Your Image
Podcast.co automatically uploads your podcast artwork. Either use your default artwork or upload a new image, then adjust and crop to how you prefer.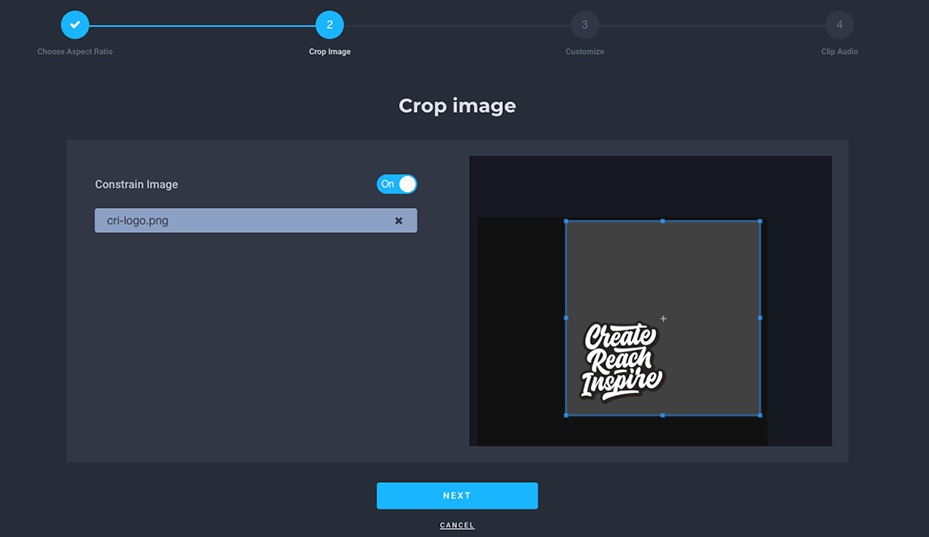 Add a Waveform & Text
Make your podcast audiogram more eye-catching by selecting a waveform. Choose the type, position, and colour of how it will look to your audience. Add a bit more context with titles or leave it for a cleaner look.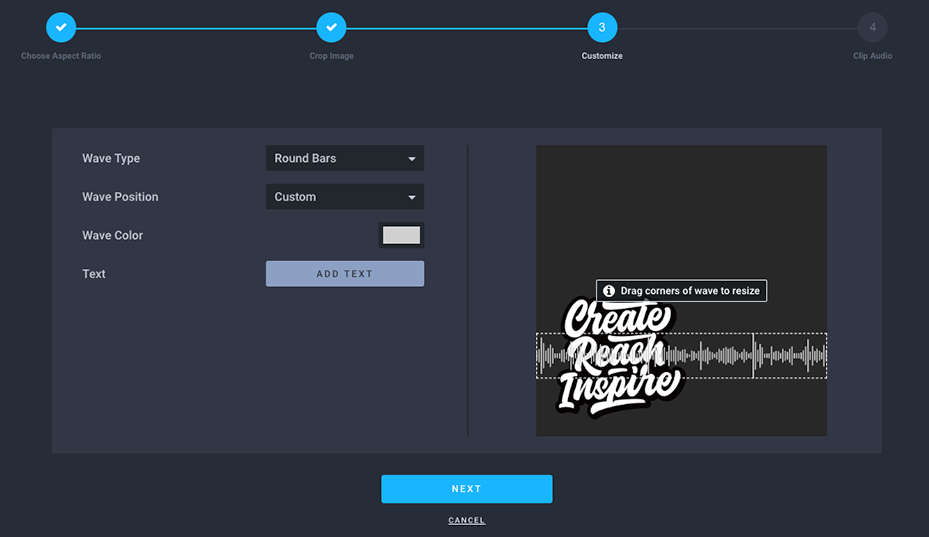 Trim Your Audio
Adjust the start and end points of the audio clip to trim the length of your podcast. Depending on what you want to use it for depends on the length, for example, an entire episode would work well on YouTube, but a short highlight is better suited for places like Twitter or Instagram to grab attention and give your listeners a taste.
Note: If you plan on uploading your audiogram to places like Twitter, then be aware that they have restrictions on length. Choose the "Time Limit Selector" social platform to automatically trim your audio, then adjust the start and ends points.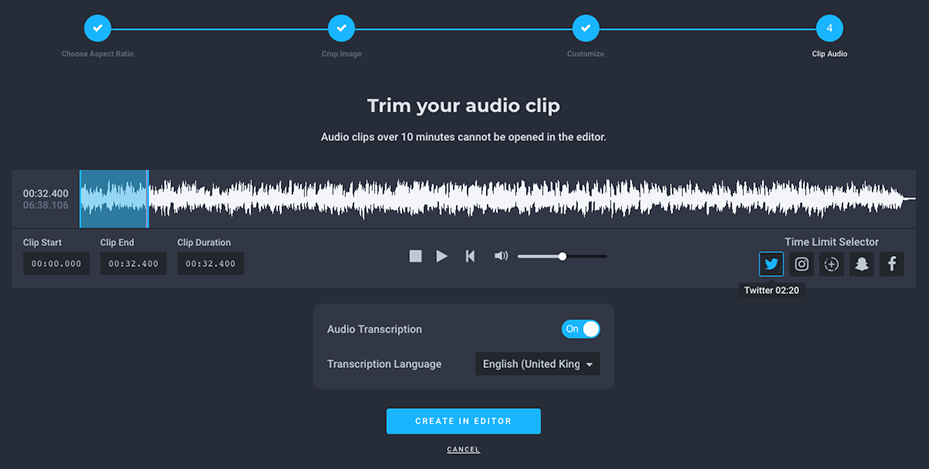 Really grab your listener's attention by automatically transcribing your audio. Enable the "Audio Transcription" and select your language (don't worry, you can edit the full transcript to remove any errors). Finally, select "Create in Editor".
Editing Your Audio Transcript
Once the episode has been uploaded, edit the transcript to remove any mistakes. Double click the captions, edit, and enter to save.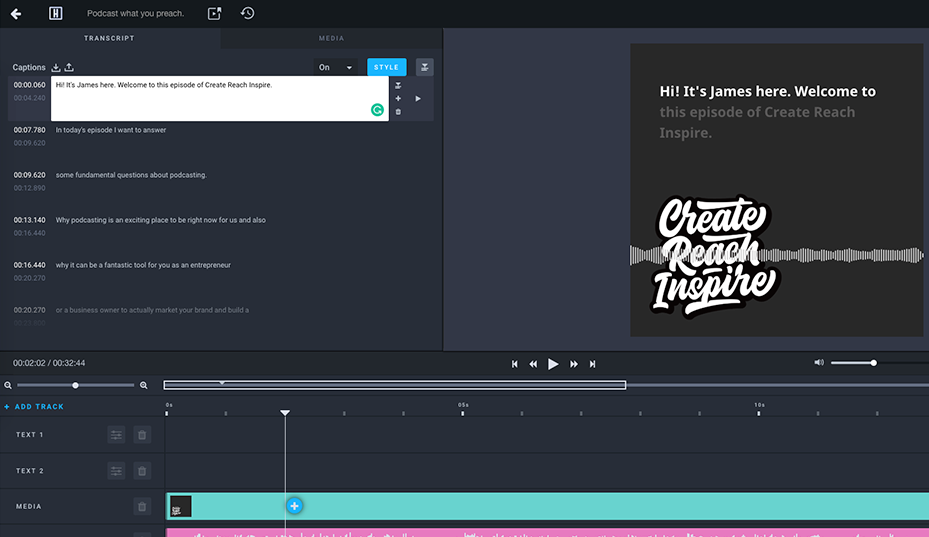 Move the container where the transcript appears along with font, size, colour, etc within "Style".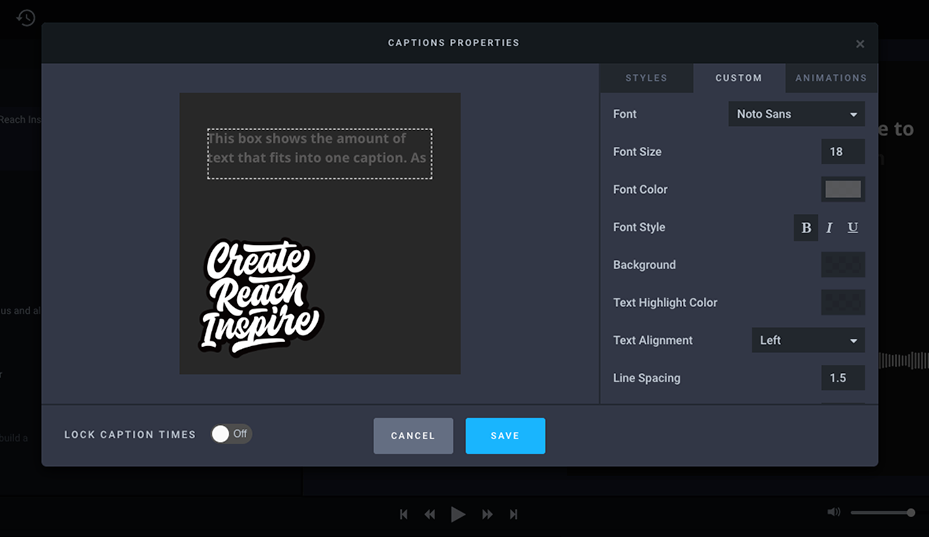 Add Fade-In & Fade-Out
Make your audiogram sound professional by adding fades to the start and end of your audio. In your timeline, select "Audio".
Adjust the fades, save, and playback to see how your audio sounds.
Add Text
Add context to your audiogram with some well-placed text. In your timeline select one of the "Text" rows, choose a spot you want your text to appear, and select the + button.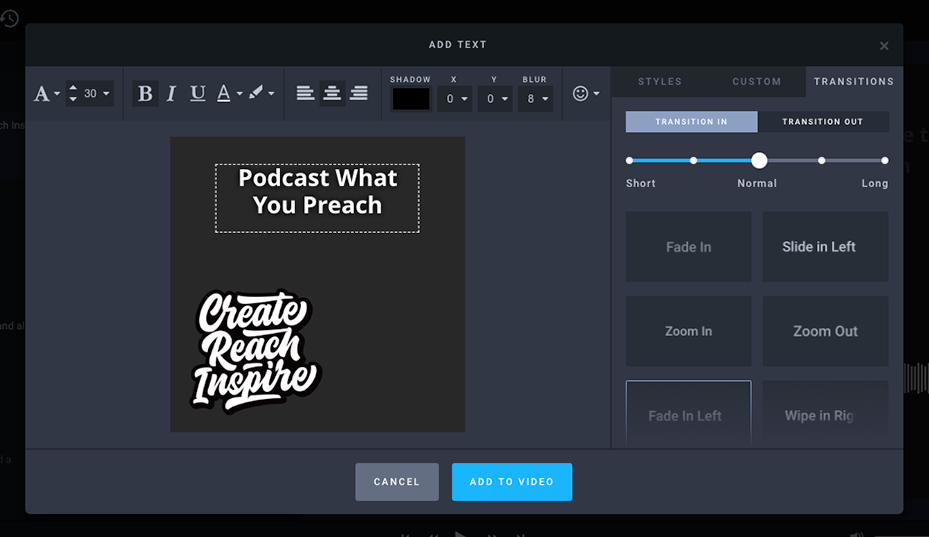 Add your text, customise the style, and even add animations.

Export Your Audiogram
Once you're happy with your audiogram, select "Export". Adjust the settings, like video quality, and enter your email.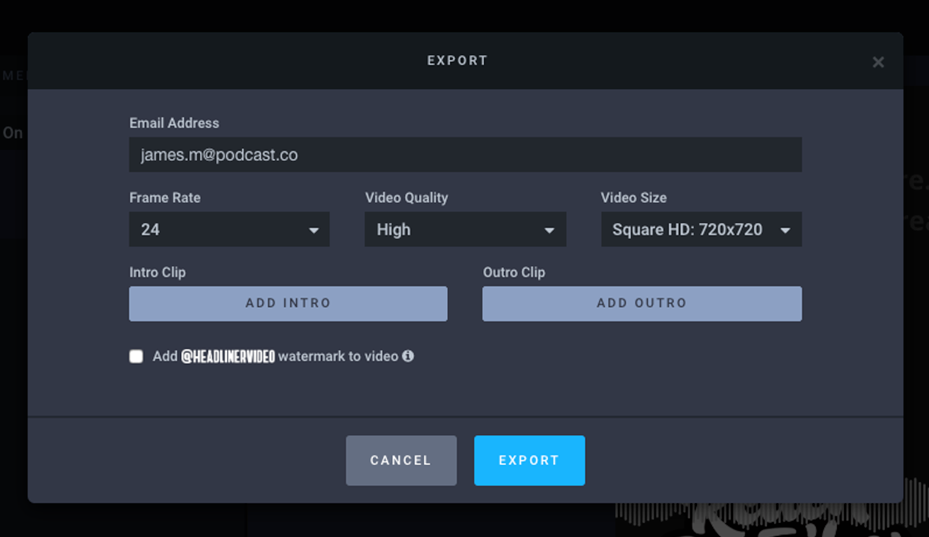 Be patient, your audiogram may take several minutes to generate. Check your email for a link to your file or click the pop-up to view your new podcast audiogram.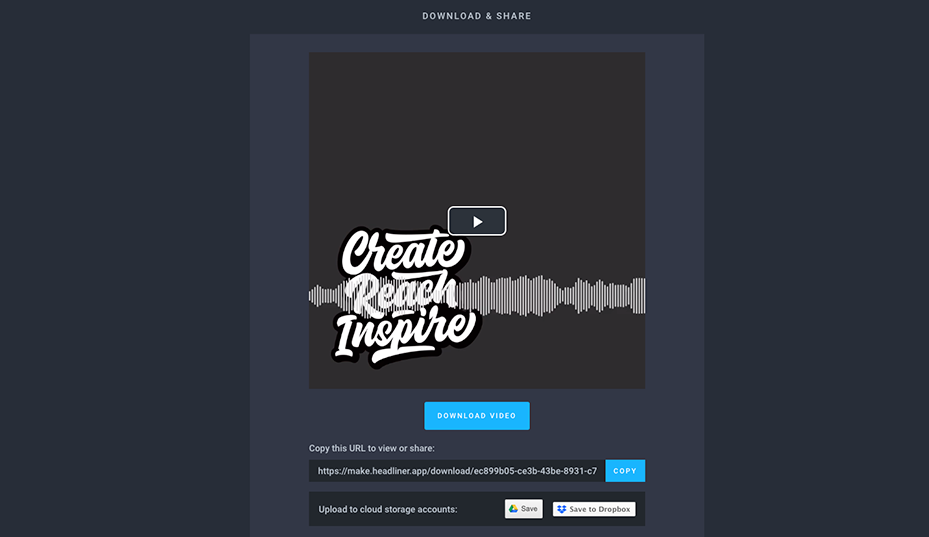 Download the video to share with your audience. If you haven't tried the new podcast audiogram feature yet (and would like to get your hands on it) then why not give it a whirl by logging into your dashboard! Not with us yet? Get started today by creating your account below 👇👇👇
For our full, comprehensive guide on how to start a podcast, click here.