Planning, recording and publishing high-quality podcast episodes can take a lot of time. That's why, if you publish your latest podcast episode and then market it by… sharing a link on social media (at best!), you're making a big mistake.
Diversifying how you share your podcast content with the world can do wonders for your show – whether your objective is to get more listeners, strengthen your brand, or grow your business.
Sharing your episodes in multiple ways will expand your audience reach, and one thing is for sure, it'll be hard to achieve your goals with your podcast if no one knows it exists!
The good news is that you can leverage the time and effort that you put into creating your podcast episode by repurposing it. Repurposing will grow your audience and save you time. Have I got your attention?
I thought so! Take that curiosity further and read on to discover 7 ways to repurpose your podcast content to get the most out of every episode.
Repurpose Your Podcast Without Lifting a Finger
Reach new listeners with our fully managed personal branding service. You talk to guests, and we'll handle everything else. If you've got expertise to share with the world, we'll repurpose your podcast and turn it into original, quality content for you to share on all platforms.
Thanks for subscribing!
We've just sent you an email, please follow the instructions to confirm your details.
1. Create Video Content
There are many ways to create video content from a podcast episode. Doing so puts you on camera, giving your audience a chance to really get to know you and put a face to the voice!
One way of doing this is to simply video yourself whilst recording your podcast episode.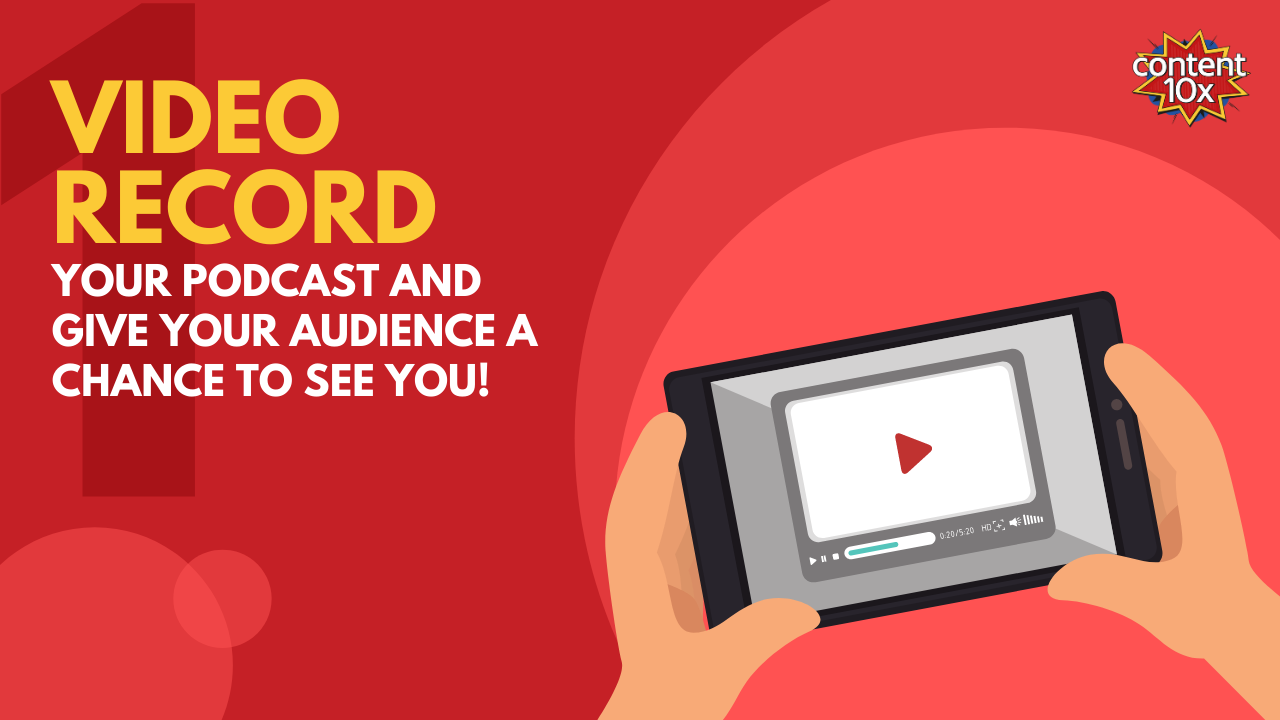 You may not want to share the entire video, I get that. Afterall, you're a podcaster first and foremost. But you can take a full recording and break it up into short video snippets and teasers to share on social media. A 30 second clip of an interesting discussion point is a lot more engaging than a link and text saying "New episode out now"!
Alternatively, you could record a time-lapse video to share with your audience providing a behind the scenes view of what it takes to record the podcast. There are plenty of options when it comes to what you can do with video footage.
And don't worry, there's no need to buy state-of-the-art equipment for this. You can use the camera on your smartphone, a webcam, or a trusted digital camera propped on top of a stack of books! That DIY spirit is at the heart of all startups!
Another option is to create a short video about each podcast episode. So instead of filming the podcast episode itself, jump on camera after the recording and film a video letting people know what your latest podcast episode is all about.
If you really don't want to be on camera, you can still repurpose your podcast episode into a video file. For example, you could create an audiogram (more to come on this), or you could create a video by taking sections of audio from your episode, create related images and pair them together to create a video. This one requires a little more work on your part as you'll need to use video editing software such as iMovie, Final Cut Pro…etc.
Videos can be shared on YouTube, your website, and all social media platforms. Cisco predict over 80% of content consumed online this year will be video, so it's good to get in on the action to promote your show.
2. Social Media Images
Turn your podcast into a visual experience by pulling quotes from the episode and creating images for social media. If you have a guest on your show, you can take a few of their wise words and create a quote graphic.
The main objective of repurposing your podcast episode into promotional images for social media is to make them stand out as much as possible. There is a lot of visual content out there competing for your audience's attention, so give them a reason to stop scrolling!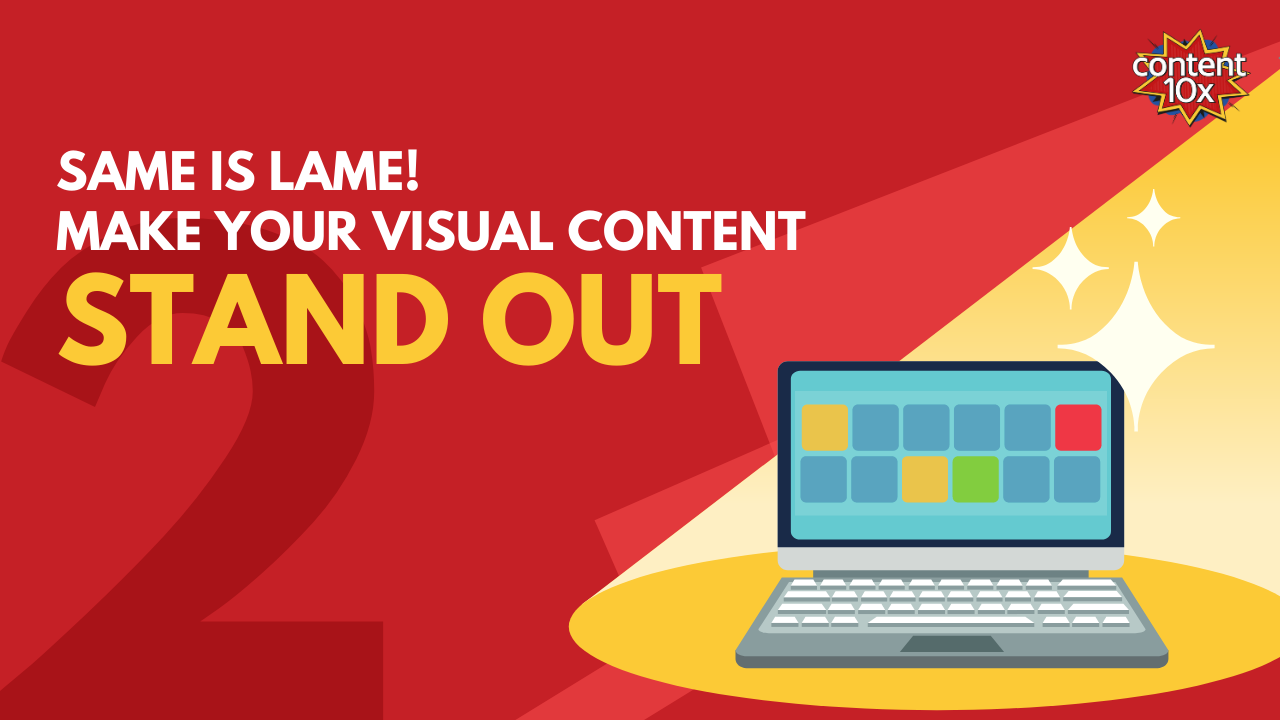 TIP: If you want more engagement on social media, it's a good idea to ask a question. Keep it simple and intriguing enough to get people thinking and make it easy for them to respond. People love nothing more than voicing their opinion so, by posting an image with a question, you're giving them permission to share their opinion with you and get a conversation going. It just so happens that if they are enjoying the conversation, they can listen to your podcast episode to find out even more on the topic.
Remember that different social media platforms require different image dimensions. So, posting the same image on Facebook, Instagram, Twitter, and LinkedIn doesn't look good. Create images that are the right fit for the platform they are being shared on.
3. Produce a Transcript
A transcript makes your audio content more accessible. A transcript will likely appeal to people who are hard of hearing, those who aren't in an environment where they can listen to your podcast, those who aren't native speakers of your language, or those who simply prefer reading to listening!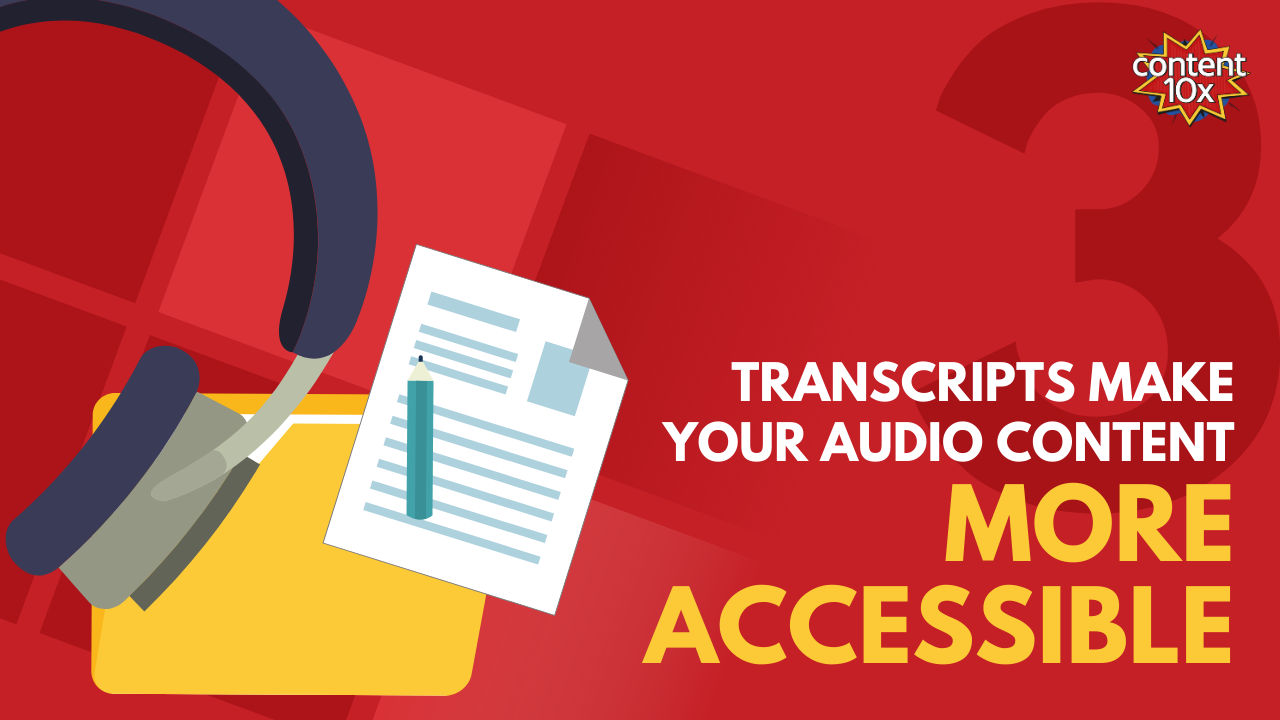 It's up to you whether you consider there to be a benefit or a downside of transcripts. Some would argue, if you want people to listen to your show, providing transcripts gives people the opportunity to not listen at all. If you are trying to grow an engaged following, ideally you want people to take the time to listen to your voice. Others would argue, who cares how they consume the episode, at least they are interested! You have to decide what feels right for you and your audience.
So, how can you repurpose your podcast episode into a transcript?
Well, you could create your own transcript. Of course, we're not suggesting that you sit down and type up your entire podcast episode word for word. You can use a paid transcription service such as Rev.com to convert your podcast episode into a written transcript.
There are free options too such as Otter.ai. Be warned, free or very low priced options almost always use AI/bots, which often means low accuracy and often a lot of time making corrections. If you're serious about your podcast, consider this an investment.
Once you have your transcript, you can offer it as a download or include it as a searchable text on your website. You can even repurpose your transcript into a blog post, an e-book, or use it as a resource for social media content.
A transcript on its own does very little for organic SEO. Search engine algorithms will scan your written content for keywords, which helps more people find your content, but they are also scanning the internet for quality content. As transcripts are written how we speak – and we don't tend to speak in the way we'd usually write quality content – transcripts can rank unfavourably in search algorithms.
Transcripts can help you with social media content too. It's much easier to find tweetable quotes from a podcast episode if you have a transcript, as you don't have to re-listen to your episode multiple times. You could tweet out quotes as they are or create visual graphics to make them more eye-catching and better promote your content. Learn more about how transcriptions can play a key role in content repurposing here.
4. Write Long-Form Blog Posts
Search engines love long-form, quality content. And, maybe your audience does too.
You can repurpose your podcast episode into an article or long-form blog post by taking the main points discussed in the show and wordsmithing them into a standalone blog post.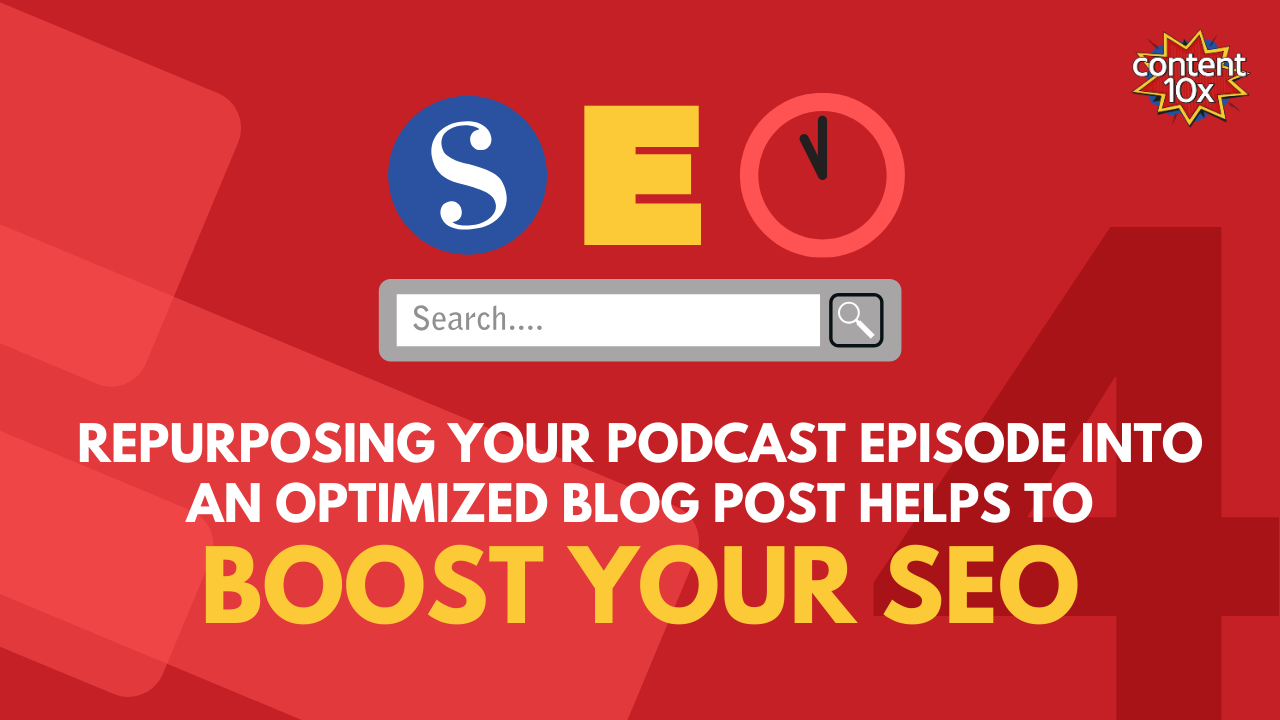 The good news is that you don't have to do much (if any) additional research. When you have a podcast episode to work from, all of the research has been done by you already.

If you had your episode converted into a transcript, you can rely heavily on it to write your blog post. Of course, you shouldn't copy your original transcript word for word, but you can use it to help plan, format and write a high-quality article to share on your website, LinkedIn, Medium, or as a guest article on another website or publication.
To help drive traffic to your content, you've got to optimize your blog post by making sure you've included relevant keywords.
But remember, SEO isn't just about the robots crawling your pages. Keep in mind that content is for humans and keep a modest keyword density – don't overstuff your posts! As search algorithms become more intelligent, the best-ranking results are ones that score highly for EAT – Expertise, Authority, and Trust. Keywords are just a small part of a bigger picture.
5. Create Audiograms
Creating audiograms is a perfect way to share audio content on social media. In fact, according to the New York Public Radio WNYC, the average engagement for an audiogram posted on Twitter is 8x higher than a non-audiogram tweet! Plus, Facebook posts with audiograms outperformed posts with photos and links by up to 83%!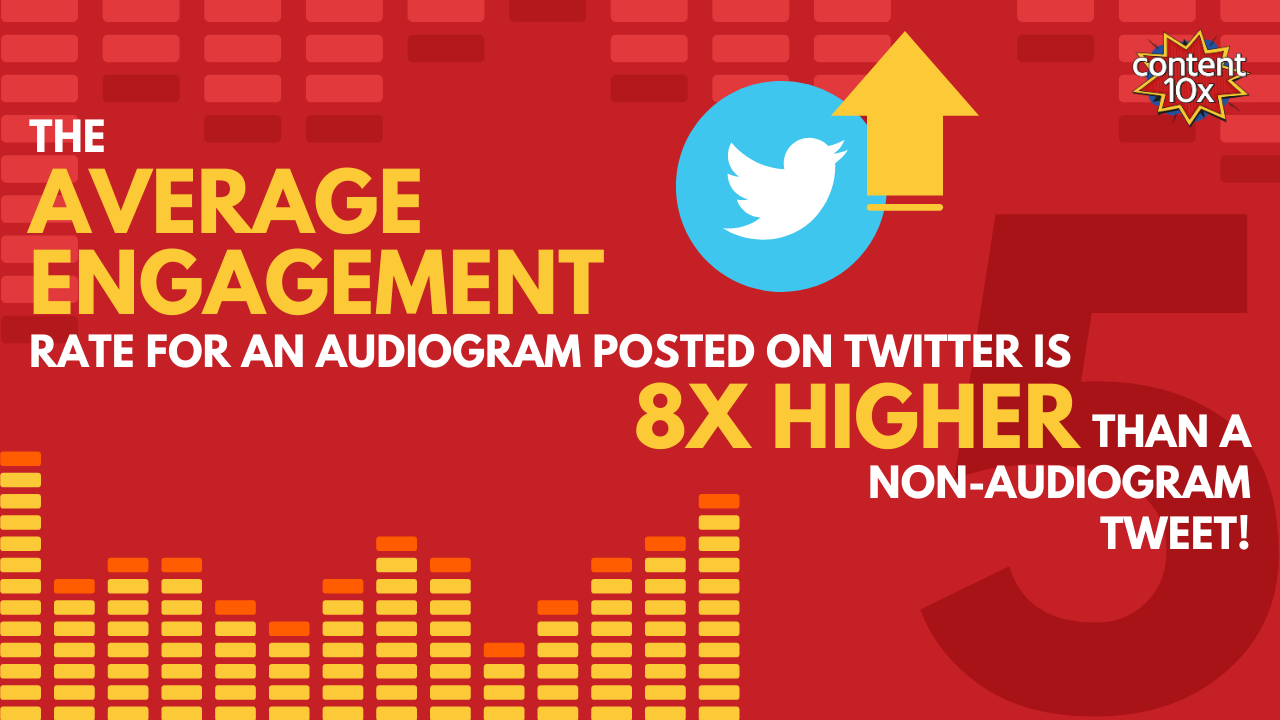 Clearly, audiograms can really help expand your reach on social media and attract more listeners to your podcast.
In case you were wondering what an audiogram is, it's a short audio file that has been converted into a video file. It involves taking a section of audio from your podcast episode, an interesting image and pairing the two together. They often have an animation of a soundwave that's triggered when someone hits play to watch your audiogram.
Audiograms are perfect for sharing audio on social media. They catch people's eyes and convince them to stop scrolling and start listening. Of course, they'll only get to listen to a snippet of your podcast episode, which means they'll have to click on the link you provided to catch the full episode. Once this happens, you've potentially got yourself a new podcast listener – congrats!
Thankfully, audiograms are relatively easy to create. You don't need to be a tech whizz!. Two great tools that you can use to help you out with this include Wavve and Headliner. Listen to The Content 10x podcast (or read the blog post) to learn How to Create Audiograms For Your Podcast: Wavve Vs Headliner.
You can get really creative with your audiograms and customize them in a way that reflects your business or personal brand.
6. Record a Live Video
Have you ever thought about creating live video content for your podcast?
There are a few ways that you can do this.
Firstly, live stream the recording of your podcast episode to your platform(s) of choice (e.g. YouTube, Facebook, Instagram, Twitter, LinkedIn).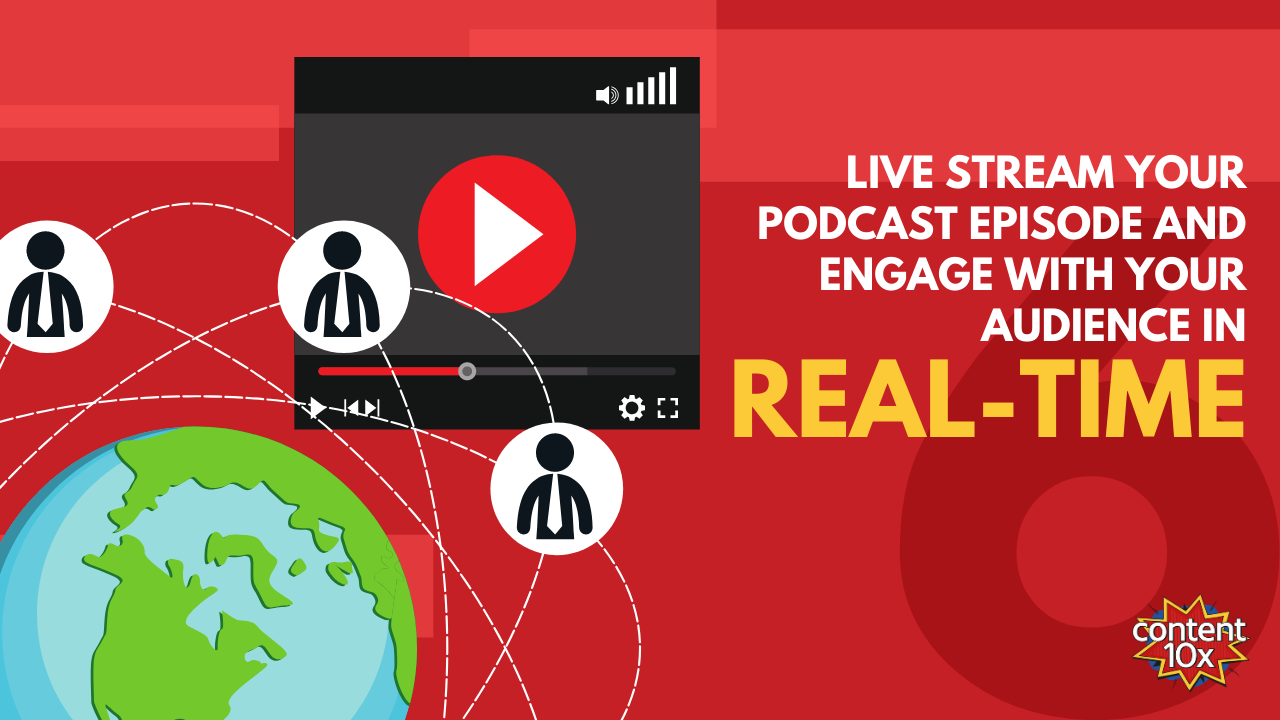 This is a very quick and easy way to repurpose your podcast episode to video. All you have to do is record your podcast episode while broadcasting it live to your audience. Simple…
Ha! Okay, so I'm guessing many people are terrified by the thought of live streaming, and live streaming whilst podcast recording sounds fraught. It's not for everyone, but there are many people who do this, and do it well. It creates a new following for the show and a live community.
Alternatively, think about repurposing the topic of your latest podcast episode into a separate live stream. By this I mean you are not recording your podcast at the same time, but rather creating a totally different live stream that is based on the same topic.
This is a really fun way to get people to engage with you, as you can host a live Q&A session or even bring guests onto your live stream too.
You can do this a few days or maybe a week after the podcast episode is published, giving listeners a chance to listen to it. On the podcast episode itself, invite your listeners to hang out with you live to discuss the topic in more detail. This is a great way to gain valuable feedback, engage with your audience, and increase your credibility too.
Giving people the chance to watch and engage with you 'in the moment' helps to build a connection with your audience, and they connect with each other too. This is a win-win because you build a community around your podcast. many of the most successful podcasts have strong communities associated with them.
It's all about creating an experience for your audience. For more tips and advice on this, check out this blog post: Creating Live Experiences With Your Content.
Also… When you've completed your live stream, there are endless ways that you can repurpose the video recording! It's getting very meta now!
7. Create Free Downloads/Content Upgrades
Have you ever thought about repurposing the content of your podcast episode into a free content upgrade for your listeners?
If you want to grow your email list, an enticing content upgrade could be just what you need.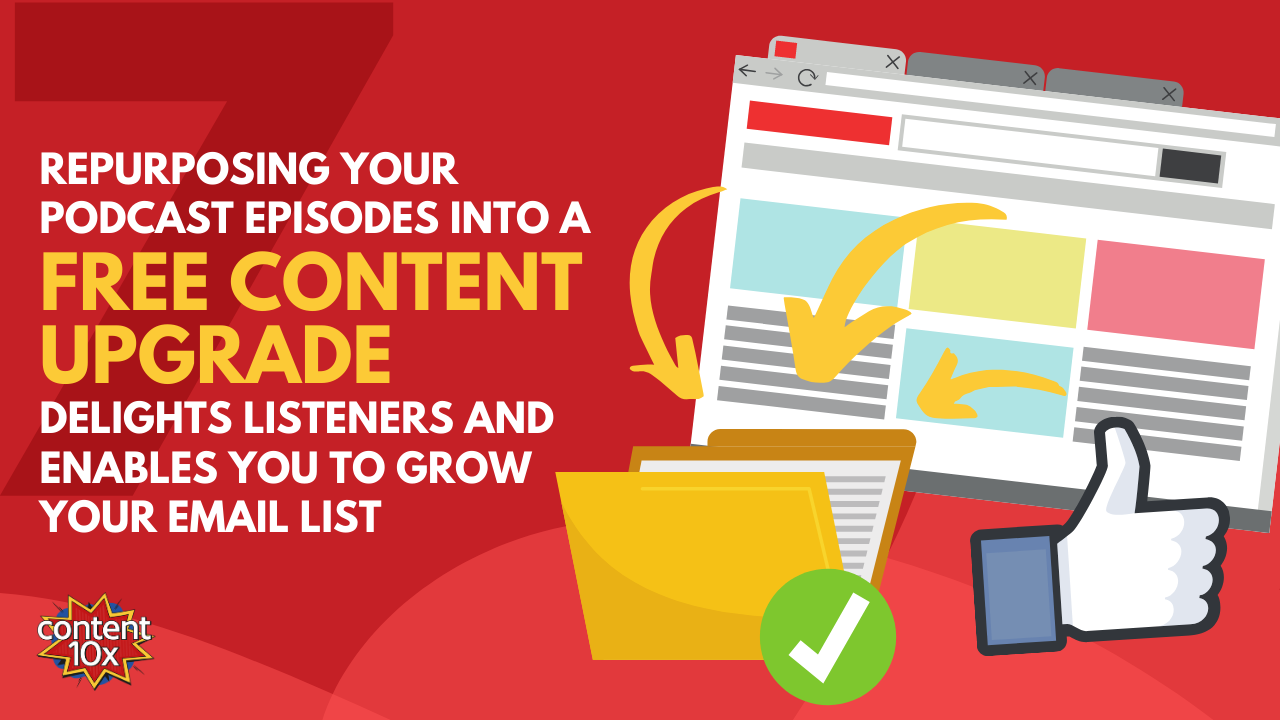 Upgrades like this are often called lead magnets. The idea is to offer something of value to your audience in exchange for their email address. A content upgrade is a form of lead magnet that is really specific to a piece of content – it's a bit like "if you found this content useful, then you're going to love this…".

There are a few things to keep in mind when creating a content upgrade for your podcast episode:
Easy to Consume: Offer high value, but not necessarily high volume.
Address a Problem: Identify a specific issue and help people solve it.
Make Shows Actionable: Focus on getting people to take action.
Some great content upgrade ideas include checklists, infographics, a list of tools or resources, quick step-by-step guides in your field of expertise, templates, free courses, challenges and other bonus content that you know your audience will love.

Get More Out of Your Podcast
Amplify your voice to a wider audience. Turn your podcast into articles, videos, social images, and audiograms. Download your complete guide on making a success out of your show and strengthen your online presence.
Thanks for subscribing!
We've just sent you an email, please follow the instructions to confirm your details.
Conclusion
So, there you have it, 7 different ideas to get your podcast repurposing juices flowing. You don't have to try them all and I definitely recommend taking one step at a time.
Always be sure to focus on approaches that speak to who your audience is and where they hang out. Observe what your audience engage with and do more of the same.
If you get into the practice of squeezing the value out of each podcast episode, you'll see your audience grow. It can be so very tempting to push out episode after episode without doing any repurposing but remember that your job as a podcaster isn't just to record your episodes, it's also to make sure people know that they exist!