You can now automatically send Podcast.co transcripts to the right place as soon as they are created. Whether you want to open a Google Doc for editing, create a new draft post on WordPress, or share the file on Dropbox, Zapier can take care of it for you. Instantly!
Integrating Podcast.co with Zapier gives you back time to focus on what matters most - creating great content. Here's how you can create Zaps to manage podcast transcripts as efficiently as possible.
What is Zapier?
Here's how the team at Zapier sum up their product:
Zapier is an online automation tool that connects your favorite apps, such as Gmail, Slack, Mailchimp, and more. You can connect two or more apps to automate repetitive tasks without coding or relying on developers to build the integration.
You can set up a Zap to fire as soon as a Podcast.co transcript is completed, and send it to wherever it needs to go. Allowing you to take the next step without delay.
Why Create Transcripts?
Podcast transcriptions squeeze more value from every episode you publish. Podcast.co allows you to create AI transcripts with the click of a button.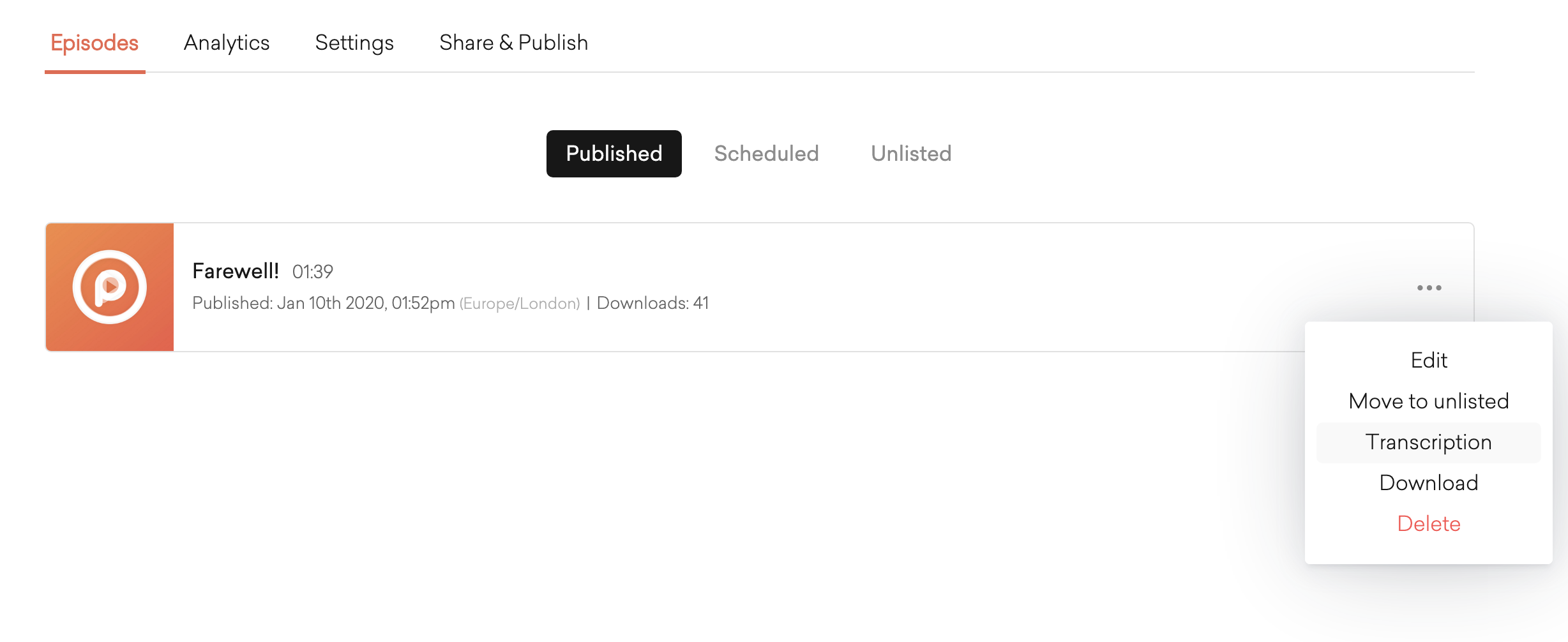 Transcripts can help your show in a number of ways:
SEO
Creating transcripts helps with your search engine optimisation and discoverability on places like Google. If you create useful transcripts which feature keywords you want to rank for, then your podcast will climb search engine results much quicker. Google can't index audio files just yet, but converting your episodes into text makes them searchable.
How Zapier can help SEO: Create a new draft post on WordPress for any transcript you generate to speed up publishing.
Accessibility
The deaf and hard of hearing require transcripts to engage with your podcast because it is the only way for them to connect with your material. Making your podcast accessible to everyone automatically expands your potential reach.
How Zapier can help Accessibility: Create a new Google Doc to proofread and edit your transcript.
Organisation
Creating transcripts creates an easily searchable archive of all your episodes. For example, if you can't remember what you mentioned in a previous episode, just do a quick search through the transcript.
How Zapier can help Organisation: Automatically save all new transcripts to a Dropbox folder for easy-to-access archiving.
Sign Up to Zapier
To create a Zap, you'll first need to create an account on Zapier. Once you have your account set up then simply click on the orange "Make a Zap!" button on the top right of your dashboard.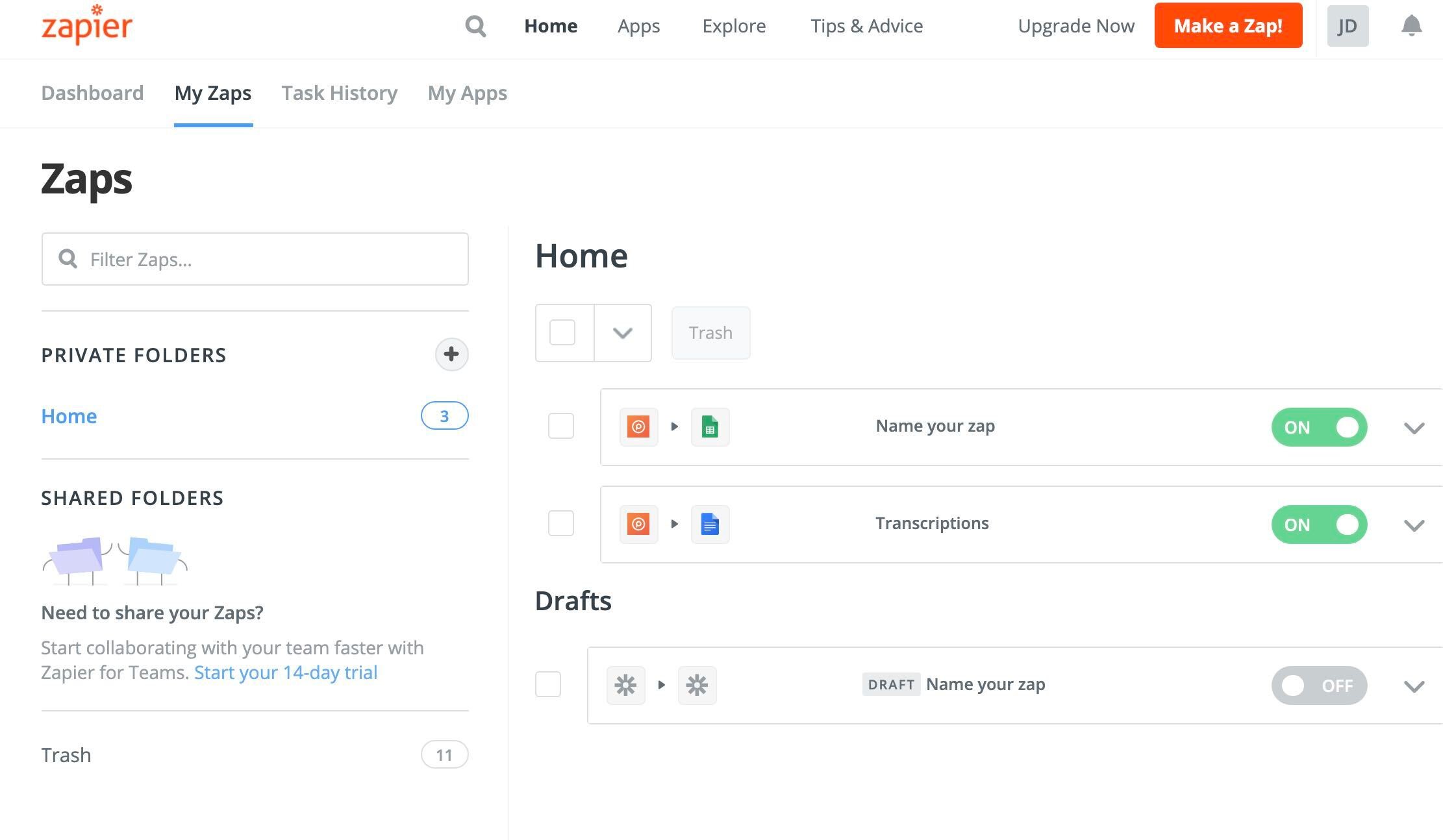 Send Completed Transcripts to Google Docs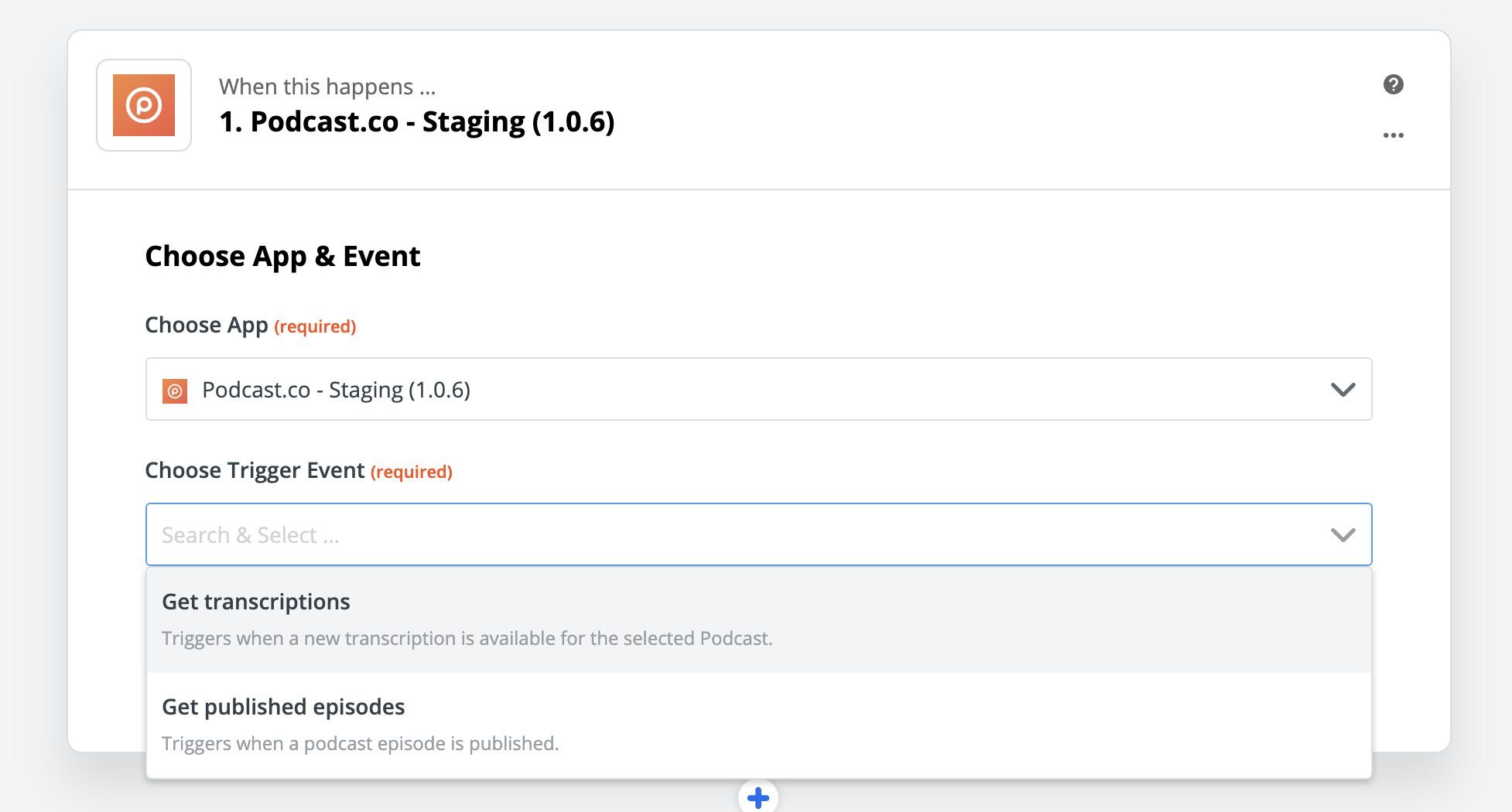 1. In the first box, search for Podcast.co and select us.
2. In the Trigger Event drop down menu, select: Get Transcriptions. Then click Continue.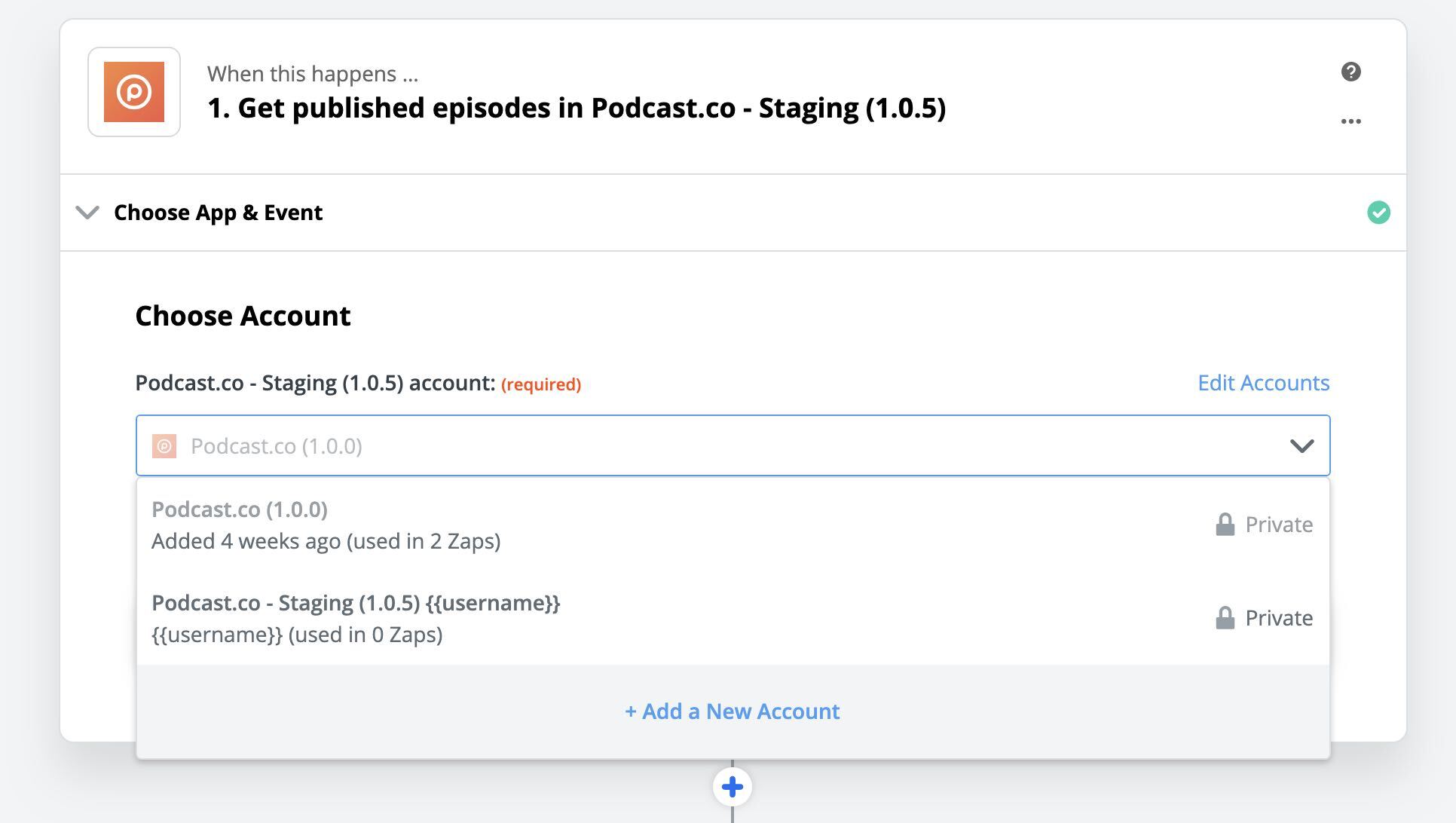 3. Then choose your account. You may be asked to connect your Podcast.co account, so just authorise this. Then select your podcast name from the next drop down list that appears.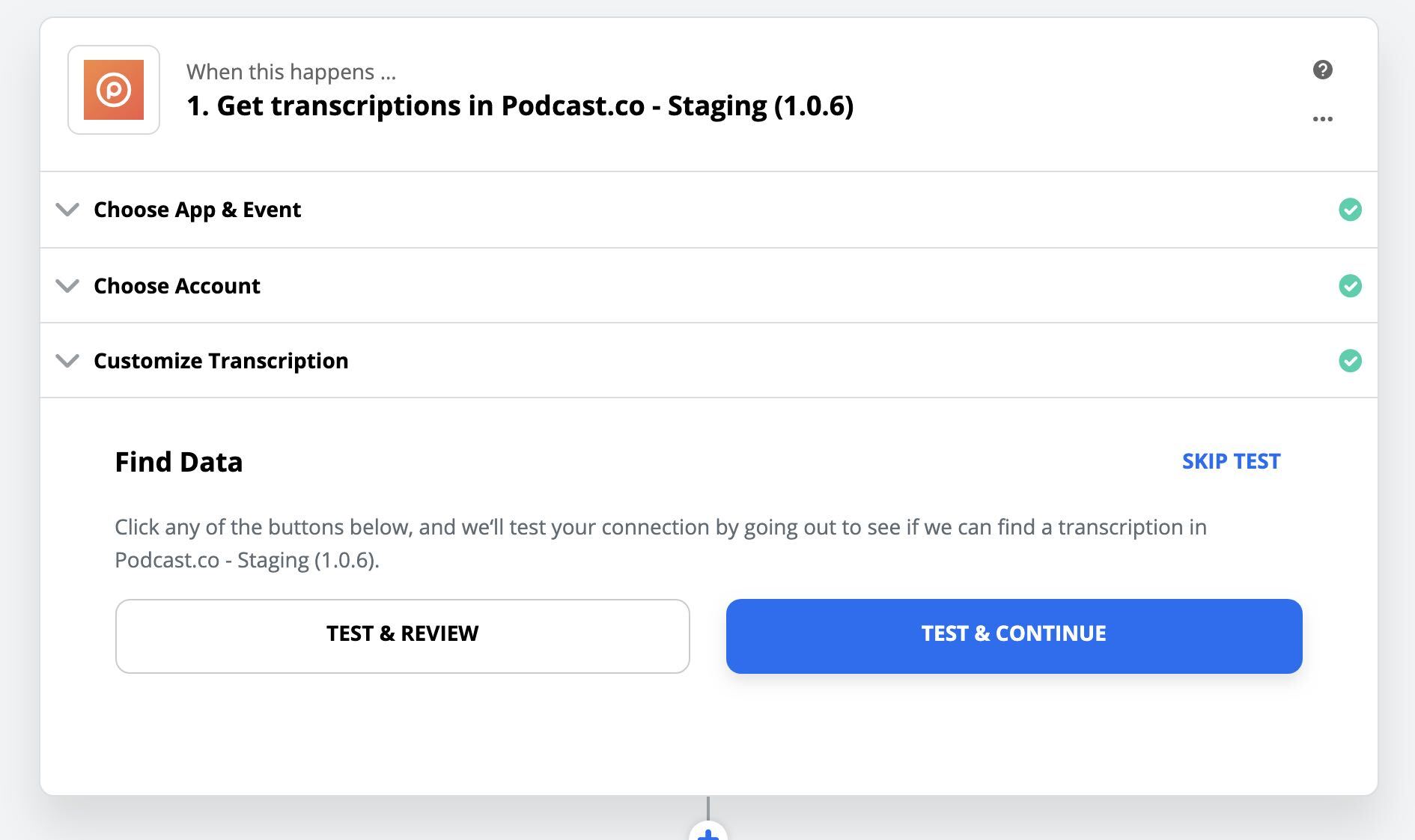 4. At this point Zapier will need to pull through a transcript to test the connection. You must have created a transcript for at least one of your episodes so you can continue the setup. So if you haven't got one already, just head over to your Podcast.co account and create one.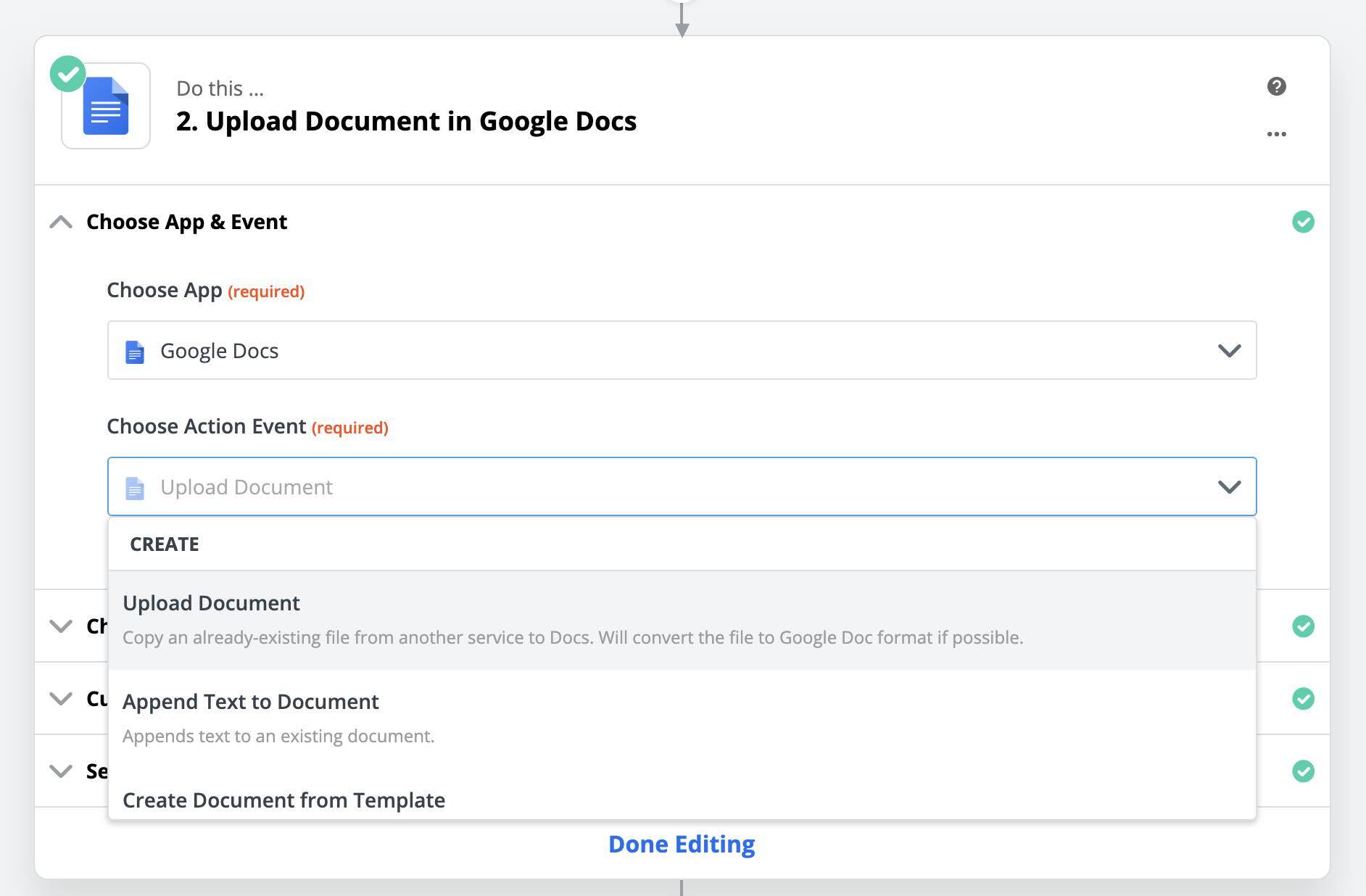 5. In the Do This... section, go to Choose App and select Google Docs. Then for the Action Event, select Upload Document.
6. Connect up your Google Docs account in the next step.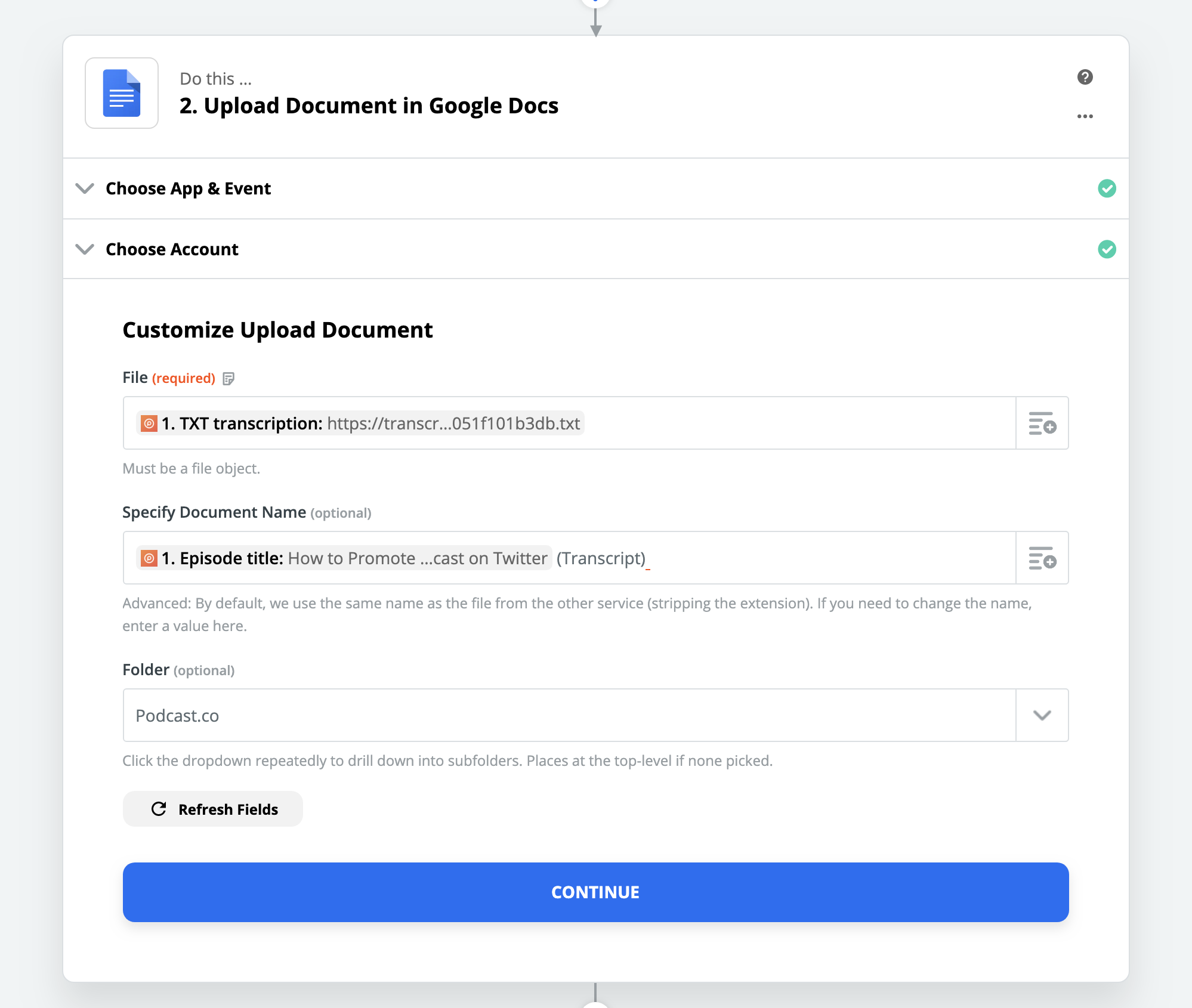 7. Click on the Variables button on the on the right of the File field, select 'TXT Transcription'.
8. For the document name, we recommend going with Episode Title - (Transcript). Click on the Variables button and select Episode title, then type (Transcript).
9. Lastly choose which folder you want the Transcript to end up in.
10. Press continue to test your Zap. It should end up in the right folder as below:

11. Lastly, simply turn on your Zap and you're all set. This process will also work for Dropbox and WordPress so you can automatically send completed transcripts those platforms too.
Get Notified When Longer Transcripts are Complete
It takes a bit of time to generate transcripts. The longer your episodes, the longer it takes. If most of your episodes are 1hr+ you probably won't want to hang around twiddling your thumbs waiting for your transcript to finish.
Thankfully now you can connect Podcast.co to Gmail or other email providers to get notified as soon as your transcript is complete. Simply follow the same steps outlined above and select either preferred email app when you come to the "Do this…" section.
All you'll need to do then is connect your account and enter your own email as the "To" address. Then fill out the required email fields as in the example below. Make sure you click on the Variables button in the email body and select "TXT Transctiption". Zapier will then send you the link to the transcript as soon as it's finished.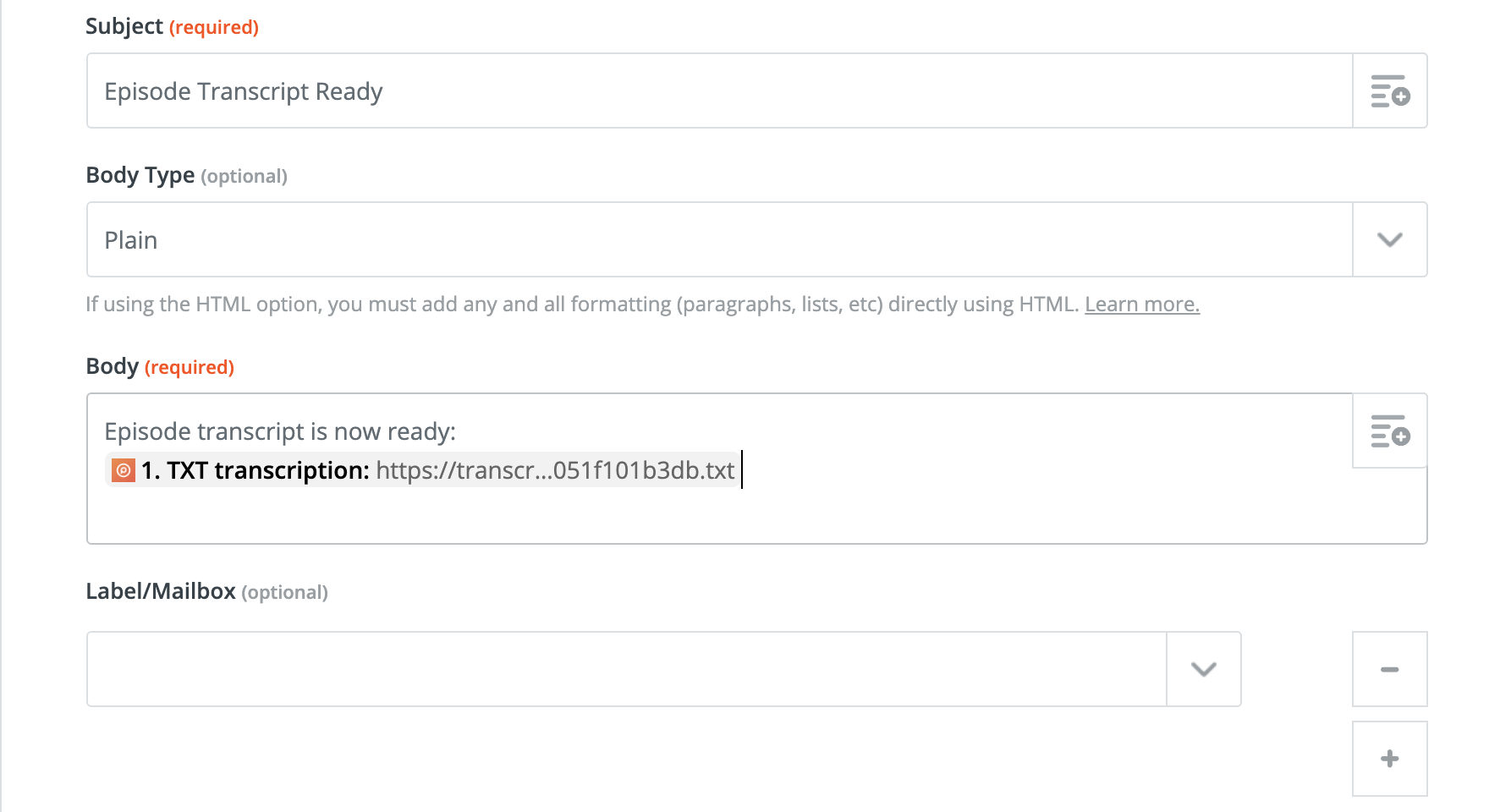 Once it's set up you can get on with more important stuff while your transcript is being generated!