Got an important announcement you'd like all your listeners to hear? Maybe you've just launched a newsletter or you're planning to host a live in-person event.
Maybe you've just joined a new affiliate program or acquired a new sponsor and you'd like to quickly let listeners know the details and promo code before diving into the episode.
Well now you can, with quick and easy Pre & Post Roll Messages on Podcast.co (available on Growth and Premium Plans).
Simply record your message to listeners, upload it to Podcast.co, then add it to the beginning or end of your latest episodes with the click of a button. Zero editing required.
What are Pre & Post Roll Messages?
They are short (15 - 60 second) audio clips which can be tagged on to the beginning or end of your episodes.
A pre-roll message will be the first thing listeners hear when they press play. So they allow you to reach your audience with an announcement when they are maximally engaged and interested.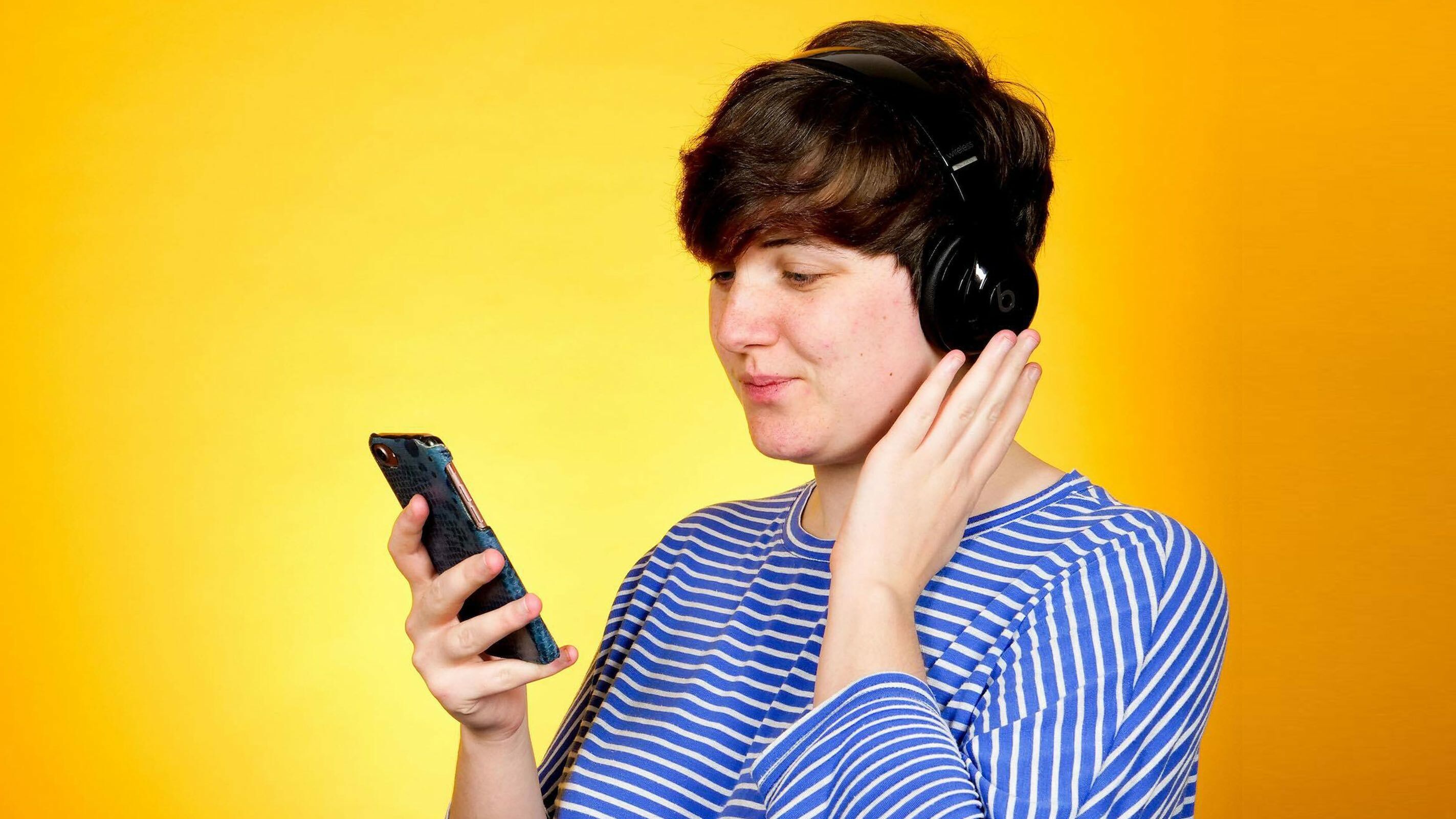 Of course, some listeners may choose to skip over pre-roll messages. But even so, a Nielsen study found that mere seconds of a pre-roll message were effective at increasing ad recall, brand awareness, and purchase intent.
Using Pre-Rolls to Build Email Lists
Even if you're not yet at the stage where you've found sponsors for your podcast, you can still tap into the power of pre-roll messaging by using the feature to build your email lists.
One of the best ways to do this is to create a "lead magnet" and advertise it to your audience at the beginning of every episode. A lead magnet is simply an incentive listeners will be willing to exchange their email addresses for. There are several forms they can take, such as:
A comprehensive whitepaper or eBook e.g. "The Complete Guide to… X"
Running a contest with an enticing prize on offer
Allowing listeners to book a free consultation
It's up to you to decide which form of lead magnet will work best for your particular audience. If you're unsure, you might want to experiment to see which captures the most email addresses.
After you've built up your email list, it's then all about taking the right steps to move your potential customers along the buyer's journey - turning listeners into leads, and leads into customers.
Note: For a detailed step-by-step process on how to generate leads and sales from your podcast, check out this article.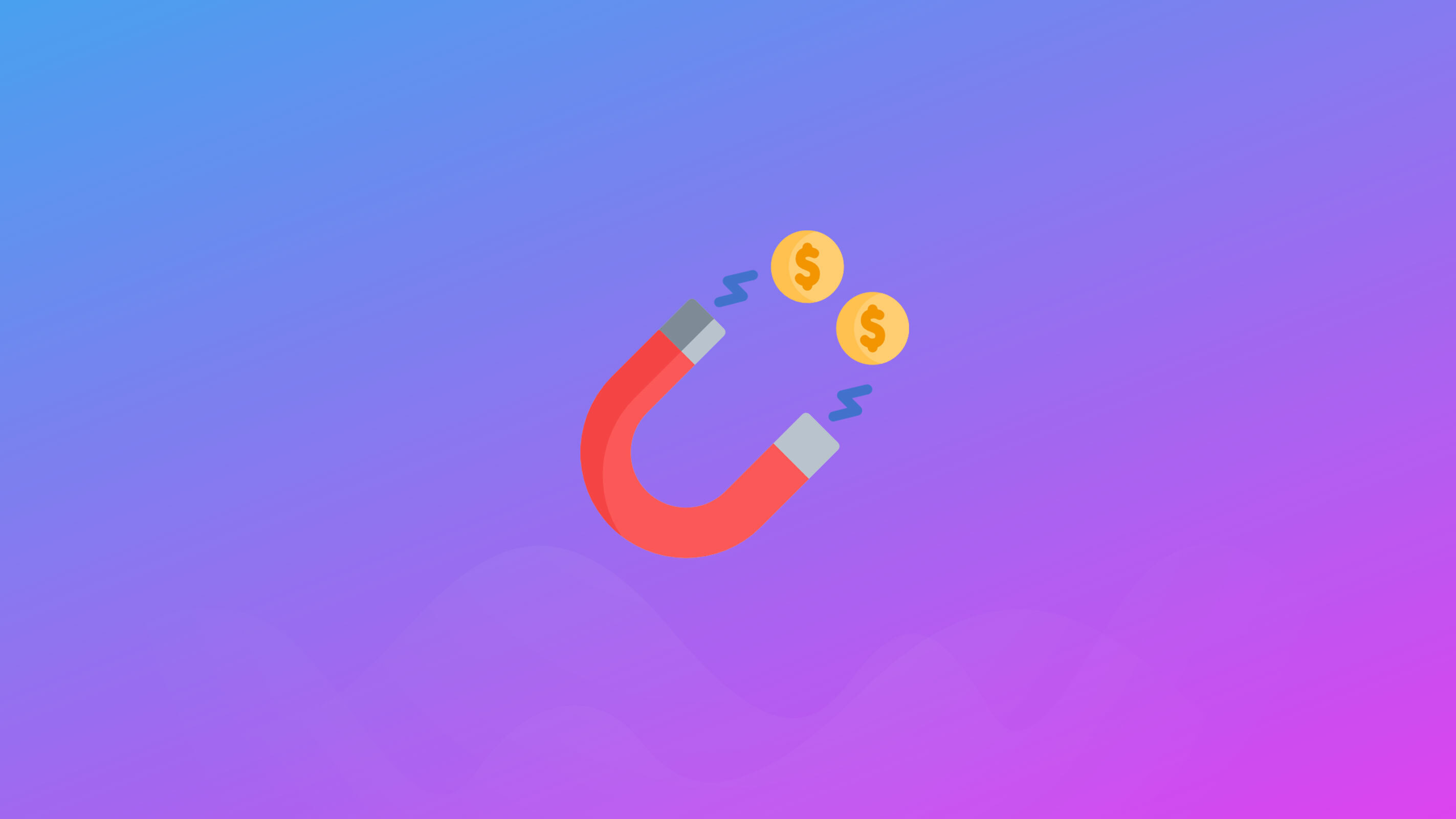 How to Record Your Messages

You can record your messages the same way you record your episodes. For best results, record locally using a microphone into software such as Audacity or GarageBand.
Once you've finished recording, export the file as an MP3 and save it to your computer.
How to Add Pre & Post Roll Messages to New Episodes
Note: This feature is available on Growth and Premium plans only.
Log into your account, head to Settings, then select the new Advertising option on the left.
To apply your new Pre-Roll or Post-Roll message, click Browse to open your file finder and find the MP3 (max file size = 10MB)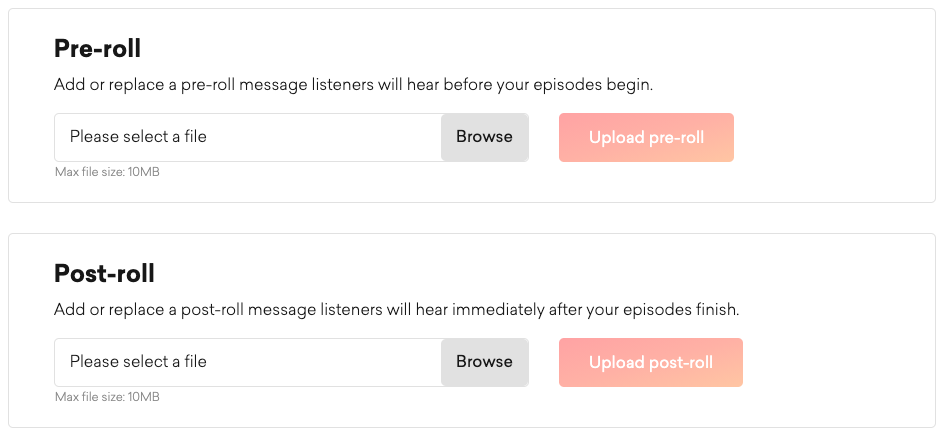 Then click the orange Upload button next to whichever one you've started and it will upload.

After adding your messages, you can then upload all new episodes as normal, filling in your Title, Description, etc. After inputting the relevant info, scroll down to view the Pre/Post roll slider option.

When turned on (Orange) your messaging will be automatically applied to the new episode!
Applying Pre & Post Rolls to Existing Episodes
If you need to apply your Pre/Post Roll to any existing episodes, click the 3 dots next to the relevant episode on the main dashboard, then Edit. You'll now find the toggle to turn it on in there. Simple!