So you've decided to launch a podcast for your business. Great. But now what?
Well, before you jump head-first into writing your show's first script, or setting up a flurry of social accounts for it, it's important to put together an effective podcast business plan. Rushing the process will cause mistakes (probably not very far) down the line, so taking some time to think through your strategy, ambitions, and overall goals is key to giving your show longevity.
Below is everything you need to know about writing a podcast business plan, why you should do so, and what to include.
Why Should You Make a Podcast Business Plan?

You wouldn't embark on a cross-country road trip without a sat nav or Google Maps to hand. Well, starting a podcast without a solid business plan isn't a good idea either.
Your podcast business plan not only gives you direction, it also sets out all your targets, milestones, and realistic expectations.
There are many pros to putting together a podcast business plan. The main one being it's a great way of mapping everything out. And by everything, we mean your content strategy, budget, marketing plan, and how you plan on sustaining your show in general. They're also great learning tools, and can give you a much better understanding of your show's target audience. So, why are you creating your podcast? And who's your ideal listener?
Good podcasts with a business plan will have a much higher chance of being commercially successful than the ones without. Brands will be much more inclined to work with you if you can provide them with some in-depth insight into your show. That goes for securing funding, sponsorships, and partnerships.
Evo Terra, host of Podcast Pontifications, spoke to us over at Podcast.co about the importance of defining a business plan for your show. He said:
"If you expect to get thousands of listeners by simply releasing your podcast to the world, you're going to be disappointed. So my advice is to be realistic in your expectations. You'll need to engage in traditional content marketing tactics to build and grow your audience. It's all in the detail, and the planning."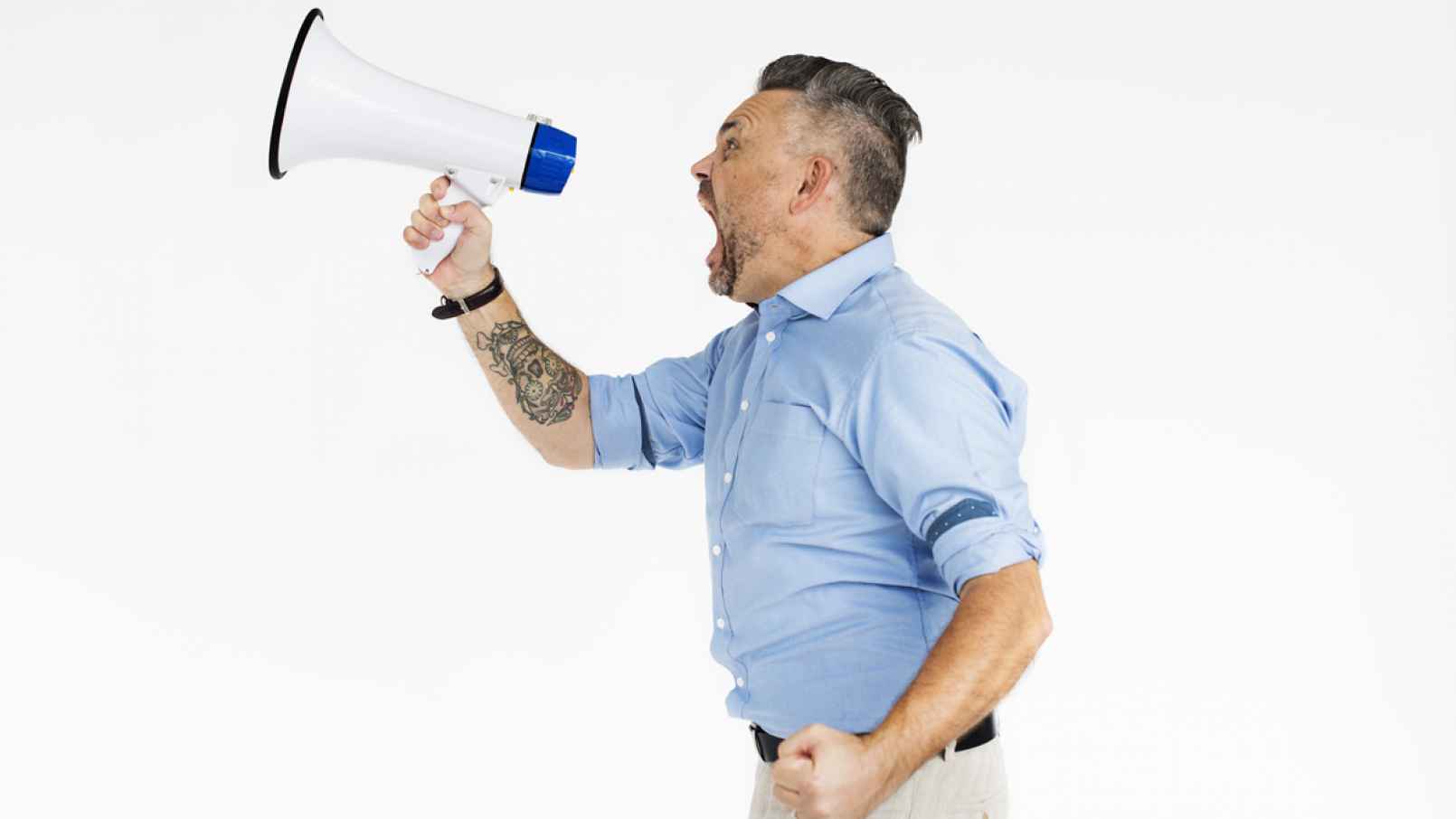 8 Things to Include in Your Podcast Business Plan
Ready to put pen to paper? We've pulled out 8 elements that every good podcast business plan should include. Remember the more personalised your plan is, the better.
1. An Overview of Your Podcast
Start by noting down what your show's about, the idea behind it, and what value you think it'll give listeners. Getting your initial thoughts down on paper can give you a much clearer vision of your overall values. You might also want to add in any future goals or milestones you'd like to hit. 1000 downloads in the first 12 months? Booking a certain guest? Reach for the stars.
2. Who Your Competitors Are & What Works for Them
It goes without saying there are already a lot of podcasts out there. Researching your competitors and working them into your business plan will make it much easier to map out what listeners want to hear, and what's already been covered. Who are the top players in your show's field? And which ones do you take inspiration from? You don't want to simply replicate another show's style or concept. So, where will you fit in? And what angle or perspective can you offer that others can't? Once you've outlined what's currently performing well in your niche, you'll be able to define why your podcast vision is relevant, necessary, and unique.
3. Who Your Target Audience Is
Getting clear on your target audience early on means you can adapt your language, tone, and overall strategy to speak to the right people directly. Failing to do so can result in unclear messaging, and you run the risk of producing a show that doesn't really resonate with anyone.
We'd recommend doing as much research as you can to get into the mindset of the desired listener. Good points to think about are:
What are they doing in their spare time?
Do they have any hobbies or interests?
Why do they listen to podcasts?
Why are they interested in your show's topic?
What value are they looking for from a podcast?
Once you've got a strong understanding of the above points, you'll find it much easier to define your target audience in your business plan.
4. An Outline of Your Budget & Time Spent
Being realistic about your production budget, overall finances, and available resource is important. Before you start planning your first episode, you need to sit down and work out your available budget, and how much time you and your team can dedicate to a podcast. A simple way of doing this is to make a spreadsheet of all initial costs (like equipment) and time investments, and go from there.
Once you've got an idea of the above, you'll then need to work out any production or hosting costs. Add them to your spreadsheet. This will give you a rough idea of what you'll be paying in both time and money to produce each episode. You can then plan out your marketing strategy, what it'll cost to action, and how much time it'll take. Having all this documented in a spreadsheet allows you to determine whether your podcast is both financially viable and practically feasible. If not, it's time to go back and make some changes to the format to save time, or reduce some of the other projected costs to save money.
5. Details of Anyone Working On Your Podcast
This one's easy. Is there anyone else working on your podcast? If it's just you, don't worry about this section. But you might have a co-host, or a couple of people you outsource certain production tasks to, like editing. If so, make a list of who's doing what, and add it to your podcast business plan. Defining roles from the get-go gives everyone a clear vision of their part to play, making for a much smoother process.
6. A Marketing Plan
How are you going to promote your show? And how are you going to drive listeners to it? You might want to think about creating a website, writing a blog, a monthly newsletter, or just promoting content through social media.
Have a think about which advertising avenues you want to venture down, too. This will depend on the size of your budget, of course. So, if you've not got a big wad of cash to spend on it, building and pushing an online presence might be the better option (it's predominantly free). If you do have a marketing budget to work with, there's more you'll be able to do. This could be anything from pamphlet distribution to billboard campaigns, or implementing QR codes. Make sure you cross-check the costs of your desired marketing strategies with your budget. What does it realistically allow for? Including this in your business plan will keep you in line, and help to stop any unattainable spending.
If you need some podcast marketing inspiration, check out our article here.
7. Decide on a Publishing Schedule
How often are you planning on releasing new episodes? Monthly? Weekly? Again, mapping out your content schedule will really benefit your show. Not having a consistent editorial calendar can appear disorganised, and listeners will be expecting some form of regularity from you. Publishing whenever you feel like it will have a negative impact on your download numbers over time.
8. Monetization Methods & What Products You're Selling
The last thing to factor into your business plan is how you're going to make money from your show. So, add in details of any sponsorship deals, brand partnerships, advertisements, or affiliate links you want to secure. If you're a smaller show, you probably won't be able to get these monetary wins straight away. You'll need to build a listenership of a certain size before bigger brands and hefty sponsorship deals make their way into your inbox. Even so, it's worth including them in your business plan. It will motivate you to keep going, and it's always good to set out any long-term aspirations.
If your show really takes off, you might be in a position to explore other monetization avenues. Like merch, for example. Bear in mind that it takes a lot of time and effort to reach this point, and you'll need to have a strong relationship with listeners for them to want to buy your products. If you think this might be possible for your show at some point, include it in your business plan.
Example Podcast Business Plan Template
There's no one way when it comes to formatting your podcast business plan. It's you who will be using it, so try to find the right method for you. That being said, try to use simple language where you can. There's no need to use overly-complicated, boring jargon.
Make sure you take the time to keep it updated, too. As your podcast grows, you'll likely want to set yourself new goals, or make minor tweaks to your already existing ones. We'd recommend checking in with it and making sure it's reflective of your show's current situation every quarter or so.
Feel free to use our template below to build a podcast business plan for your own show.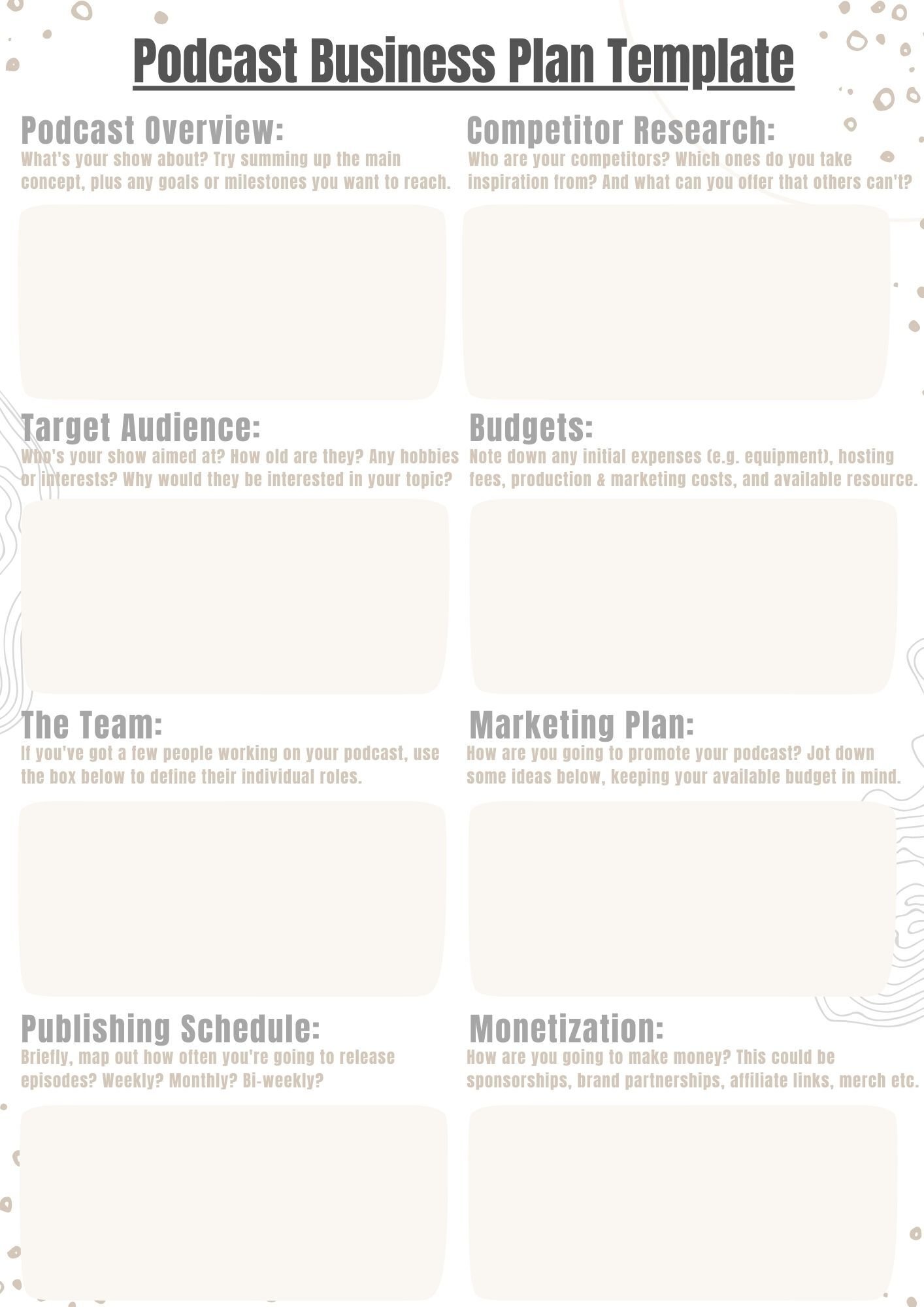 Summary
And that's a wrap on everything you should include in your podcast business plan. Planning out the entire future of your podcast might feel a bit daunting at first, but it's definitely worthwhile. It's never set in stone either, so feel free to tweak it whenever you see fit.
Remember that launching a podcast is supposed to be exciting, so have fun with it. The real hard work comes next…