You may have seen in recent articles popping up that Google might be in the process of creating a Google Podcasts app. Here's everything you need to know about this new podcast directory.

Google Podcasts App
This month, 9to5Google, a blog all about Google, wrote an article talking about how they found a few lines of code in a recent update of the Google app (ver 8.7) that shows a currently inactive prompt asking users to "Get the Google Podcasts App".
<string name="install_google_podcasts">Get the Google Podcasts app</string>
<string name="install_google_podcasts_accept">Get the app</string>
<string name="install_google_podcasts_message">Get the Google Podcasts app in the Play Store for quick access</string>
<string name="install_google_podcasts_reject">Not now</string>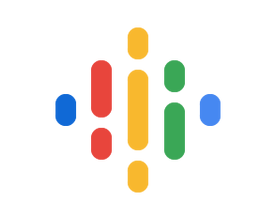 They also managed to uncover this logo in the update which we can assume has been created ready for the Podcasts app.
While the app isn't live yet, there is a link to the Play Store in the code as well, so everything seems to be prepped and ready to go.
Google Podcasts Product Manager, Zack Reneau-Wedeen actually hinted at the creation of the Google Podcasts app earlier this year:
"The fact that when you open up an iPhone, it has a podcast app and your iPhone-having friends probably have been listening to podcasts plays a big role. So we want to create an environment on Android where it's just as easy to get started, and it's actually the best experience possible for discovering and listening to podcasts"
- Zack Reneau-Wedeen, Google Podcasts Product Manager
We don't have a release date yet for this app, but we know it's probably coming very soon! As soon as it's available, we will be adding it to our directories list and telling you how you can submit your podcast to the Google Podcasts app.
Until then, why not click the button below to check out our list of other Podcast Directories that you can submit to!