Expand your search and discover podcasts from fan favourites, trending shows everyone's talking about, to more obscure stuff. There are literally thousands of podcasts out there now, from very niche topics like CIPYD to more mainstream ones like The Guardian's Football Weekly.
Discover Podcasts Youll Love
Finding shows that you love can be like trying to find the light switch in a dark room, which is why there are places you can use to discover podcasts to find the best ones out there. We've put together a brief list of the most popular places for you to find your next favourite podcast series!
1. BBC Podcasts
BBC Podcasts is a well regarding source for news, music, comedy, and all manner of popular shows. The BBC pretty much has you covered on a wide variety of professional content.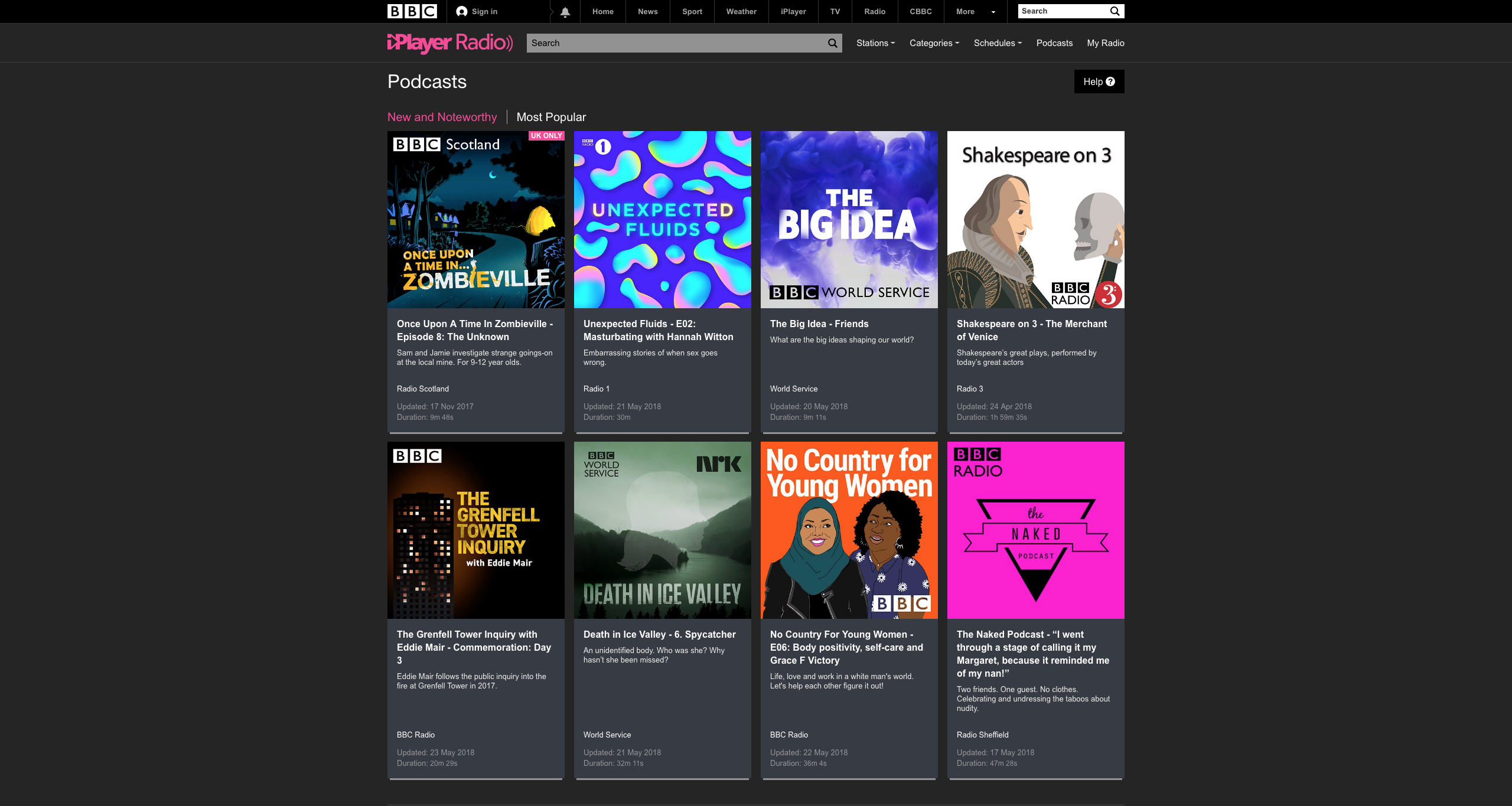 Every show is easy to discover, with new and noteworthy to more popular podcasts. If you don't know what you're looking for then you can search by category to split things up. Plus, if you find one you love then there's the option to subscribe or download it for later. It's not just podcasts that are available either. Long radio shows, like Nick Grimshaw's Breakfast Show on BBC Radio 1, are condensed into digestible podcasts for catch up.

This is particularly awesome if you're already fan of a radio show (or even one of their station's for that matter) and want to hear it when you're not around, so it's definitely worth checking out!
2. Listen Notes

Listen Notes, also known as "The Podcast Search Engine", offers a very simple but powerful way to find shows. Think of it like Google, but for podcasts!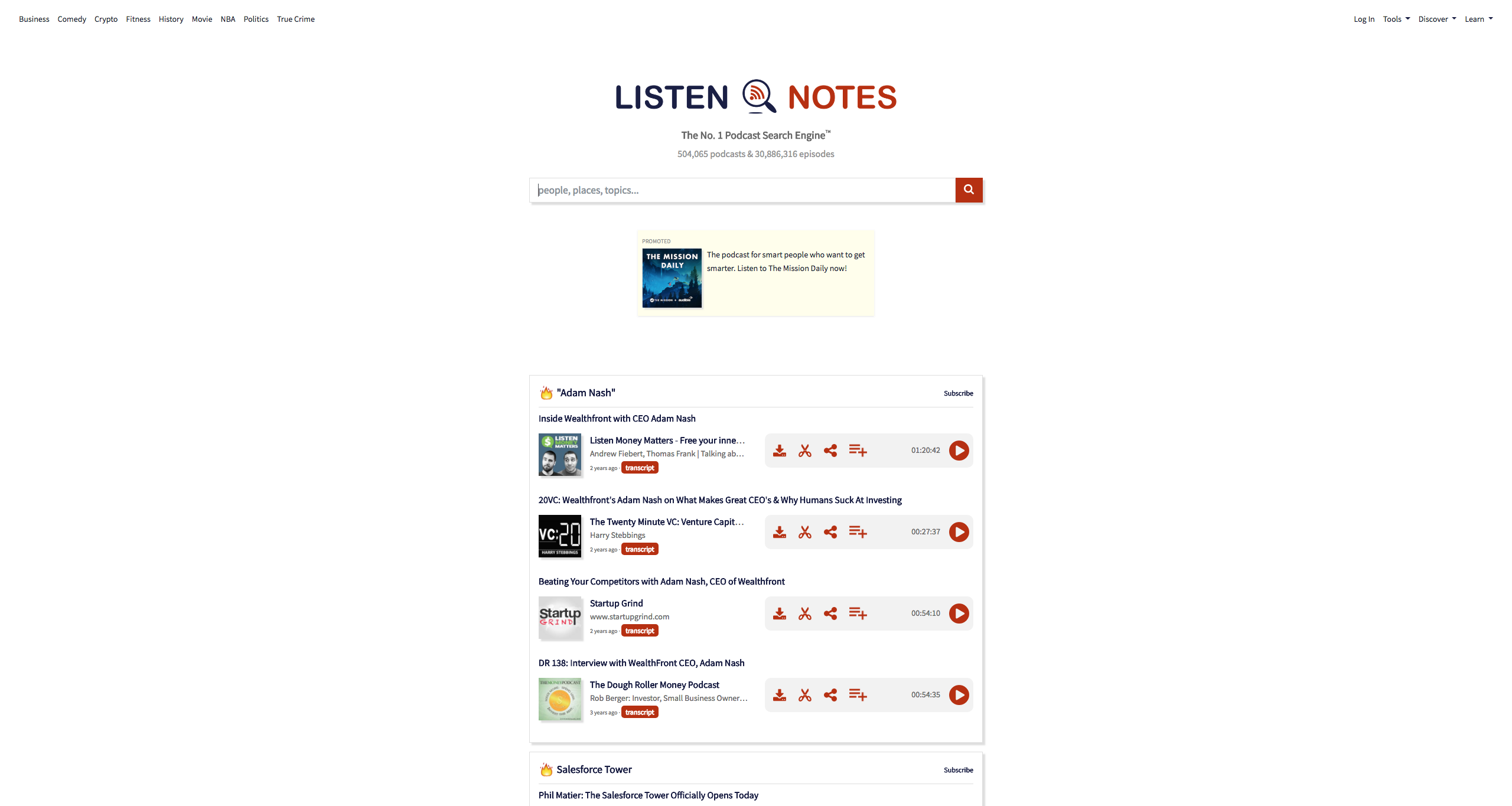 Enter search terms that might interest you or people you know have their own podcast. For example, searching for "Stephen Fry" will bring up all his podcast series, as well as other shows he's been involved in that might be worth checking out.
You're guaranteed to find something to your particular tastes and allows for fine-tuning to discover podcasts that will peak your interests. Unlike the BBC Podcasts, this is purely a search tool for thousands of podcasts on the internet from thousands of broadcasters, producers, and creatives!
3. TuneIn
TuneIn is one of the largest radio directories on the internet, but did you know they also offer plenty of smashing podcasting content too?!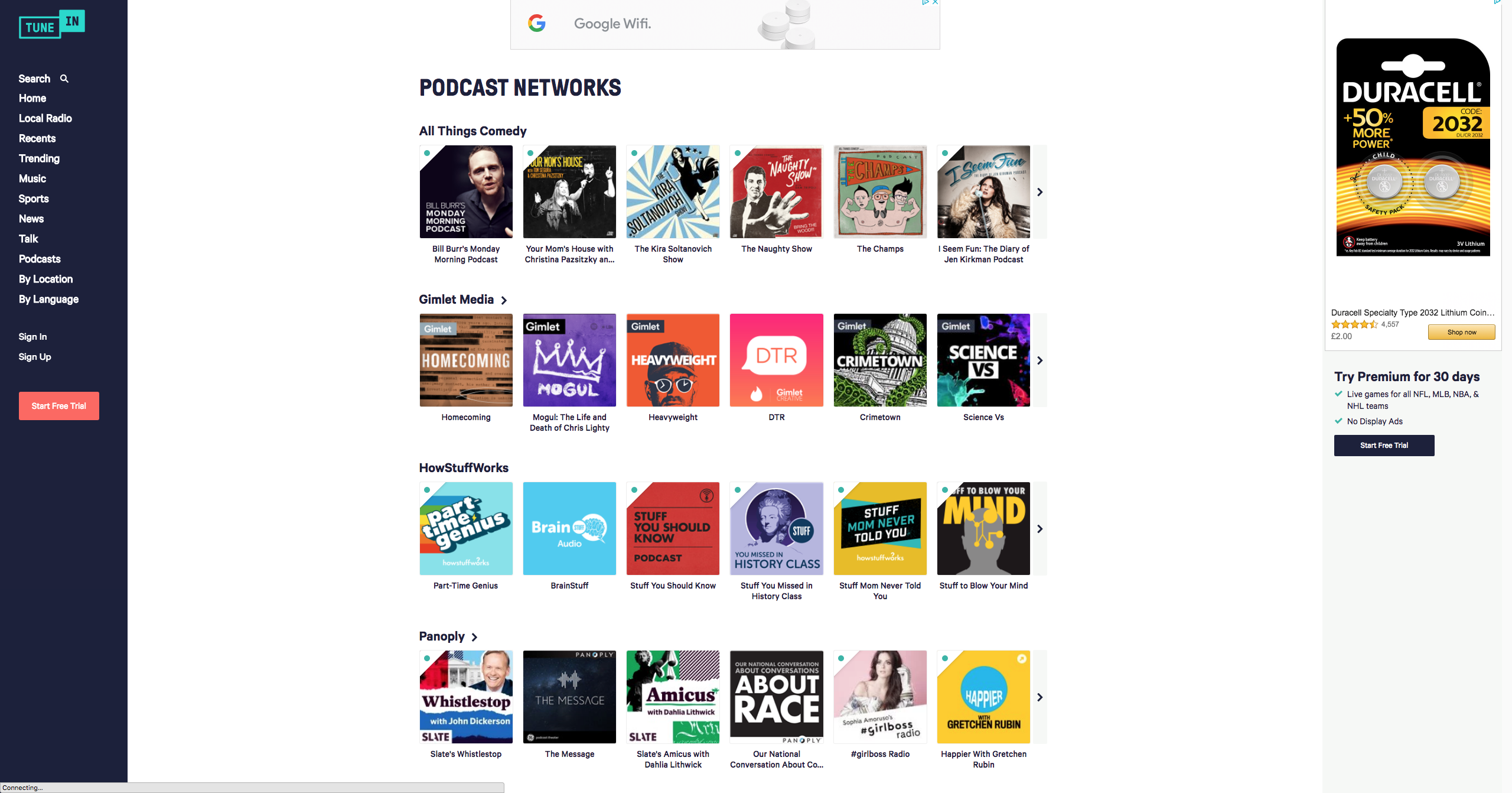 Browse from well-known networks like TED, discover shows by location, or see what everybody else is listening to at the moment in trending. Once subscribed, you can go back through and keep up-to-date with all your favourite shows, either using the TuneIn website or by downloading either the Android or iOS apps.
Alternatively, if you fancy listening to live shows then it's a great place to tune into radio stations like MCR Live. Overall, it's one of the best places to discover podcasts and radio shows alike!
4. Apple Podcasts (Formally Known as iTunes)
Apple Podcasts is by far (and still is to this day) one of the largest sources of podcasts on the planet. This is THE place which originally had the best shows, producers, and content creators before the podcasting market exploded!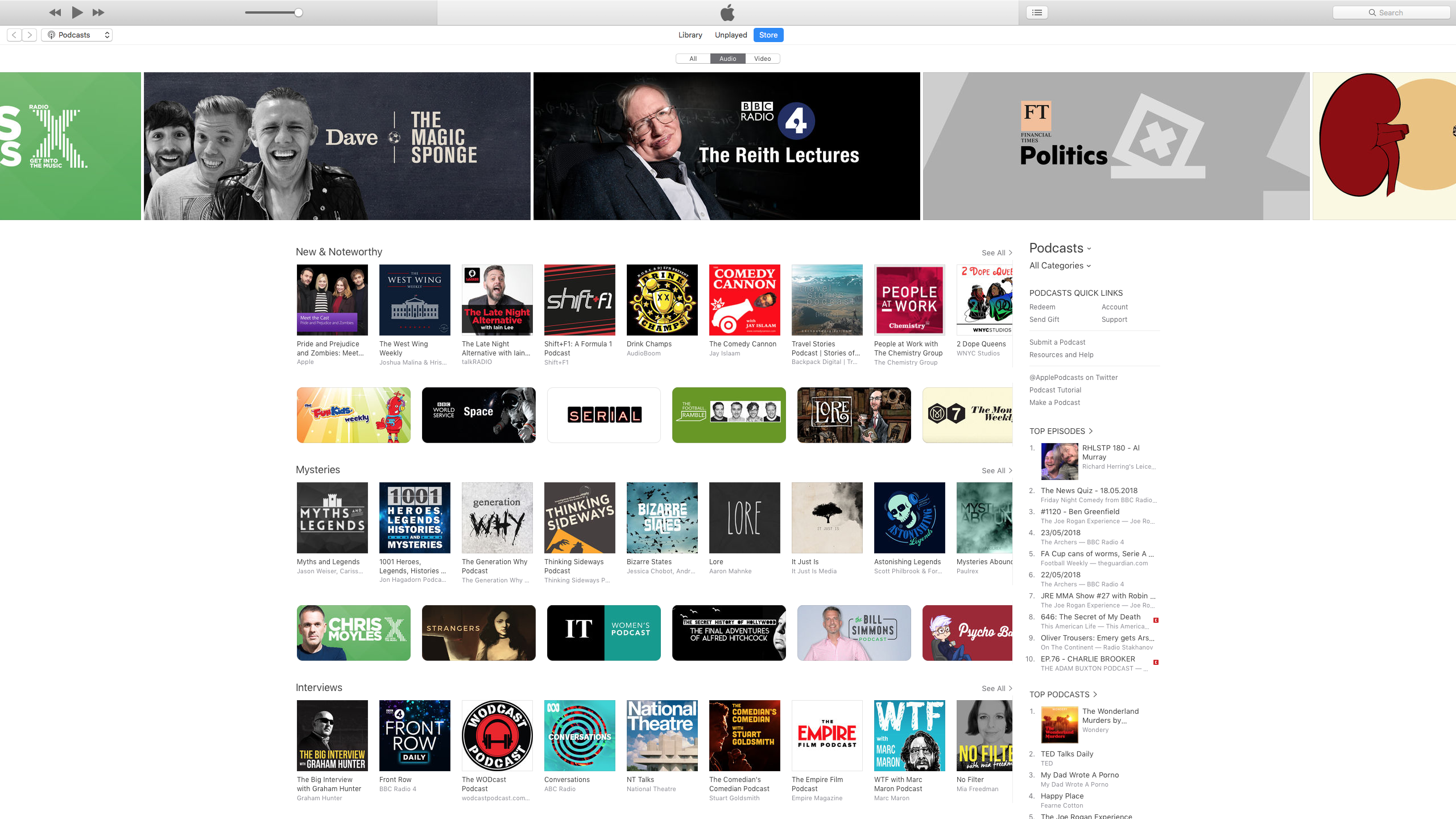 If you're a massive Apple fan (which we are!), then iTunes is probably for you. It has plenty of benefits to easily transfer your downloads and subscriptions to any Apple device automatically, meaning all your favourite shows are available across your iPhone, iPad, and Mac.
You can see at a glance all of your unplayed podcasts and download them quickly for offline listening. It's search is quite good too, you can browse podcasts that might interest you or find something in particular by searching one of the largest libraries of podcasts on the web. iTunes is a must-visit for anyone with an Apple device or who simply loves discovering new and interesting podcasts.
5. Player FM
A majority of people like to listen to podcasts whilst travelling or doing the daily commute to work, so Player FM is a fantastic option with it's mobile-friendly app.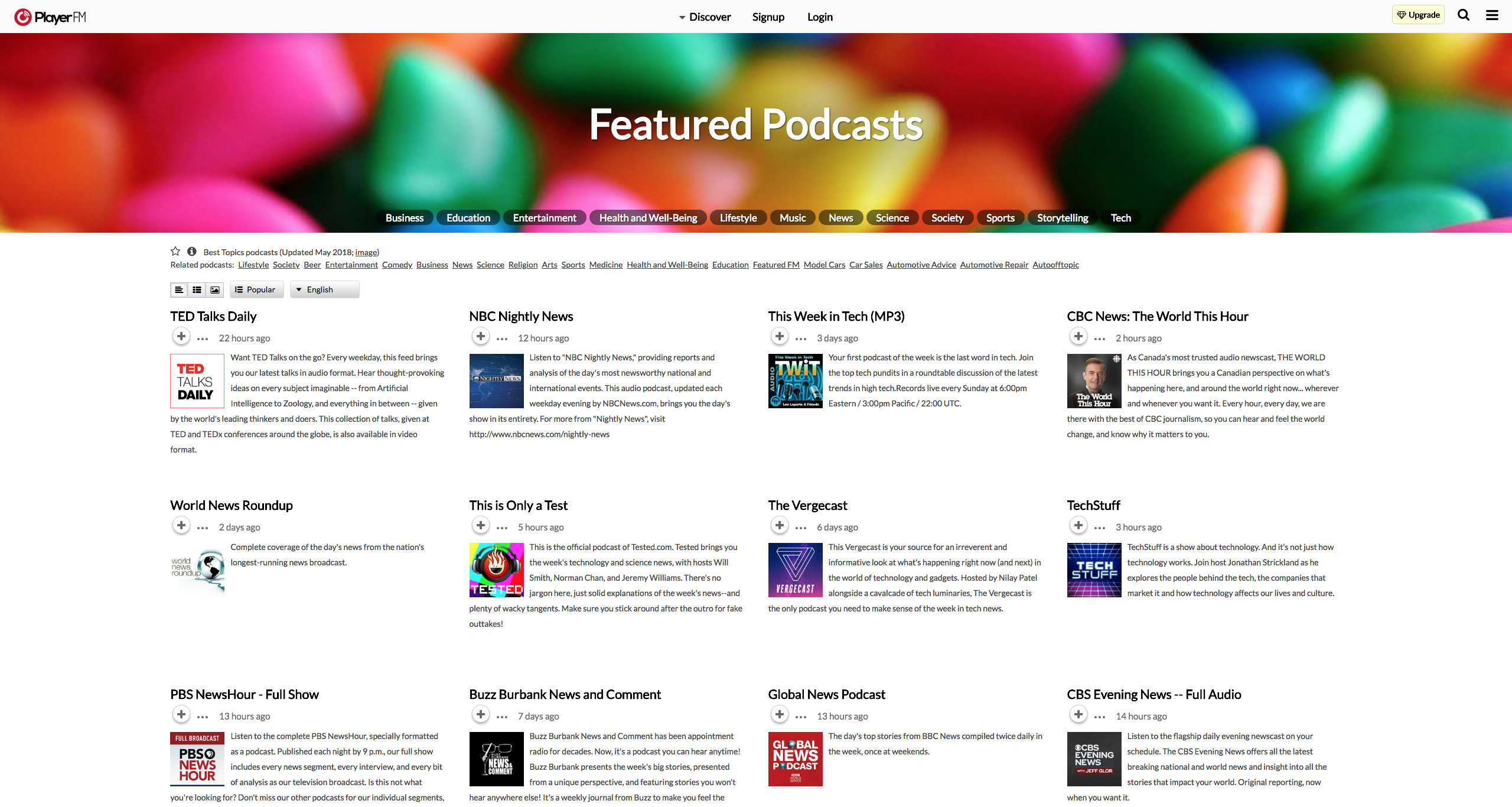 A majority of people like to listen to podcasts whilst travelling or doing the daily commute to work, so Player FM is a fantastic option with it's mobile-friendly app.
They offer a sleek mobile and web experience to discover podcasts that will appeal to pretty much everyone with very specific and broad topics. With constant tweaks to the service and new podcasts added on the daily, it's a fantastic resource to subscribe and check in on your favourite podcasts.
In terms of searchability, shows are split into different categories so they're easy to find. For example, in Health and Well-Being, you can sort popularity, trending, name, and recently added to discover shows you might be interested in. Also, podcasts are labelled with tags that can be searched to find other podcasts that are similar, which is handy if you already enjoy a podcast and want to find similar ones!