Back in 2017, Apple announced changes to its podcasting directory within iOS 11 and iTunes 12. One new feature is "Promotional Trailers" which are pinned to the top of your podcast page within both apps. The idea is to highlight a show's best bits to entice potential listeners without reading a lengthy description. Create a podcast trailer for your show as a taster of what to expect, driving home why people should devote time and subscribe to your show.

Highlight Your Best Bits with a Trailer
If you're just starting out, and are not ready to publish full episodes yet, a trailer can provide a presence on podcast directories like Spotify, Apple Podcasts, and TuneIn. Promoting your show before the first episode is a good way to promote and test the waters.

Podcast.co Daily, a show all about the latest podcasting news, launched with just a trailer. Listeners were given a taste of what to expect and could subscribe before the podcast officially launched.
Serial podcasts, like Slow Burn and our own Create Reach Inspire, benefit from trailers. Apple podcasts allow for seasons of shows. Each season can have its own trailer, teasing what's coming soon on your newer episodes. Great for maintaining your following as well as onboarding new subscribers.
Another way you can benefit from trailers is cross-promotion. If your podcast is affiliated with another creator, or you have multiple podcasts, you can distribute your trailer episode for use within other episodes. Cross-promotion drives new subscribers your way. Even if you're not affiliated with other shows, having a trailer allows you to be organically featured. If another creator comes across your podcast and likes the sound of it, they can grab the trailer and incorporate it into their next episode or article.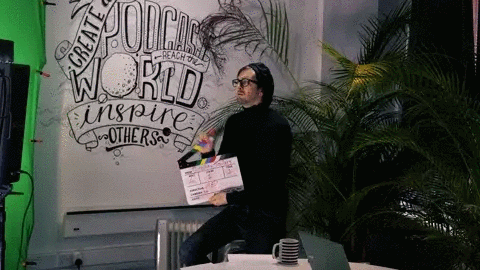 Create a Podcast Trailer: Dos & Don'ts
Much like channel trailers on YouTube, podcast trailers are usually between 30 seconds to a few minutes in length containing tidbits and highlights of what your episodes has to offer. Trailers tend to be effective if produced correctly. A bad trailer will only harm your podcast and potentially cost you new subscribers.

What You Should Do...
Name: Aways include your podcast's name early, preferably in your opening sentence.
Description: Brief overview of what listeners can expect from your show.
Benefits: Sell the best bits of your show and what listeners can expect if they subscribe.
CTA: Point listeners with a clear call to actions, such as your socials, an upcoming event, or a service/product your selling.
What You Should Avoid...
Overstuffing: Don't cram your trailer with too much stuff or waffle. Keep it clear, succinct, and to the point.
Swearing: Keep it clean and friendly to appeal to more listeners. Or if your show is marked as explicit, then go nuts.
Advertisements: Strip your trailer of any ads. Upfront promotions can put a lot of listeners off.
Choosing the Perfect Trailer Length
Consider creating two variants of your trailer, a short 30 second and a longer version for better flexibility further down the line. If a creator requests a copy of your trailer to feature in a short promo, the 30-second version is ideal. The longer version can be kept for your actual podcast feed.
As with any trailer, it should be kept relatively short. When creating your narrative, proofread and edit it down to reduce waffle. The trailer should provide all the information you want to put across in the shortest time possible.
As more third-party apps and directories are adding support for trailer episodes, don't you think it's time to create a podcast trailer of your own?
For our full, comprehensive guide on how to start a podcast, click here.