Podcasts are the best way to get your voice heard, whether you're a podcaster, agency, or business. If you have an idea for a podcast, but you're not sure where to start, you've come to the right place! In this guide, we'll show you everything you need to know to setup a podcast studio.
FAQ
First let's start with a little FAQ of topics that we found to be some of the most searched when starting up a podcast:
I don't have too much technical knowledge. Can I still make a Podcast?
Absolutely! That's where Podcast.co comes in! We have a bunch of useful articles to help you get your setup running, but if you need any extra help, feel free to contact us via the speech bubble at the bottom of the page, or by emailing [email protected]
I have a pretty small budget for this. Do you think I can still do this?
Likelihood is, you are probably going to have to pay for some part of the process, whether that's buying a microphone to start you off, or paying for a hosting platform. However, podcasting is usually a very cheap format to setup and run, so much so that there are many podcasters that just enjoy creating podcasts as a hobby.
Do I have to get expensive equipment to be a good podcaster?
Not necessarily. While usually a bigger investment into equipment means more durability and better sounding audio, the difference in audio is usually minimal and you can still get cheaper mics or mixers that can last a good few years, as long as you take care of them properly.
Basics to Setup a Podcast Studio
In order to help you create your own podcast studio, it's a good idea to make sure you understand the basic setup of how a podcast works. Don't worry! It's extremely simple so we'll make this section short and simple.
Equipment
These are going to be the very basics you'll need to set up your own working Podcast Studio wherever you want it to be. You can find and add your own special touches to your setup as you grow your podcast.
Microphone
A pretty obvious one is your microphone. This is probably the one you're going to want to spend the most time on as getting a decent sounding microphone is essential to getting your podcast off to a good start.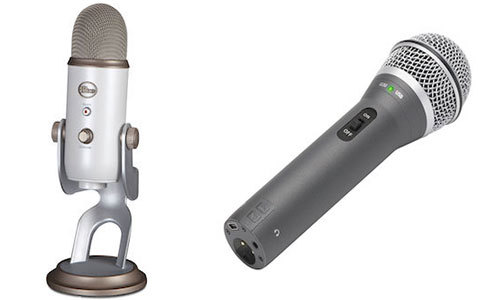 If you're on a tighter budget, we'd recommend a USB mic like the Blue Yeti or a USB/XLR mic like the Samson Q2U. The Blue Yeti has fantastic reviews and is one of the most popular USB microphones available to podcasters and broadcasters alike. The Samson Q2U also has fantastic reviews, but provides both an XLR and USB connections so this microphone can grow with your technical knowledge.

For those looking for top of the line equipment, the Electro-Voice RE20 is most likely where you'll end up. Used by big names like Howard Stern, this microphone is the industry standard for radio broadcasting in America. You will need a pre-amplifier for it but it will make even beginners sound like seasoned pros.
Headphones
This one you may have already but a good pair of headphones are essential. You'll want to get over ear headphones with decent cushioning, in order to reduce noise bleeding and to provide comfort during long recording hours.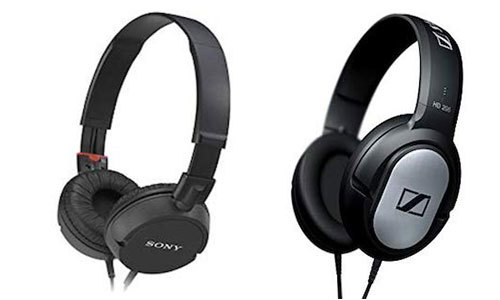 For those on a smaller budget, you might want to look at the Sony MDRZX100 or the Sennheiser HD 206. These are fantastic pairs of headphones on the lower end of the budget scale. Both provide over ear, closed-back cups, meaning they will drastically reduce the amount of noise bleeding in and out. Perfect for monitoring your audio.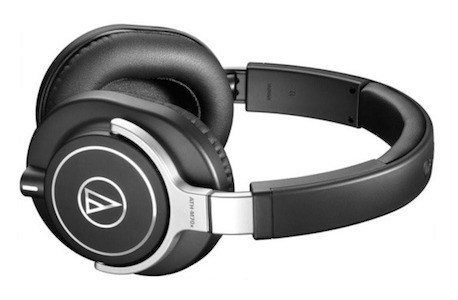 But what about any headphones that are at the top of the line? Well, it's harder to call than microphones as a lot of this category is up to personal opinion and preference, but one of the best is definitely the Audio Technica ATH-M70X. These provide superior monitoring capabilities, with swiveling earcups so that you can choose to monitor through one ear or both., and excellent sound isolation with very little bleeding due to the contoured earcups.
Mixer
Unless you're using a USB microphone, you're probably going to need some kind of interface to connect your XLR mic into your computer or laptop. Also, if you're wanting to connect up other sources to play music for example while you're talking, instead of editing it in afterwards, you will most likely need a mixer. Unless you decide to get a USB mixer that can connect directly to your computer, you're also going to need an audio interface to route the mixer through into your computer or laptop.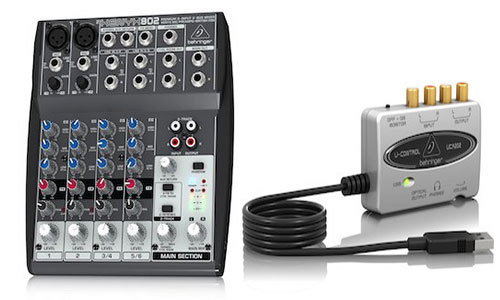 On a budget? Perhaps consider the Behringer Xenyx 502 or 802. The 502 gives you one XLR input and the 802 gives you two, so really it depends on whether or not your podcast will have a guest. These are some of the cheapest and most reliable mixers you will find that are perfect for podcasters. They offer all the adaptability you'll need. You will need to route them through an interface though like the Behringer UCA202.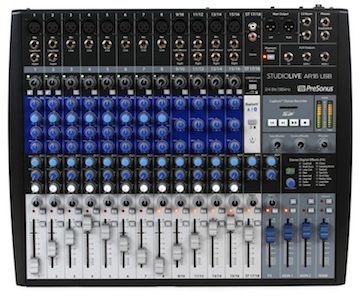 For those who want only the best, we'd recommend the PreSonus StudioLive AR16. This mixer is a USB mixer so you connect it up directly to your laptop or computer, and it offers a grand total of 18 channels! That's more than enough to get everything running exactly as you want it. With bluetooth connectivity and an SD card recorder which makes sure all your recorded files go onto an SD card, so theoretically, you could just record directly to the SD card and not have any computer or laptop on at the time!
Software
For most podcasters, you will be able to use a free DAW and create amazing sounding podcasts just using that. Most of the basic effects you'll need are available in most free DAW's, but if you wanted to splash out to get extra effects and editing tools, there are a few options.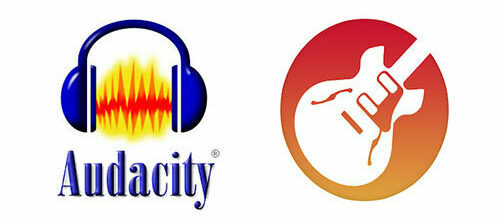 For those who are fine with the free stuff, Audacity is an extremely popular, completely free to use DAW that offers a podcaster everything they could want in terms of recording and editing capabilities. It just doesn't have an MP3 mix down option but you can find third-party plug-ins to cover this. There's also Garageband for Mac users, which is another extremely popular, completely free option. It comes with all the basics you'll need to get your podcast sounding great and a few nice little extras on the side too.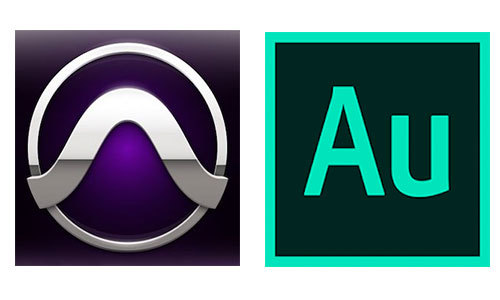 You can absolutely make a great sounding podcast without needing to spend any money on a DAW, but if you really want to splash the cash, you could look at Adobe Audition or Avid Protools. These options both offer all the editing techniques needed for a professional recording studio, but as we mentioned before, you don't really need all the extra effects.
What About Extras?
Okay so what about if you have your basics together and you want to know what extra bits you can look at getting to improve your setup? Well here are just a few ideas for you: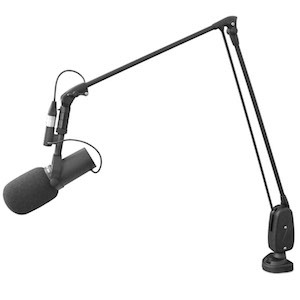 Boom Arm
Boom arms are great for reducing any handling noise you might otherwise get. Even if your mic is on a table stand, it still is probably going to pick up vibrations from the floor or the table getting knocked. A boom arm will lift the mic off of the desk and suspend it, making sure it's away from any vibrations that might interfere with your recordings.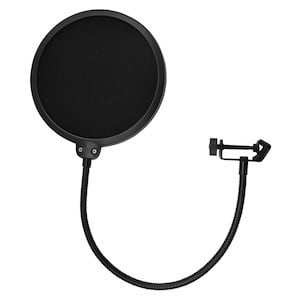 Pop Filter
These nifty little things help to reduce any popping sounds like p's or t's which reduces the risk of your audio peaking and distorting. Most of them clip right onto your microphone and have a gooseneck so you can adjust its position until it's just right for you. It can also help to stop any spit from hitting the microphone, because cleaning spit from your microphone will be ten times harder than cleaning the spit from one of these!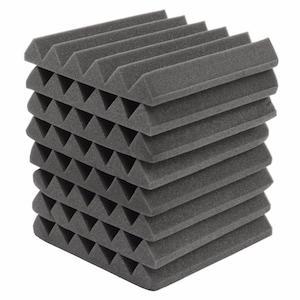 Sound Conditioning
By popping some acoustic foam tiles up on your walls, you reduce the amount of surfaces your sound can bounce off of, making it a lot clearer. If you don't want to spend money on acoustic tiles, then why not try the cheaper option of hanging blankets on the walls and attaching pillows to the corners of the room where the wall meets the ceiling?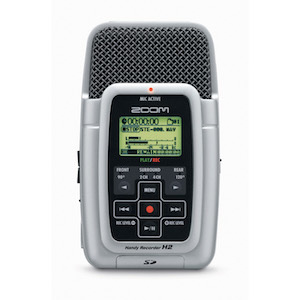 Portable Recorders
You might think if you have a USB mic that can just plug into your laptop, there's no need for an extra portable microphone. It's always good to have a backup option. If your DAW fails or any other part of your equipment goes down, at least this way you still have a microphone that doesn't rely on other piece of equipment to be able to run. Zoom are a very good and well-known company for portable microphones, so maybe look at getting yourself a H2, which can record to a microSD in both MP3 and WAV, or if you want to splash out, the newer model H6 should do the job just fine, with 6 inputs, phantom power, a built in pre-amplifier and much more.
This Sounds Like a Lot!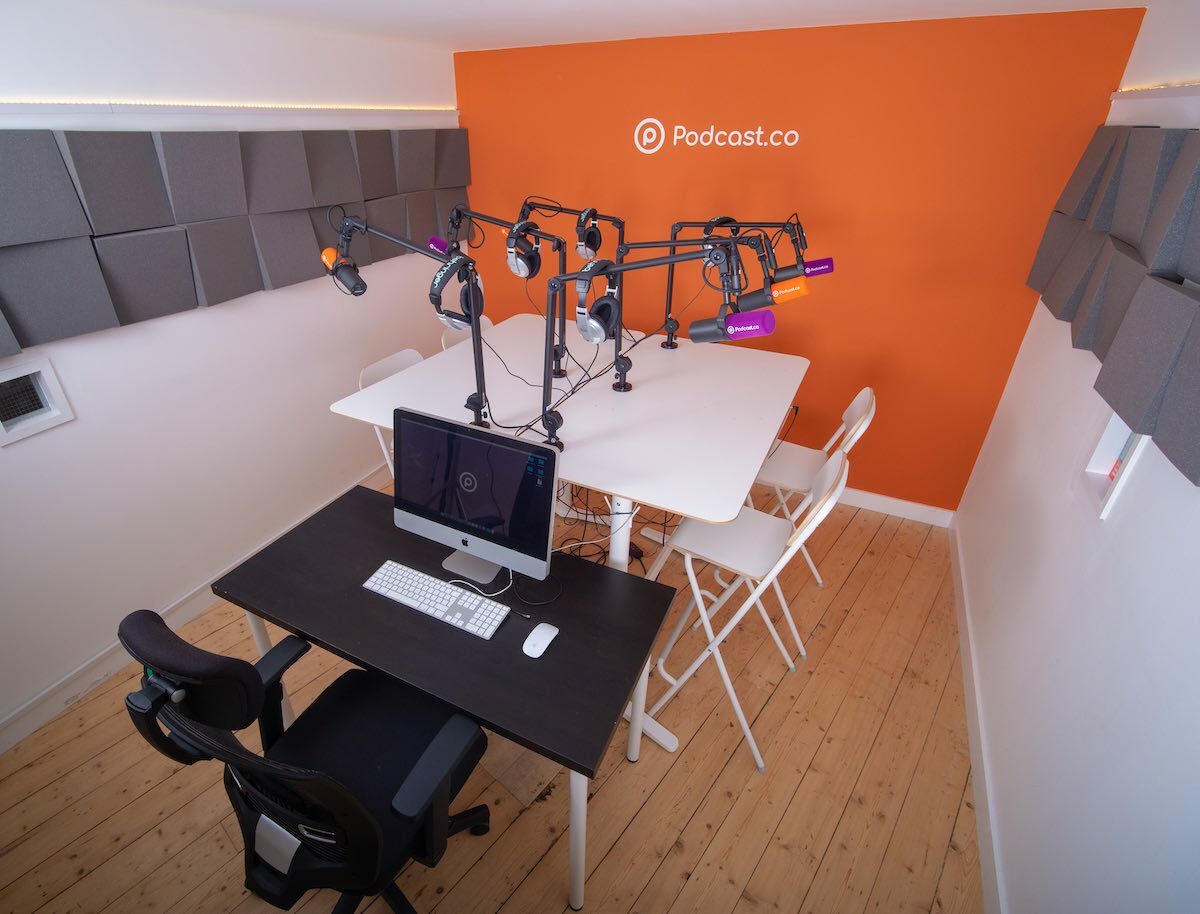 Does the technical side of setting up a podcast studio intimidate you? Or maybe you don't have the space for your own setup? Whatever the reason, if you're in or near the Manchester area, you can always use the Podcast.co Studio! This way you can get the professional recordings you want, without the hassle of setting up all the technical gear. You can find out more about our studio for hire, and make a booking right here: