What is Podcast Hosting?
You may already be familiar with places like Apple Podcasts and TuneIn, these are podcast directories. The podcasts themselves are hosted and managed elsewhere using a podcast hosting platform.
As different podcasters have different needs, there's no "one size fits all" solution. Luckily, there's lots of platforms to choose from. Some are free with basic features to host your shows, whilst others are paid offering advanced statistics, custom players, and a whole lot more.

Take a Tour of Podcast.co
From first contact to beyond, we ensure your podcast is a success. Take a quick guided tour of the platform which will show you just how easy it is to get your first episode uploaded and published using Podcast.co.

5. Podcast.co vs Soundcloud
SoundCloud is by far the most recognisable podcast hosting platform out there. It's free, easy to use, and has the essentials needed for listeners to tune into your shows.
Share your latest episodes anywhere on the web using embeddable players. Stats are linked with the players, so you can view listener reports and work out which shows are doing the best. Using Twitter cards, you can share your player so people can listen to your shows directly in the browser or in the app. Listeners need to be able to find your podcast. Using the RSS feed integration, submit your podcast to places like iTunes. Listeners then get alerted of your latest episodes.
Although, they offer a variety of plans with more features, like faster uploads and advanced stats, the free services have everything you need to get started. If you're just getting up and running with your own podcast, then SoundCloud is a good place to trial things out before fully committing.

PROS:
Free to use, but includes paid plans with more features.
Simple and accessible to everyone.
Embeddable player for on demand or downloads.
CONS:
Limitations on uploads.
Limited listener statistics.
How Does Podcast.co Measure Up?
Easy to use
Embeddable player
Unlimited upload space
Detailed listener statistics
4. Podcast.co vs Libsyn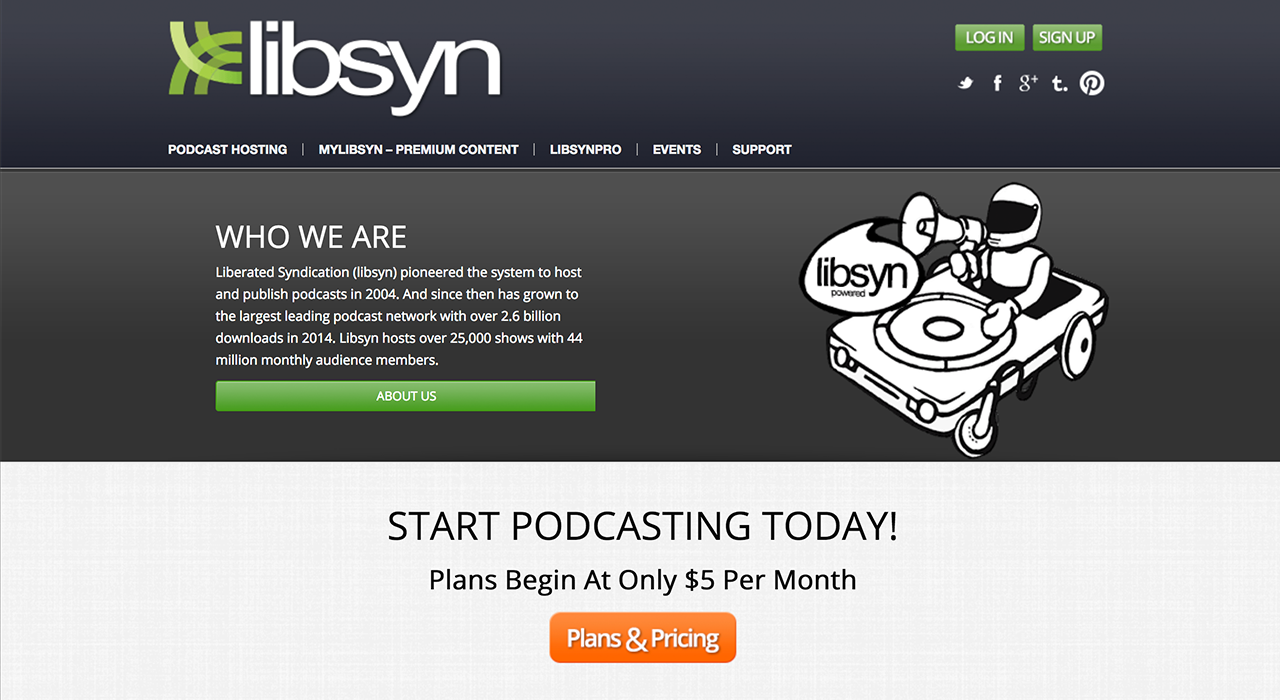 Libsyn has been around since time podcasting began. They're well known and have a reliable reputation for hosting since 2004.
Pricing starts off fairly cheap at $5/m, but limits the amount of uploads, stats you can view, and storage space. Higher plans include custom mobile apps, advanced stats, higher monthly storage, and media transcoding for greater control.
One stand out feature worth mentioning is YouTube integration. Automatically publish episodes to your YouTube channel and reach a wider audience (currently at 1.3 billion active viewers). Like most other podcast hosting services, they include embeddable players, website, and directory listing on iPhone and Android apps.
PROS:
Trustworthy and reliable.
Affordable pricing on lower tiered plans.
Integration with services like YouTube.
CONS:
Outdated user interface.
WordPress integration is lacking.
Lower plans lacking essential features.
How Does Podcast.co Measure Up?
Reliable and knowledgeable support team who can help with all your podcasting issues
We can submit to various directories on your behalf
Modern, intuitive and colourful user interface
Embeddable players for all sites
All features accessible to everyone
Download Your Podcast Comparison Guide
Get to know your new hosting platform a little better. Download the complete podcast comparison guide, showing you every cool feature and useful tool before choosing your provider.
Thanks for subscribing!
We've just sent you an email, please follow the instructions to confirm your details.
3. Podcast.co vs Podbean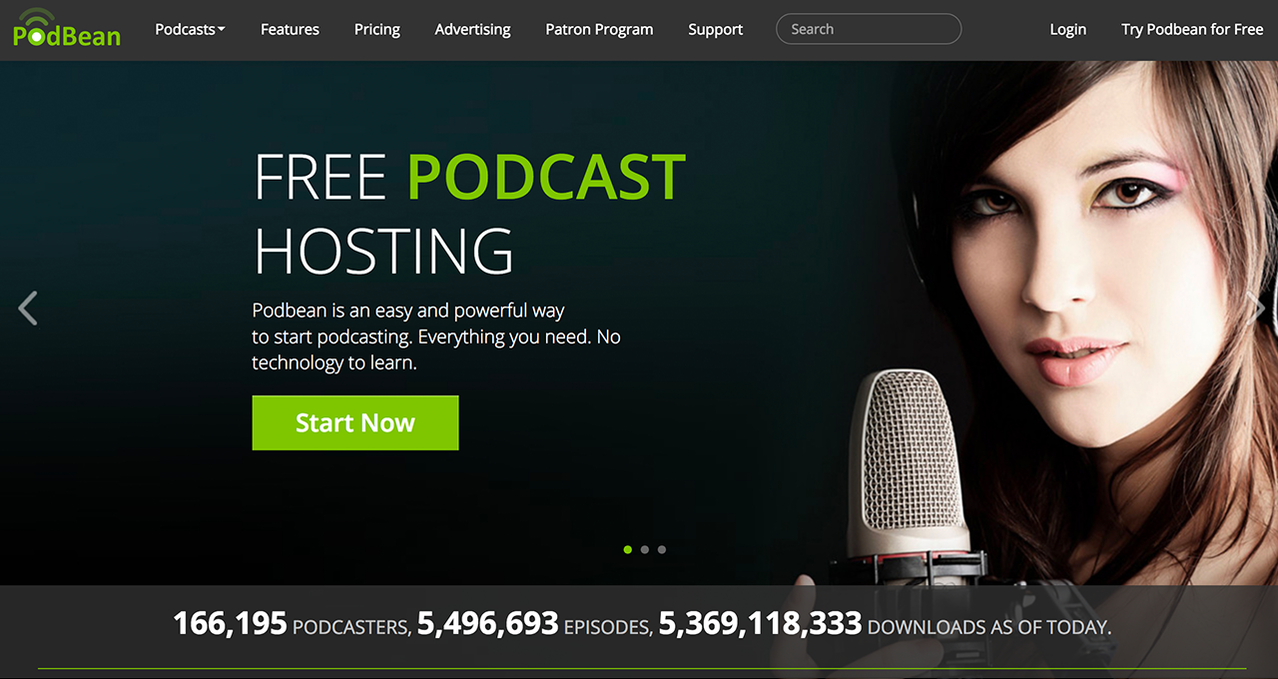 PodBean is an up and coming podcasting service that's helping podcasters grow and monetise shows.
Their sponsorship marketplace is designed to connect advertisers and podcasters together using dynamic ads. Advertisers pay good money for well targeted and regular episodes with recurring subscriptions on regular episodes. There's also a crowdfunding option which lets your fans become patrons to donate money.
Over the years, PodBean has been slowly siphoning traffic away from bigger services like Libsyn due to it's mimicking of services, like the video podcasts feature. There's also some much needed features like mobile app management. Record episodes or listen other podcasts with the iOS or Android app. Plus, newer functionality like Amazon Echo's Alexa integration.
Plans start at $3/m that come with basic features like RSS feeds and iTunes integration. Higher plans have stats, custom website design, and no PodBean ad branding in your episodes.
PROS:
Make money through ads.
iOS and Android apps to manage episodes.
Alexa integration to listen to shows at home.
CONS:
Ad insertion on lower plans.
Basic stats.
How Does Podcast.co Measure Up?
Ad integration on a case by case basis
Easy to use on mobile
Detailed statistics
2. Podcast.co vs Spreaker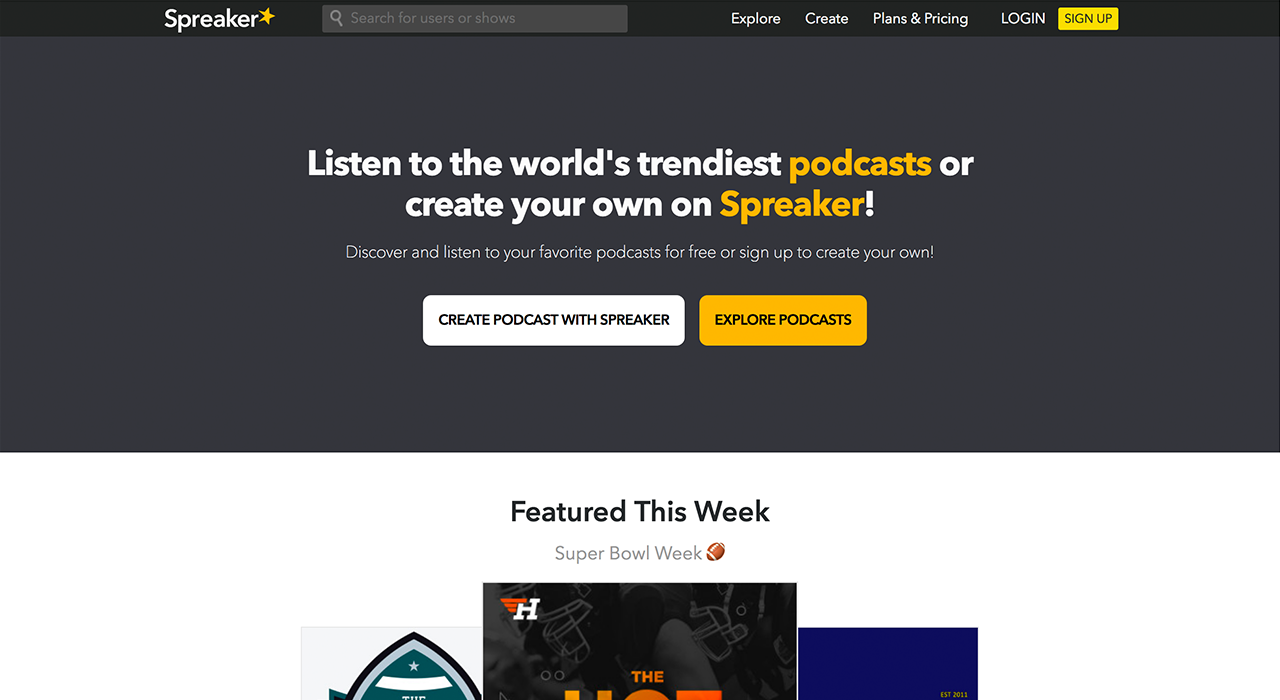 Spreaker is jam-packed with plenty of features, making it the swiss army knife of podcasting. What makes it stand out though is it's seamless compatibility to jump from desktop to mobile to manage your podcasts.
The mobile app lets you record podcasts offline and has sound FX in-line, so it's ideal if you want to record and edit shows on the move. There's also a desktop version for Windows and Mac, so you can record and manage shows on your computer.
As Spreaker has its own directory, potentially you can get discovered by thousands of listeners. Plus, the higher plans offer extra visibility by showcasing your podcast so you have more chances of getting found.
Initially, plans are free, but limited. You really only start to see the better features like RSS feed customisation and ad free pages on the $5.99/m plan. High-end plans are geared towards premium podcasters looking to monetise their shows. Just recently, the new ad revenue sharing program was introduced. Meaning, you can earn money for ads you play throughout your content.

PROS:
Record and upload episodes from your desktop or phone.
Integrates with YouTube, Sonos, and iTunes.
Custom website and embeddable players.
Earn money through ads.
CONS:
Limited lower plans with fewer features and space.
Not enough recording time on the free plan to really test it out.
How Does Podcast.co Measure Up?
Easy to upload episodes directly
We are able to submit to various directories on your behalf
Embeddable players
Ad integration on a case by case basis
Unlimited upload space
1. Podcast.co vs Buzzsprout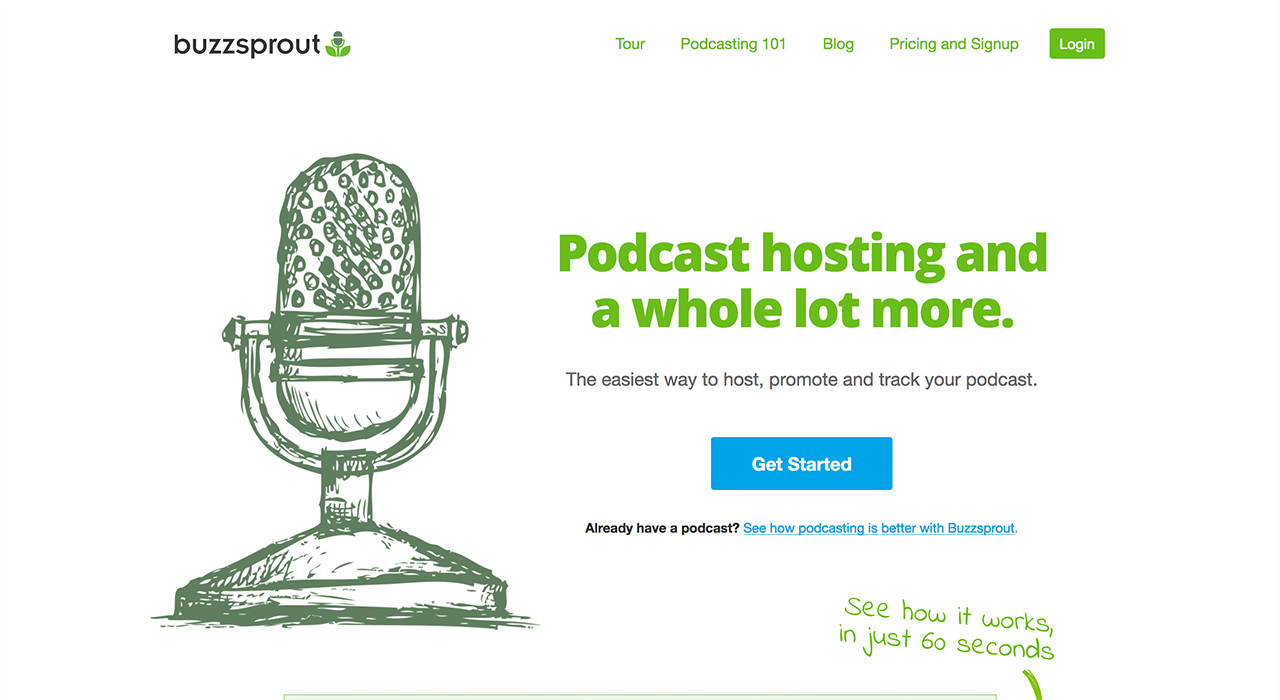 Buzzsprout is a more modern service designed to keep things simple, but without limitations.
By far, they have one of the best designed dashboards, this makes it super easy and quick to upload and publish episodes. Alternatively, you can schedule shows days or weeks in advance if you're ever away on holiday. Their mobile friendly dashboard means you can manage promotions and view stats on your phone, which is handy if you're obsessively checking your podcast!
If you're already with another hosting platform, you can migrate by importing all your podcasts. Just like Spreaker and Libsyn, creating your own custom branded podcast apps is easy and offers a more seamless experience for your listeners.
Initially, plans are free for 90 days, then start at $12/m and go up to include more upload time. The downside here is, you're forced to go onto the free plan first which limits your upload time to 2 hours per month. Luckily, you can upgrade if you feel the service is right for you.
PROS:
Free (for 90 days).
Good design, intuitive interface.
Mobile friendly dashboard.
Migrate from another podcast hosting platform.
CONS:
Restricted episode time.
Forced onto free plan, limiting to 2 hours of uploads per month.
How Does Podcast.co Measure Up?
Well designed, intuitive interface
Mobile friendly dashboard
Easy to migrate from another podcast hosting platform
Unlimited upload space
What are you waiting for? Sign up for an account on Podcast.co right now
Bonus Podcast Hosting Services

You might be looking for something a bit different than those mentioned above, so here are a couple more worth checking out:

Mixcloud: Home to popular podcasts like StuffYouShouldKnow and The Joe Rogan Experience, Mixcloud is a popular destination which attracts 17 million monthly listeners. Plans start off free, but offer premium services on the higher tiers with no adverts and advanced stats.
Fireside: Their simple user interface lets you view your podcast download stats and manage shows with custom URL links. Also, comes with an embeddable player and website. Only one plan is available at $19/m.
Castos: Works well with WordPress to manage your feed and upload new episodes (it even comes with it's own plugin). Pricing starts at $15/m, but has a 14-day free trial.
Need Advice With Your Podcast? Talk to Us!
Are you starting a podcast? Need help getting up and running? Why not get in touch with us! We can point you in the right direction and offer advice on what you need to create a successful podcast. Drop us an email at [email protected].