A private podcast is a way for you to share episodes to a select group without giving access to everyone. Share internally within a business, preview content to a client, or create bonus content for your donors. Create a private podcast and keep your content secure with Podcast.co.
Benefits of Private Podcasts

Starting an internal podcast for your business can be extremely useful. You can use each episode as an audible update on what's going on within the company, any things your employees need to be aware of coming up, and to announce any extra bits and bobs. Saves a lot of written letters and memos going around the office.
As for creating bonus content for your Patreon donors, this is a way of giving them something extra that will give them the motivation to donate. Offer extra behind the scenes commentary, uncut versions of interviews, and extra bonus content. It creates a little exclusive club that everyone will want to be a part of.
How to Create a Private Podcast
You'll need to be on a Growth plan to use this feature - which means you'll be able to invite up to 500 individual private subscribers. By upgrading to Premium you'll be able to add up to 1,000 private subscribers. And if you need more, simply contact us, let us know your requirements, and we'll tailor a plan to fit your needs.
By upgrading to Premium, you'll also benefit from a range of other exclusive features including:
Unlimited Podcasts - Create as many private or public podcasts as you want.
More Users - Add up to 10 users on your account and collaborate together seamlessly. Assign dedicated teams to work on different podcasts.
Extra Bandwidth - Get 200,000 downloads per month as standard.
Automatic Transcription - Repurpose episodes into blogs that drive SEO traffic with 1 hour of automatic transcription per month.
Once you're on a Growth or Premium plan click on "Add Podcast" on your main account dashboard. Fill in the relevant details for the podcast and toggle the "Make this podcast private" switch during set-up.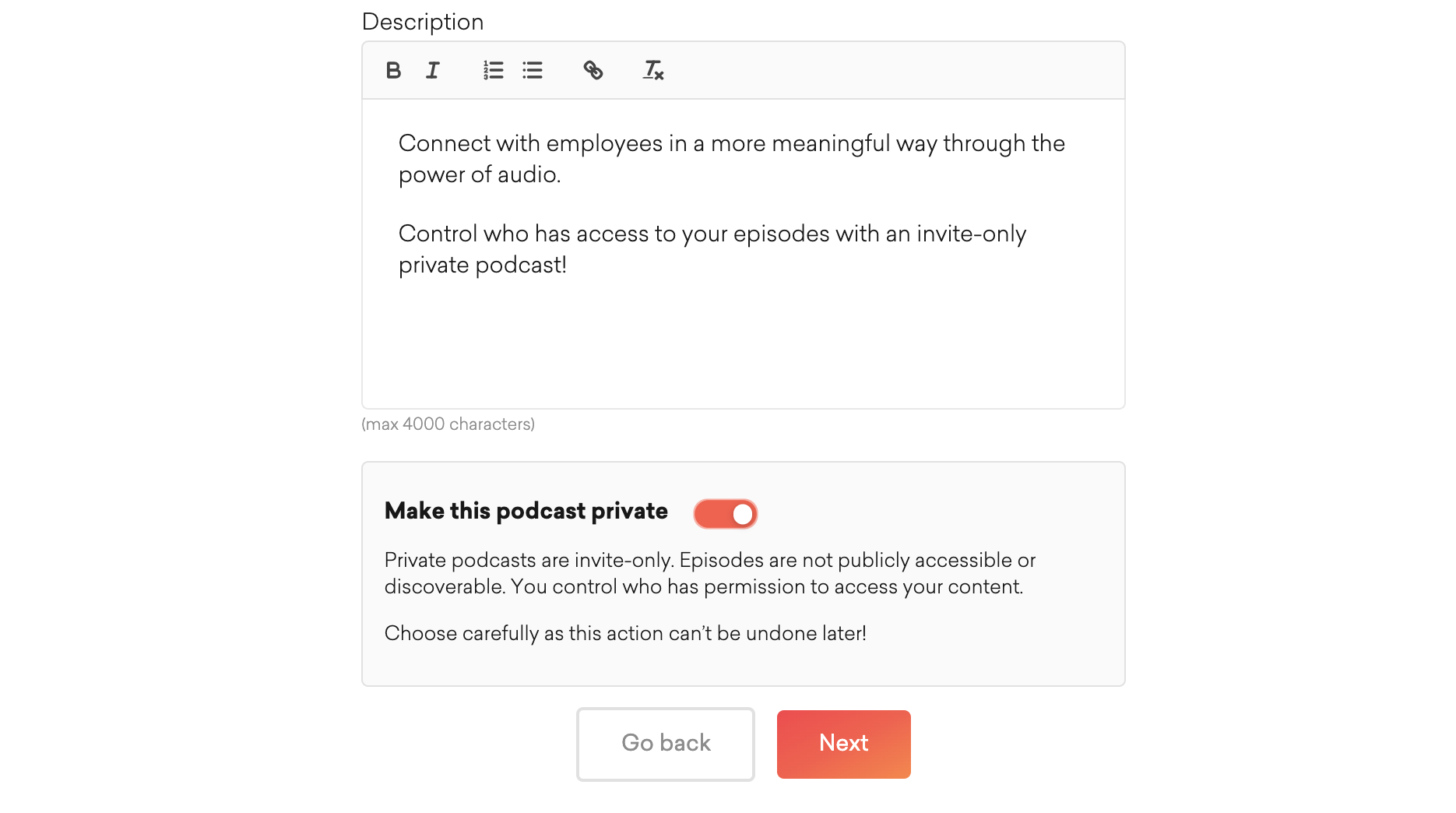 After toggling the switch, follow the instructions to complete the setup process. Once your private podcast has been created, you'll need to add an episode.
Recording Audio for Your Private Podcast
You can record audio for your podcast on your desktop, using a USB microphone and free recording software such as Audacity or GarageBand.
Or you can use your phone if it's more convenient. Simply record your audio using the Voice Memos app on iPhone or the Voice Recorder app on Android.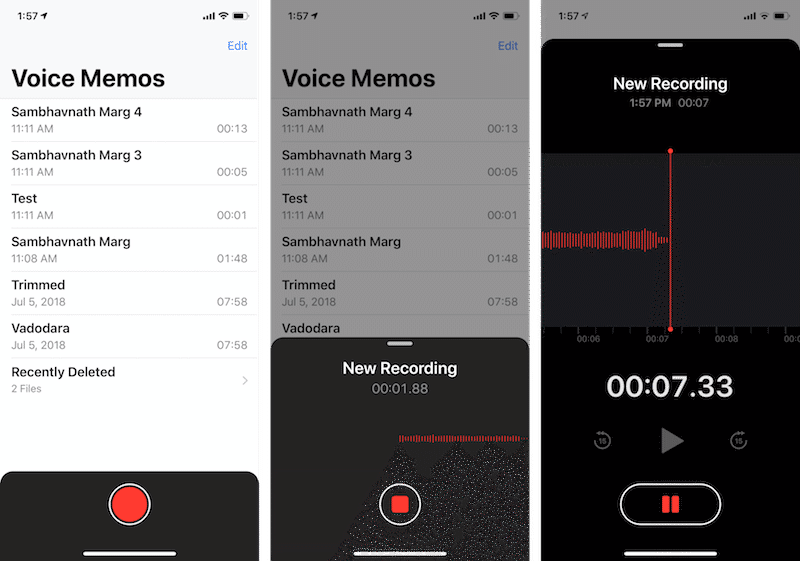 Once you've finished recording, upload the audio file to Podcast.co straight from your phone or computer. We'll turn it into a podcast episode for you and publish it to your private feed.
How to Invite Subscribers

Now your first episode is published, you can start adding subscribers.
First, click on the "Subscribers" tab on your dashboard. Then click "Add Subscribers" from the left hand menu and add employees or teammates to your podcast.
You can add each subscriber's email address individually, or bulk upload via CSV.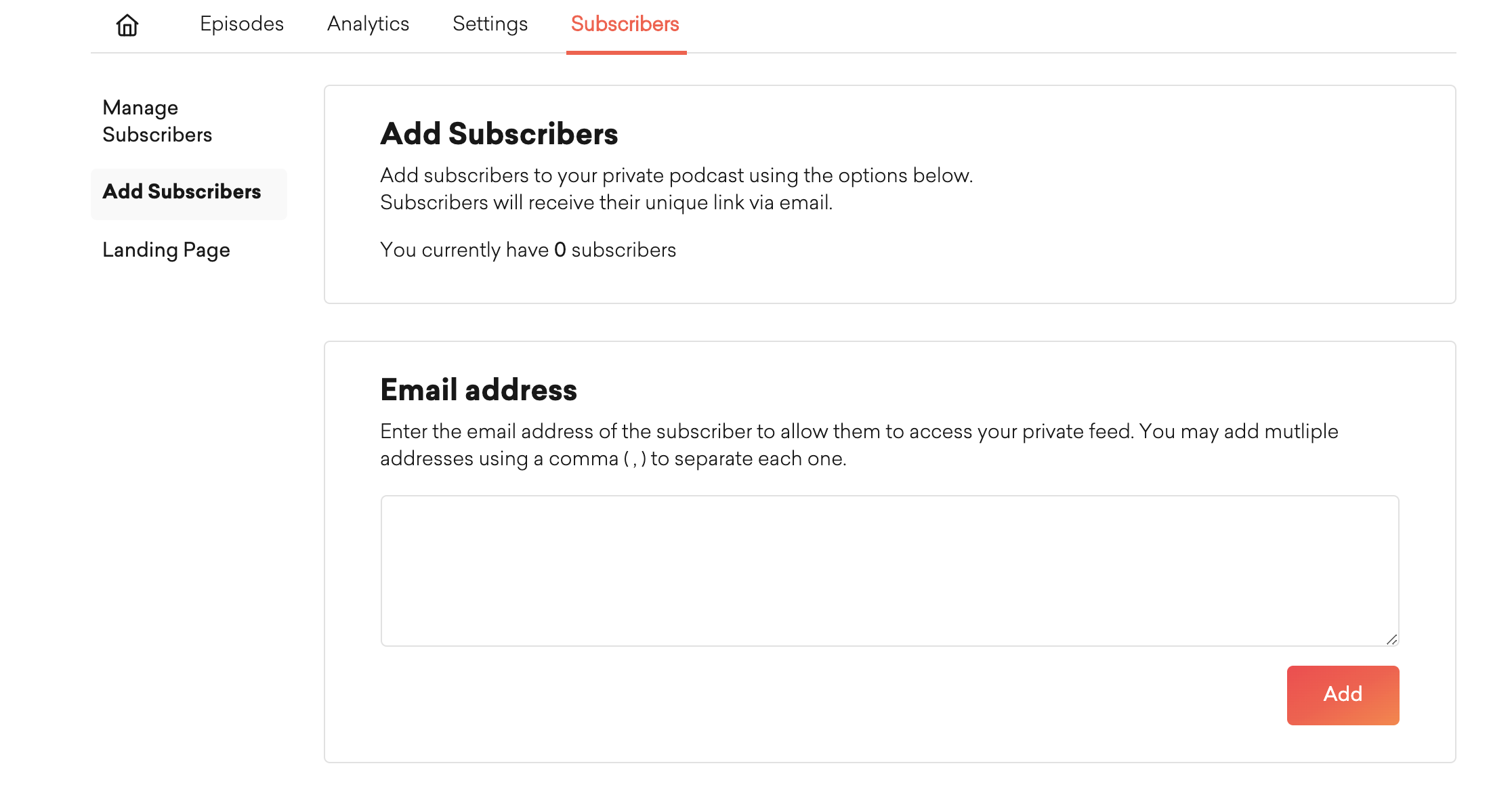 Alternatively you can whitelist your company email domain so listeners can self-subscribe.

Once you've whitelisted your domain, listeners can request access via your unique private podcast landing page.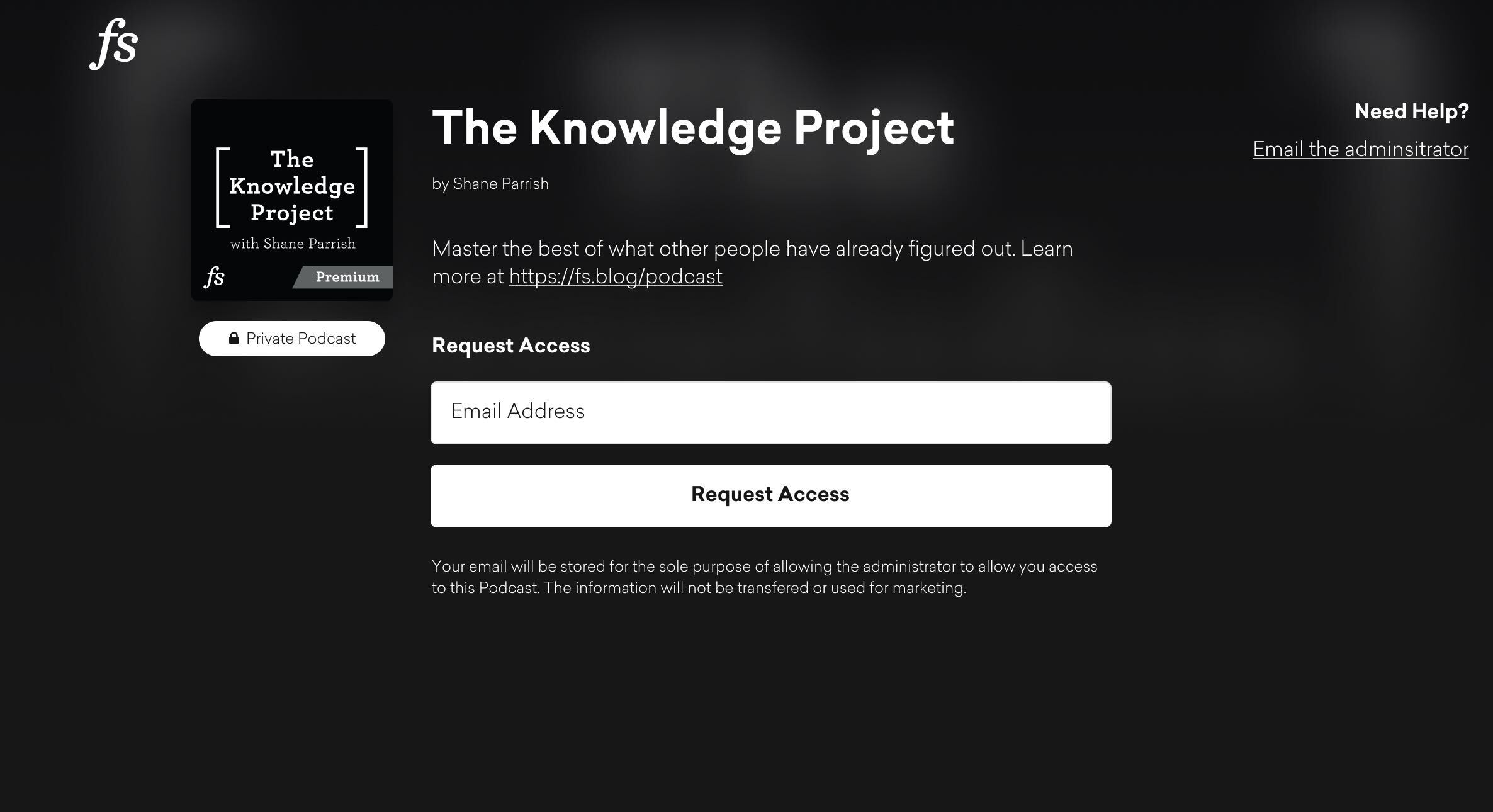 All requests using your whitelisted company email domain will be automatically granted access. Requests from other domains will be denied.
If you haven't whitelisted a domain, you can manually approve or deny any requests submitted on your landing page.
Note: You can change the page's URL and appearance by selecting "Landing Page" from the left hand menu of the Subscribers tab.
Once signed up, all new subscribers will automatically receive a welcome email. When they click the button in their email, they'll be taken to a list of podcast app options supported on their mobile device: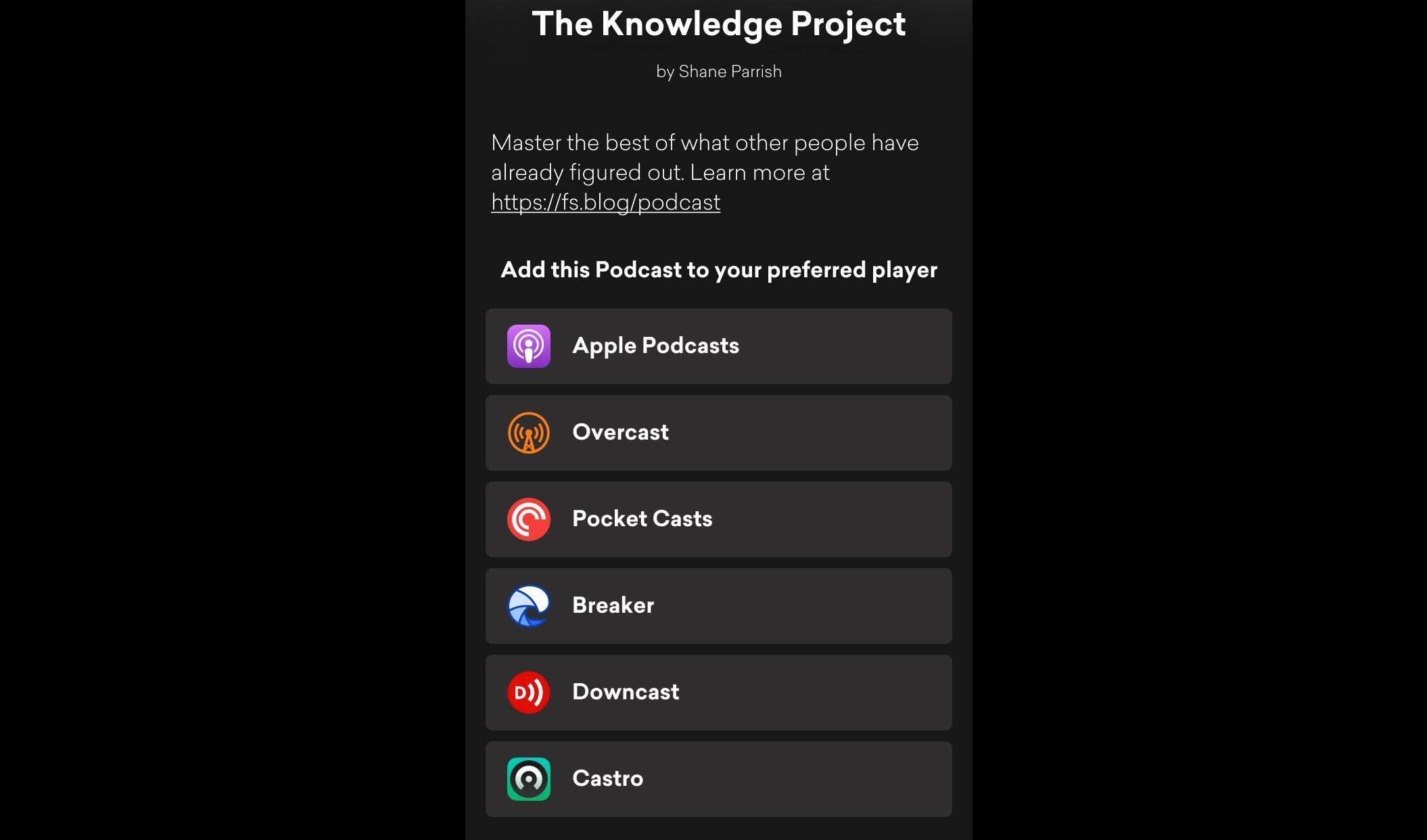 They can choose their preferred option, and it will open your private podcast in the listening app they selected.
Once subscribed, they'll automatically receive new episodes in their chosen app as soon as you publish them!
Supported Podcast Apps
Not all podcast apps support private podcasts, with the most notable exception being Spotify. Check out the full list of supported podcast apps for iOS and Android below:
iOS apps that support private podcasts:
Android apps that support private podcasts:
These podcast apps don't support private podcasts:
Spotify
Stitcher
iHeartRadio
Acast
PodcastOne