To build up an audience, you need to get your podcast in front of new listeners. Podcast SEO, or Search Engine Optimisation, can help you do that. It's all about getting your podcast to show up on Google results pages for search terms relevant to your show.
Optimising your podcast for SEO not only grows your audience, but it will also help you plan your show. SEO can give you focus in everything from knowing what topics to cover, to figuring out how to write episode titles and descriptions.
We'll go through why podcast SEO is worth keeping in mind, before diving into our top 9 ways to optimise your content for it.
Why is Podcast SEO Important?
Podcasts are an amazing way to build up a loyal audience. Listeners tend to stay invested once you've got them interested - much more than blogs or social media accounts. That makes them easily one of the best ways to influence people and get your message out there.
You want your episodes to show up when people search for related terms on Google.
But the downside of podcasts is that it's difficult to get people to find your show in the first place. It takes a lot to get someone interested enough to click play - and that's if you manage to get your show in front of them at all.
That's where podcast SEO can help. It's all about getting your podcast in Google's search results pages for keywords relevant to your topic. If you get your show in front of people who are specifically searching for content around that niche, you've got a whole new way to gain listeners.
Google has recently started showing podcast episodes in its search results pages. If your podcast comes up on search results, people can click play straight away, without having to go through a podcast app first.

So with this recent change to Google's search algorithm, if there was ever a time to start focusing on podcast SEO, it's now.
9 Ways to Optimise Your Podcast for SEO
Podcast SEO optimisation is a vast world. But if you're just starting out, these are the top 9 things you should focus on. Follow these tips and you'll stand a much higher chance of your podcast showing up on Google search results.

1. Conduct keyword research
Any time you type anything into Google, you're searching for a keyword. Despite its name, keywords don't have to just be single words - usually they're phrases or questions.
If you want your content to come up on Google search results pages, you have to know what keywords to target. And to figure out which ones are best, you need to do your research. For that, you can use a free keyword research tool like Ubersuggest.
The ideal keywords to target are those with high search volumes, but low competition so they're easier to rank for. If you're only just starting out with podcast SEO, it's best to go for the less competitive keywords. Then once you've built up some authority, you can start trying to rank for the more difficult ones.
Keyword research can also help you plan out your podcast schedule. Each episode should ideally target one keyword. And that chosen keyword should be placed in the episode title and description. In this way, keyword research can act as a guide indicating the most-searched for topics you should address on your show.
2. Make your content useful & concise
The quality of your content matters a lot when it comes to podcast SEO. That usually means giving as much information on a topic as you can, and presenting it in a way that's clear and easy to follow. Don't waffle though. Be concise and to the point, to make it easy for people to get to the information they're looking for.

3. Provide timestamps
Most people have a specific question in mind when they come to Google. If it takes too long for them to find their answer in your content, they'll click off and go somewhere else. So you've got to make it easy for people to skip to what they need.
Split your podcast into segments with different questions or topics. Then in your show notes and episode descriptions you can put a table of contents with timestamps for each part, so listeners can jump ahead to exactly what they're interested in.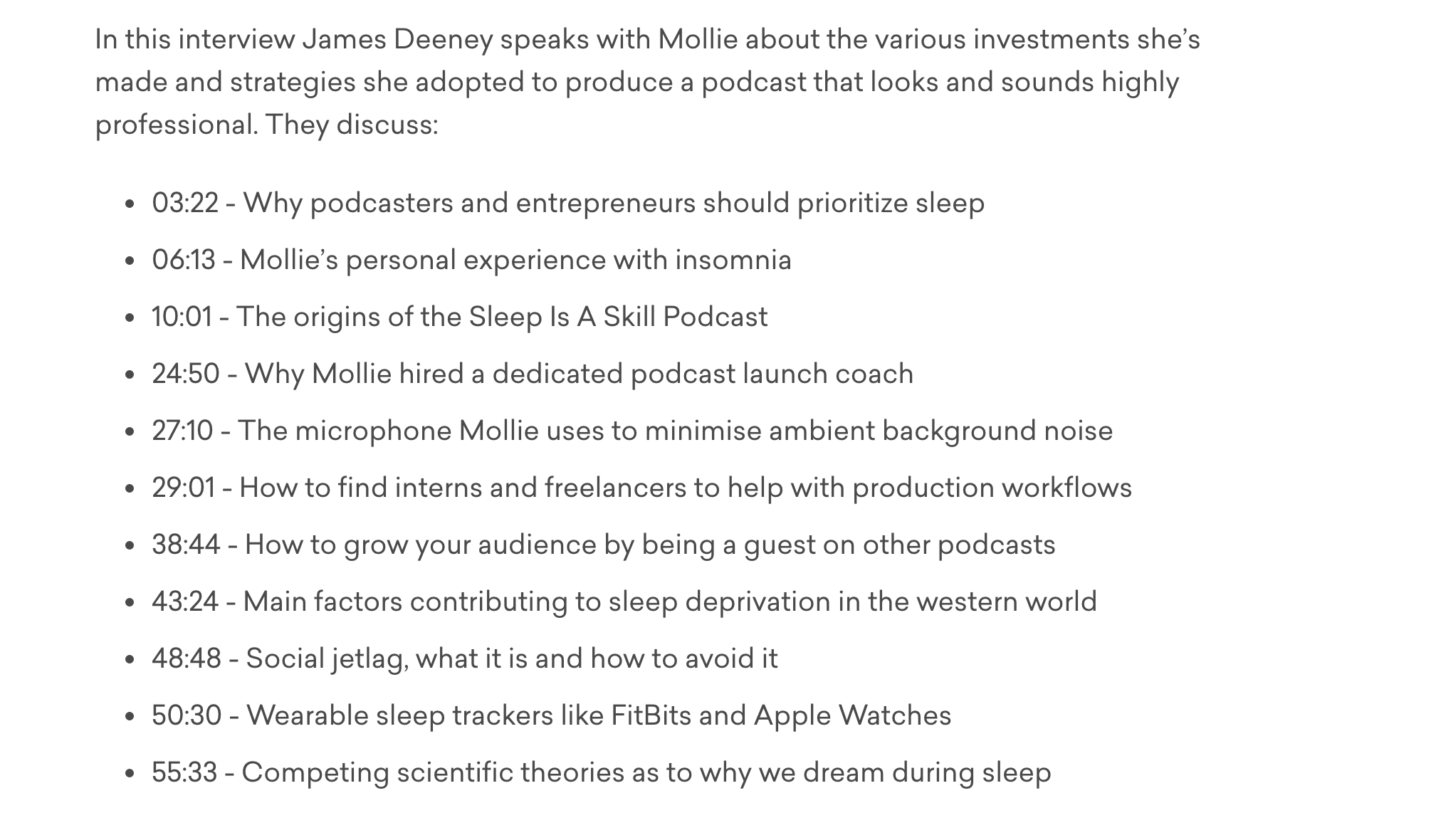 If you're writing blog posts to go with your podcast, make them easy to skim too. Include clear subheadings, short paragraphs and bullet points to break up the text.
4. Optimise your episode titles for SEO
Your title should be clear and concise. If your podcast comes up on Google search results, you want people to be able to tell at a glance whether it's what they're looking for. So you need it to say exactly what the episode is about, without too much ambiguity. If you're looking to optimise for SEO, the episode title is not the place to be cryptic.
Keep your episode titles shorter than 60 characters.
You don't want a long and rambly title either. Up to 60 characters is the limit to make sure the title doesn't get cut off on search results pages, especially for people who are Googling on their phones. If you really want a longer title than that, make sure you put the most important parts (including the keyword you're targeting) at the front.

5. Write detailed podcast episode descriptions
Your episode descriptions should similarly be short and to the point. Don't forget to include your keyword in each one too. Keep in mind only 150-160 characters will show up in Google descriptions before people have to click to read the rest. So it's a good idea to put the most crucial information within those first few words.

6. Repurpose your podcast into blog posts
Now Google includes podcast episodes in search results, you don't necessarily need a blog to rank on results pages. But they significantly boost your chances of being picked up by the algorithm. Blog posts still form the majority of listed search results, so they're a great way to boost SEO. Use your raw podcast transcript as a jumping off point, and turn it into an easy to read article with clear headings and explanations. For more on this, check out our guide to repurposing your podcast below:
7 Easy Ways to Repurpose Your Podcast

7. Get guests to share your podcast
One of the hardest things about SEO is building backlinks - these are links around the web on other websites, leading to your podcast. If you want to rank on Google, you're going to need these. One way to get them is by having relevant guests on your podcast, and getting them to share links to that episode on their website and social media. Not only does this boost your SEO, but it also exposes your show to a whole new audience.
You can always make it easier for them by creating graphics or descriptions ready for them to share to their followers. For more on this, check out our detailed guide below over on blog at MatchMaker.fm:
How to Get Your Guests to Promote Your Podcast

8. Publish consistently
Posting consistently is more important for SEO than posting as much as possible in a short space of time. So a new episode every Friday is usually a better strategy than publishing five episodes in one week, and then waiting a month until you can put out any more.
The best way to hold yourself to publishing consistently is to make a schedule, and always stay a few episodes in advance. That way you've got some leeway if something comes up and you can't stick exactly to plan.

9. Take your time
If you're serious about podcast SEO, you're going to need some patience. It takes time to build up authority in Google's eyes, especially if you're only just starting out optimising content for SEO.
But if you follow all these tips, you will start to see results eventually. Just don't lose hope if it doesn't happen right away. You'll get there!

Conclusion
Podcast SEO can help make your show easily discoverable to the people who need it most. To optimise your show for SEO, you want to make it clear and structured, so listeners know exactly what they'll get from each episode.
Make sure you cover topics that people are actually interested in, by targeting the right keywords with your episodes. Do that, and listeners will find your podcast so much more useful, making them more likely to come back next time they've got a question.