When you're just starting out in podcasting it's sometimes difficult to figure out what essential equipment you need to start a podcast. For a lot of beginners, this is brand new technology that they haven't come across before and they need to know what it is they will require to get started. It's also good to know what brands are best, cheapest and most reliable.
Essential Equipment You Need to Start a Podcast

Whatever level you're currently at, be it newcomers or professional, here's a handy list of essential equipment you need to start a podcast.
Microphone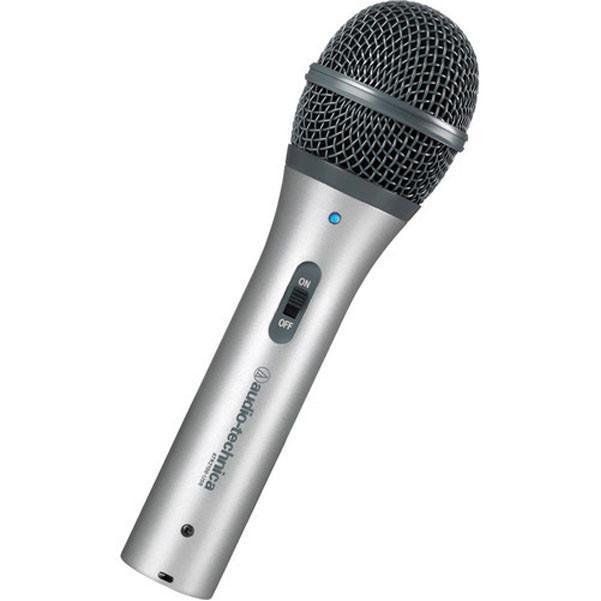 It should have occurred to even the most rookie of potential podcasters, that a piece of essential equipment you need to start a podcast is a microphone. There are many different varieties of microphones that can be used for different types of recordings. They come in different shapes, sizes and prices. With so many on the market, it can be difficult to decide which one you will require.
A good quality beginners microphone is the Audio Technica ATR2100-USB Cardioid Dynamic USB/XLR Microphone. This a good quality and reasonably priced product that can be bought off Amazon for around £47. The USB and XLR options mean that it can be plugged into a computer or sound desk, whichever one you prefer.
Headphones
It's always important to use headphones when recording a podcast. It might seem like you don't need them because you can hear each other in your podcasting studio but this isn't true they are a piece of essential equipment you need to start a podcast. To ensure you get perfect recordings you need to make sure you can hear what you're recording. You'll be able to hear things through the headphones that you can't hear without them, these could be sounds that will affect your recording that need addressing immediately. Using regular headphones that you'd usually use for listening to music will probably not be good enough so it's important to look for ones you'd use for monitoring.
A good pair of headphones for are the Sony MDR7506 pro large diaphragm headphones. These are good quality headphones that can be bought for approximately £94 on Ebay. They can be plugged into a computer or sound desk as it comes with both a ¼ inch and a ⅛ inch jack.
Mixer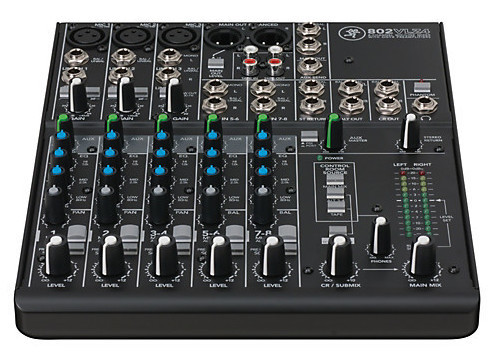 If you choose to move away from recording directly into your computer or you have decided that you think using a sound desk would be better for your podcast there are many out there to choose from. It's not necessarily a piece of essential equipment but it's certainly one you'll need as your podcast progresses. As more people join your podcast and you want to keep control of the recordings during the recording process a mixer becomes vitally important. You'll have control of turning peoples mics on and off and you'll be able to change the volume of the mics mid-recording. You'll be able to change the pan, balance and do a whole host of other things to make your recordings sound snazzy depending on the mixer you choose to purchase.
A good sound desk is the Mackie 802VLZ4 8 channel ultra compact mixer. It's simple to use and will help you get to grips with using a sound desk for the first time if you haven't before. You can buy this mixer for approximately £150 from selected music and tech shops. If you want a mixer with more channels you can get the same model with 12 and 14 channels.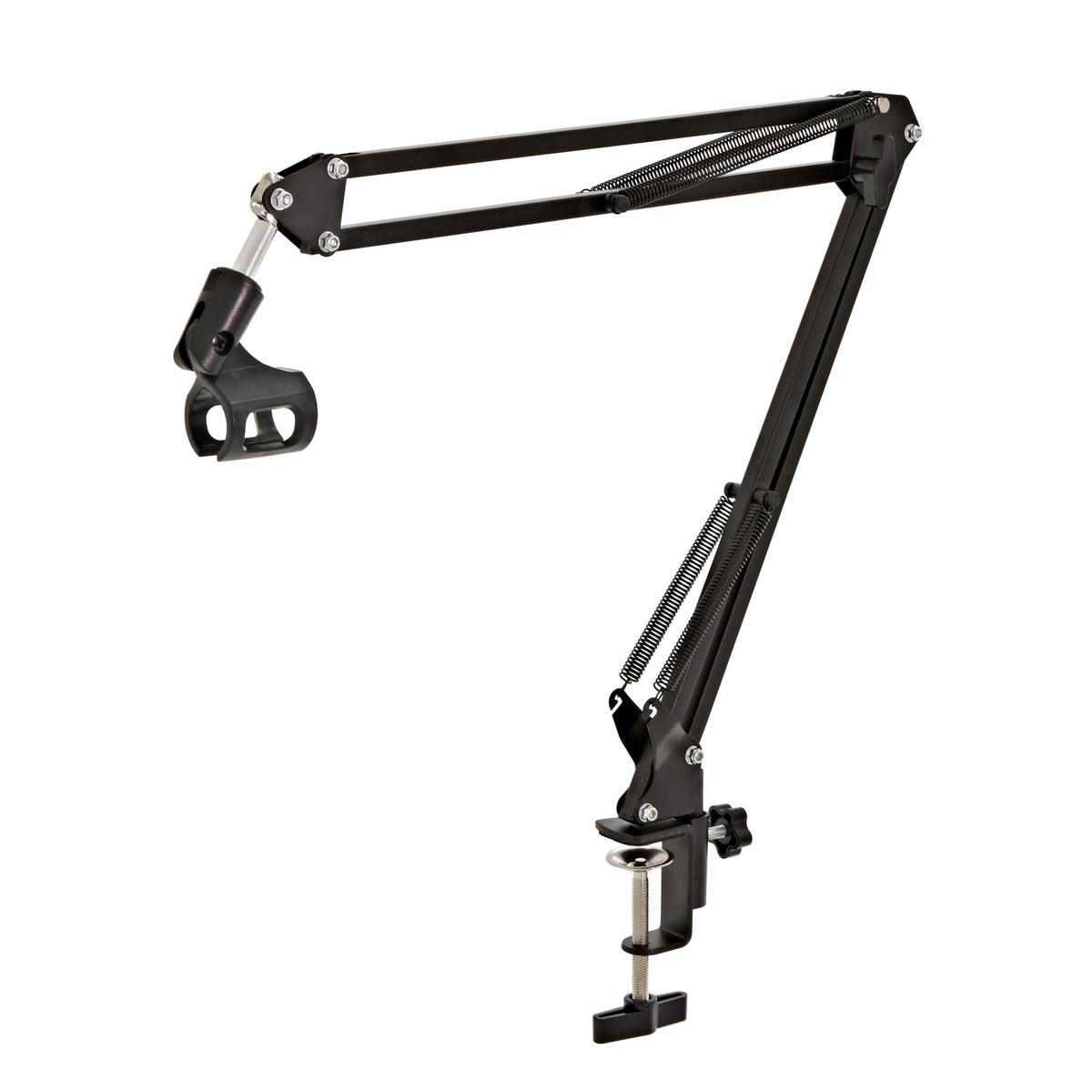 Boom Arm
The microphone that was recommended before is a hand-held microphone that comes with a stand therefore, it doesn't require a boom arm but it works better if you have one. Depending on the type of microphone you have this is optional and is not a piece of essential equipment, but it certainly does help. A boom arm will help you to position the microphone correctly and will remove handling noise or rumbling sounds that may occur when the microphone is held or in a stand.
A good boom arm that works with the microphone suggested before is the Studio arm mic stand by Gear4music. It costs £14.99 and has a clamp, mic clip and 360-degree rotation.
Shock Mount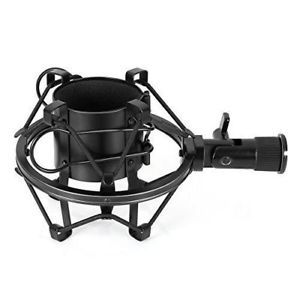 This again is not a piece of essential equipment but it will improve the quality of your recordings if you have one. A shock mount will help to keep your recordings sounding smooth by keeping the microphone steady if it's knocked or the desk it's on is knocked. It stops rumble sounds from affecting the recording and makes the recording process a little bit easier.
A good shock mount is the Neewer Universal shock mount. This shock mount is good quality with anti-vibration suspension and can be bought off Amazon for £4.89.
Pop Filter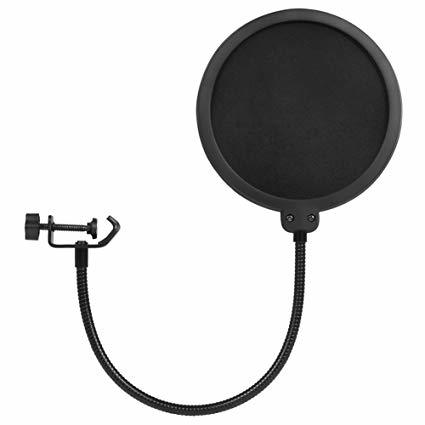 A pop filter is another piece of non essential equipment but it will help to improve the quality of your recordings. A pop filter helps to remove the plosive sounds from your speech and will lessen the chances of harsh pop and wind sounds making their way into you recording. They're especially an important piece of equipment you need to start a podcast if you're going to have guests. You can't always tell how your guests will be on the microphone and you don't want their recording affected by plosive sounds.

A good pop filter for is the InnoGear microphone pop filter. This pop filter has two screens that makes it more effective at stopping plosives. It also has an adjustable neck that can be attached to anything you want. You can buy the InnoGear pop filter for from Amazon for £5.99.
Upgrade as You Grow
If you get everything on this list then you'll have all the essential equipment you need to start a podcast. As you develop your podcast you can look to buy more expensive and advanced equipment. All you need to begin making a podcast is a microphone, somewhere to upload it to and a bit of imagination. If you want to know more about advanced equipment or you want to find out more about podcasting in general then subscribe to our newsletter on Podcast.co.