Microphones are undoubtedly the cornerstone of any podcasting studio. Choosing the best one can make or break your podcast. That's why we're comparing the best dynamic microphones (from a varied price range) on which is right for your setup:

Rode PodMic: Small & Powerful
The small, but mighty Rode PodMic packs quite a punch, especially as it's the cheapest out of the three. Quality-wise, it sounds clear without being overly punchy. With a bit of post-production editing, audio can be improved (although it's pretty good without).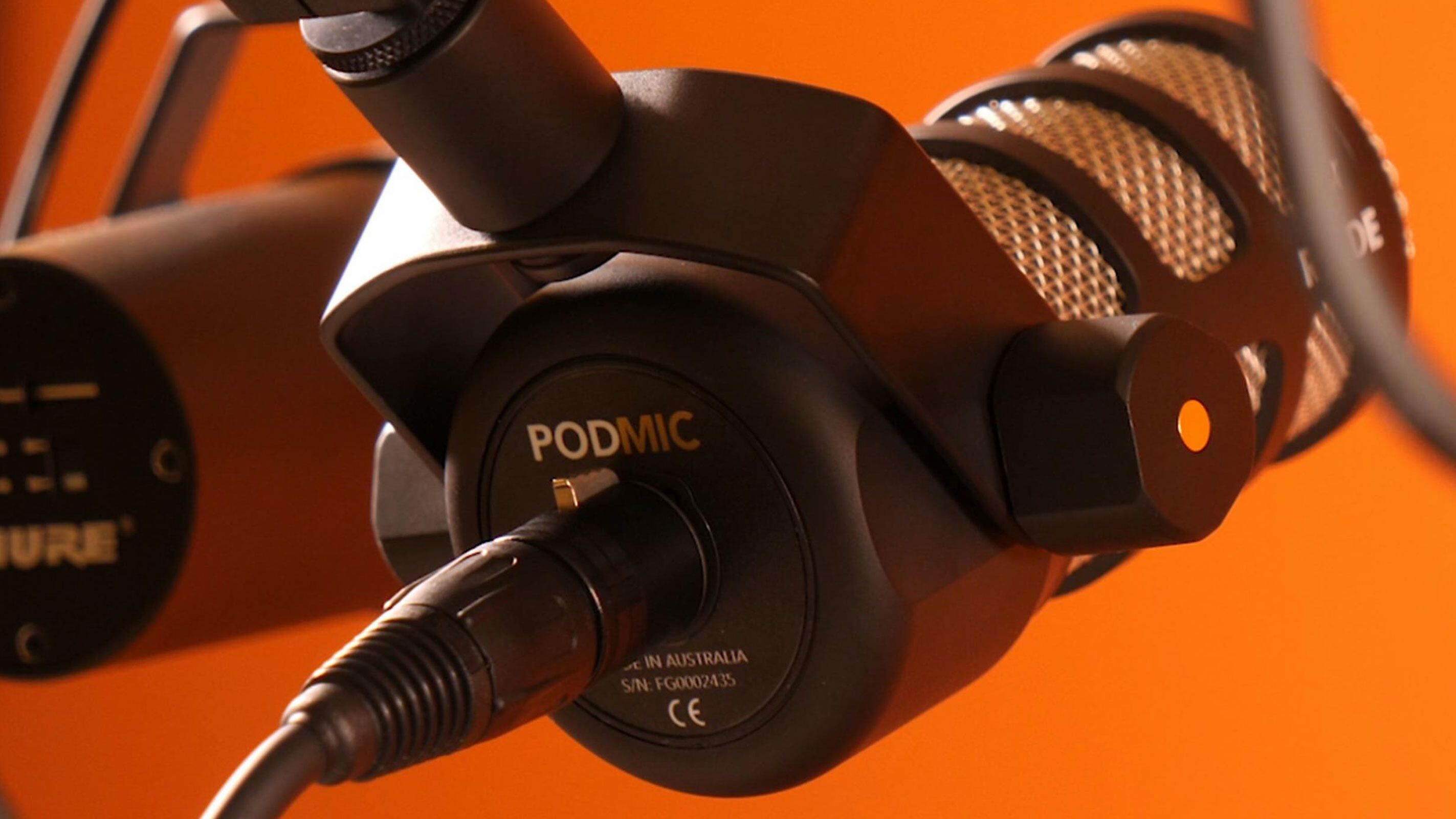 The only negative is the flat tone, something only noticeable when comparing against more booming mics like the Electro-Voice. Although the Rode PodMic isn't for everyone, it's definitely a worthy contender and a more affordable solution to the more costly alternatives (especially if you're buying a couple of these).
Pros

Price: Affordable, but still offering high quality at $99 / £99.00 RRP.
Swivel Arm: Maneuver the microphone positioning fairly easily so it's always aimed at you, even during recording.
Shock Mount: The swivel arm doubles as a shock mount, reducing any table bumps that would otherwise get picked up.
Cons
Flat: Not as deep or booming as the Electro-Voice (if that's what you're into).
No Features: Unlike the RE320 and SM7B, the PodMic doesn't have any settings to adjust the frequency or bass roll off.
Electro-Voice RE320: Retro Radio Voice
The Electro-Voice RE320 is a versatile microphone used in a lot of commercial radio stations in both the UK and USA. It's popular because it's ideal for spoken word with it's "Flat" setting (reducing background noises) and also "Contour" setting for instruments and live sessions.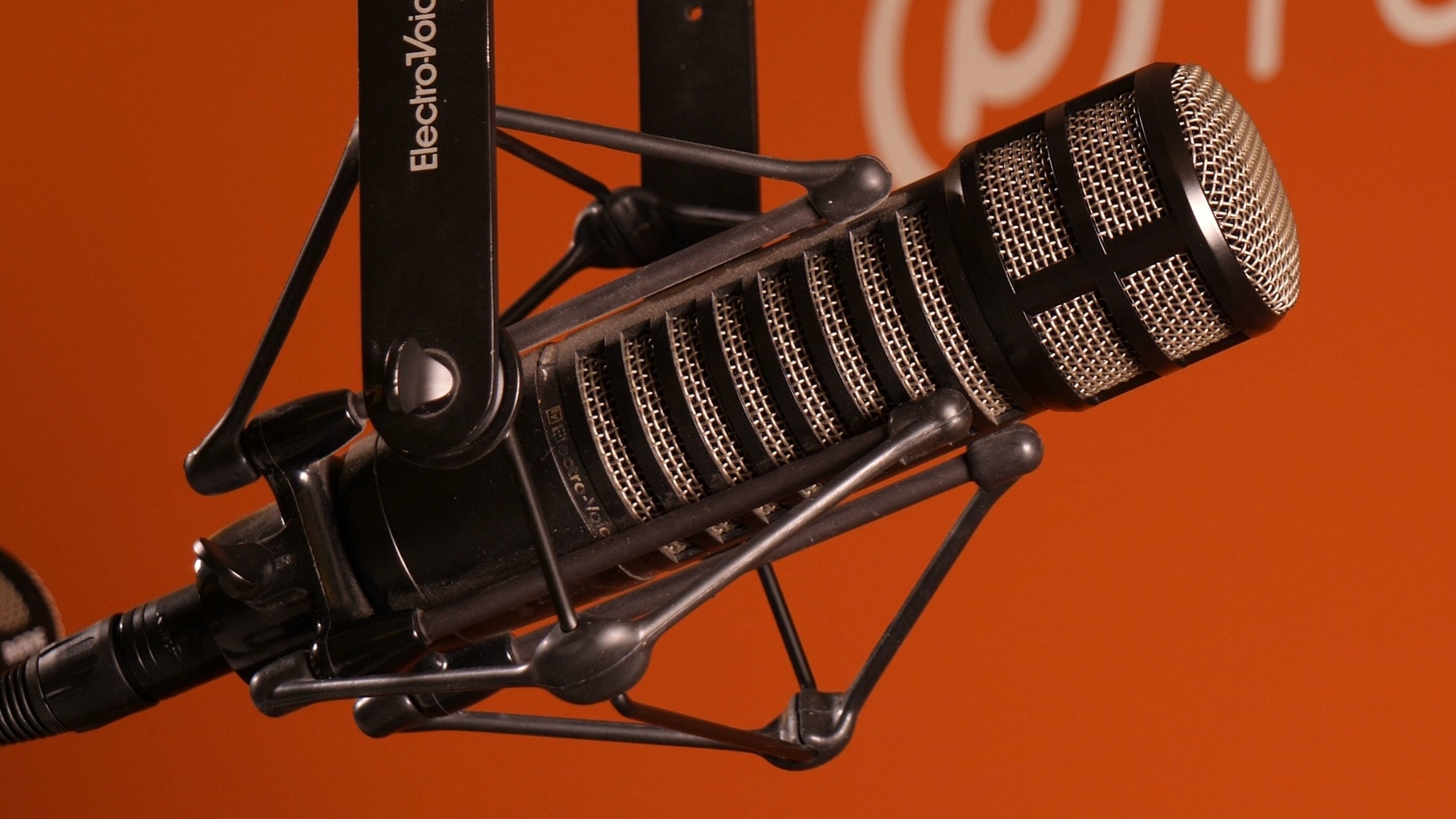 The RE320 lends a booming presence to your voice and lowers background noise without losing much detail, giving you that retro radio voice feel. The humbucking coil (which is a technical component inside the mic) automatically reduces sensitivity from far away sounds. It also offers a bright high-end and punchy low-end audio whilst maintaining a natural tone.
Pros

Flat & Contour: Two adjustable settings ideal for both spoken word and live instrumental sets.
Booming Presence: Boosts your voice's presence for a retro radio sound.
Cons
Price: Not as affordable as the Rode PodMic, but still good quality for what you pay for.
Shure SM7B: High-End Industry Standard
These days, the Shure SM7B is kinda like the industry standard in the podcasting world (we even use these in our Podcast Studio). Popular podcasts like The Joe Rogan Experience use these are their go-to mic of choice. The reason why these are so popular is that they're pretty easy to move around and have an amazing frequency response which reduces background noise for easy post-production.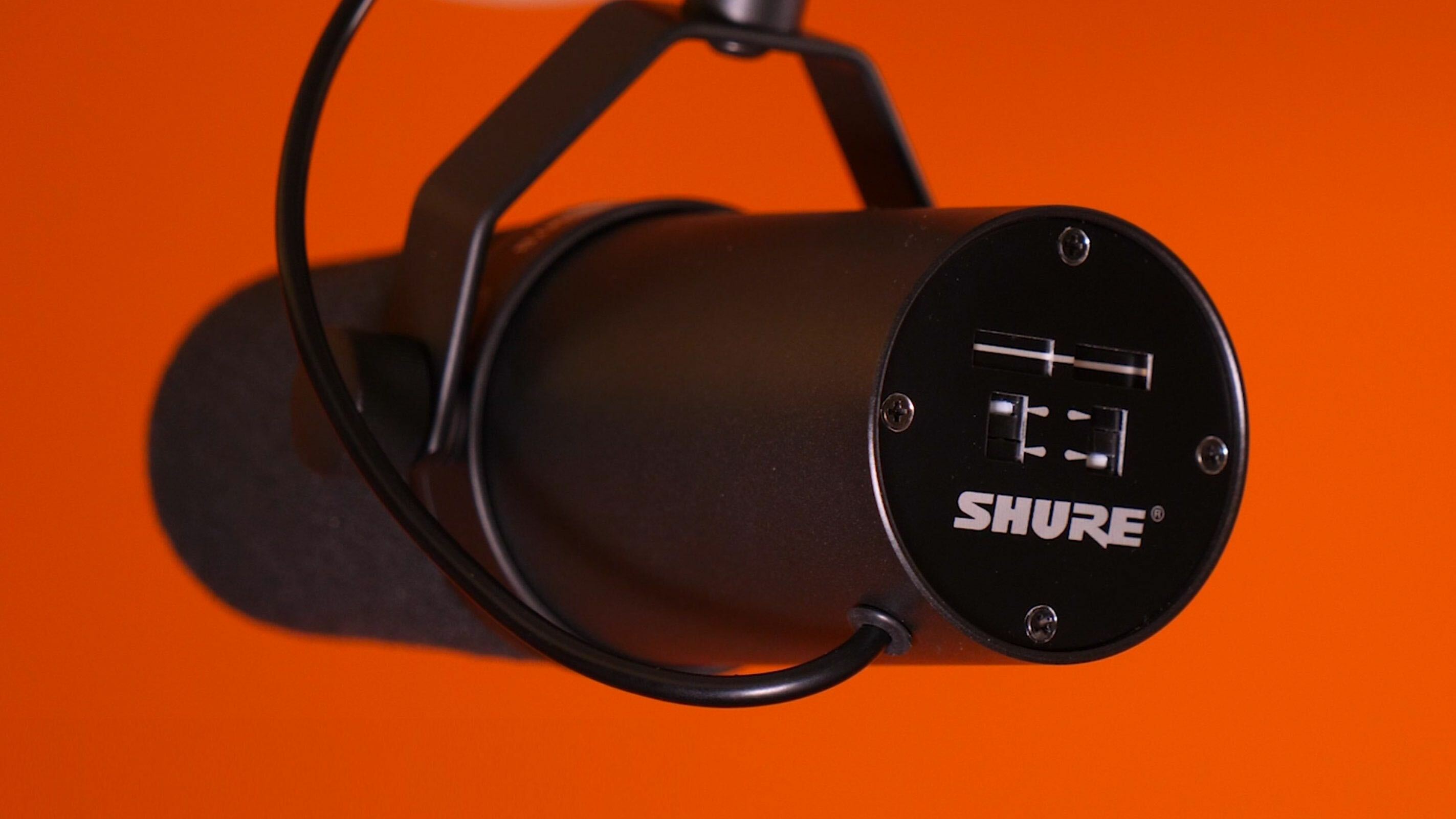 One annoying thing mics tend to do is pick up interference from computers, but the SM7B reduces any electromagnetic hum for cleaner sounding audio. Pops and plosives are also reduced with the built-in pop filter and windshield.
Pros

Built-in Pop Filter & Windshield: Reduces pops, plosives, and other unwanted noises when you get too close.
Frequency Response: Adjust the settings at the back of mic for different responses to either add vibrancy, volume to the signal, or go flat for spoken word.
Cons
Price: Very steep (even for just one), but worth it as the SM7B's are an investment at $399.00 / £369.00 RRP.
Power Drain: Output signal is -59dB, which means most low powered audio interfaces and mixers won't do to get it to line level.
Which is the Best Dynamic Microphone?
Honestly, it's difficult to say which is the best dynamic microphone out of the Rode PodMic, Electro-Voice RE320, and Shure SM7B as they're all great in their own right. Although the PodMic is more affordable, it holds it's own against the RE320 and SM7B. Which microphone do you think is best? If you think there's a clear winner or you're using one of these mics then let us know in the comments below 👇👇👇