At the time of writing, the world has currently hit pause on anything that starts or ends with the word 'tour'.
Musicians can't perform live, authors can't take part in book signings, even podcasters who take their show on the road have been affected by the lockdown. This has forced people to think outside the box and experiment, often replacing live performances with virtual shows, AMA's and charity gigs.
Virtual podcast tours have become increasingly popular among authors, business owners, and influencers looking to promote their new book, product, or personal brand. A virtual podcast tour is an inexpensive alternative to a typical in-person tour. They're also less restrictive, giving you the opportunity to gain new fans all over the world. On paper it sounds like a great promotion strategy, but are they really all they're cracked up to be?
Throughout the month of May, I set out on my first official podcast tour. My task was ambitious: appear as a guest on 30 different podcasts in 30 working days. Ultimately, the goal of the tour was to put my new platform MatchMaker.fm to the test. It's designed to help podcasters find great guests, so it should be the perfect tool to help organise a tour. Below I've outlined my journey from start to finish with some advice on how you can replicate the process yourself.
Managing Your Virtual Podcast Tour
Reaching out to podcasters can be tough. Responses can vary from enthusiastic to "not interested" or nothing at all. You also run the risk of having your email marked as spam by the podcaster, which can have a negative impact on the effectiveness of future outreach.
As cold contacting podcasters can sometimes feel like shouting into the void, I used MatchMaker for all of my outreach. It currently has more than 4,000 active users and it's own instant messaging functionality, so it's easy to start getting bookings in your calendar.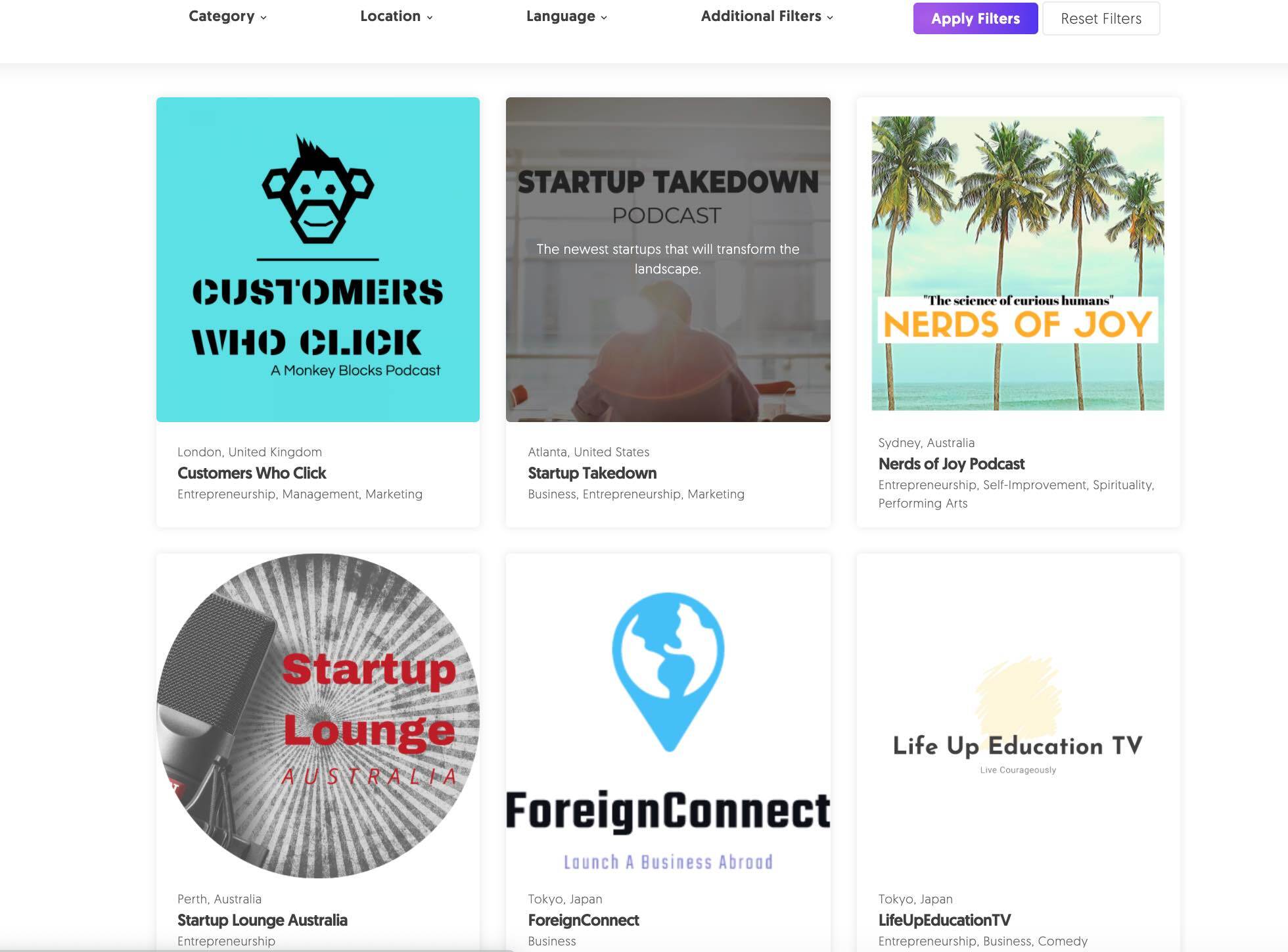 To ensure I stood out I kept my outreach messages brief, explaining my reasons for messaging the podcaster within the first few sentences. I also recorded video messages targeted at podcasts that discuss topics that I am knowledgable in. I settled on recording video messages for podcasts that fell into the the following three categories:
Marketing / Sales
Startups / Entrepreneurship
Personal Branding / Motivational
Here's an example of one of the video messages I recorded. This one was aimed at podcasts in the Business / Entrepreneurship category:
Once the videos were recorded, it was time to start messaging podcasters. I kept note of the podcasts I had contacted through a spreadsheet detailing the podcast name, host name, podcast link and date contacted.
This way I knew who I had contacted, who to follow up with, and when podcast episodes were scheduled to be released. As I was doing lots of outreach, it was important to keep all the relevant information in one place.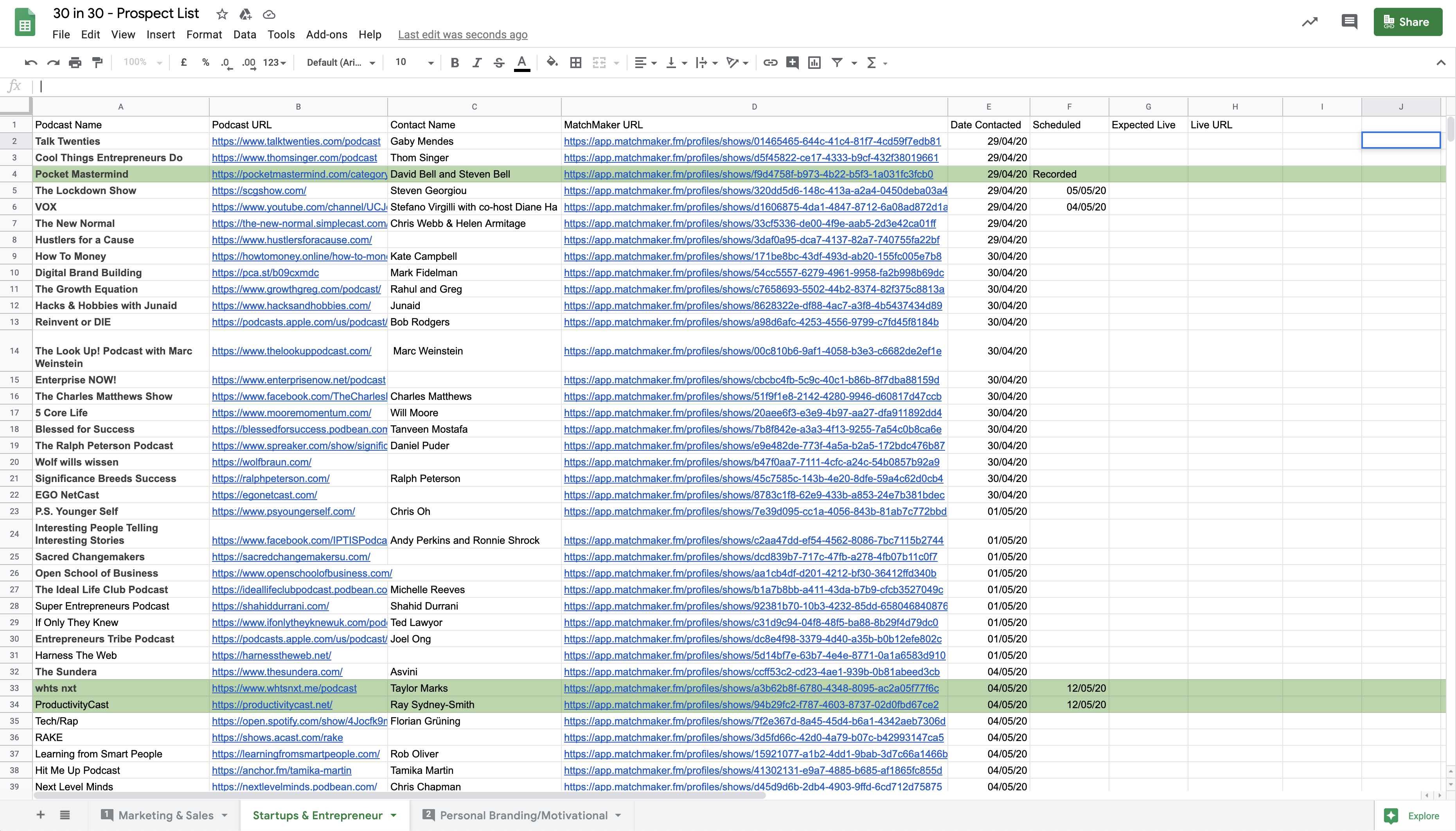 To organise recording dates I used a tool called Harmonizely, which synced to my Google calendar and allowed podcasters to book in a time to record their podcast.
This saved a lot of time as I only had to share a link with the podcaster for them to see my availability and book a convenient slot in my calendar. It also made it virtually impossible to double book, and easy to reschedule when necessary.
What to Expect On Tour
A podcast tour is no mean feat, so don't expect it to be smooth sailing throughout. You'll probably encounter a few hiccups, but here are some pointers I found useful while dealing with minor issues that arose:
1. Be flexible with your time
People lead busy lives, so it's realistic to expect some rescheduling. I would recommend following up with podcasters a few hours before the recording just to make sure everything is still planned to go ahead.
For most people, podcasting is a hobby and sometimes even the most dedicated podcasters have other priorities to attend to. Try to be understanding if people need to reschedule and don't hold it against the podcaster!
2. Be aware of timezones
When appearing on international podcasts, make sure you check their timezone so you don't turn up to the recording 9 hours early (believe us, it happens). That's why I recommend using a tool like Harmonizley or Calendly to schedule your podcast recordings.
These tools can be synced up to your personal calendar and they also allow you to keep specific time slots free for podcast recordings. They also automatically switch to the podcaster's timezone as they click on the link, which makes timezone mishaps virtually impossible.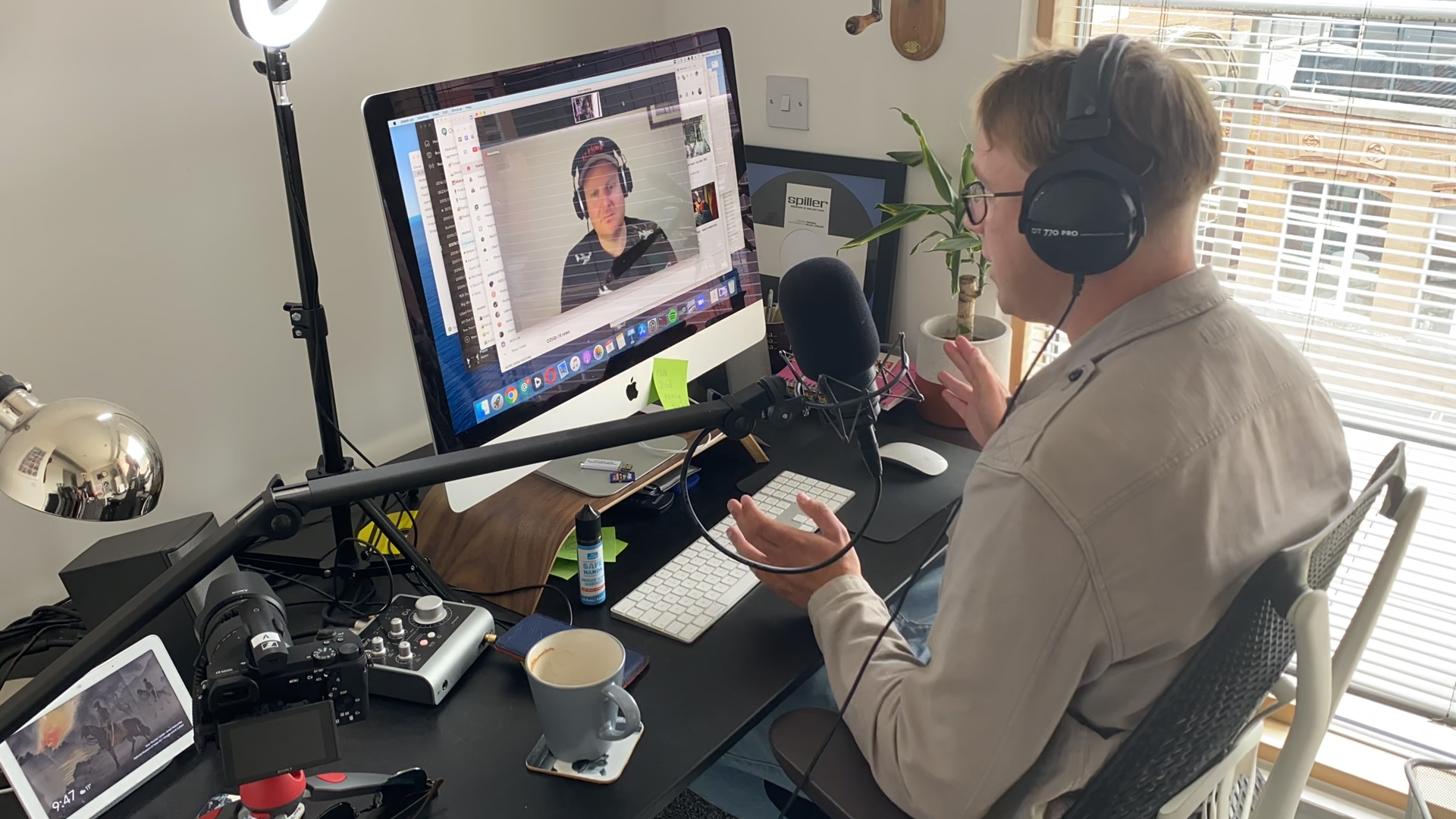 3. Don't be afraid to follow up
It is good practice to follow up with podcasters who haven't responded to your initial message one or two weeks after the initial message was sent. Inboxes can be busy and chaotic places, if the podcaster has an overflowing inbox, it can be easy for them to miss a messages or forget to respond.
The follow up will maximise your chances of catching the podcasters eye. However, it's important to stress you shouldn't follow up too often as this can be off-putting. If you send three follow up messages and don't get a response, it's probably best to move on. It's not you, it's them. There's plenty more podcasters in the sea!
4. Keep it original
Don't approach each podcast with the same old spiel. It's easy to fall into a routine and let autopilot take over, especially when you are appearing on so many podcasts in such a short amount of time. But this can stifle the effectiveness of your tour. No one wants to sit down and listen to 30+ hours of you saying the same things or plugging your product in the same way over and over again.
To keep episodes sounding fresh I would talk about my interests and personal anecdotes as well as MatchMaker.fm. This ensured each podcast interview included unique insight and made the experience more enjoyable; no one likes sounding like a broken record. For more tips on how to be a great guest, check out this video.
Was the Tour a Success?
The tour was a resounding success, I exceeded my target, almost hitting 40 podcasts within 30 days!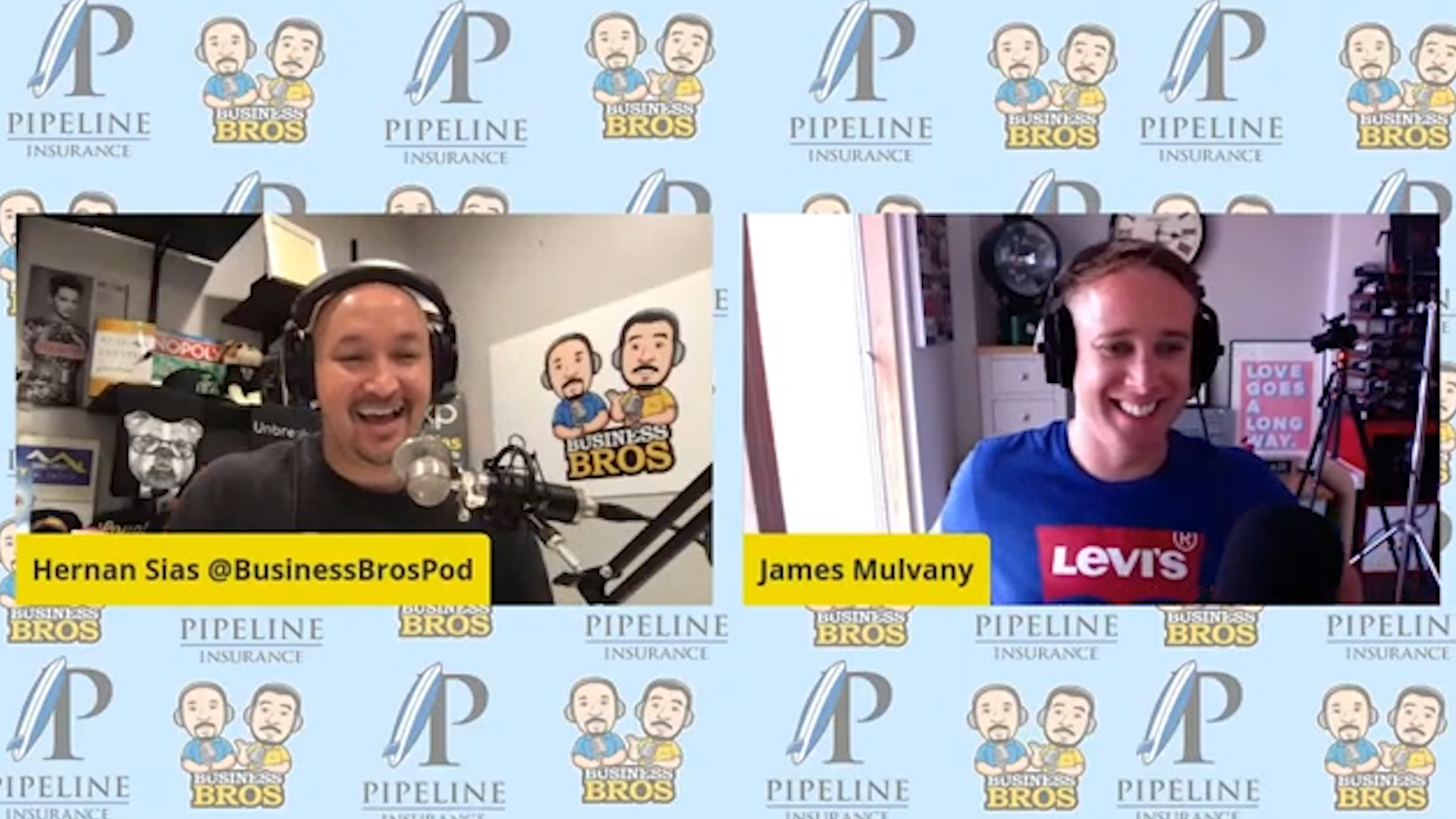 The tour boosted awareness of MatchMaker.fm and allowed me to share my story with the audiences of more than 30 podcasts. It's difficult to gauge the full impact of the challenge at the time of writing as some podcasts are yet to be released.
Regardless, it's already had an impact on my podcasting network and it's been a great way to get to know the people that use my platform. It's also helped me understand how we can improve MatchMaker for users, as it allowed me to experience the platform from a their perspective.
Big thanks to all those who participated! The full list of podcasts can be found below: