Patreon can turn your podcast into a steady source of income. Ads and sponsorships don't always give a predictable revenue stream, there are always ups and downs. So Patreon is a great alternative. And it's uniquely good at building connections too. You could end up with a whole community around your show - which holds a lot of value beyond straightforward monetary gain.
This article will cover how Patreon works, why you might want to set one up, and how to make it work for you and your podcast. We'll also go through how to offer people the perfect incentives to support your show.

What is Patreon?
Patreon is a platform to help you get paid for the stuff you create. So if you're making a podcast for free, Patreon can help you monetise it.
Patreon is an easy-to-use platform that allows your dedicated fans to become paying subscribers.
People can sign up to be a member of your Patreon, by pledging to donate a certain amount to you per month, or per thing (e.g. podcast episode) you create. In return, they get access to your Patreon feed. This is a private RSS feed where you can offer little thank you's for supporting you. That can include anything from bonus content to livestreams to handwritten letters.
Patreon has different membership tiers too. So you can set different levels of rewards for different contributions. For example, you could give behind-the-scenes content to people who donate £1 per episode, and extra perks like shout-outs in episodes to people who donate £5. We'll go into more detail later about how to decide what incentives to offer.
Benefits of Patreon for Podcasters
Patreon is perfect for monetising your podcast while also building a community. Here's the top 3 reasons you might want to set up a Patreon.
1. Patreon Can Monetise Your Podcast
Patreon can make your podcast into a solid source of income. If people really value what you're making, chances are, some of them will be willing to pay to get exclusive access to more of it. And a small amount from each Patron can add up to a lot.
Patreon can fund your creative project long-term, with people giving ongoing donations throughout your podcast's lifetime. That makes it more reliable than ad revenue or sponsorship deals if you want a predictable, steady stream of income.

2. Build a Sense of Community
Patreon is great at building connections with your most dedicated listeners. It can be a cool "insiders" club for fans to become a part of. You might even find your Patreon members using your podcast as a jumping off point to make friends with each other!
You can help build this community up with the membership perks you offer Patrons. For example, you could give supporters access to a private Facebook group just for them. Or host a private livestream for them. We'll go into more detail later about what kind of perks to give, but the point is to pick something that builds a connection between you and your supporters.

3. Get Feedback From Loyal Listeners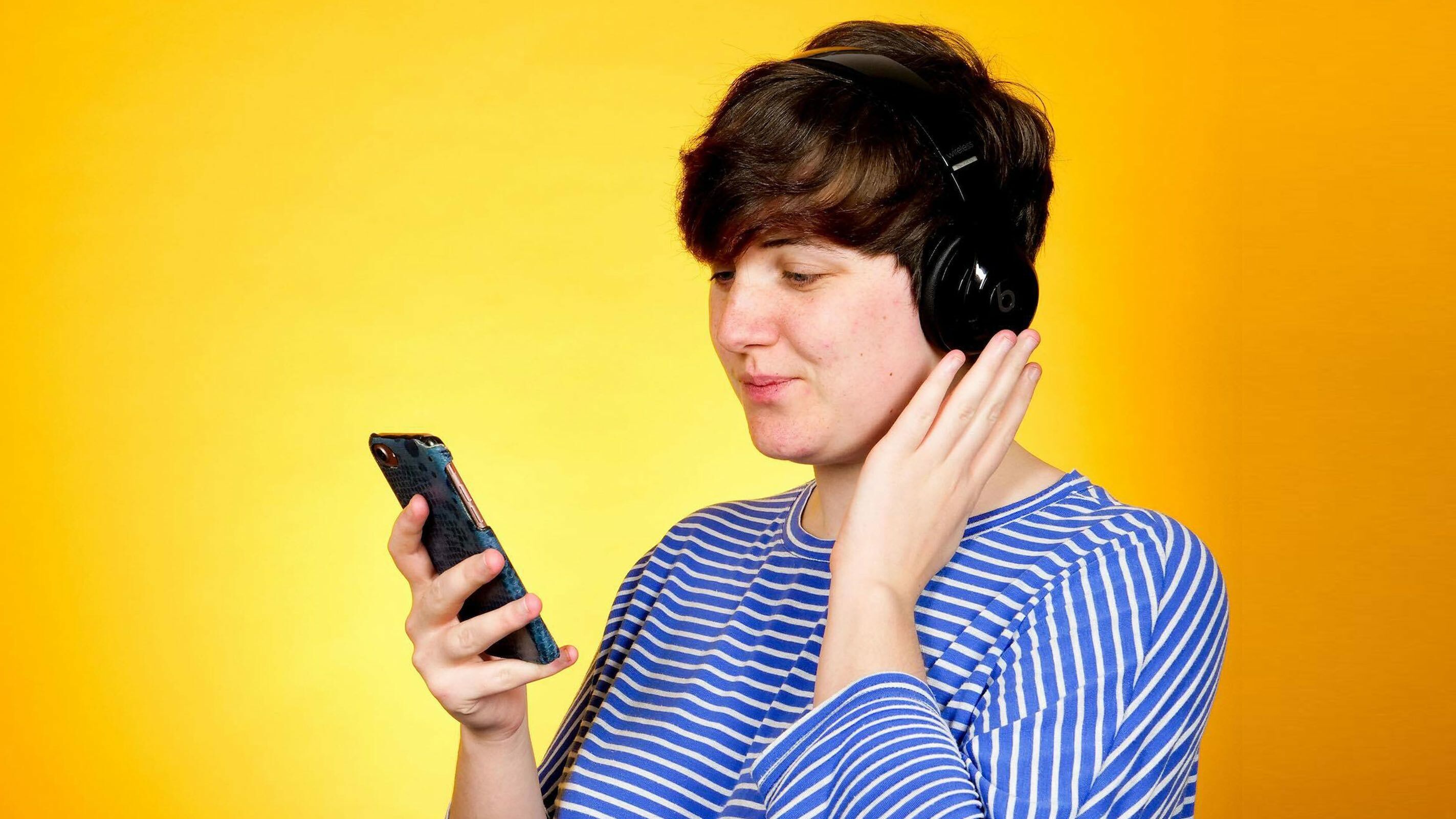 Your Patrons are the perfect focus group to give you feedback and new ideas. They already know and like your content, and they can comment on everything you post in your Patreon feed. So why not ask for their opinions? You can ask them for anything from Q&A questions to ideas for podcast episodes to feedback on episode descriptions. And you can add polls to your Patreon feed as well, so it's super easy to ask for feedback.
Best Practices for Using Patreon as a Podcaster
So you've decided you want to set up a Patreon. Now what? There's loads of different ways you can use the service, and it all depends on you and your goals. That said, there are some best practices which apply to most podcasters. Here are our top tips to help you get started.
1. Be Transparent
If you're asking people for money, you've got to convince them you're using it wisely. And the easiest way to do that is to tell them where it's going. So if you're planning on buying a new mic for your podcast with the extra income from Patreon, let everyone know! You could even set targets to hit. For example, if you need an extra £100 every week before you can afford to dedicate more time to your podcast, tell your audience you'll make more episodes once you've hit that target on Patreon.
Let people know upfront what you're planning to do with the money.
It's up to you how much detail you reveal about your finances. Some people like to tell everyone how much they're making in total from Patreon, while others keep that information private. But if you can give some idea of how you're spending people's money, they're more likely to trust you're putting it to good use.

2. Offer Valuable Perks
The incentives you offer supporters are key to getting people to sign up. You've got to pick stuff that's genuinely valuable, but won't take too much time away from your main podcast. It's a tricky balancing act. The best perks depend on what your audience wants, and what you're capable of delivering. Here are some ideas.
Bonus podcast episodes
Behind the scenes content
Access to an online community (eg private Facebook group or Discord)
One-on-one consultancy calls
Private livestreams or Q&As
Shoutouts in upcoming podcast episodes
Deliveries of free merch or handwritten thank you notes
Giveaways and competitions
You know your audience best, so pick stuff that will resonate with them. And don't be afraid to ask for their thoughts too - use the poll option on Patreon to ask people what they'd like to see more of.
3. Perks Should be Ongoing
If you want Patreon to become a long-term, reliable source of income, you need to give people a reason to continue supporting your show.
So while some of the perks you offer can be one-offs, like immediate access to extra content, you should try to offer some perks that are ongoing too. Monthly livestreams, or regular Q&As could work, for example.
Sean Howard, co-creator of the podcast network Fable and Folly, explains how important regular content is for Patreon. He explains how when he first started a Patreon, it didn't work as well as he expected because he didn't put enough in:
Months would go by without any bonus episodes for our supporters. And then a fan would stop supporting us. And their exit form would state that we weren't "as active as they expected".
Instead, Sean explains how he later saw it done the right way - 'Becoming a patron of a successful Patreon creator opened my eyes. They cared about me. They knew who I was. They sent me messages. They rolled out multiple updates and features per month.'
So be careful not to take your Patreon supporters for granted. Keep giving them reasons to stick around.
4. Don't Overpromise
The incentives are important. But you've got to be careful not to promise stuff you don't have the time or resources to deliver. Patreon is supposed to help you with your podcast, not take loads of your resources away from it.
Think carefully about how much time an incentive will take to make. A monthly livestream Q&A might not need much prep, and a private Facebook group can give your Patrons a chance to connect to each other with just an occasional nudge from you. In contrast, making bonus episodes could take as much time and resources as your main podcast episodes. So think about what you realistically can manage without compromising on your podcast. And start small. It's always better to add extra perks as you go, than having to take away perks when you don't have time to keep them going.
And if some perks use up extra time per subscriber, you can use Patreon's tier system to your advantage. If you're sending personalised handwritten thank you notes to your top tier of supporters, you might not want hundreds of people signing up. Fortunately, Patreon lets you put a cap on the number of people who can subscribe to a certain tier. So you can still offer that perk, without worrying about not being able to fulfil it if the demand is higher than expected. The limit might even give people an extra reason to sign up, so they don't miss out if all the spots go!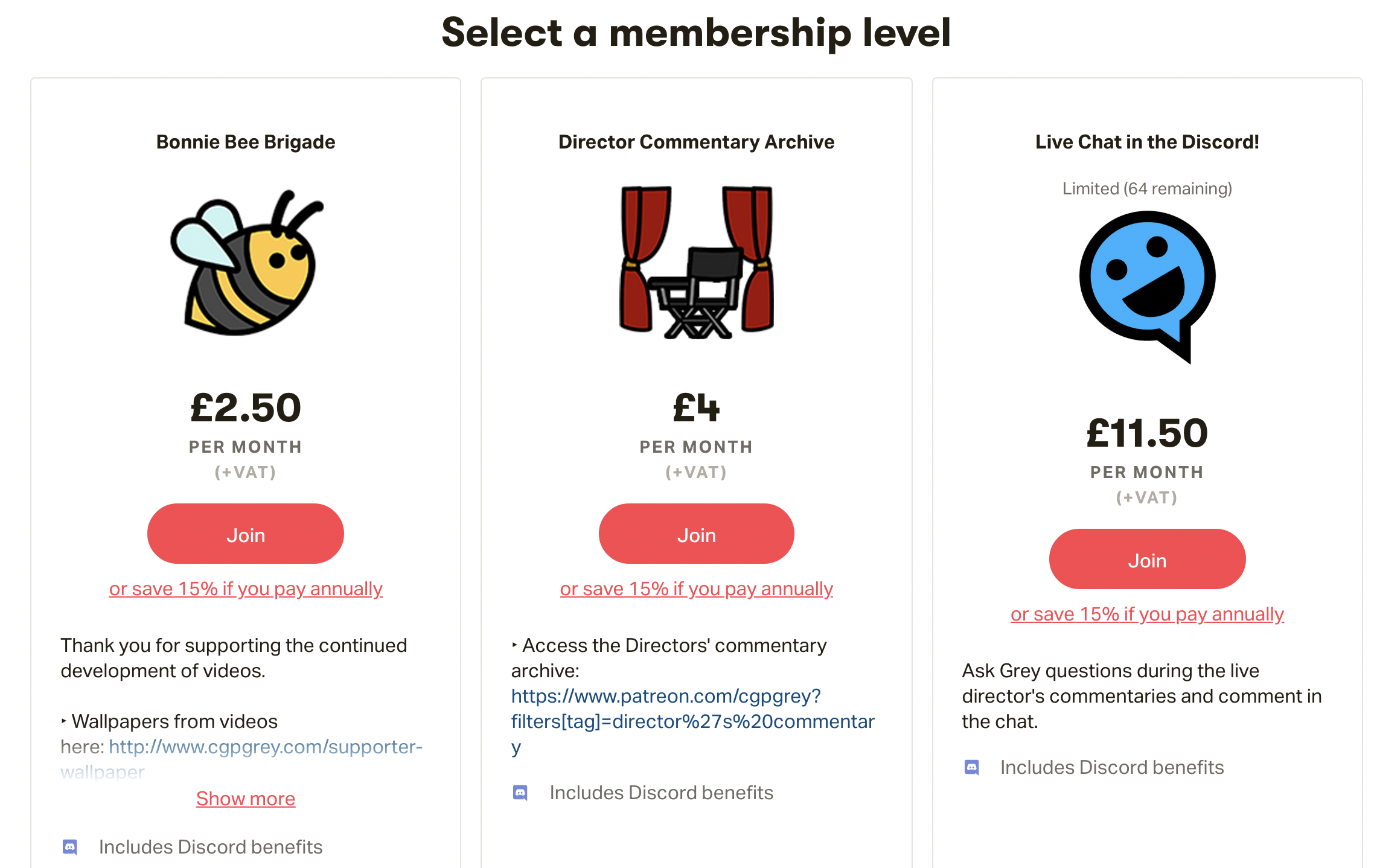 Examples of Podcaster Patreons
If you're still struggling to picture how Patreon will fit into your podcasting, take a look at these examples for some inspiration.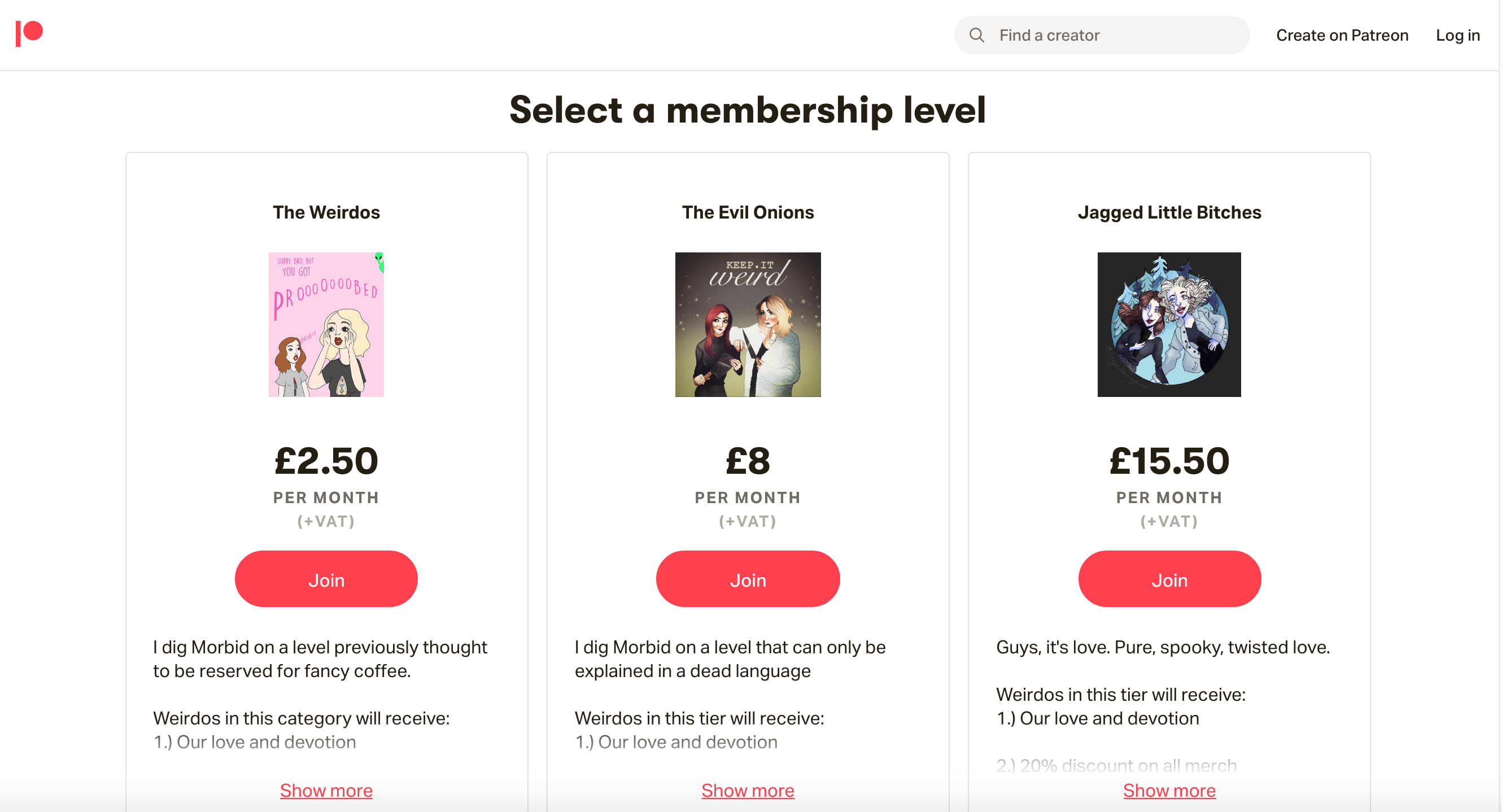 The Morbid Podcast offers four tiers of membership, each with different perks. The fourth tier has a limited number of subscriptions available, so it seems a little more special, for the most dedicated fans.
The incentives include stuff that's relatively low effort to make, but help Patrons feel like they're part of a secret club. Examples include access to private Instagram stories, and a private Discord channel. Other perks clearly take some time, like the bonus episodes. And the perk giving access to an email address where you can ask questions and make suggestions shows how Patreon can give podcasters feedback from their listeners. Take a look at the Morbid Podcast Patreon page to look at what's offered in more detail.
2. Hannah Witton (Creator of Doing It! Podcast)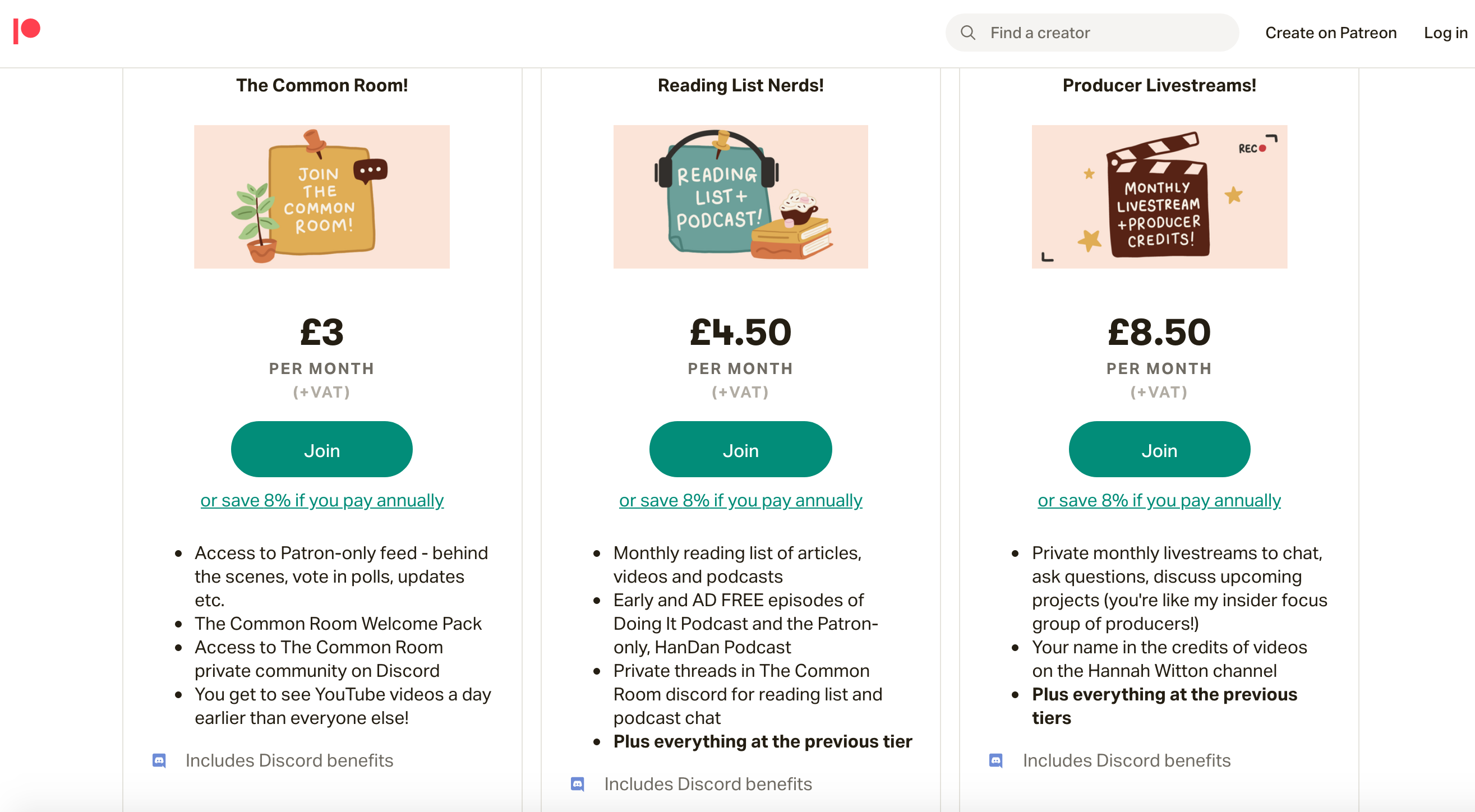 Hannah Witton, host of Doing It!, has slightly fewer perks on offer than the Morbid Podcast, but they're all carefully thought out. For example, the top tier of supporters gets access to monthly livestreams. These are great for building connections between Hannah and her audience. Like Hannah says, these supporters are basically 'my insider focus group of producers!'
Other incentives include monthly reading lists, so supporters can expect regular new content. Another perk is access to a private Discord channel, creating a lovely little community around Hannah's content. Check out her Patreon page for more details.
Conclusion
Patreon is a great way to monetise your podcast reliably, and it can build up a great little community around your content. This gives you somewhere to get feedback and ideas, and it's also bound to motivate you in making your podcast.
The key to setting up your Patreon is to offer the right incentives for members. Offer things that you have the time and resources to deliver, and that can add value and build connections for your supporters. If you do that, you really only have things to gain from joining Patreon.