There's no getting around it. Editing podcasts takes time. Intros and outros need to be added, music needs to fade in and out at the right moments, extended silences need to be cut, and sometimes entire chunks of a conversation need to be rearranged.
While you can technically do all those things on free audio editors like Audacity or GarageBand, the process is labour intensive. Those platforms weren't specifically built with podcasters in mind. So parts of the editing process can get pretty tedious. And if you're producing a new episode every week, that inefficiency equates to a lot of lost time over the course of a year.
Enter Descript - a multimedia editing and transcription tool that's purpose-built for busy podcasters. It's packed full of time-saving tools you won't find elsewhere. Notably, it allows you to edit your episodes by altering the transcript - as if you were editing a word document!
And with our latest integration, you can now publish episodes directly to Podcast.co from the Descript dashboard. In this post, we'll explore some of the features that make Descript unique and explain how to edit audio and publish to your Podcast.co account.
Descript's Features For Busy Podcasters
As a purpose built platform, Descript has more than one trick up its sleeve. Used together the suite of tools and features will streamline your podcast workflow and help you edit in record time.
Accurate Transcriptions & Text Editing
Descript turns your audio into text, broken up by who's speaking, and it then lets you manipulate those audio files as if you were editing a text version of the script in a word processor. Delete a sentence or two, and Descript will automatically shorten the file to make the recording sound smooth and natural. Simple! You can edit, update, and revise your audio content just like you would with a blog post.
Note: This also works for video files if you need to upload your episodes to YouTube. Simply upload your video file or Zoom recording and Descript will transcribe it. You can then edit the video content the same way you would with audio!
Add Corrections With Overdub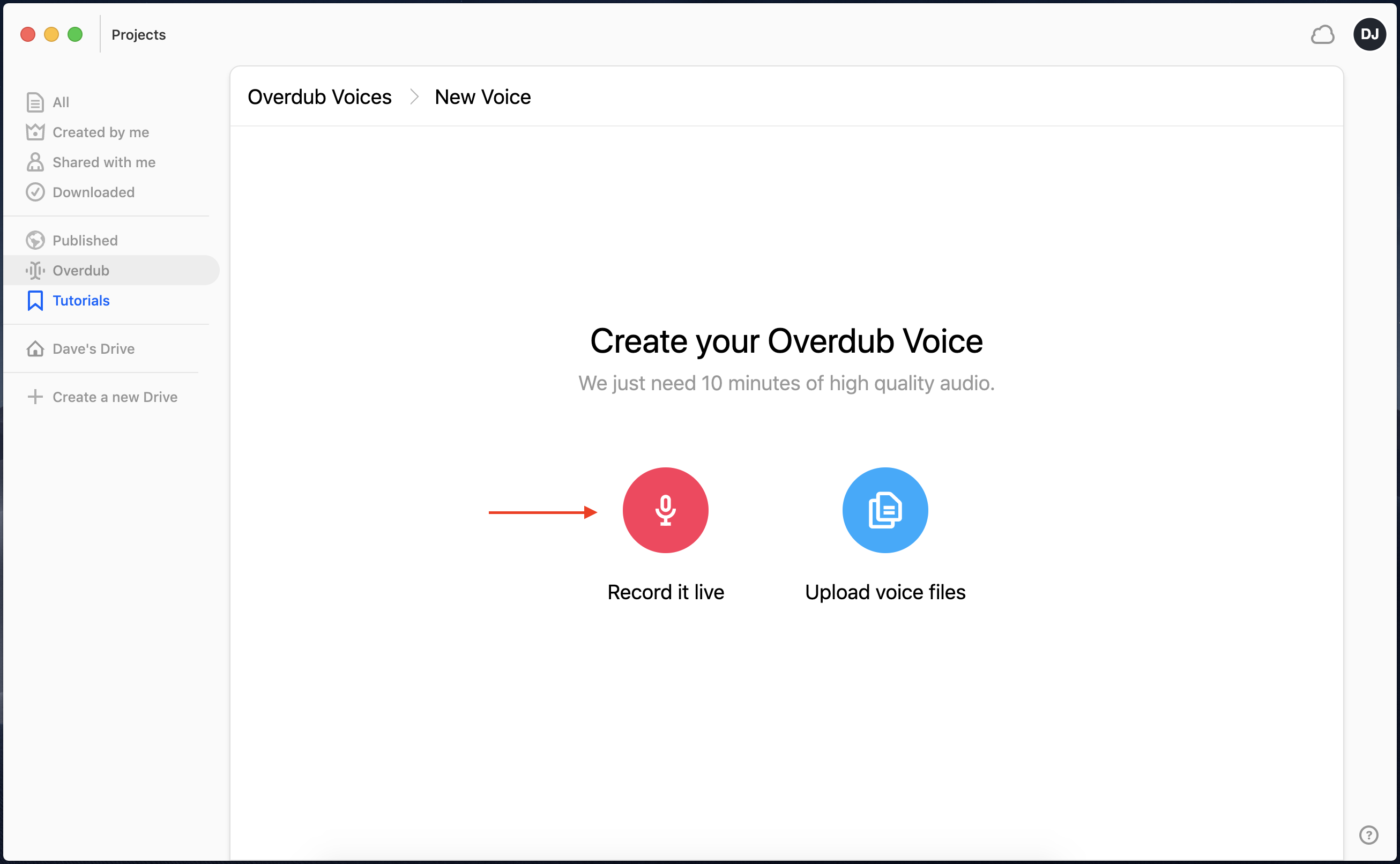 Removing words is simple, but what about adding them? Descript's Overdub tool allows you to create an AI podcast voice double that can be used to overdub flubbed words or phrases and can even generate entirely new sentences on its own - all in your voice.
You can train the Overdub machine learning algorithms by reading a series of randomly generated sentences out loud. Once enough input data has been gathered, then it's ready to use whenever you need. It's never been this easy to create flawless audio every time. Welcome to the future!
Automatically Remove Filler Words
One of the most tedious tasks in podcasting is removing those annoying filler words and phrases from your audio. The 'ums' 'ahhs', and 'you knows' are usually the worst offenders. And it can take hours of painstaking work to eliminate them using standard editing tools. Not with Descript. After transcription, it scans the contents of the document and can automatically detect and remove unnecessary filler words with a single click.
Audio Auto-Leveling
Again, leveling is one of those things that can be a pain to do manually. But Descript allows you to automatically level out the volume across your entire file creating a uniform sound throughout your entire episode.
How to Edit, Export, & Publish Audio with Descript
The Descript workspace is really easy to navigate and they even have a built in tutorial for you when you create your trial account, but let's run through some of the basics.
Note: Descript is a desktop app compatible with both Mac and Windows OS, but because it is cloud-based, it requires a stable internet connection to run. You won't be able to edit in places where you can't connect to the internet.
Workspace Layout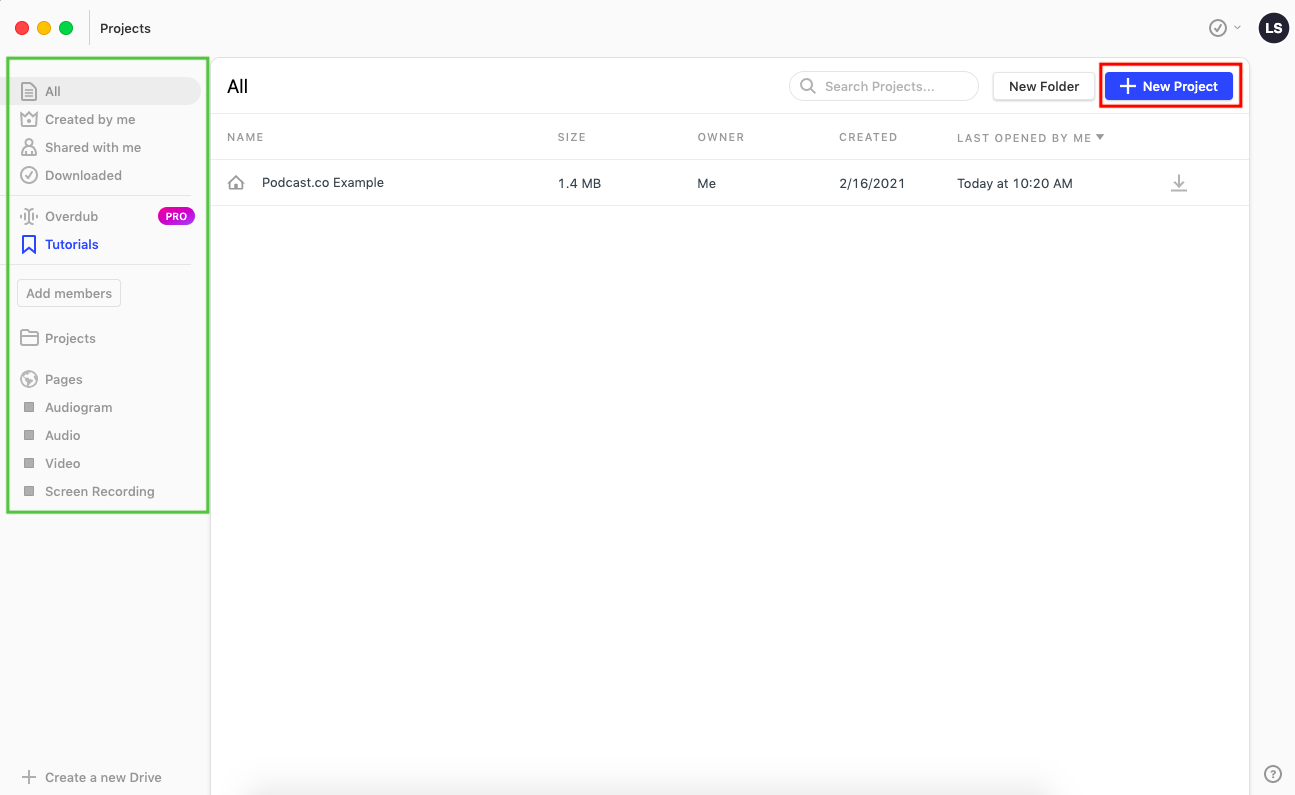 To the left on the image above, where our green box is, you have all your previous Projects that you've been working on. So if you need to run off while editing something, you can easily come back and pick up where you left off.
Then in the top right, in our red box, you can see the "New Project" button and this is what you want when you're starting a new episode from scratch. Let's click that to start our first episode.
Project Workspace
This is where the magic happens. Here you can record, edit & transcribe audio.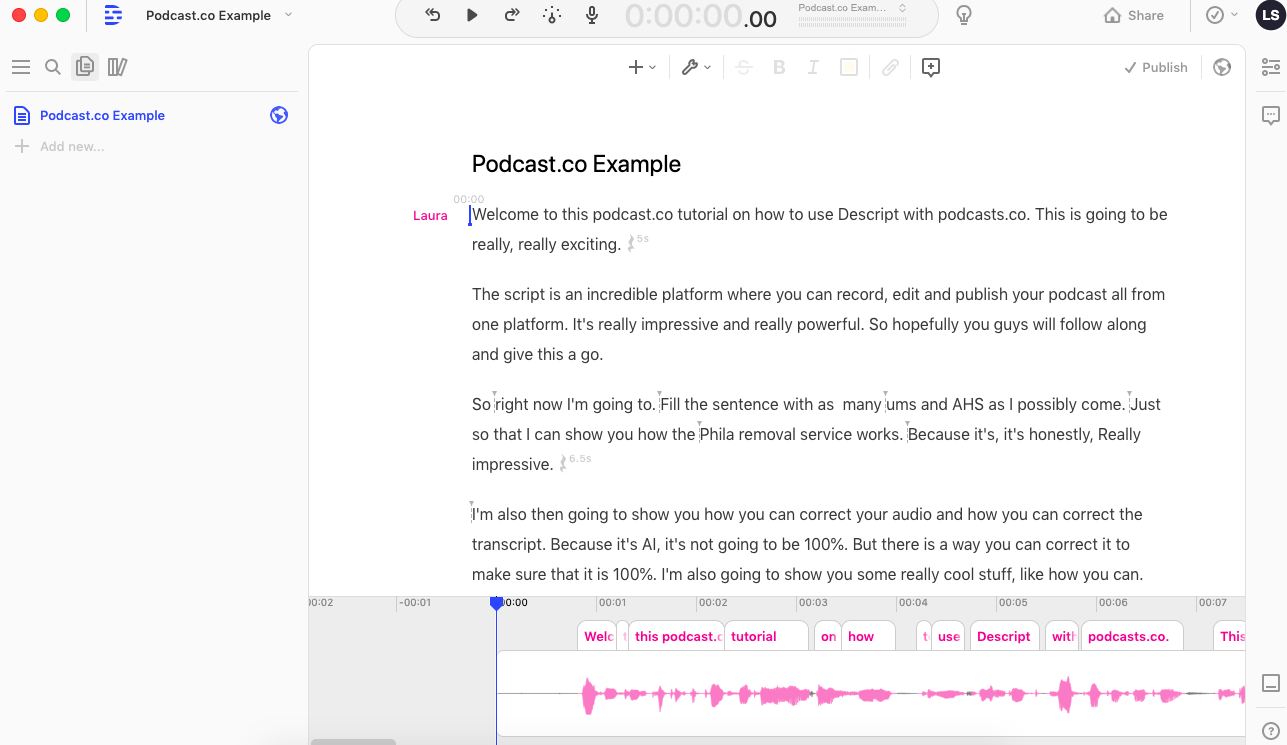 To start recording an episode, click the + button in the top bar menu, then Audio Recording. Then you can record directly into Descript and it will transcribe in real time along with you!
You can also click Voice File if you've got an episode you'd like to import in instead.
Editing Your Episode
Once you're done recording or importing, it's time to use those powerful editing and mastering tools to improve your episode.
Removing Mistakes & Editing Transcripts
As mentioned previously, if there's something you want to remove, just delete the offending phrases or sentences and Descript will automatically shorten your audio file for you.
If you've noticed a spelling error in your transcript you want to update, you can fix these without altering your audio. Just click Edit Media in the top left and then click Correct Text to select that mode. You can also use Cmd + E to switch between these 2 modes.
Filler Word Removal
Below we have a chunk of audio where we said "um" quite a few times. Let's fix it.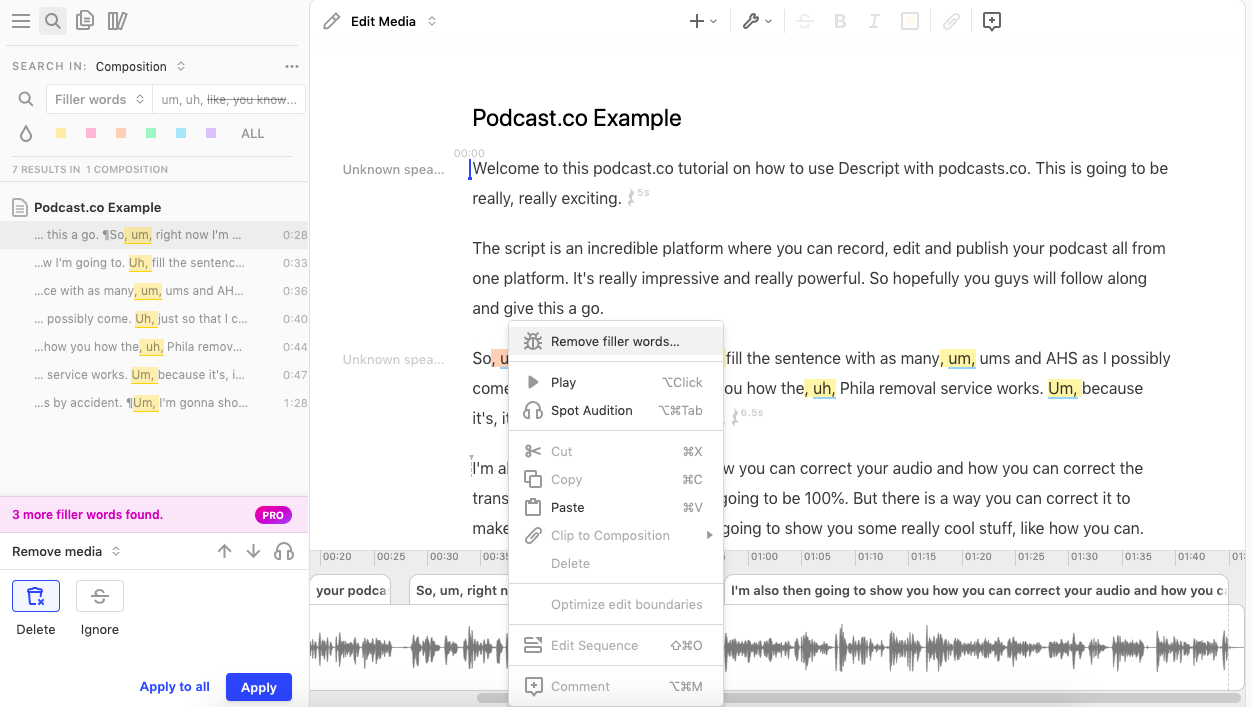 Find an "um" in the transcript and right click on it, then click Remove Filler Word. This will open a window on the left that will show you all the filler words you've used. To remove all of them, just click Apply to All. They will all get removed and the audio will get stitched back together so you'd never even know they were there.
Auto-Leveling
This part is easy. Just right click the Waveform at the bottom of the workspace, then click Auto Level Clip. This will level out your volume making it one uniform level.

You can also adjust the volume of particular segments of your clips by clicking Add Volume Keyframe and then dragging those around to adjust.
Podcast.co X Descript Integration
Podcast.co is integrated with Descript, so you can export your final episode and its transcript directly to your Buzzsprout account after editing.
Once you're happy with your episode, Click File > Export. From the Cloud export menu, click the 3 dots and select Podcast.co from the dropdown menu.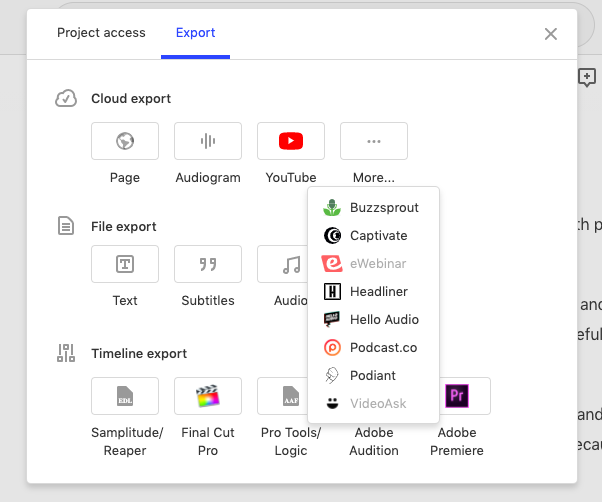 This will send you over to Podcast.co to finish the upload process. Once logged into your account, select the podcast you want to upload the episode to, and keep the lower details the same. You do not need to change these. Click Import.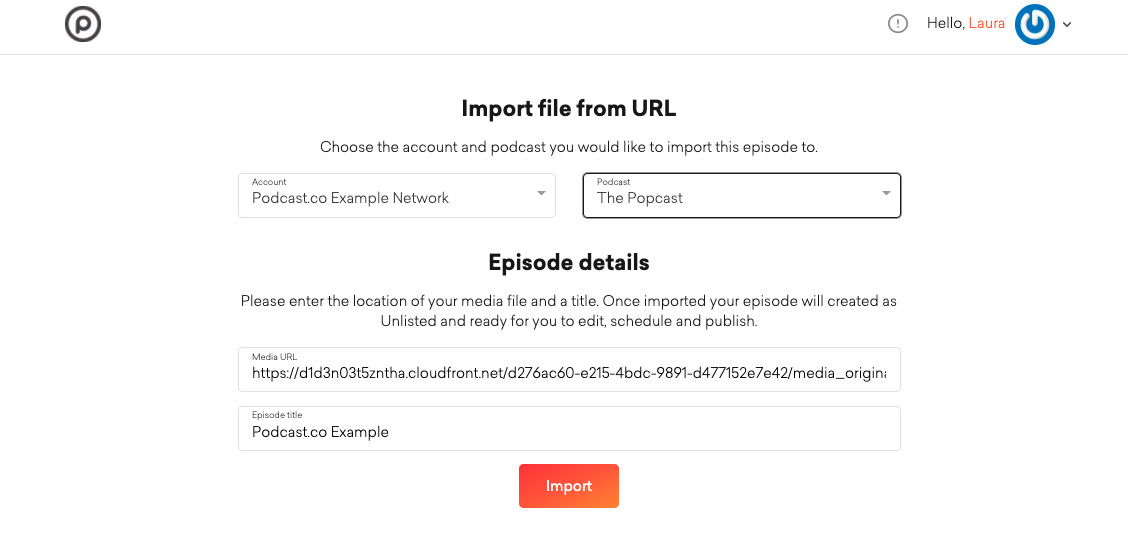 The episode will import in and you will be redirected to your account once this is complete.
To edit the title and description and set the episode live, go to Episodes and then your Unlisted section. Click the 3 dots to the right, and Edit to adjust the title and description of the episode. Then click those same 3 dots and Publishing Options to put it live or schedule it up. And you're done!
Plans & Pricing
If Descript sounds like the right fit for your show, you can test drive the platform with a free trial - which gives you up to 3 hours of transcription and access to most of the tools above.
If you're a solo podcaster on a budget, we recommend going with the Creator plan. But if you need to collaborate on editing with others or you want to use the Overdub tool, then go with the Pro plan.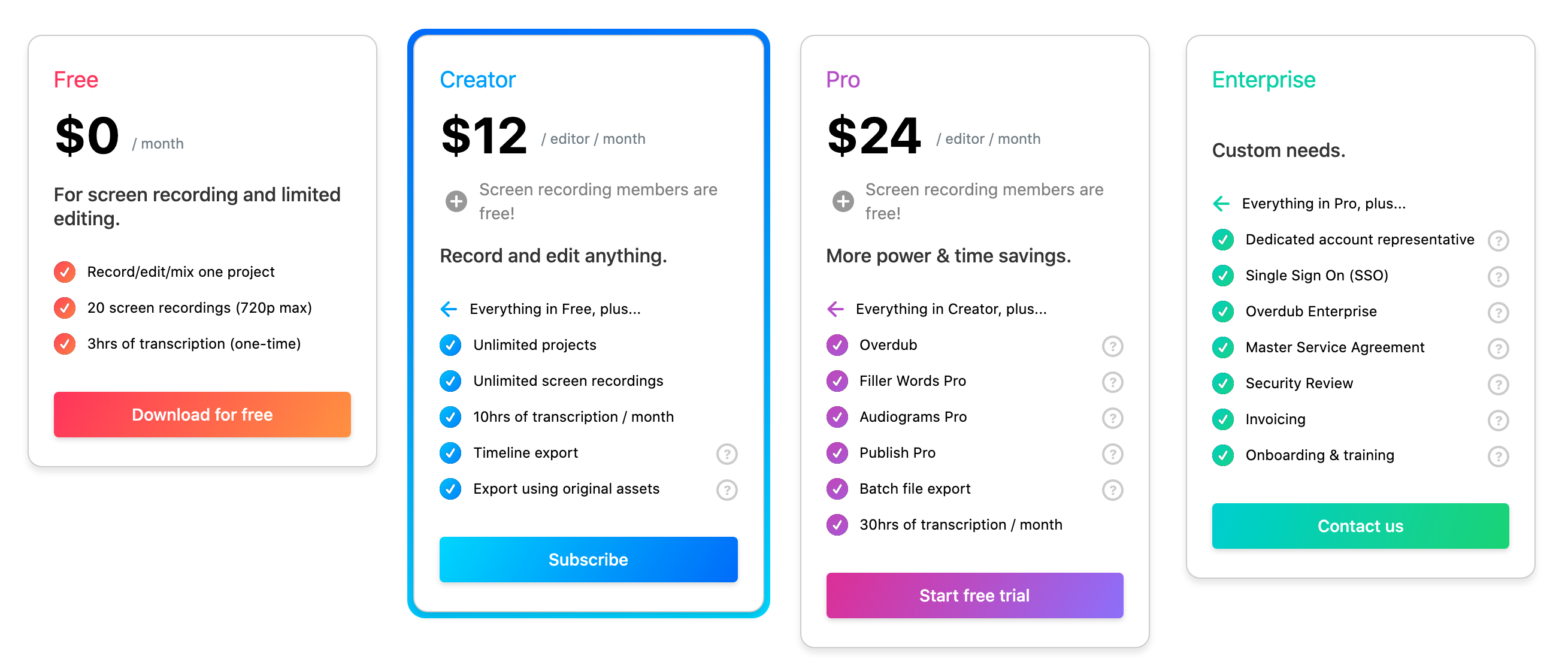 Conclusion
If you're fed up with the tedious elements of audio editing, Descript can make your life much easier. Compared to what's come before, it represents a huge leap forward in the world of podcast editing (and it's completely affordable too!).
Check out Descript's in-depth tutorials for more tips and ways to use the tool to make a better podcast.