​Wanna know the best mixers for podcasts? If you're not entirely sure which mixer is right for you then we've got you covered. Whether you need a budget option, mid-range, or pro-level mixer, here are the best ones we've found that are worth checking out.
​Why Do I Need a Mixer?
Not everyone needs a mixer. It depends on the type of microphone you have that determines how you manage your audio equipment. For example, if you have a USB microphone then you can just hook it up directly to your computer.
Simple setups like this don't really need a mixer, but if you plan on having multiple guests and more control over your audio output then using a mixer is the way to go. However, there are alternatives that are handy for simple setups like audio interfaces.
​Audio Interfaces vs Mixers: Which is Better?
At a very basic level, audio interfaces and mixers do pretty much the same thing. They take sound from an audio source like a microphone, then convert it to a digital signal that computers can process.
Where they differ is functionality. Mixers have more options to control audio and manage several devices at once, whereas audio interfaces simply power up inputs like microphones and electrical instruments.
People tend to get audio interfaces because they're affordable, portable, and easy to hook up to a computer via USB like the Focusrite Scarlett 2i2. Typically, mixers are used for live performances, but they're handy for pre-recorded audio. Manage multiple devices, control different inputs like your phone, and a few more which we'll cover below.
​Benefits of Mixers
Mixers are primarily for live audio, but offer enough incentive for pre-recorded audio like podcasts. Plus, there's plenty of added features you just wouldn't get with an audio interface.


Preamplifier: Powers audio equipment like microphones that need a higher voltage, which is a must for quality dynamic and condenser microphones.
Enhanced Audio: Cleans up poorer sounding microphones (not so much for mid to high end ones).
Easier Control: Manage several different input devices with faders, gains, and fx dials.
Mixing Sounds: Reduce post-production time by playing music, sound clips, and even voicemails through your mixer.
Multichannel Recording: Depending on your mixer, you can record several audio channels separately to make it easier for post-processing

Options vary from mixer to mixer. For example, the PreSonus StudioLive AR8 has the ability to record audio to an SD card without needing to be hooked up to a computer. The better the mixer you get, the more options it unlocks for better audio management and processing.
10 Best Mixers for Podcasts
​Not sure which mixer is best for your setup? Whether you need a budget option, mid-range, or pro-level mixer, here are the best ones we've found that are worth checking out.
​#10. Behringer Xenyx Q502USB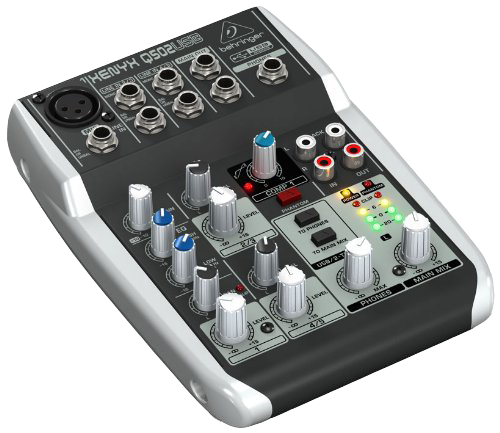 Need a budget mixer? The Behringer Xenyx Q502USB has a compact design ideal for solo podcasters looking for a cheaper alternative. Offering 5 channels and built-in compressor, you can produce some pretty good audio through this mixer.

Designed for home use, it has an XLR to USB connector so you can hook up a dynamic or condenser microphone directly to your computer. Where this mixer falls short is the phantom power capabilities. It's limited to 15V which is too weak for most microphones which require 48V. Make sure whatever microphone you choose, this mixer can handle it.
​#9. Yamaha MG10XU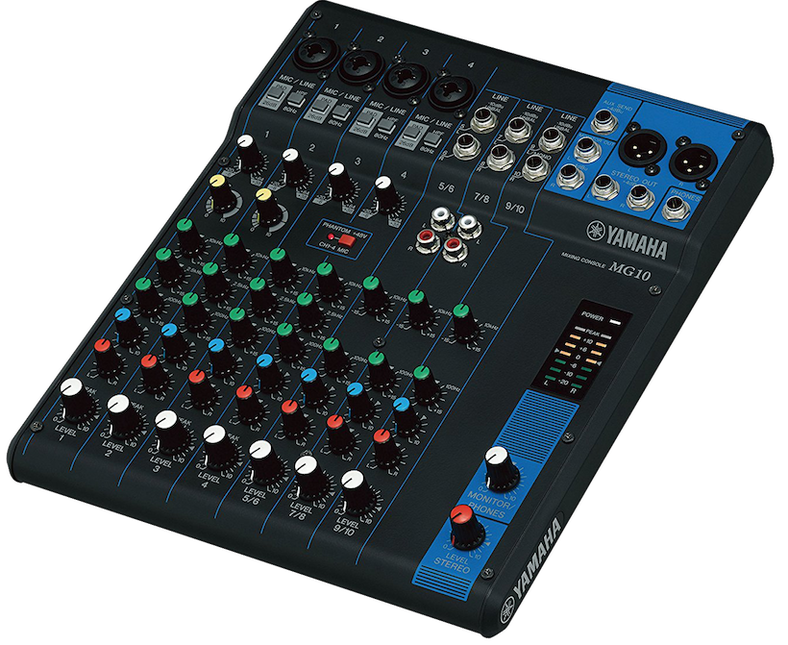 A mixer probably isn't the first thing to come to mind when you think of Yamaha. The well known brand famous for motorcycles, pianos, and other musical equipment now has another feather in their cap with the Yamaha MG10XU.

What makes this mixer stand out is its level of quality at a low price point. The Yamaha has features you would normally find in high-end mixers, like built-in compression for a quiet noise floor and aux out for mix minus. Plus, it has a USB connector so you can hook it up directly to your computer and it's small enough to be taken anywhere.

If 10 channels isn't enough (or too much) for you, then Yamaha offers 6, 12, 16, and 20 input channels for bigger setups. There's also the option to have added digital effects for easier FX capabilities on the fly, saving you a bit of time in post-production.
​​#8. Allen & Heath ZEDI-8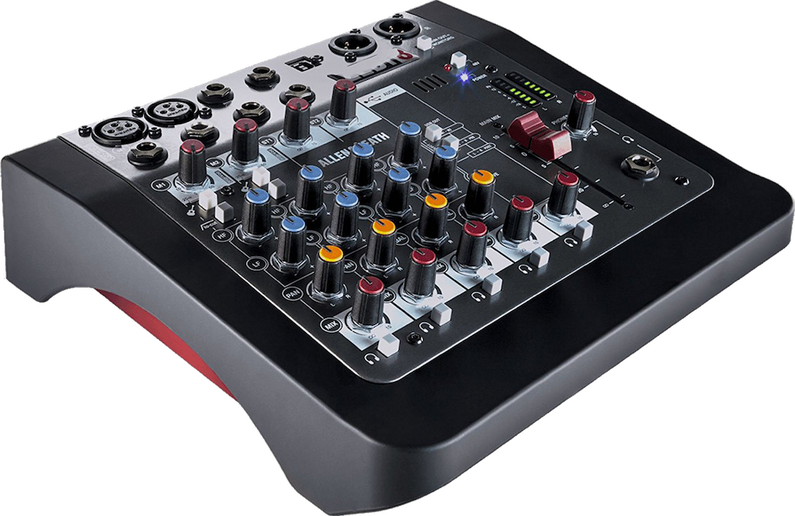 Allen & Heath are well-known for designing quality mixers. The ZEDI series is one of their best affordable solutions for small home studio setups.
With its 2-in 2-out USB interface, you can connect two microphones or a mono line-level signal to push out to your computer. There are also two additional stereo channels which are available for instruments like drum machines, synthesizers, and other line-level sources.

Know exactly how each channel sounds by individually assigning them to the headphone mix output. There's also the low-cut filters option to reduce rumbles and other unwanted low-frequency sounds. Other models include a different number of channels and FX capabilities. Currently, there's 6, 6 with FX, 8, 10, and 10 with FX that are on offer.
​​#7. Samson MixPad MXP124FX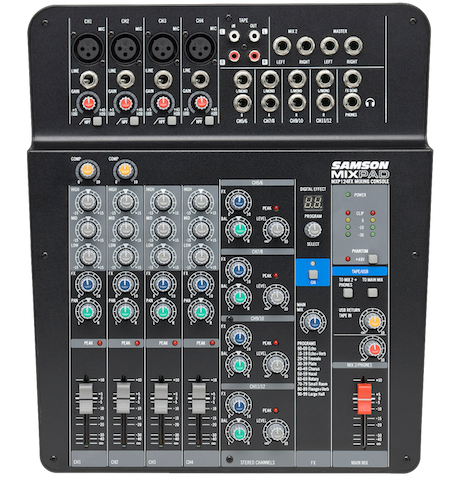 The Samson MixPad MXP124FX (that's a mouthful!) is good for first-time buyers and home uses due to its price point, features, and simple design.
The interface is robust and portable, even for a 12 channel mixer. In terms of audio quality it's neutral and quiet, something you would expect from more high-end mixers. There's good attention to detail here as it feels compact and robust with 12 channels, 5 faders, and 99 digital effects with FX level controls for each channel, making this a very handy and portable device.

Out of the 12 channels, 4 are mic/line with on-board phantom power for microphone preamps, so it's ideal for several guests. Another 4 channels are stereo with balance controls. If you need more channels then other models include 12, 12 with FX, 14, and 14 with FX. A slight drawback with the MSP124FX is the lack of multitrack recording options, which means you can't split out each channel to record audio separately, but this isn't a major turn off from an otherwise brilliant mixer.
​​#6. Behringer Xenyx 1204USB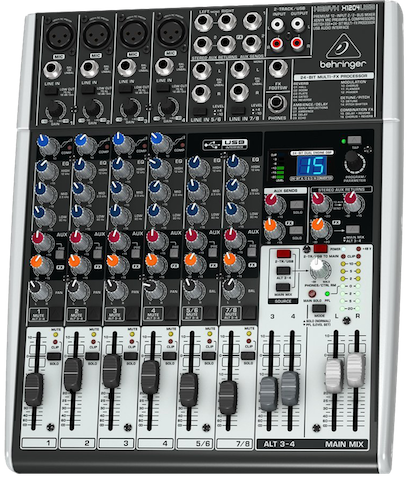 The Behringer Xenyx 1204USB is a good alternative to the Samson MixPad MXP124FX. Similar in design and features, this 12 channel USB mixer has a full set of mixing capabilities worth checking out.
Similar to the popular Xenyx 802, the 1204USB model has a total of 12 channels, 6 of which are fader controlled for audio management and 4 phantom powered for XLR inputs. The mixer comes with dynamic compression which limits the range of signals, so it essentially lowers loud sounds by turning them softer to avoid peaks. The one-knob compression is available on all mono channels to find that right balance.

This ultra-low noise, high headroom analogue mixer does have its flaws. Although it comes with a USB connector for direct to computer management, it still needs to be powered with an AC adapter. Apart from that, the 1204USB has pretty much all the essentials you need to connect, mix, and record audio quite easily with this high-performance home recording studio kit.
​​#5. Mackie PROFX12V2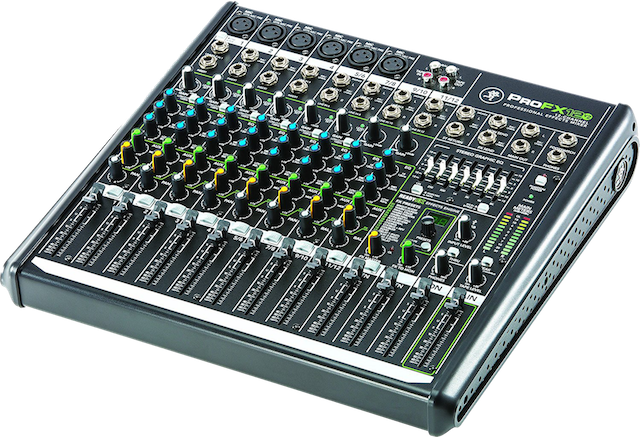 The compact mixer market is very oversaturated. There are big names like Behringer, Yamaha, and Allen & Heath which we've mentioned that cover most audio requirements, but the Mackie ProFX12V2 has a special place on this list due to its build quality and clean feed audio.
The PROFX12V2 packs some nifty features and has the cleanest preamps on the market for its price. It comes with 6 mic/line inputs for your devices, so you can have 2 microphones for you and a guest, phone for call-ins, and a vinyl or CD deck to play out your music. 4 of the mixer's channels are stereo, so you can split audio up into 2 recordings. There's also built-in FX that has 16 different effects for on the fly mixing to change your audio output, for example, make your voice sound like your in a large room with the "small stage" preset.

There's also 7-band graphic EQ for main output or monitoring. The USB connector can record and playback audio, so you can manage your shows on your computer at home or laptop if you're on location. The 6 XLR inputs are phantom powered with 48v to power most condenser or dynamic microphones.

In addition to this, there's 100Hz low cut filter for noise reduction and 60mm faders on all input channels, returns, and master. Just like many other mixers on this list, there are a few options for additional channels. Mackie offers 4, 8, 12, 16, 22, and 30 channel mixers, so there's a wide range to suit even the most demanding of setups.
​​#4. Peavey PV 14 AT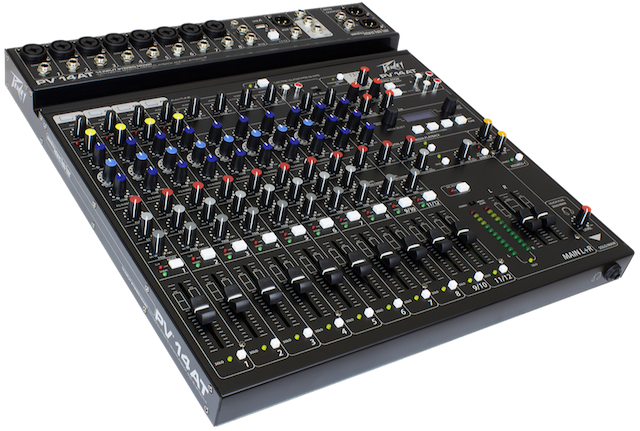 The Peavy PV 14 AT is a compact analog mixer aimed at spoken word like podcasts and radio shows due to its range of features like auto-tune and bluetooth capabilities. It's slim in design and packs some quality features ideal for home and professional users.
Auto-tune, which is one of the standards for music production today, comes with the mixer. Audio is pitch corrected, which means it helps you sing in key if you're performing live. There's also bluetooth connectivity which allows any smart device like your phone or tablet to connect to the mixer. Play music off your phone or take live calls without being restricted by a cable. Alternatively, there's a USB port if you want to hook up your phone.

The mixer itself has a slim, low-profile design, which means its perfect for small to medium size setups. The built-in digital effects comes with an LCD display so you can manage your FX sounds with ease. In total there are 14 channels, 8 of which have 48v phantom power microphone preamplifier channels for you, several guests, and even musical instruments like guitars or keyboard depending on your rig.

There's not much else to say about the PV 14 AT as it ticks most boxes, but if you need a different size then there's the 6, 10, and 14 channel options available.
​​#3. PreSonus StudioLive AR8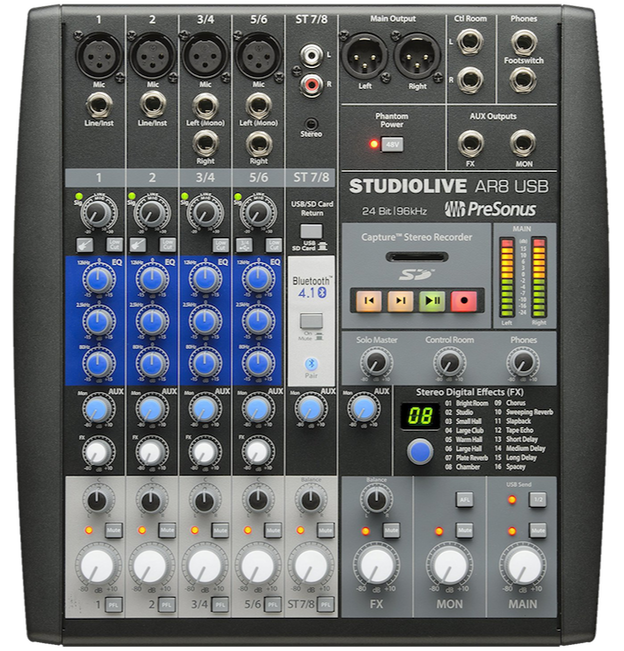 The StudioLive AR8 is a hybrid mixer, so you get the best of both worlds with analog controls and a digital interface. All together this has 8 channels with preamp and mono connections for things like microphones and musical instruments, so you can use it for podcasting, talk radio shows, or music sessions.
The cool thing about this mixer is it's bluetooth functionality, just connect and play audio off your iPhone or iPad. Like most mixers, the AR8 has a bunch of standard features like EQ level settings, audio balancers, and a phantom power option for equipment like condenser microphones. But probably the best thing about this mixer is the built-in stereo SD recorder that lets you record the main mix without having to go through a computer.

Other features include the option to save channel presets for quicker management, adjustable low pass frequency setting on every channel so it doesn't pickup far away noises, and digital effects to live up shows.
​​#2. Soundcraft Signature 12 MTK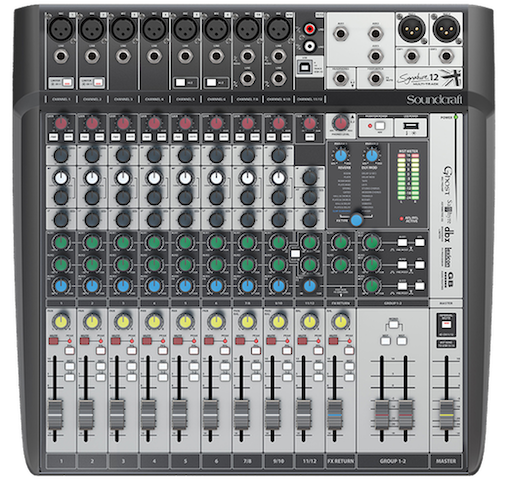 The Soundcraft Signature 12 MTK is an award winning mixing desk known for it's lexicon effects engine, which boasts impressive sound quality for reverbs, delays, choruses and modulations.
MTK stands for multitrack mixer, which means you can record each track individually. It has plenty of cool features, like routing and USB connectivity to manage on a laptop on location or a computer at home.

The MTK is designed to deliver pristine audio with it's 12 channels, 8 of which are XLR inputs with microphone preamps, so there's plenty of breathing room to expand your setup. The low-latency USB interface flawlessly captures every channel, which can be mixed or transferred to a digital audio workstation for post-production or mixdown. There's also EQ and limiting for better on the fly processing which saves post-processing time.

There's 10, 12, 16, and 22 channel options available. Plus, of multi-tracks isn't your thing, then you can opt for a regular version to save a bit of money, but you won't have the added benefit of recording your tracks individually. Overall, the MTK has a rock solid build quality which offers very low noise and a great, crisp, and uncoloured sound.
​​​#1. Zoom LiveTrak L-12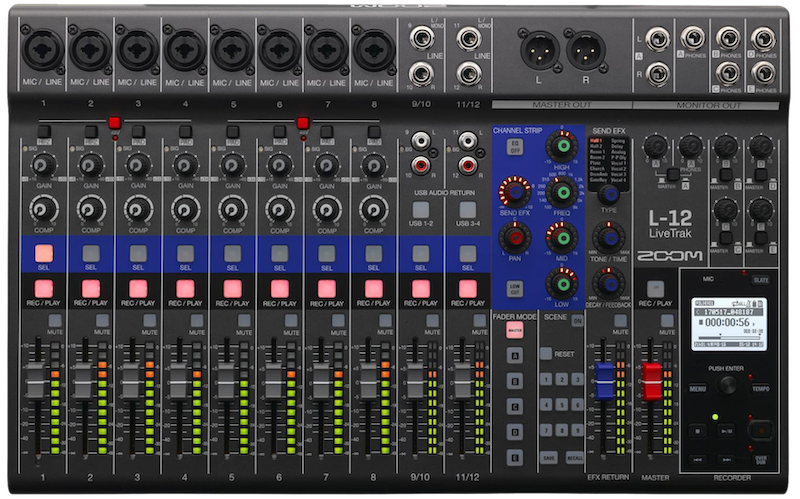 The Zoom LiveTrack L-12 is a fully digital system that lets you mix, record, playback, and monitor everything through the mixer.
The L-12 is feature rich as it comes with digital effects, recording/playback, LCD screen, and a bunch more cool functions to enhance your audio options. Mix live performances and record up to 12 channels in total, 8 of which are mono and 2 stereo. Each channel strip has the option of recording and playing audio. Select which ones you want to apply EQ and panning controls to at the tap of a button.

Navigate and display recordings using the backlit LCD screen. Use it to customise your recorder settings so it's a little bit easier to just hit the ground running when you're ready to go. There are also 16 built-in effects which can be adjusted to suit you, like the delay and reverb effects.

Currently there's only the 12 channel model available as Zoom has yet to bring out a 6 or 24 model version, but this one will be enough for any mid-range to high-end setup. If not then you can opt for the 16 or 22 channel Soundcraft Signature 12 MTK. That being said, the L-12 is a simple yet effective mixer for recording your shows with plenty of features on offer to make it worth checking out.
Not Sure Which Mixer to Choose?
​If you're not entirely sure which of these best mixers for podcasts suits your needs, then we've got your back! Get in touch with an expert to point you in the right direction. Let us know your budget and what you will be using the mixer for - drop us an email at [email protected].