Getting on podcasts as a guest is a great way to get in front of your target audience for free. And it takes way less effort than guest blogging. No-brainer really.
No matter what your area of expertise, someone will have created a podcast about it. The diversity in podcasting's long-tail makes the medium a powerful tool for getting your message out to the right people.
But most producers and hosts are picky about who they'll have on their show. They only want guests who they think their listeners will enjoy. And the more popular a podcast is, the more guest pitches they'll receive. So if your pitch doesn't stand out, it's going to get buried with all the rest.
In this post we'll cover everything you need to know about getting on podcasts as a guest. You'll learn how to find the shows most relevant to you, track your outreach, perfect your pitch, and impress listeners during interviews. Plus you'll be able to kickstart your search with a podcast booking platform that simplifies the process for you. So let's dive in.
Why Do You Want to Get on Podcasts as a Guest?
Getting on big-name podcasts sounds exciting. And it is. But before you get carried away envisioning your debut appearance on The Joe Rogan Experience, let's take a step back.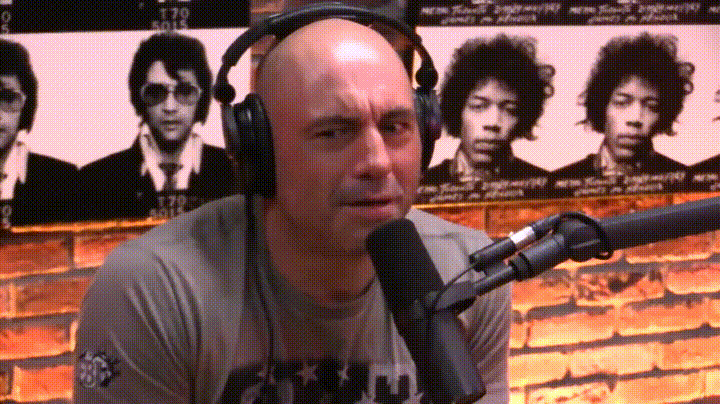 Start with why. Why do you want to get on podcasts as a guest? What do you want to get out of it? Maybe you just really love the sound of your own voice. But chances are, you'll want to do one of the following things:

Generate free publicity for your brand
Attract new listeners to your own podcast
Promote the launch of a new book
Build relationships with key figures in your industry
Dive authoritative backlinks to your website
The good news is, getting on podcasts as a guest can help do all these things. But it's up to you to decide what your priority is. Stating your main motivation at the outset makes the rest of the process easier because it gives direction to your search. You'll be less likely to end up wasting time chasing guest slots that won't help achieve your goals.
Use MatchMaker.fm
Creating a profile on MatchMaker.fm is the easiest way to start booking podcast guest slots. MatchMaker is an online booking service that matches podcasters with ideal guests. So if you're looking for speaking opportunities, all it takes a few clicks.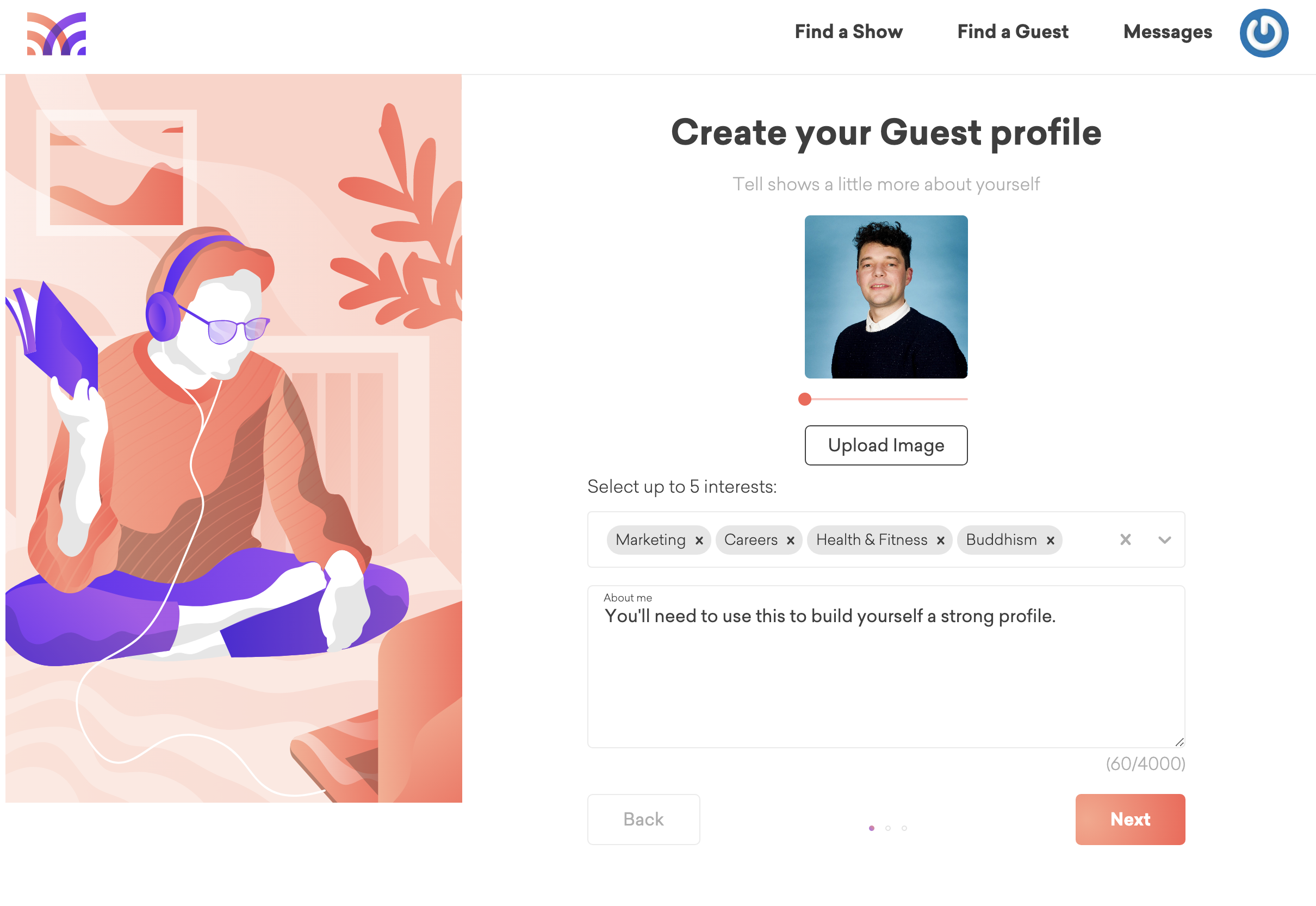 Fill in your details and outline your area of expertise, search the database of podcasts, and apply to shows that seem like a good fit. If the podcaster thinks you're right for their audience, they can book you straight away. Simple. Find guests for your show or get on others by joining MatchMaker.
To get the most out of MatchMaker, focus on making your profile as strong as possible. You need to sell yourself by highlighting the unique value you bring to the table. So make sure you outline your background, accomplishments, the topics you're passionate about. If you have an existing audience, make sure to let podcasters know how you can support them by sharing your content.
Check Out the Podcast Guest Academy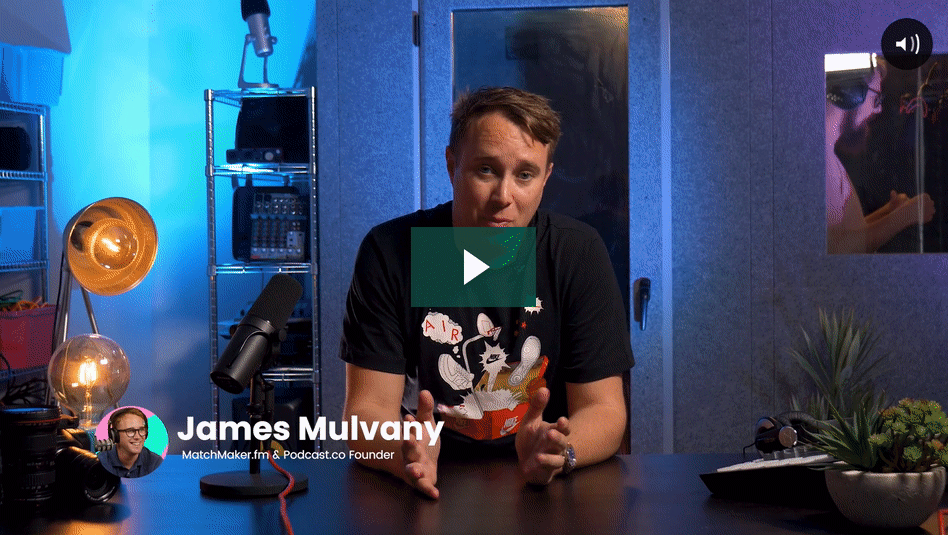 If you're completely new to the idea of being a guest on podcasts, then allow Podcast.co founder James Mulvany talk you through his system which has got him booked on over 200 podcasts over the past couple of years, both as a host and as a guest.
The Podcast Guest Academy is a training for high performance CEOs, coaches or anyone who wants to tell their stories on podcasts. It will teach you a quick and methodical technique to make sure you're maximising each opportunity.
Find out more about Guest Academy.
How to Find Relevant Podcasts

Once you've got MatchMaker up and running you might also want to take a more hands-on approach to booking guest slots. Here are a few different approaches you can take:
Find a Media Doppelganger
Writing in Harvard Business Review, Dorie Clark, marketing strategist and lecturer at Duke University's Business School, outlined a very efficient way of finding relevant podcasts to appear on. Here's how it works:
Find a "media doppelganger" whose appearances you can replicate. For instance, if you've written a book about negotiation, find other well-known authors or thinkers on that topic and go to the media page of their website and see which podcasts they've already appeared on. They've essentially done the sourcing for you. You know those podcasts hosts are interested in negotiation as a topic, so you can add them to the outreach list.
If your chosen doppelganger doesn't list their appearance on their website, simply type their name plus "podcast" into Google to find any of their past appearances.
Google Podcasts in Your Industry
To broaden your search, use Google to identify the top podcasts in your industry. Use search terms like "SEO podcast", "FinTech podcast", "legal podcasts" to find shows that would be a good fit for your area of expertise. Make note of any that look interesting and vet them using the process outlined below.
Search Podcast Directories

There are loads of podcast directories out there, but limit your search to the major ones like Apple Podcasts, Spotify, and Stitcher. Again, just use the search box to find the right kind of shows. You can also check out "Top Shows" or "Trending" categories to identify potential top-tier guest slots.
Join Facebook Groups
There are Facebook Groups out there that are dedicated to sourcing podcast guests. It's well worth joining a few and keeping an eye out for any relevant opportunities that crop up. A word of warning though - don't immediately begin cold messaging group members looking for guest slots. That's a sure fire way to get yourself kicked out quickly.
Communities are more of a slow burn approach. Introduce yourself, ask questions, help others out where you can, and build up relationships over time. If you become a trusted member, great opportunities are bound to come your way now and again.
Quality Checking Prospective Podcasts
Following the methods above will probably leave you with a long list of potential podcasts. So it's important to narrow your focus on podcasts likely to help you achieve your goals. Not all of them will be worth your time.
Before you commit to pitching to get on a podcast, here are some basic checks you should run through:
Do They Feature Guests?
Not all podcasts have guests. Some are hosted by a solo presenter. Others are audio documentaries or storytelling. So scroll through their episodes and double check they've had guests on in the past. It sounds obvious. But this is often overlooked.
Listen to an Episode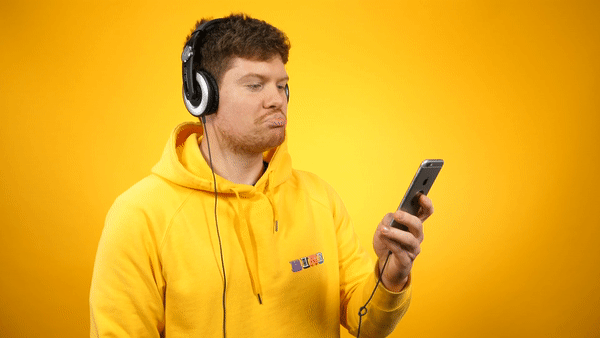 You can't really tell if a podcast is right for you until you've listened to at least one episode. As you listen, think about the following things:
Why is the presenter making it? What is the podcast's purpose?
Who is likely to be listening to it?
What are listeners getting out of it? What's in it for them?
When you identify these things, then you can reflect on what unique value you could bring to that particular audience. Is there a different perspective you could offer that would enhance the podcast in some way? This will be a big help later on when it comes to crafting your pitch.
Ratings & Reviews

It's always worth checking in on Apple Podcasts to see ratings and reviews. If a podcast has been going for years and only has less than 10 reviews, it's probably not worth the time. Likewise, if it has received quite a few negative reviews, be wary. Appearing as a guest could make you look bad by association.
Social Media
Check out the podcasters social media channels to see if people are commenting and liking their posts. The level of engagement doesn't have to be huge, but what you want to see are signs that the podcast has a group of loyal listeners who are invested in the show and it's presenter.
Website
Scan through their website and see if their existing content resonates with your brand. Are they publishing consistently? If you're hoping to secure backlinks through your podcast appearances, then it's worth using an SEO tool like Moz to assess the authority of their site.
Creating a Podcast Outreach Tracking Sheet
If a podcast has passed these preliminary checks, then it's time to add it to your list. It makes sense to keep all the details of prospective podcasts in one place. So your best bet is to create a podcast outreach tracking spreadsheet that includes details like:
The name of the podcast
The focus of the podcast
The podcasters contact information
Record of pitches sent
Record of responses received
A section for any relevant notes
When you put all that together the final product should look something like this: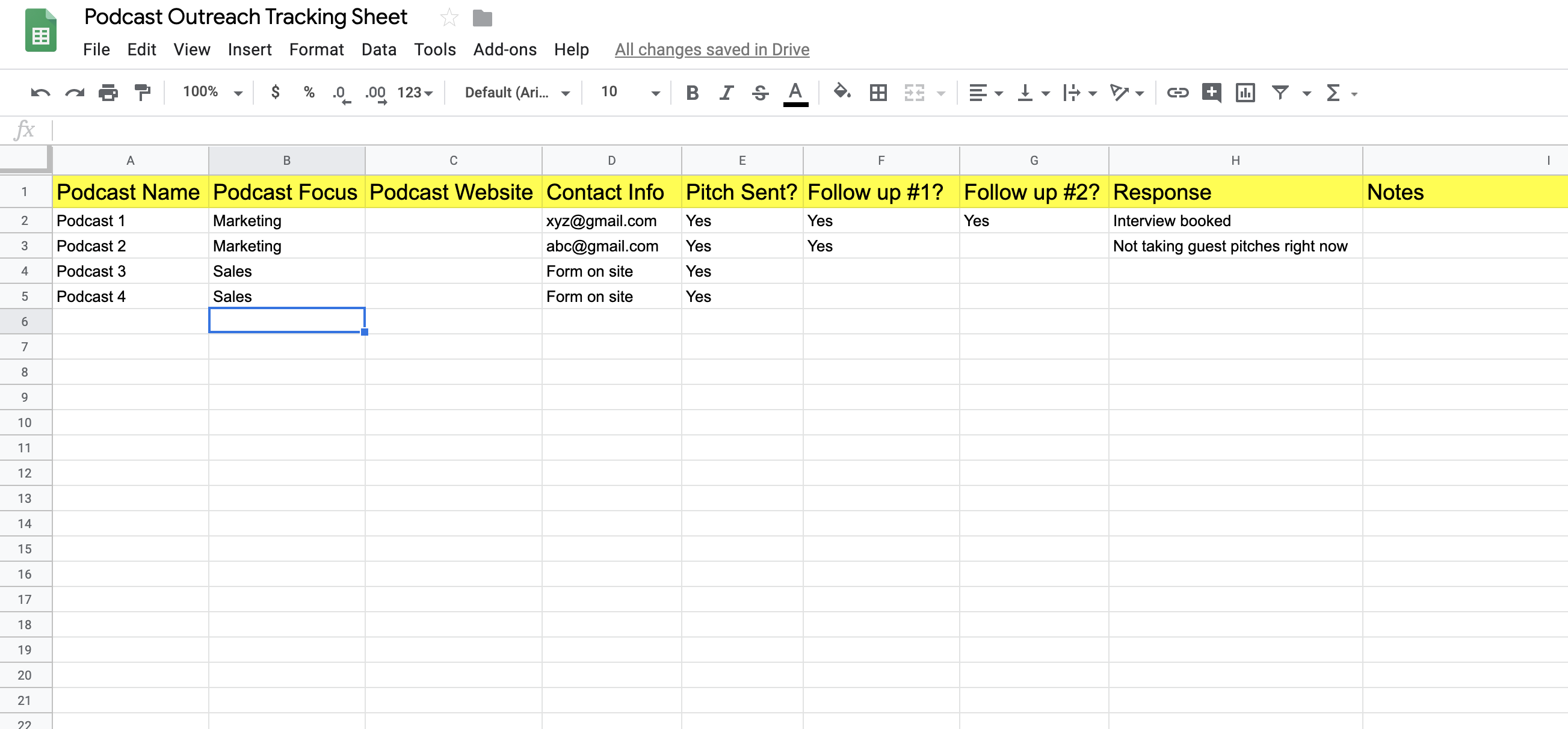 You can keep adding to this list over time, keeping track of which podcasts you've already pitched to, and which you've been successfully booked on.
Finding Contact Details
Nearly every podcast will have a website that lists contact information for the host or producer. Smaller podcast may simply list the relevant email addresses. But most bigger shows will require you to fill out a contact form. In the rare cases where contact info isn't clearly signposted, you can always use an email finder to locate the email address or reach out to a producer on Twitter instead: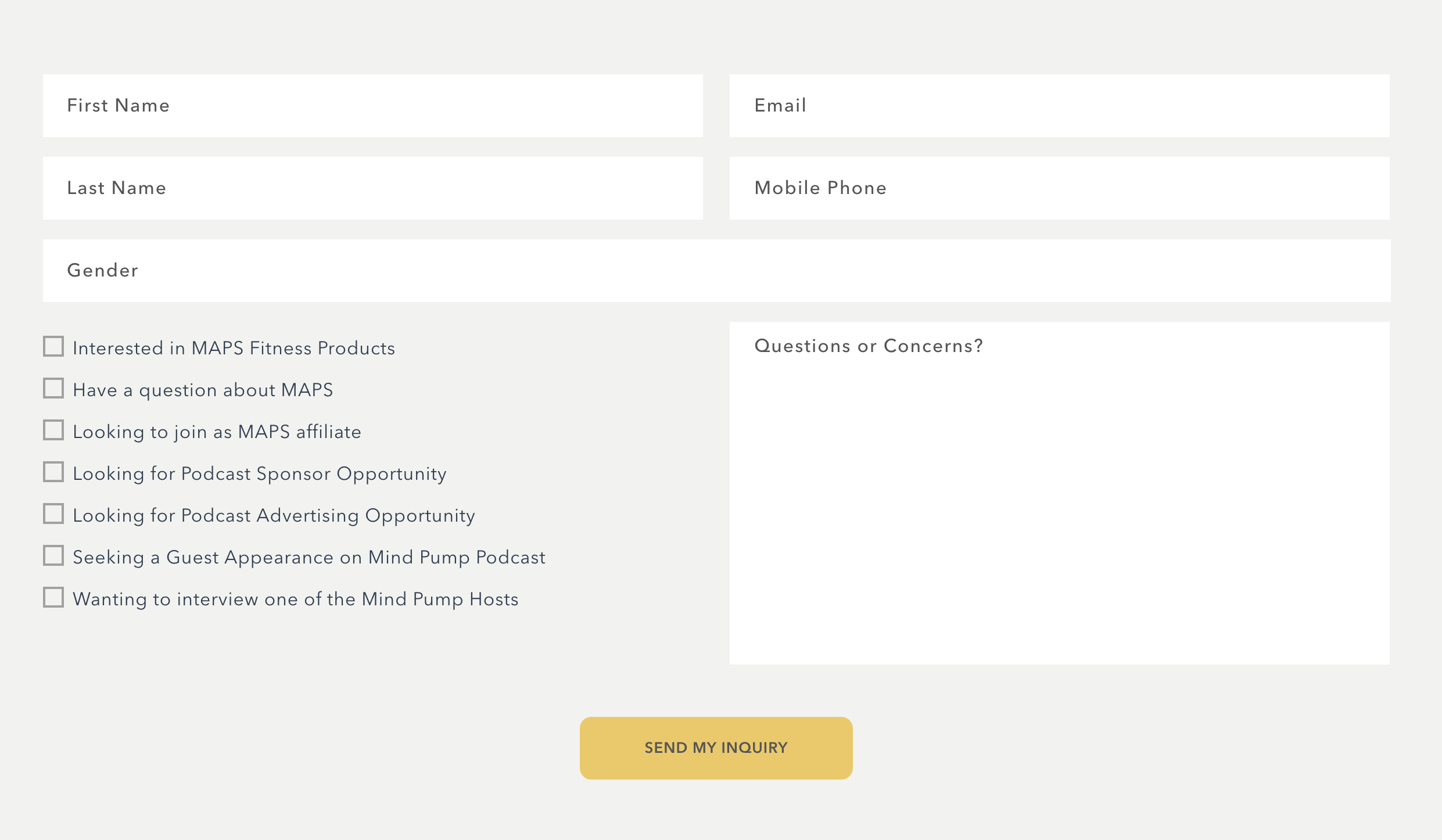 Crafting the Perfect Pitch
When it comes to your pitch, keep it to the point. Podcasters don't want your life story. All they need is enough information to decide whether you're a good fit for their show. And not a sentence more.
Limit yourself to a couple of paragraphs at most. Include a couple of sentences about you to establish your credibility, information about what you want to discuss on the show, and an explanation of the unique value / perspective you can bring to their audience.
The template below gives you an idea of how the final product should look. But keep in mind that if you simply copy and paste the same message again and again with only the podcast name changed, your response rate won't be very good.
Everyone knows a generic template when they see one. And remember, producers receive several of these emails everyday, so a little personalisation goes a long way. So with that caveat out of the way, here's how you might want to structure your pitch.
Guest Pitch Template
Subject: Podcast Pitch: How to [insert something likely to be of value to their audience]
E.g. Podcast Pitch: How to build a strong SEO strategy on a limited budget
Hi X,
A quick bit of background - [insert your area of expertise and credentials here]
I've been following your podcast for a while, and I really enjoyed your recent interview with [X] on how to achieve [Y]. I've already had some success using some of the tips they mentioned!
I wondered if you might be interested in having me on your show to talk about [insert something likely to be of value to their audience]
Here's what I could cover:
[Specific point / tip you can share]
[Specific point / tip you can share]
[Specific point / tip you can share]
Let me know your thoughts!
[Your name]

Include a Calendly Link
At the bottom of your pitch you should include a link to an online booking management system like Calendly or SimplyBook.me. If the host liked your pitch, this will allow them to book a time slot with you straight away.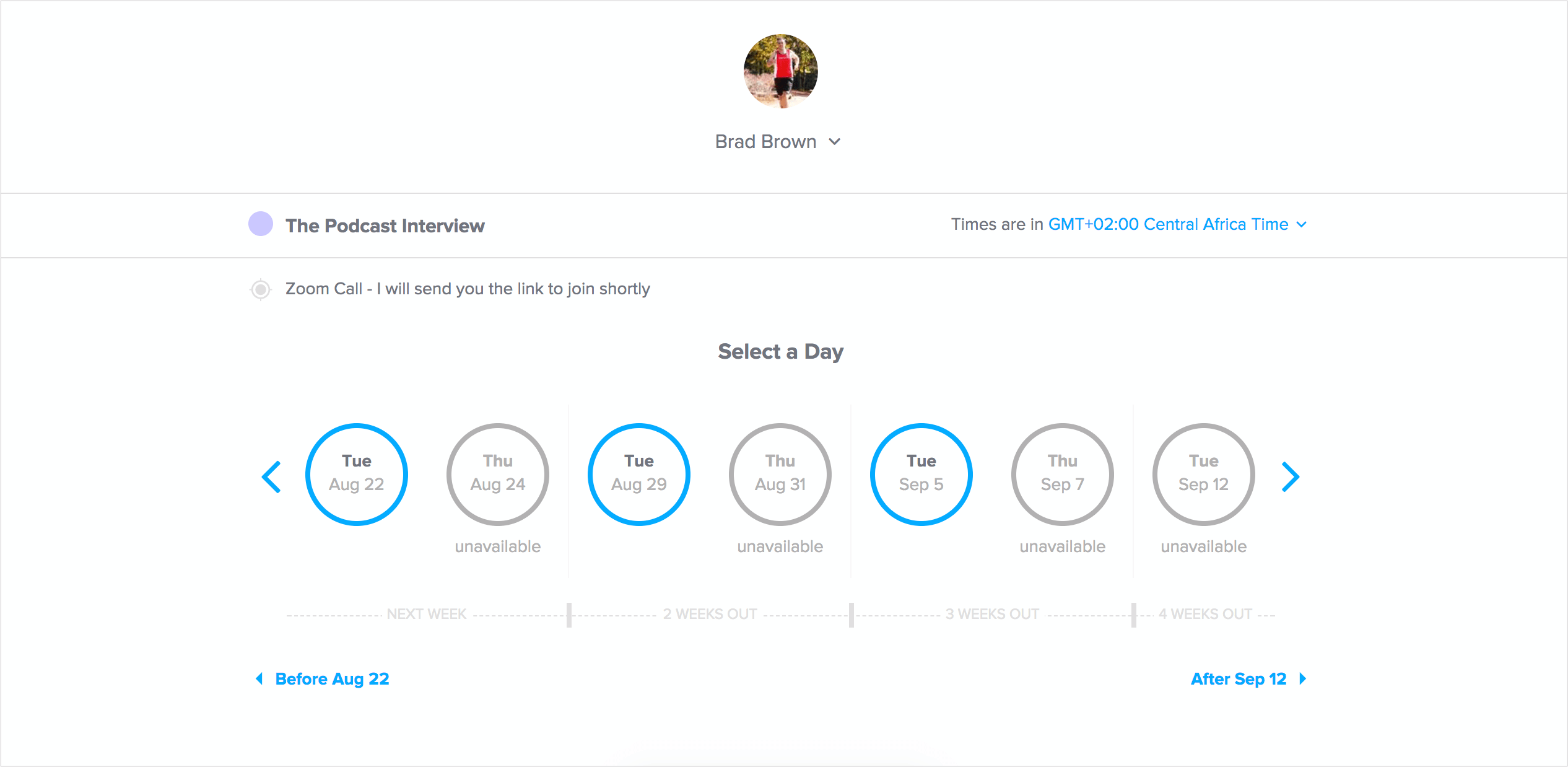 This cuts out any tedious back and forth emails trying to get a suitable time nailed down. You're making life as easy as possible for the host by doing the groundwork for them. If they want to, they can book you as a guest without even replying to your pitch!
Following Up
If your first message to the host doesn't get a response, you can always try again. Any podcaster with a large audience will inevitably have an inbox flooded with guest pitches. So don't take it personally if you don't hear anything back. Your pitch may have just been buried and overlooked.
So follow up your guest pitches on a reasonable schedule. We recommend sending short follow up messages 3 days and 14 days after your original pitch before marking the podcast as "not interested" on your tracking sheet.
Start With Small Podcasts First
Chances are, you're not going to nail your pitches right off the bat. Like anything else in life, it takes some trial and error to master. So with that in mind, you might want to consider sending your first few pitches to smaller podcasts first.
When you find a formula that works, then you'll be able to approach bigger podcasts with more confidence. You don't want to burn bridges with top tier podcasts before you've perfected your sell.
Audio & Video Guest Pitches
If you really want to boost your chances of getting that all-important yes, then consider taking a highly personalised and unique approach.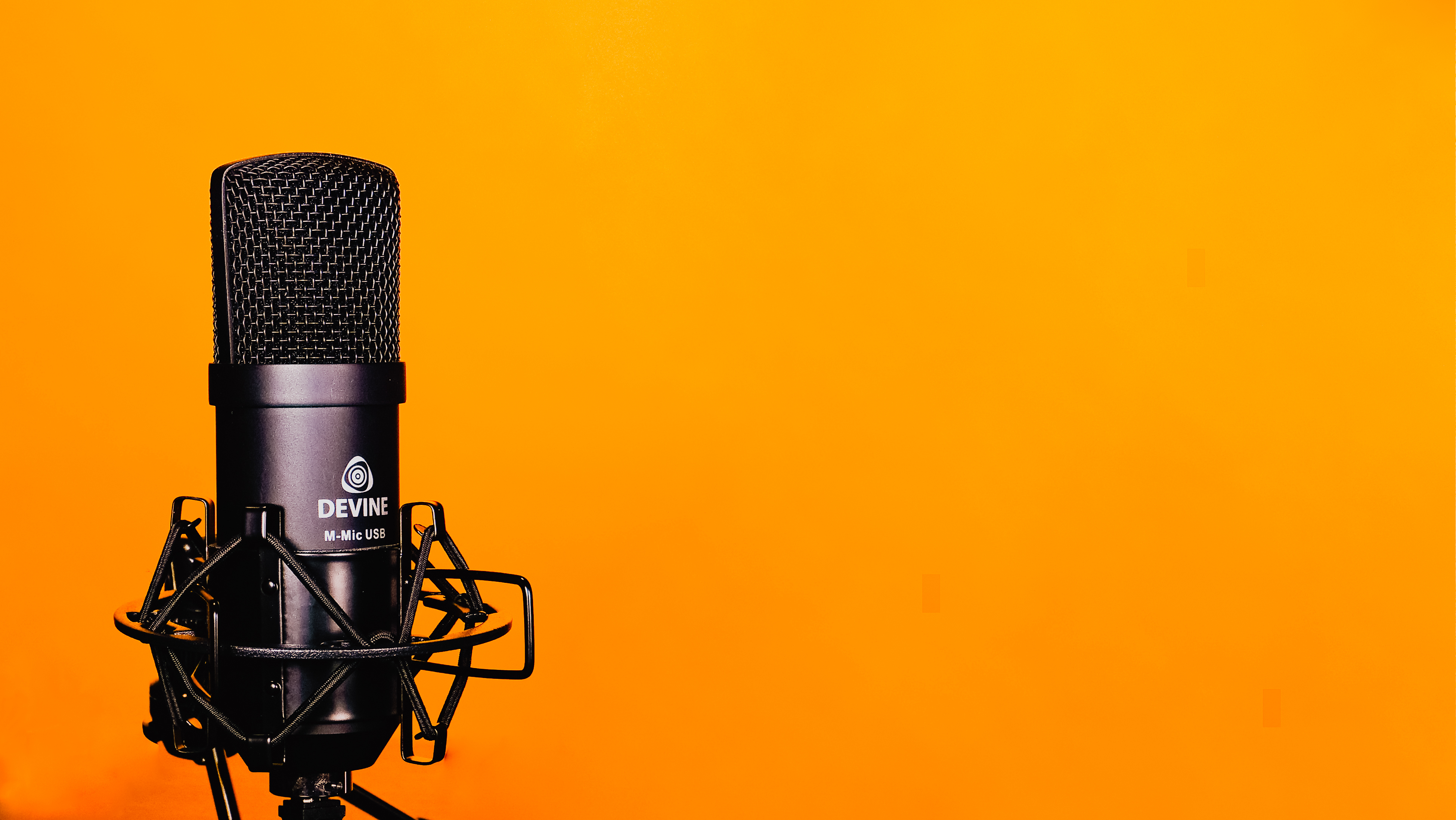 Rather than sending an email, you can send your guest pitch as an audio or video file for the host to review. This significantly boosts your chances for several reasons.
First, it stands out in their inbox. The host gets lots of email pitches. But they'll get far fewer audio or video pitches. And because of that, you'll have their attention by default.
Second, it shows you're invested in their podcast. If you've gone to the trouble of creating a personalised recording or video just for them, it shows a level of genuine interest in their show. Basically it's the polar opposite of a lifeless generic template.
And third, it shows you are technically competent. The host will be able to rest easy in the knowledge that they won't have to coach you through the recording process. You'll have shown that you know how to use your mic. They'll also be able to hear your tone and enthusiasm and make a better judgement about whether you are right for their show.
Preparing to be Interviewed
Getting booked as a guest is great. But the work doesn't end there. During the interview, you need to wow listeners. And that takes preparation.
Unless you've been interviewed hundreds of times before, you can't just "wing it". If you go in unprepared, you're probably going to end up fumbling over words or give boring generic responses. Remember, you have one chance to impress the audience and make them remember your name. So don't take it for granted.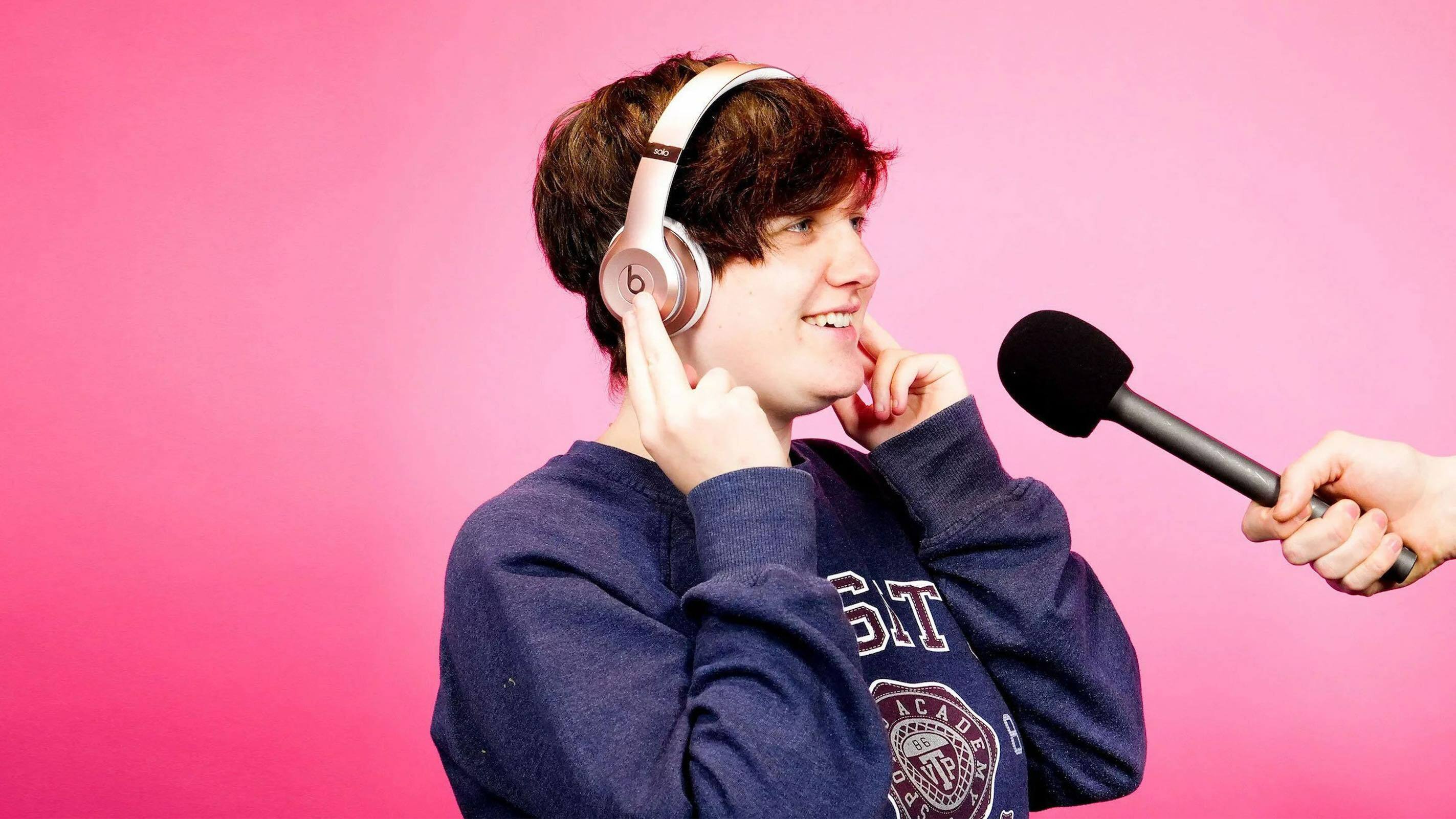 Think about the kinds of questions the host is likely to ask you and write them down. Then practice your answers so they're tight and crip and deliver your message clearly. Try to think of any relevant stories or anecdotes you could use to illustrate your point. People tend to retain information better when it's presented in narrative format.
You need to make yourself a stand out guest on the podcast. If you impress, a portion of the audience will be keen to check you up elsewhere. So make sure you end each appearance with a clear call-to-action telling listeners exactly what you'd like them to do - whether that's to follow you on Twitter, pre-order your book, or visit your website for a free guide. Most hosts will be kind enough to tee up this opportunity for you with a question like "How can people find out more about you?"