Most people that wanna setup their own recording equipment always ask if there's such a thing as a podcasting studio in a box. Whether that's for an office environment, a spare meeting room, or even a bedroom at home, there's a way to do it and get professional high-end results without breaking the bank.
Until recently, you needed the right type of microphone or mixer, then you needed a way to plug it all together, but Rode has changed all that! Since launching the RodeCaster Pro and PodMic, it's easy to turn your office into a podcasting studio with ease! Just see for yourself! 👇👇👇

Equipment Used

Full Audio Management at the Touch of a Button 👇
From a podcasting setup perspective, there's really not much to say as it's incredibly easy to hook up! Connect up to 4 XLR microphones to the RodeCaster Pro and 4 pairs of headphones (there's also a jack at the front to monitor audio).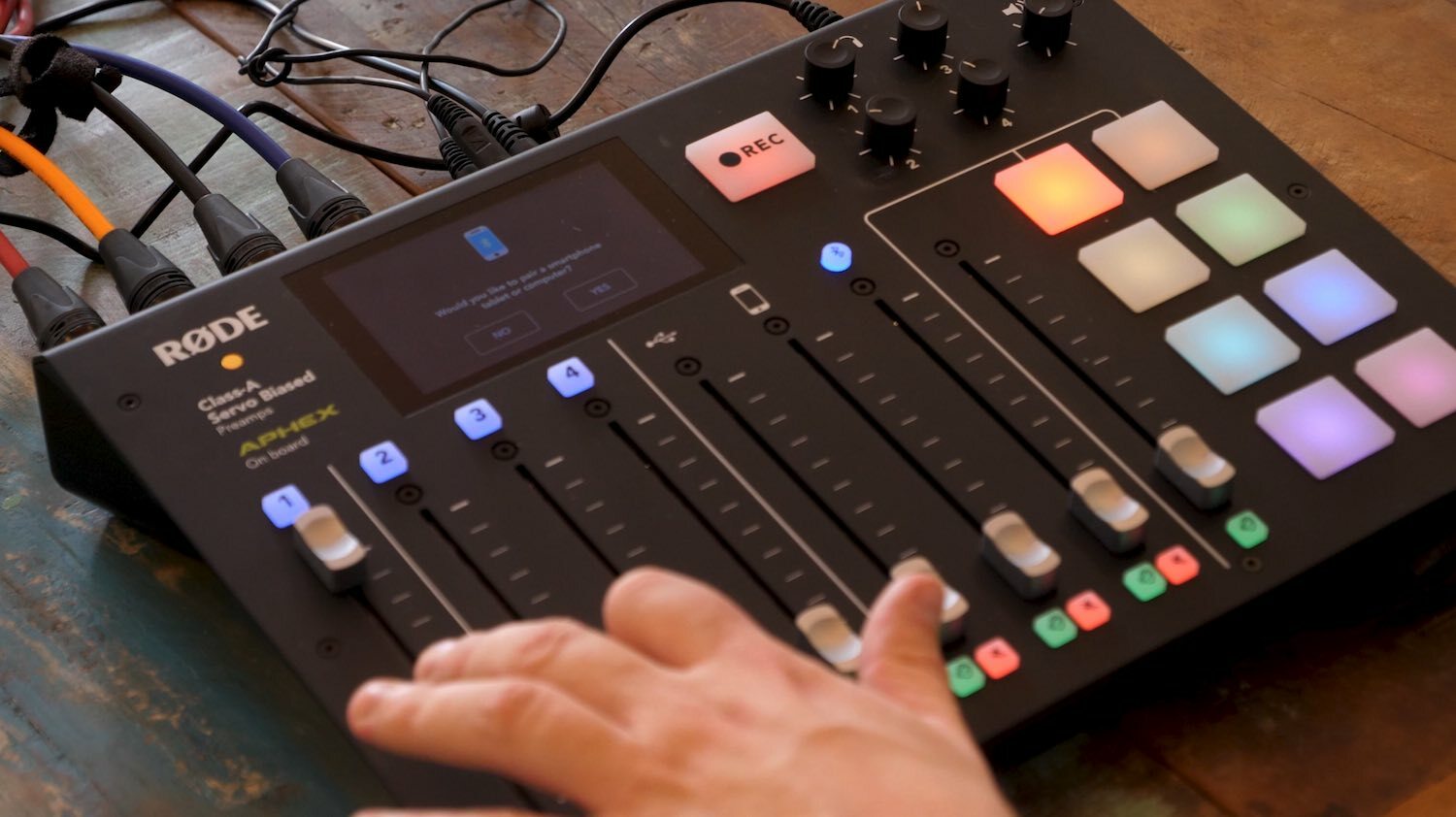 The beauty of the RodeCaster Pro is the easy management and monitoring of audio levels. There's also the added bonus of exporting audio channels as separate files instead of them being all mixed together (which makes editing much easy).
Record Directly to a Micro SD Card
Probably the coolest thing about the RoderCaster Pro is you the micro SD card slot at the back. There's no need to hook the device up to a laptop as you can just record directly onto the card, then take it out once you're done to edit later, which is ideal for on-location recordings.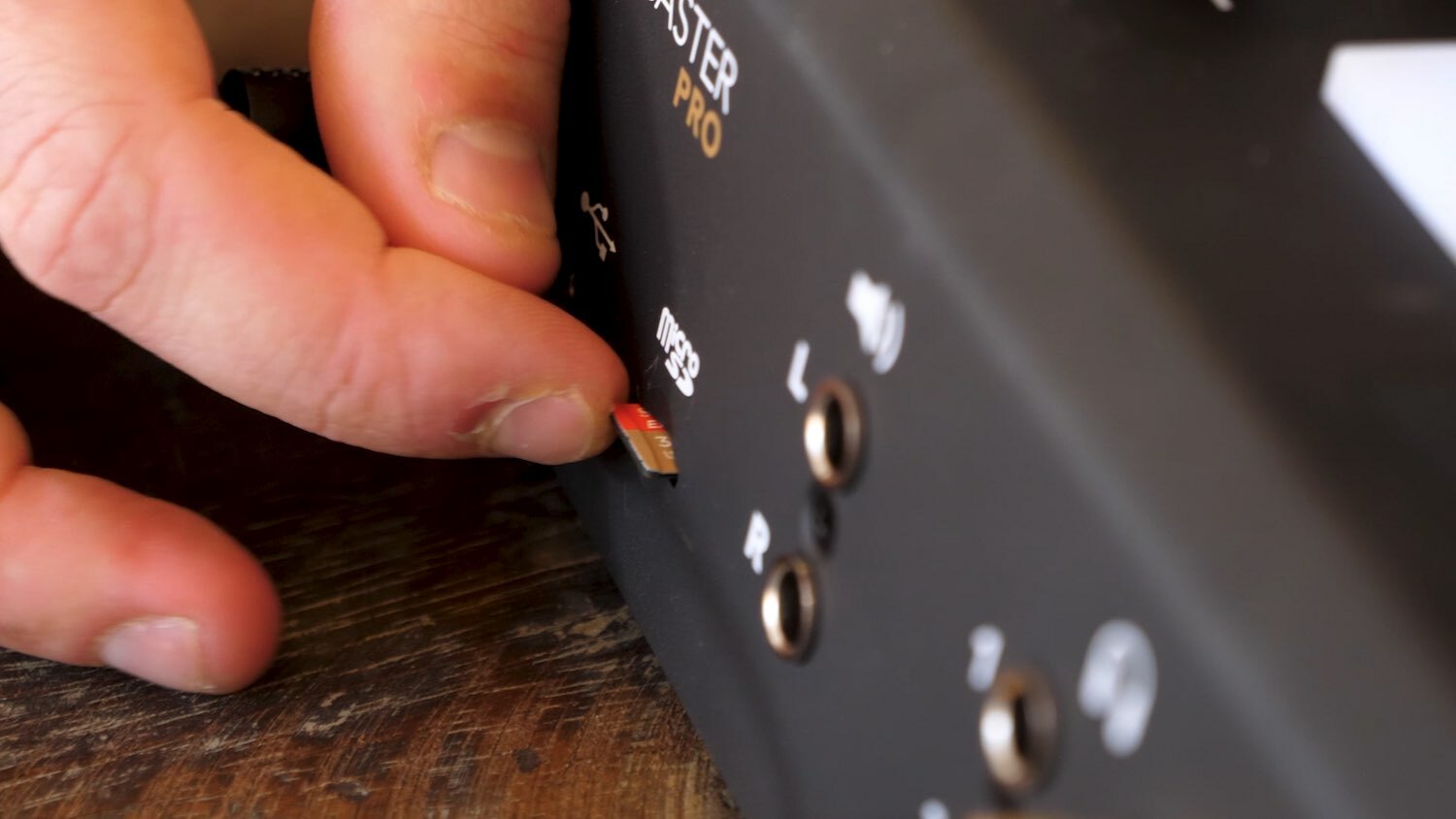 Small, but Powerful Microphones
In terms of microphone quality, the dynamic PodMic is clear and sounds great, especially for the price tag. With a bit of post-production editing, audio can be improved (although it's pretty good without).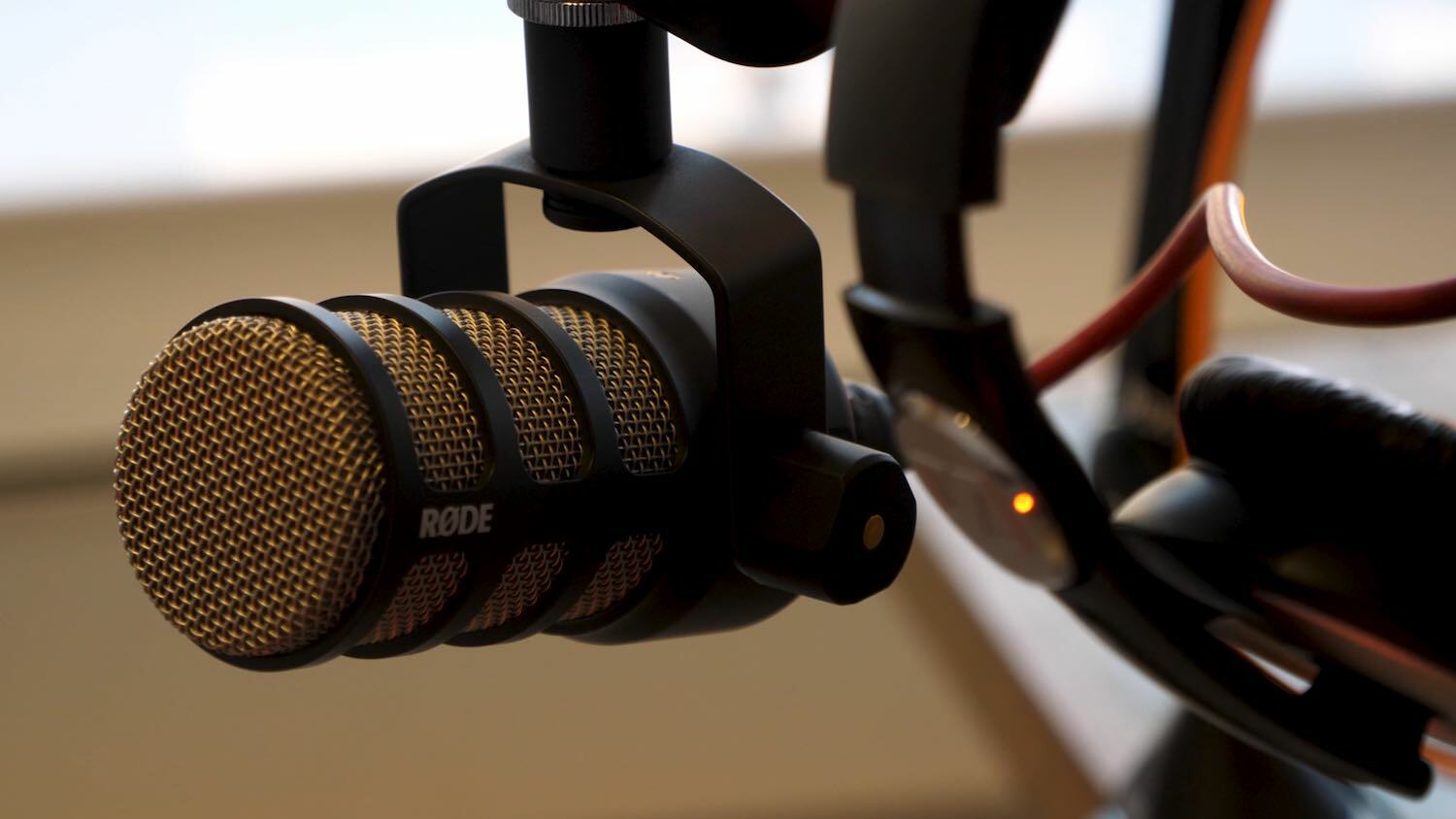 Manage Everything via Touchscreen
All recordings can be managed on the RodeCaster using the touchscreen interface (also with the dials and knobs of course), so you can playback any past episodes. Got an awesome song on your phone? Connect it up via cable or Bluetooth, so it's perfect if you want a backing track or intro/outro to reduce post-production time.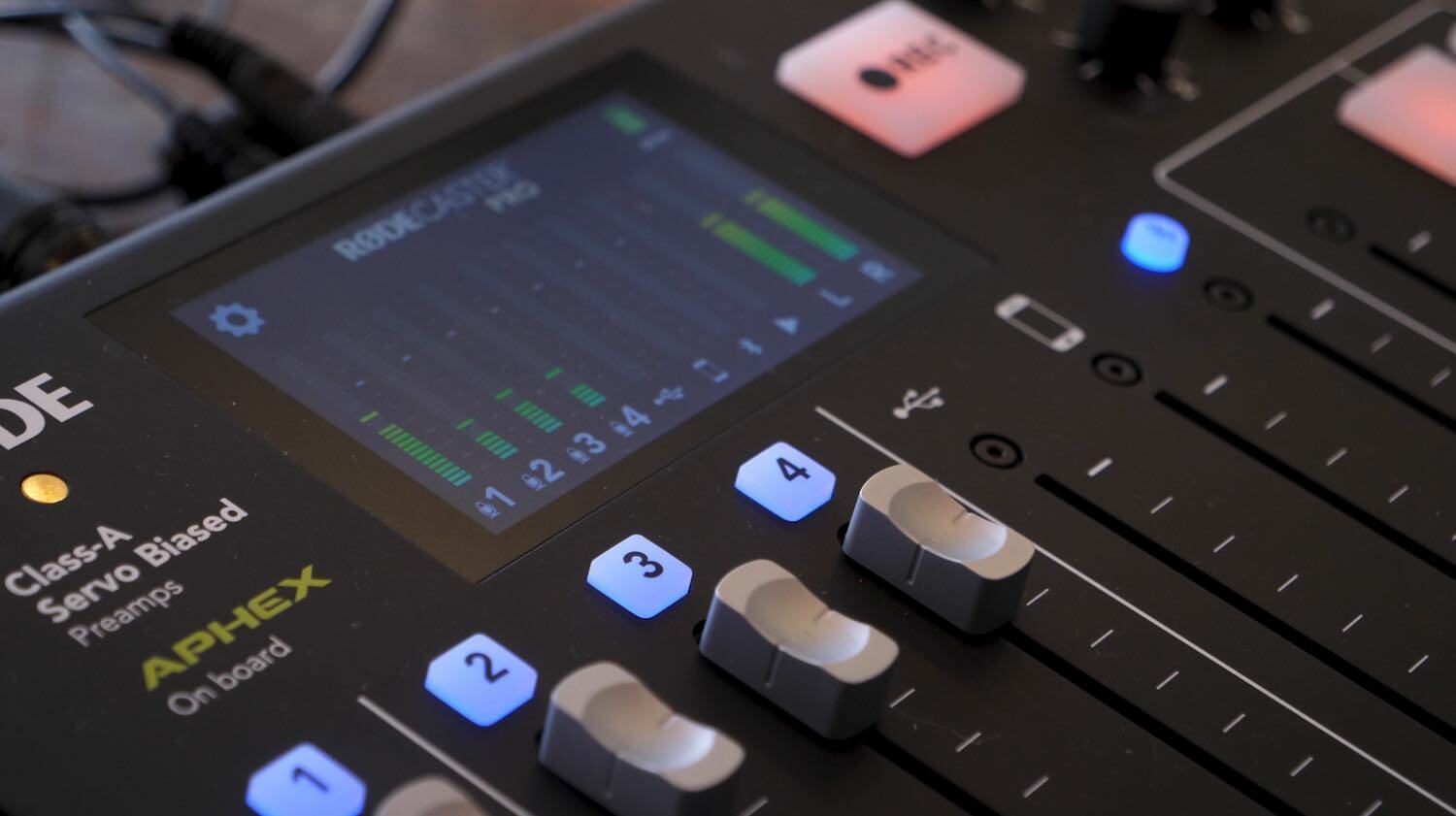 There are also a few added extras like sound effects, so you can have SFX or backing tracks at the touch of a button (queue the generic air horn noises and applause!).
Total Setup Time
In total, the setup time took around 30 minutes. That's one person installing the boom arms, connecting the microphones/headphones, and testing the audio levels.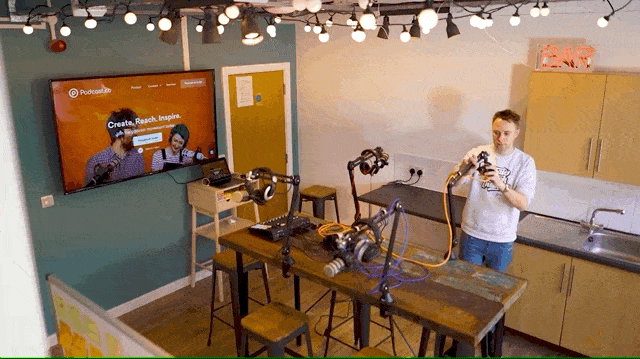 Turn Your Office into a Podcasting Studio
Overall, we had a blast setting up the podcasting equipment in our office. The RodeCaster Pro and PodMic combo is probably the best podcasting equipment you can get on the market right now, especially if you're just starting out.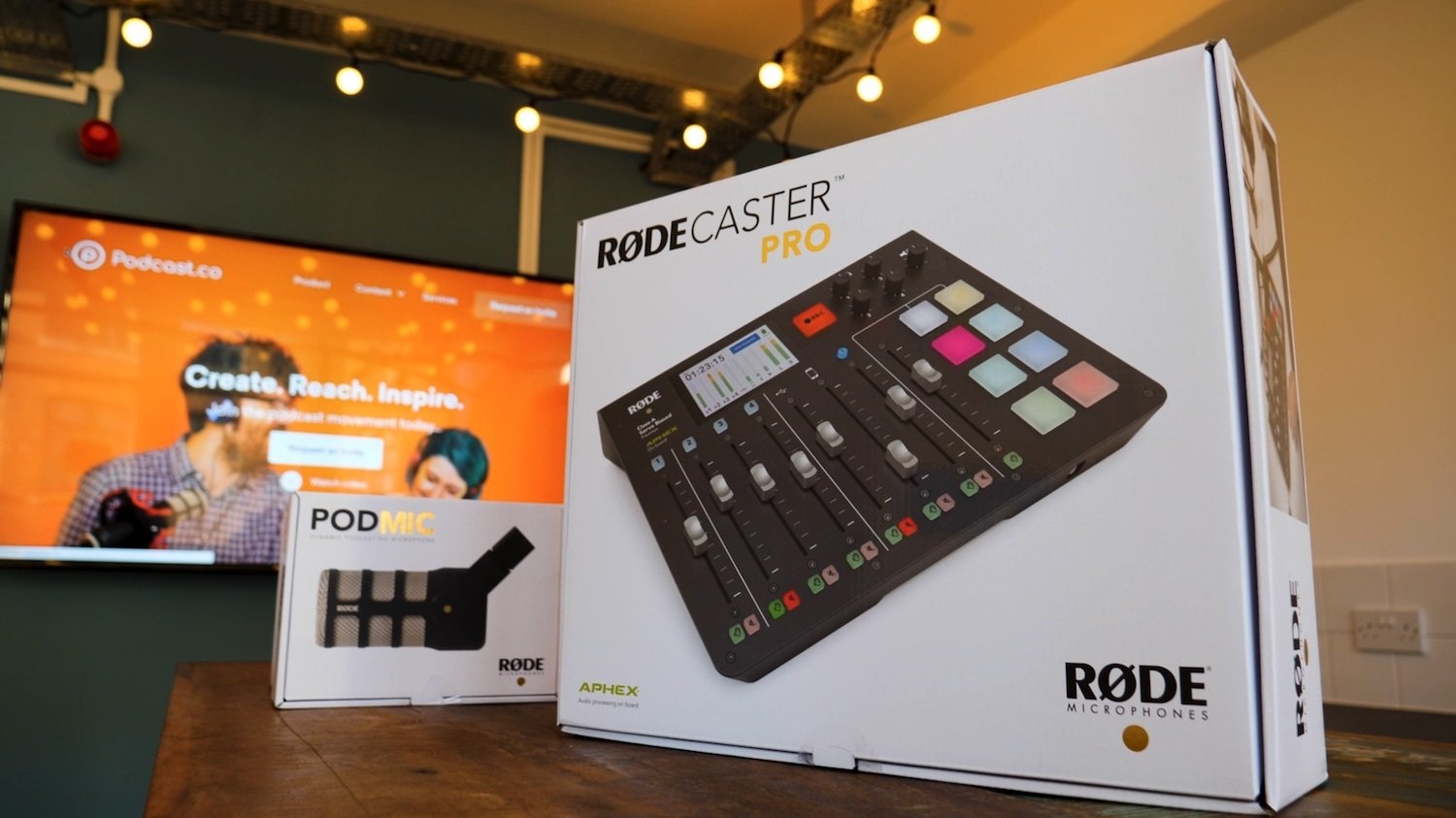 Whether you're from a big organisation, seasoned business, or startup, a podcasting studio is perfect for your office to get your message out there!
Your Complete Podcasting Package
Do more with your business by reaching further with podcasts. Grab your free PDF on how you can get better results for your brand with our full service production services.
Thanks for subscribing!
We've just sent you an email, please follow the instructions to confirm your details.