The NT-USB is one of Rode's best-selling USB microphones, loved by podcasters, YouTubers, and gamers all over the world. It's perfect for home recording setups. But it's a relatively large bit of kit. Not ideal if you're always moving and need to set up on-location in a flash.
Enter the Rode NT-USB Mini. It promises the same audio quality as its bigger brother, with a significant reduction in size. Perfect for those who want to plug in and record anytime, anywhere.
Design
The Rode NT-USB Mini is sleek, stylish, and feels incredibly sturdy. The build quality is immediately apparent as soon as you lift it out of the box. The mic is crafted from steel and reinforced nylon resin, topped off with a matte black finish. Despite its small stature, it still looks and feels professional.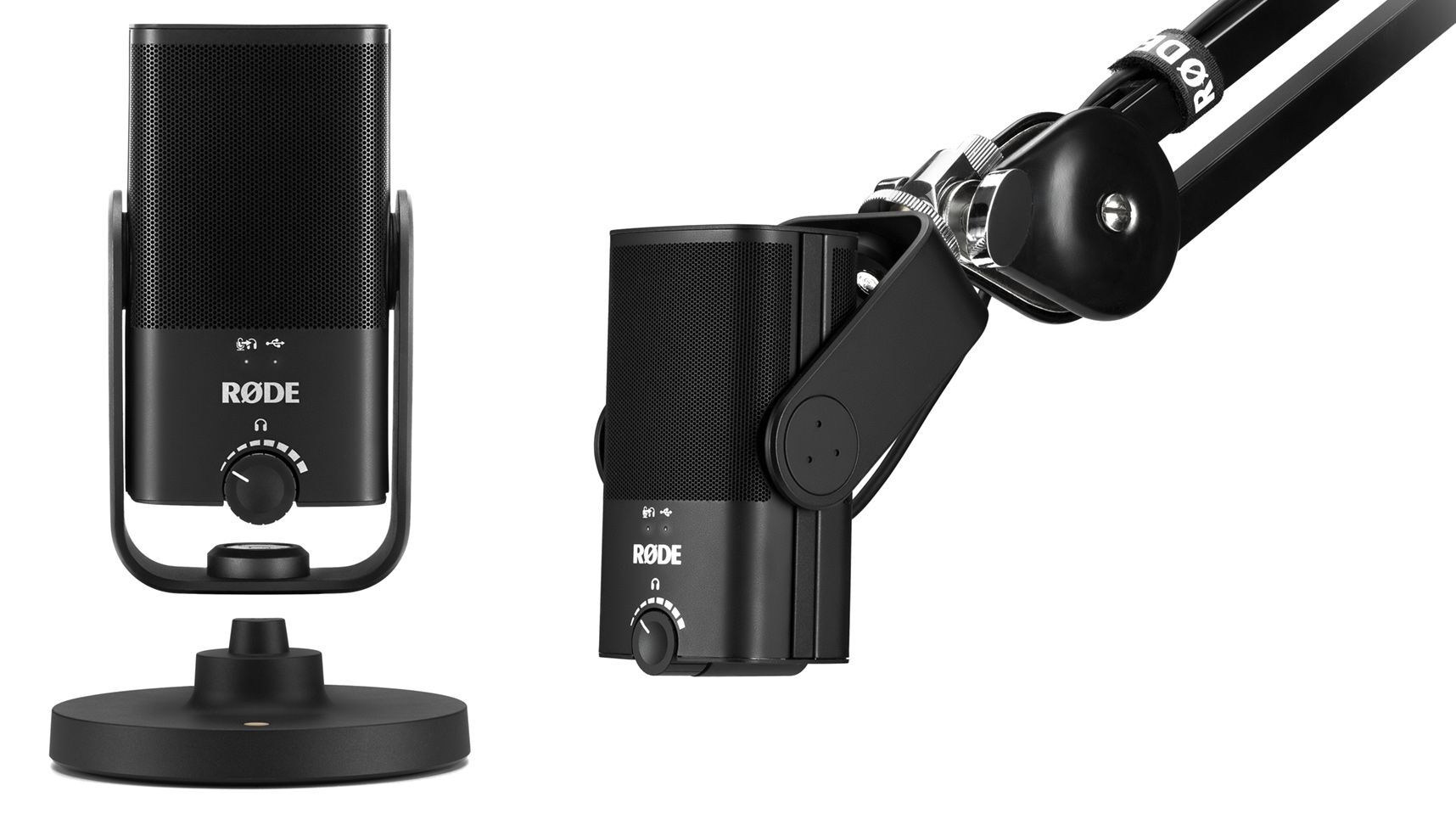 The interface is minimal, with a single dial that adjusts the headphone level on the front, and a USB-C and 3.5mm headphone port on the rear. No frills here, just the essentials. The desktop stand is weighted to help absorb any accidental bumps of the table while recording.
The stand is magnetically attached to a 360-degree swivelling mount for the microphone, so you can quickly detach it and mount it on a mic stand or boom arm. The rotation on the mount allows you to fine tune the position of the mic until you hit that sweet spot that delivers the best sound.
Features & Technical Details
For the audiophiles out there, here's a full breakdown of of the Rode NT-USB Mini's specs: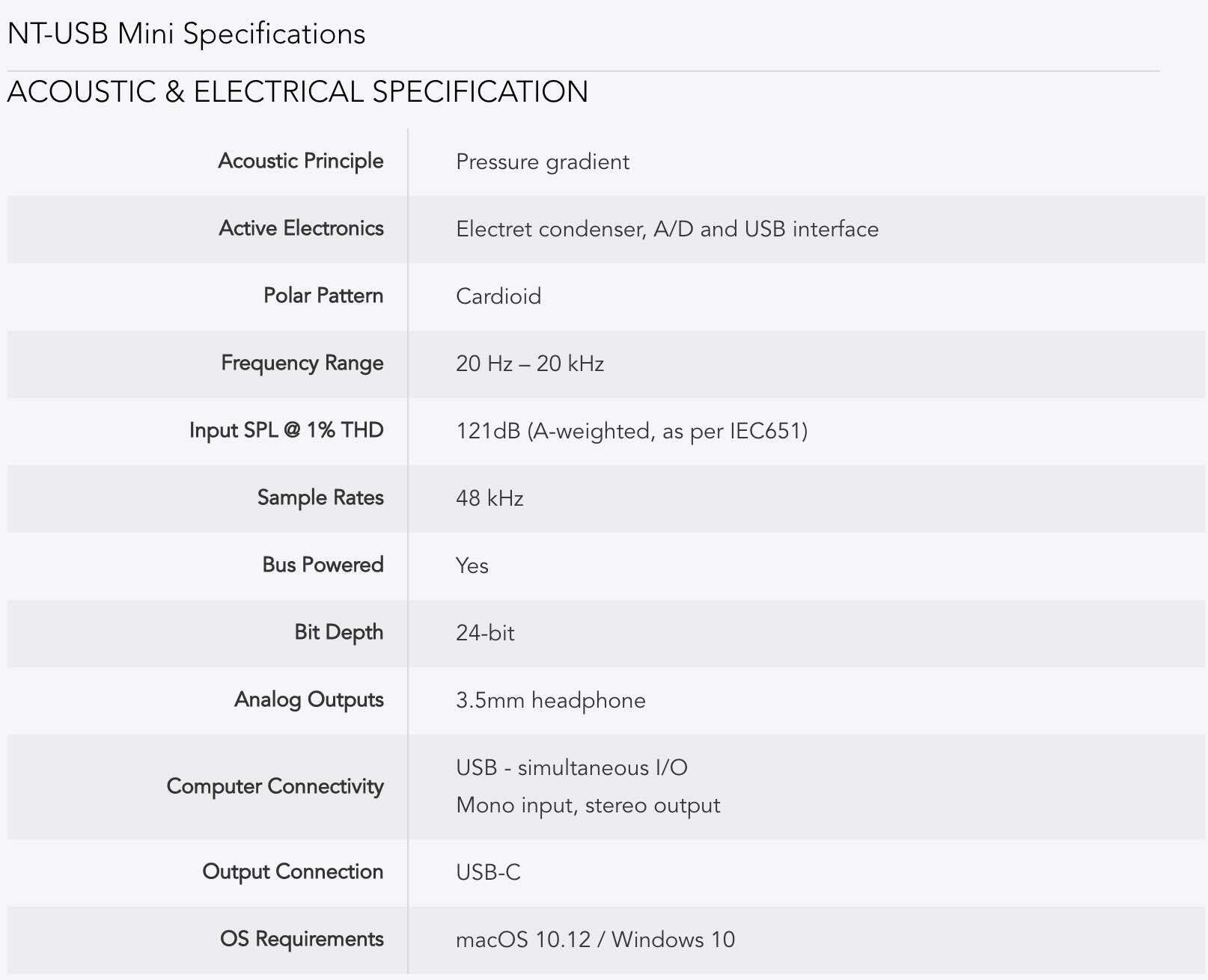 The NT-USB Mini has a very broad frequency range of 20-20,000 Hz, a maximum SPL of 121 dB. In real terms, that means it's capable of recording instruments as well as voice - great if you plan to use the mic for several different purposes.
As it's designed with mobility in mind, the Mini has a built-in pop filter that helps dampen ambient noise from room reverberation while also reducing those pesky plosives. The Mini's directional cardioid pickup pattern means it focuses on picking up sounds coming from directly in front of it. This cuts down on background noise, but doesn't eliminate it completely - so if you're recording in a public space, it will capture a nice ambience.
Recording & Audio Quality
Recording with the Rode NT-USB Mini is as simple as it gets. Plug the lead it comes with into a USB port on your laptop or computer, and that's it. The Mini is class-compliant, meaning it will work immediately with any computer or tablet when hooked up, no drivers or additional firmware needed.
Being a condenser microphone, it's very sensitive, so you don't need too much gain to get a good level. Although, if you do push the gain so it runs hot, you shouldn't have too much trouble. We only experienced clipping when speaking at normal volume if the gain was maxed, which you would expect from most mics.
The headphone port on the back combined with volume control on the front allows for zero latency monitoring. Having tested it, we found it works as advertised and would be a great feature for vocalists recording backing tracks without having to worry about any latency.
In terms of sound quality, the Mini lives up to the reputation of its bigger brother. It records crisp, professional sounding audio and great frequency range and headroom, making it ideal for all types of voices.
Comparison to Other Rode Microphones
So how does the Mini stack up against some of its other relatives in the Rode family - the PodMic, Procaster, and Podcater?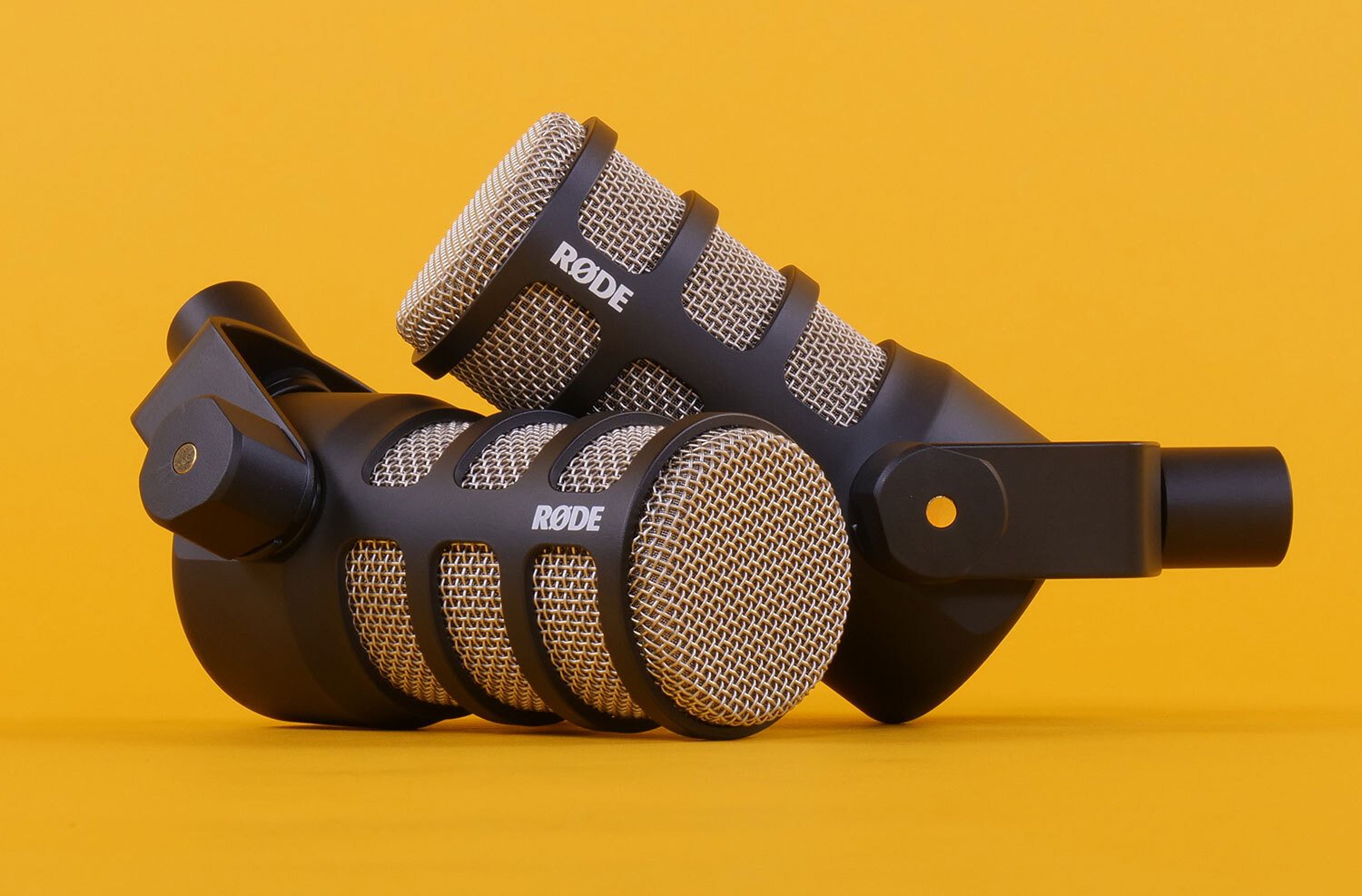 In all, it more than holds its own, with the same great sound quality we've come to expect from Rode. Although it's worth noting that it does have a less punchy low end than the PodMic or Procaster. However this is countered by the fact you don't need an audio interface to record.
The sound from the Mini doesn't have that "radio broadcaster" feel you get with the Podcaster USB mic. But again, that's countered by much greater portability and significantly lower price point.
Rode NT-USB Mini: Final Thoughts
If you need to be prepared to set up quickly and record a podcast anywhere, this is one of the best options on the market right now. It might not have lots of bells and whistles, but it does the basics extremely well. A brilliant compromise between sound quality and convenience.