Talking to guests has become a staple of podcasting these days. Everyone is doing it like Under the Skin with Russell Brand and WTF with Marc Maron because it's mutually beneficial. Industry experts that have a large following bring a few things to the table, so it's important to find podcast guests as they add an extra layer to your shows, like: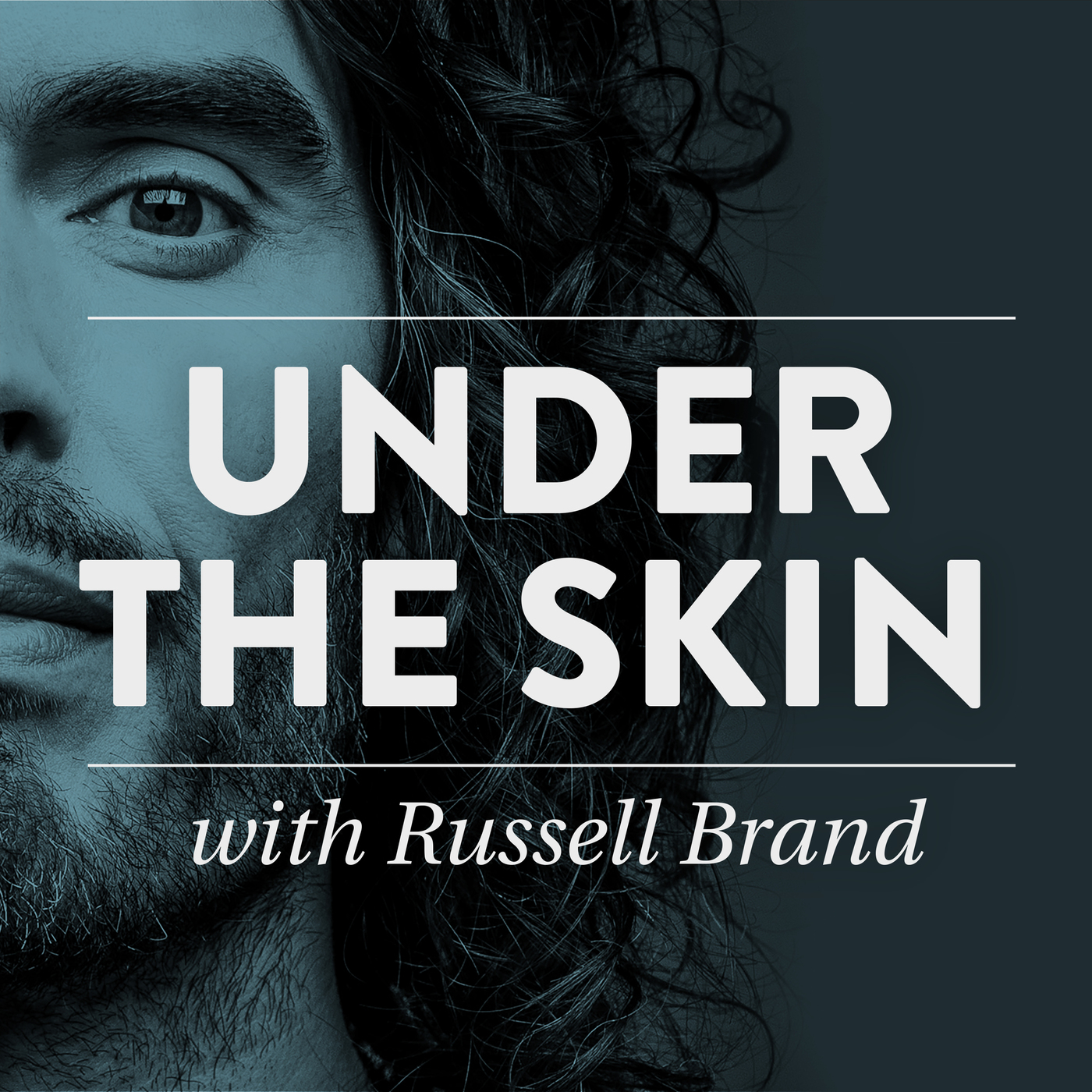 Entertaining Discussions: Debating someone with a different perspective makes for some interesting listening and a whole new dynamic to work with for future talks.
Less Pressure: One man/woman shows can be daunting, but if you're asking open ended questions your guests will do most of the talking.
Knowledge: You can learn a lot from guests. Experts in their field not only teach your listeners, but you as well!
Reach & Growth: Guests will share your podcast with their followers. The more well-known they are, the wider your reach and audience will grow.
However, getting guests can be a challenge in and of itself, especially at first!
3 Steps to Find Podcast Guests
Before you do anything first, it's best to think about the following questions:

What kind of guests do you want?
How do you find these people?
How do you convince them to get involved with your shows?
Firstly, start off by figuring out what kind of guest you want on your show. Ideally, they should be knowledgeable and discuss things related to your topic. It's no good having a health expert talk about dietary routines if your podcast generally focuses on movies and tv shows.
Secondly, where can you find podcast guests? Just like cold calling, it can be an uphill struggle to connect with your intended target. Instead, look at your existing network of friends, colleagues, or acquaintances to reach out towards your ideal guest. You're more likely to get an introduction if you're in the right circles.
Thirdly (and the most challenging part), how can you convince a guest to come onto your show? Without a good reason, guests won't take part in your podcast. That's why you have to lay out the benefits in a compelling and personalised way. For example, if your show is about household pets, then invite a veterinarian. They can discuss ways listeners can look after their favourite pet, whilst also reaching out to potential customers. It's a win-win for both of you.
Use MatchMaker
Creating a profile on MatchMaker is the easiest way to start booking guests for your show. MatchMaker is a free online service that matches podcasters with ideal guests. So if you're looking for experts in your industry, all it takes a few clicks.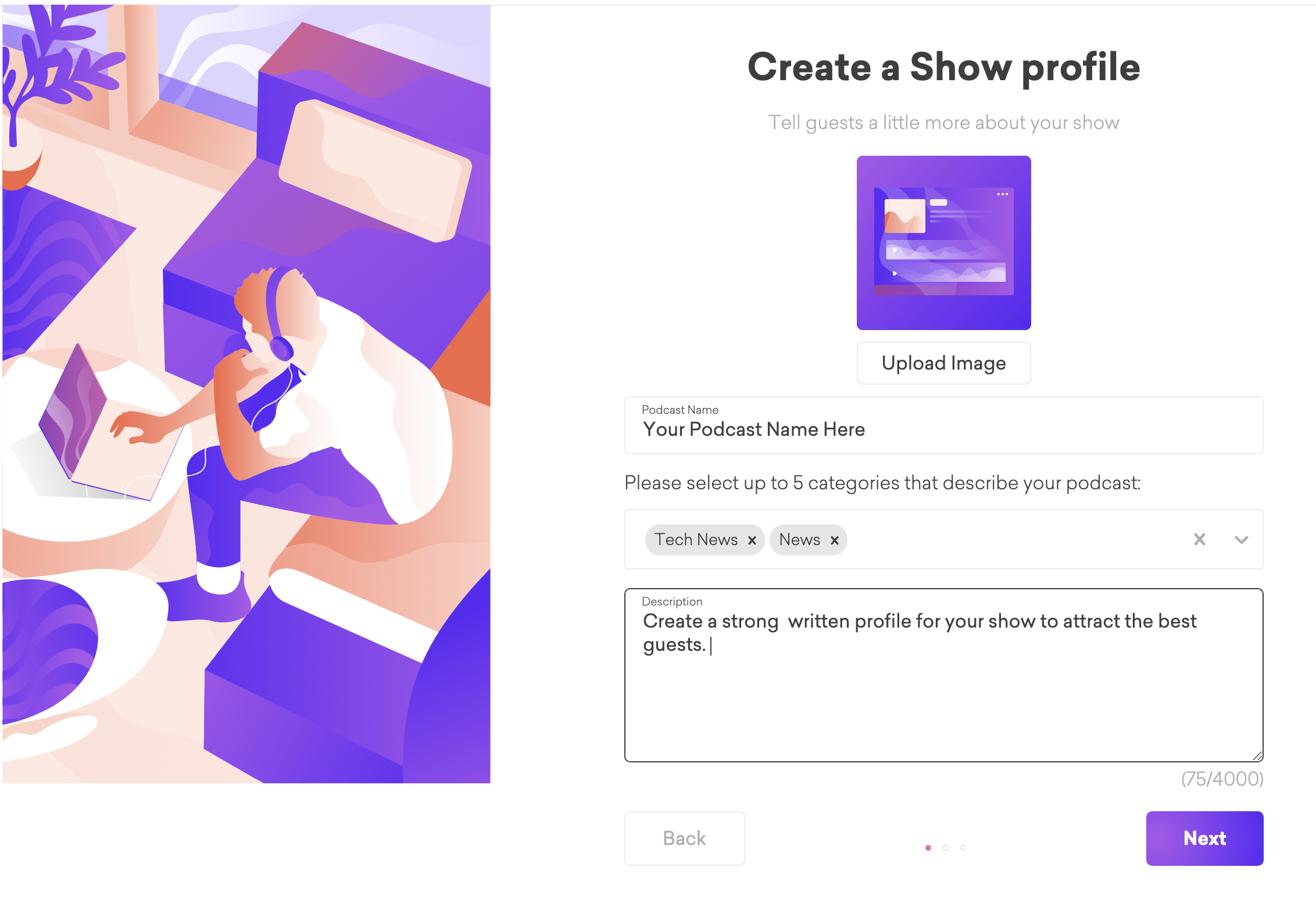 Fill in a few details about your podcast, browse a continually-growing database of guests, and book the most relevant ones to appear on your show. Once the guest accepts your invite, you can then book in a time to record. Find guests and invite them onto your show by joining MatchMaker.

MatchMaker does most of the work for you, saving time and effort. However, you might also want to take a more hands-on approach to sourcing guests for show. Below are a few different strategies you can try out.
Starting Out With Other Podcasters
Going it alone can be a challenging prospect, at least at first. That's why banding together with other podcasters can make things a little bit easier and give you a foothold into the podcasting world.
Experienced podcasters know what you're going through. Any hiccups you face, they've probably been through and may know a solution. Podcasting communities like Facebook groups, Twitter lists, and even forums are good places to discover and collaborate with others. Try places like:

You would be surprised at how many people are willing to help you out. Just remember that communities have guidelines. For example, the Reddit "Podcasts" community doesn't allow self-promotion. Instead, it's a place to get advice, discover new podcasts, and discuss personal favourites.
Communities like these are great places to find other podcasters for cross-promotion purposes. Well-known or established podcasts have a built-in audience. Being part of a network opens up more opportunities to promote your show through other people on social media and their mailing lists.
Find Podcast Guests That Have Something to Say (Or Sell)
Has someone recently wrote a book or released a product that's relevant to your podcast? If so, they will probably be more inclined to talk on your show to reach their target audience.
With anything the guest talks about, make sure it's engaging enough to be valuable and relevant to your listeners (even if they won't necessarily be buying the guest's product). Don't make it one giant sales pitch as listeners will spot it from a mile away and switch off. Instead, weave it organically into conversation. If it's a book, mention something from it that it addresses during your chat.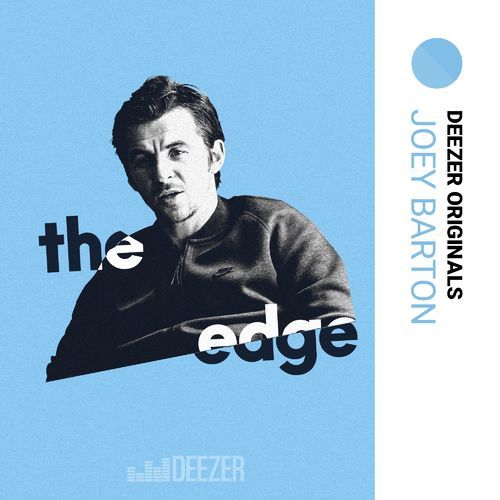 Take The Edge with Joey Barton, a podcast about sport, politics, and music. A recent guest, Alastair Campbell, talks about his experience as a journalist covering political issues. Having wrote a number of books, he mentions several extracts that tie into the conversation. Not only does everything flow organically, but the guest makes several references to his latest book.
Attending Events to Build Your Profile & Guest List
Your chances of landing a good guest for your show increases phenomenally when talking face-to-face. People tend to feel more confident as they can get a sense of who you are and what you're trying to achieve with your podcast.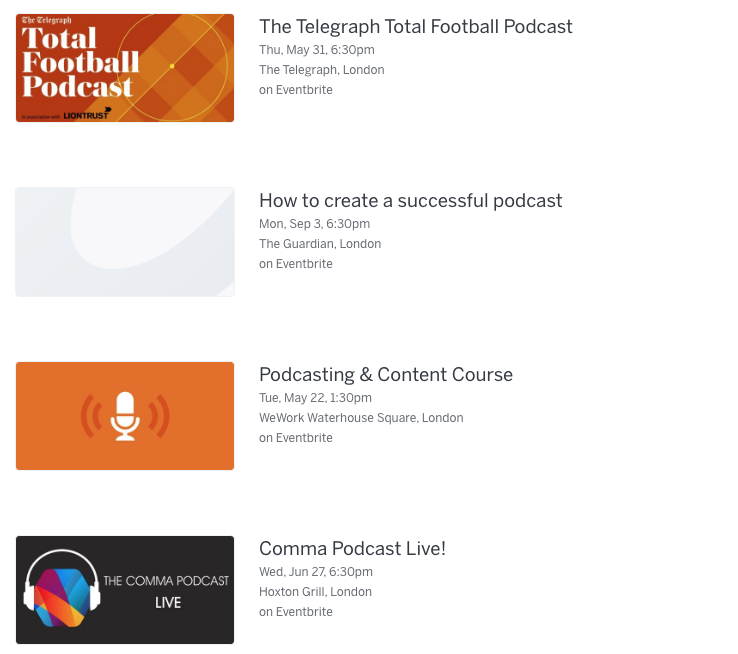 Here in the UK there's plenty of events you can attend to meet like-minded people. Whether that's talks on starting a successful podcast or a workshop to pick up some new skills, there's plenty of events worldwide worth checking out.

Events like these are essentially a way for you to mingle and expand your list of potential guests. It's best to find events close to home as people attending with most likely be local, so it's easier for you to invite them along to your recording studio for a chat.

Resources to Find Podcast Guests

Years ago finding people was a simple process of looking them up in a phone book, but that's all changed. The way we discover and connect with others has become diverse. With social media, mobile phones, and the internet in general, there's plenty of communities hidden away for you to find.
Some places are pretty obvious, whilst other hidden gems require a little bit of leg work to find. Here are a handful of services definitely worth bookmarking:
Finding Authors of Upcoming Books on Amazon
People with something to sell are always looking to extend their reach. Even niche or small podcasts can help reach their target audience.
Find authors of new or upcoming books on places like Amazon. If your podcast focuses on politics then search for "politics" or "government". In the sidebar choose "last 30 days" to see recent releases.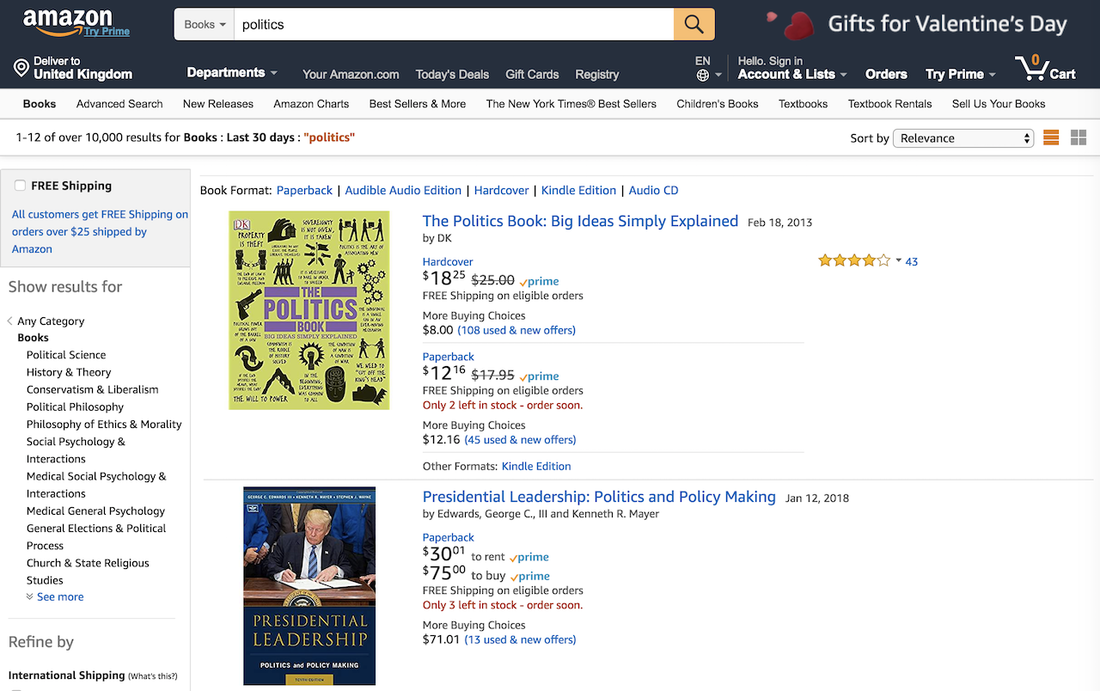 Not all the results will be relevant, but you will be able to discover authors that might be interested in sitting down with you for a quick chat. They get their book plugged, whilst you get some interesting content for your listeners.
Searching for Similar Podcasts
Podcasters focusing on similar topics know the type of audience and content listeners enjoy, so naturally they make for great guests.
You would be surprised at how easy it is to find and invite guests from similar shows onto yours. Search for podcasts on places like iTunes or PodBean, for example, if you run a crime series then popular shows like Sword and Scale, True Crime Guys, and Bloody Murder are all great candidates.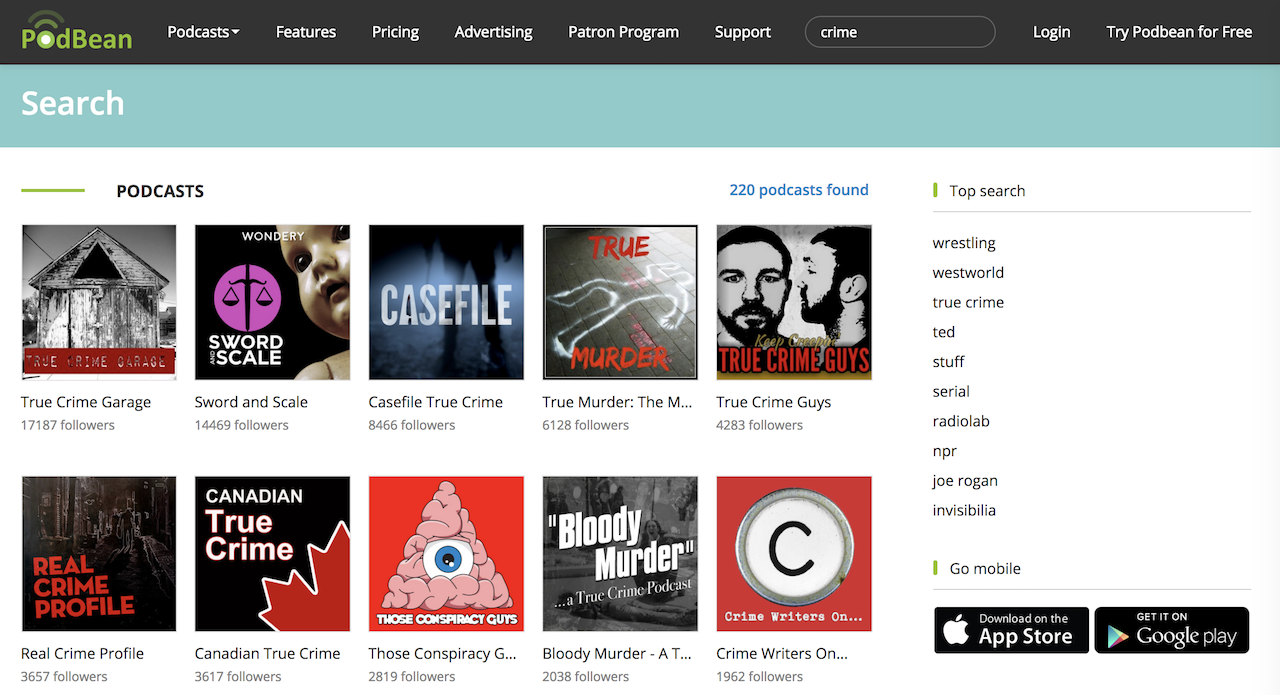 ​As they know what they're doing you don't have to worry about things like technical issues or equipment as they will have everything in hand. On the flipside, guest-starring in one of their episodes can promote your podcast and help grow your audience. Just be sure to offer something of value in terms of things you can discuss.

Upselling Your Podcast to Attract Guests
Guests won't want to be on your show if they don't feel like they're getting anything in return. Upsell what your podcast can do for them by pointing out the benefits:

Downloads: Audience size and number of downloads per episode. If you're new this can put guests off, but it's best to be honest. Upsell other benefits like a growing email list.
Mailing Lists: Number of people you can contact. The more emails you have, the greater your reach and potential of attracting a guest.
Backlinks: Links to the guest's website, online store, or other resources they want to draw attention to. Backlinking is a good way to improve search engine optimisation to drive more traffic to both places.
Social Presence: Promote the episode on Twitter, Facebook, LinkedIn, and other relevant places to draw attention.
Getting in Contact
Places like Twitter, Facebook, and LinkedIn are great ways to find and contact your guests. However, they can be limiting. Twitter has a character limit and you can only direct message people once they're following you.
Email is still the most effective way to get in touch with someone, but nobody likes reading lengthy short stories that are 500 words long, especially if they're busy (try taking in huge blocks of texts on your phone whilst walking down the street!). Make sure you get to the point quickly, but in a polite manner. Try and keep it simple, like this:
​

Hi [GUEST NAME],

I'm [YOUR NAME], host of [PODCAST NAME], which focuses on [YOUR TOPIC].

I'd love to have you on as a guest to discuss TOPIC. Some of my previous guests include GUEST NAME 1, GUEST NAME 2, and GUEST NAME 3.

Would you be interested in recording an interview to discuss [TOPIC]?

Some of the questions would also give you the opportunity to share more information about your NEW BOOK/NEW COURSE/UPCOMING EVENT.

[Upsell your reach, like podcast downloads per episode, social media engagement or website traffic].

Here's the link to my scheduler so that you can pick a date and time that works for you:
YOUR SCHEDULER LINK.

Let me know!

Have a great day,

[YOUR NAME]
[PODCAST NAME]
[PODCAST WEBSITE]
​If you've already had guests on your show before then link them to the best ones so they know what to expect. You may end up going back and forth trying to work out the best date and time to talk with your guest. If that's the case then use Doodle or Calendly to book time slots on a day of their choosing.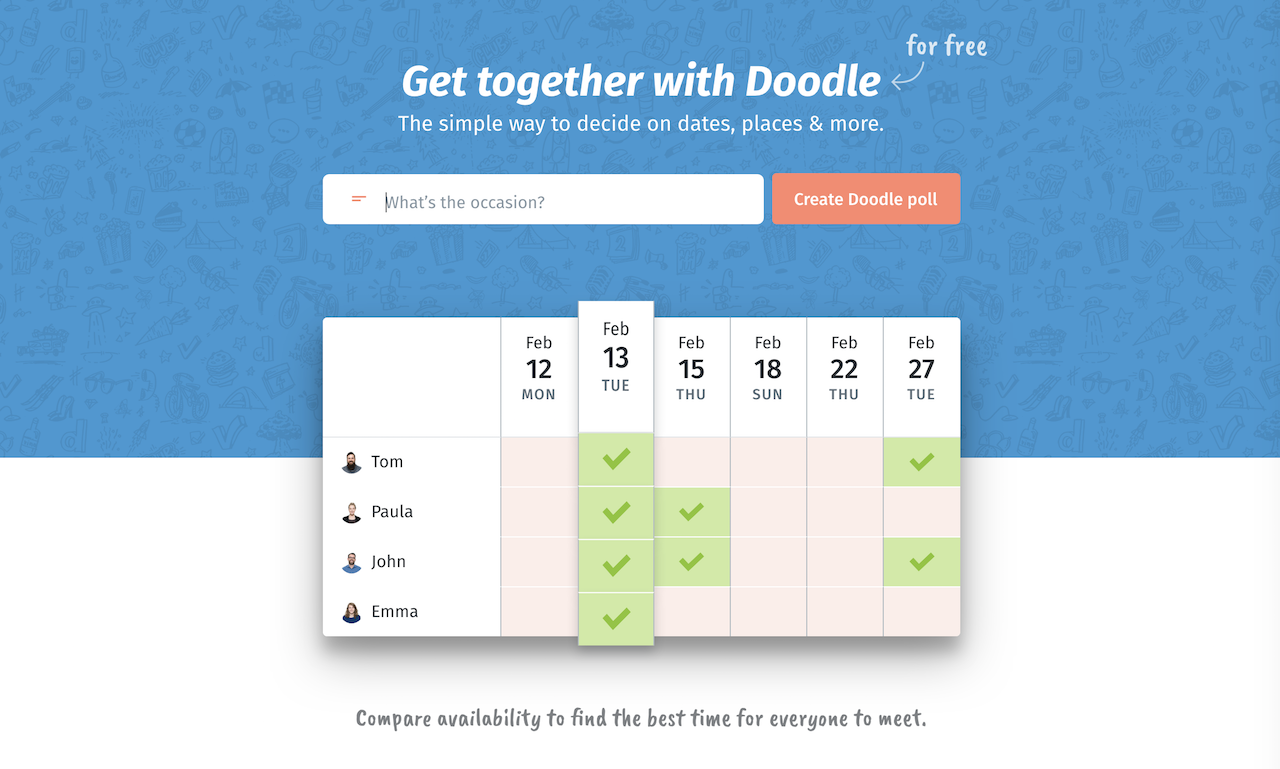 Key Takeaways

To find podcast guests can be challenging at first. With time it gets a little bit easier as your profile builds to discover and invite guests. Chances of landing higher profile guests increase by showcasing benefits that can help them. Things like backlinks to their site or merchandise, increased visibility online, and reaching their target audience.
Guests don't owe you anything, so if they don't share or talk about the episode then that's ok. Try and make is as easy as possible to share your show by mentioning them in a tweet or Facebook post so they can just hit the re-share button. If they're happy with everything and it's convenient then they don't have any reason not to share it with their followers.