Podcasts are where listeners are at these days. People catch their favourite shows everywhere, whether that's at home with smart speakers like the Amazon Echo, at the office, or on the move.
The point is, there's an increasing demand for content to become available on places like Apple Podcasts, Spotify, and Google. Don't get left behind; repurpose your content. Convert your audiobook into a podcast to share your stories and reach more listeners.
Why You Should Convert Your Audiobook into a Podcast
Podcasts are getting huge! Last year, around 575 podcasts were created every single day. Businesses, brands, and even average joes are starting their own show to spread their content further, so don't miss your golden opportunity.
Honestly, there's not much difference between audiobooks and podcasts. Both are spoken word audio files that can be downloaded and listened to online. The only difference is structure. Audiobooks tend to be long, whereas podcasts are usually short (but not always the case).
Get more out of your audiobooks by converting chapters into episodes for bite-sized content. Take Dracula - Stalwart Audio Drama, focusing on the most well-known vampire. What would have been an hour-long audiobook is now 4 short podcast episodes.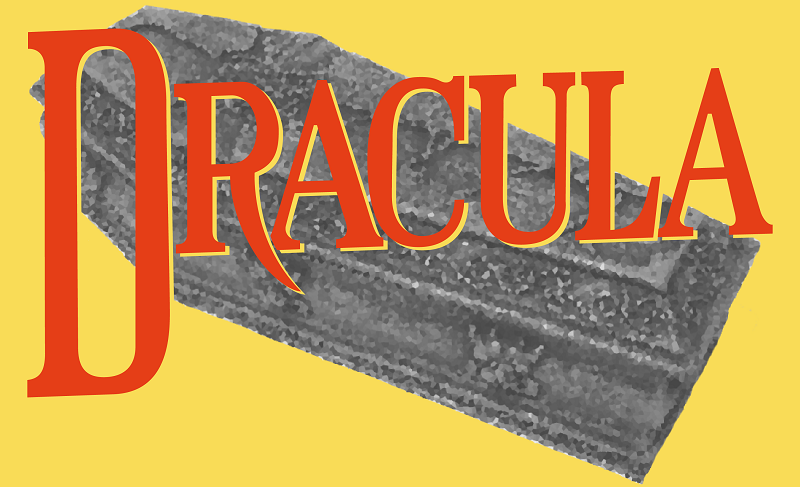 Shorter content means you can drip feed your stories to keep listeners engaged; perfect if you plan on monetising your podcast.
How Audiobooks to Podcasts Works
Converting your audiobook into a podcast is a lot easier than you think:
Convert audio into MP3 (if it isn't already).
Distribute to listeners via their favourite player.
Publishing all your audiobook as a podcast might overwhelm your audience. Give listeners a taste of what's in store by going the extra mile and creating a trailer, people can dip their toes into your shows!
Creating a Home for Your Podcast 🏡
Podcasts need a place to live. Easily upload, manage, and share your stories with Podcast.co. Designed to make podcasting radically easy, unleash your audiobook's true potential. There are no technical bits, so you create a podcast in minutes, not hours.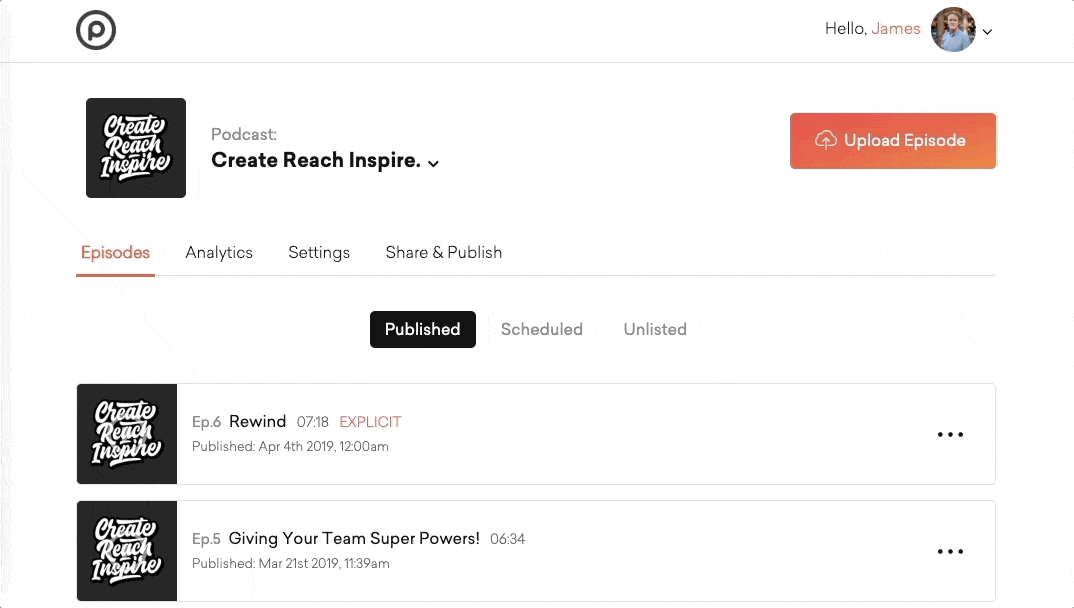 Creating a home for your audiobooks isn't hard, but the team at Podcast.co are always happy to help. Hit the bubble in the bottom right corner for a quick chat or create your podcast right away 👇
How to Split up Your Audiobook

Most audiobooks are long. Podcasts often work best as short episodes (ranging from 10 mins to 60 mins max), so you need to split up your audio before uploading to Podcast.co. For this example, we're using the following:
Open up your audiobook in your editing software. In Audacity it looks like this: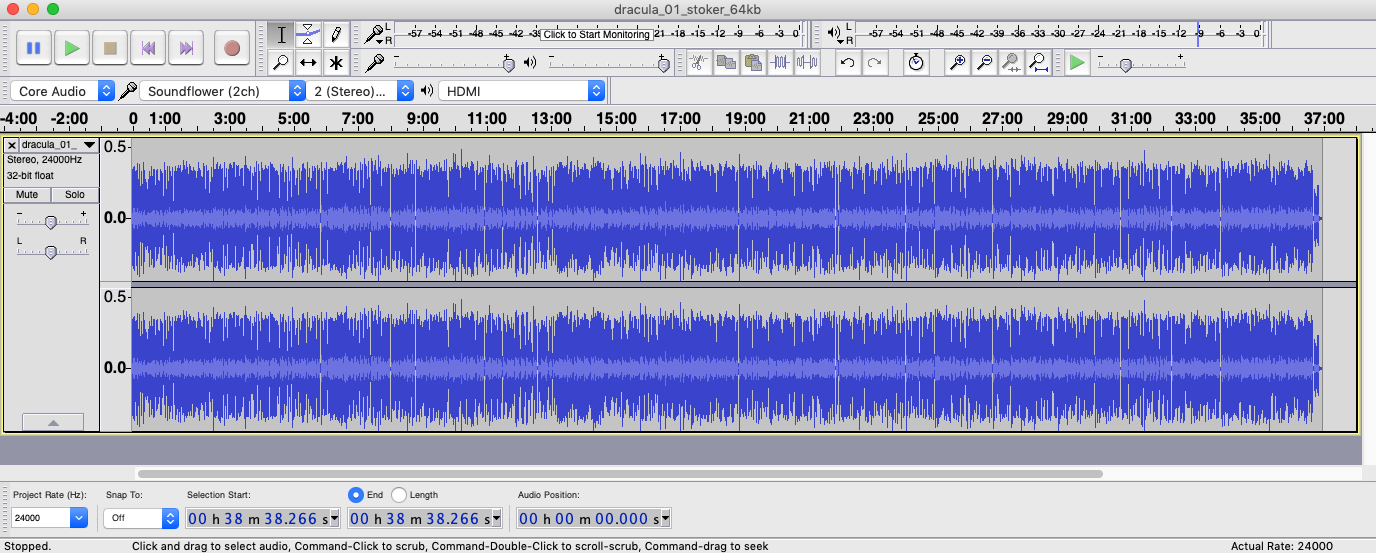 There are a few things you can do here. If you want a professional sounding podcast, then select the audio you want, open it in a new file, and record an intro and outro. For the purposes of this guide, we're going to select the audio we want for just a 10-minute episode and then export.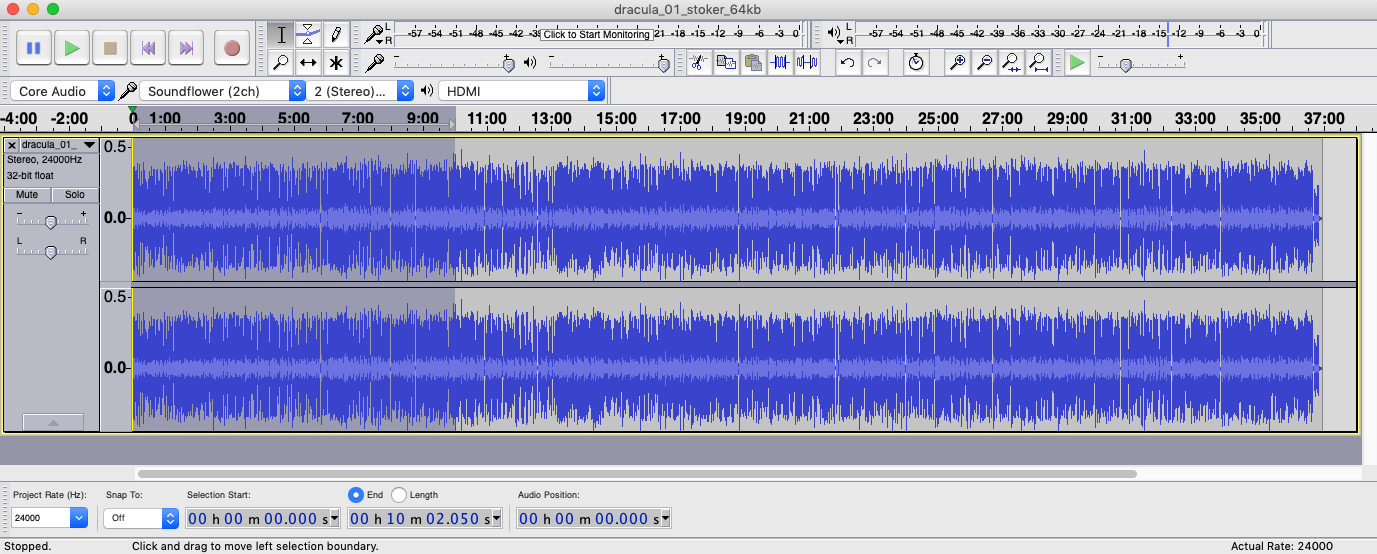 Export the audio by going to File > Export Selected Audio. Leave the settings as they are, but make sure you're exporting the audio as MP3.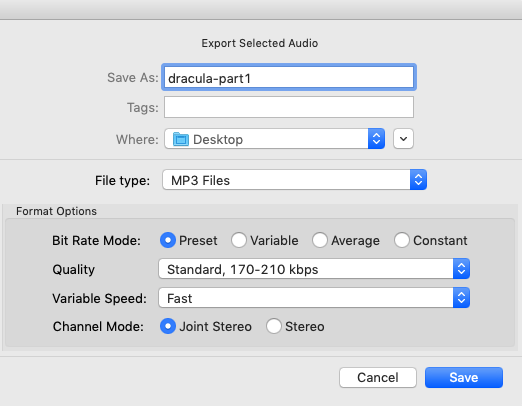 Once you're happy with your audio, get ready to upload and share your podcast.

Uploading Your Podcast
Login to your Podcast.co account. If you're not familiar or want a crash course on how everything works, then check out the podcast studio overview help guide. Upload your podcast within your dashboard by selecting Upload Episode or dragging and dropping in your file.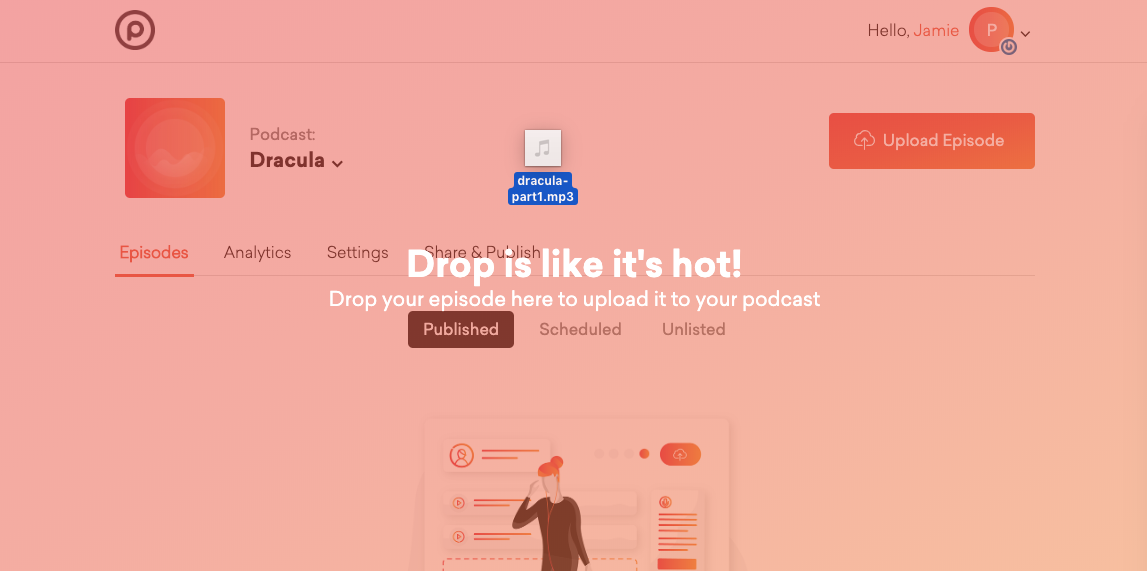 Once your audio has uploaded, fill out the episode info. Add as much detail as possible so it's clear for listeners what your podcast is all about.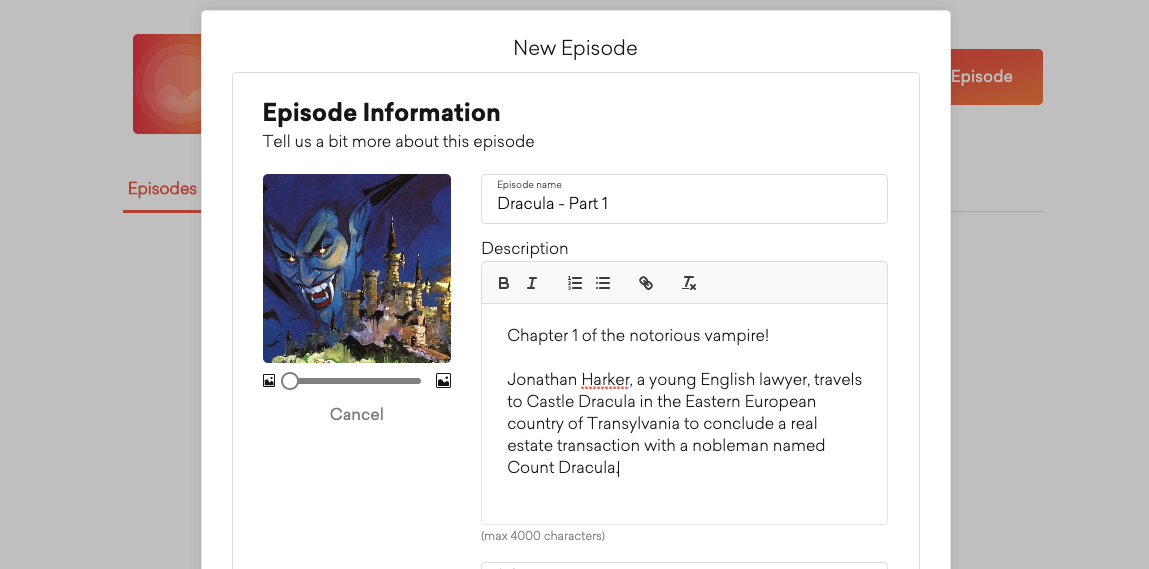 Finally, choose how you want to publish your episode. Public is accessible to anyone with a link, scheduled will be made public later, and unlisted is for your eyes only 👀 (and whoever else you share it with).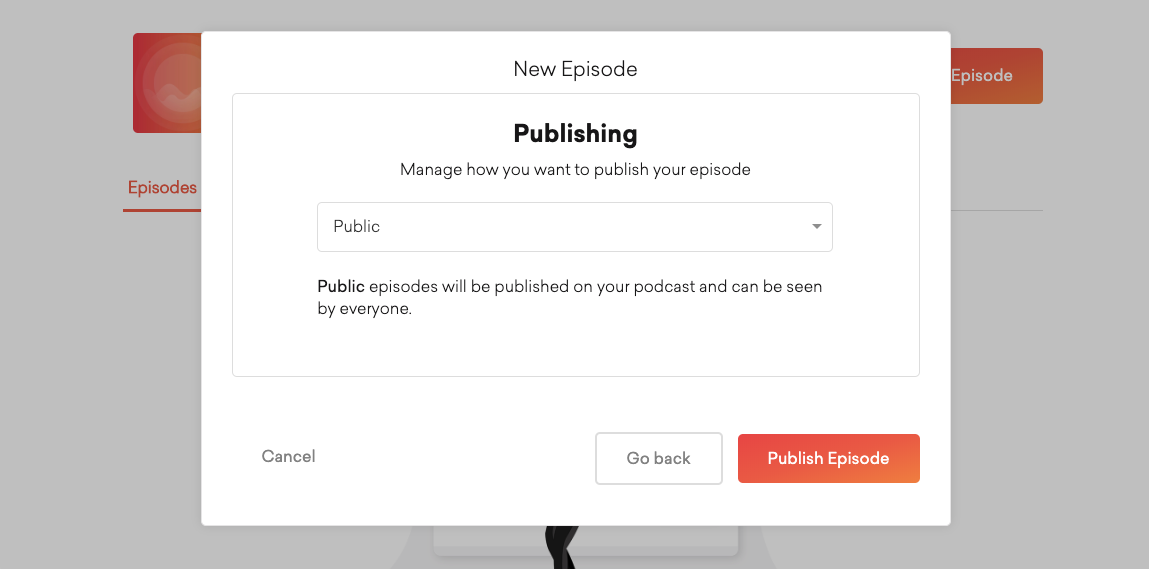 Once the episode has been processed, you can share it with your listeners.
Sharing Your Podcast with Listeners
All your uploaded episodes can be managed and listened to via your dashboard: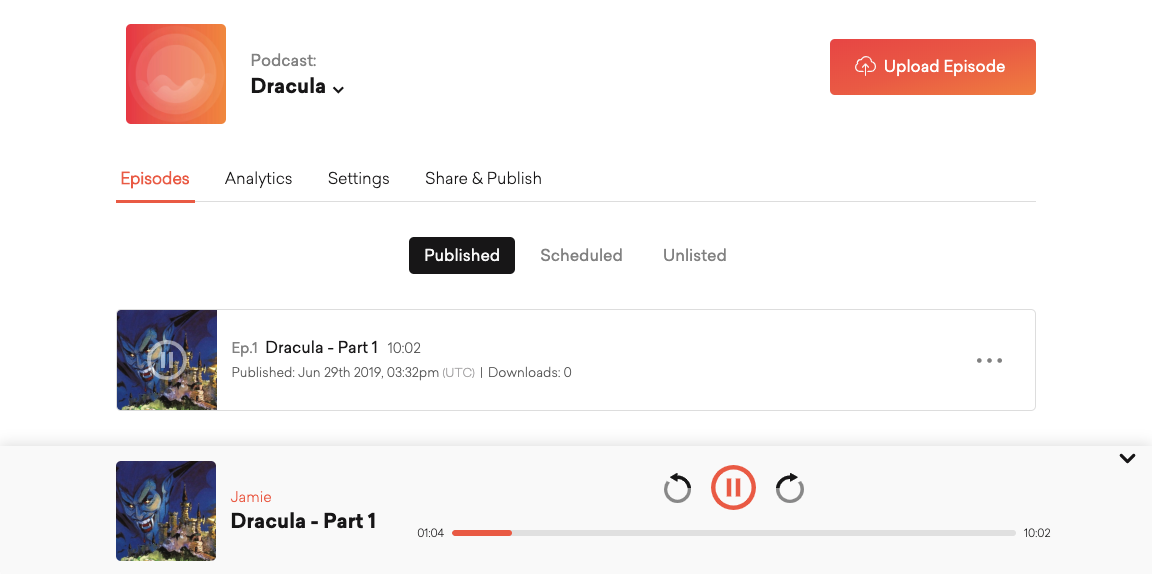 Besides sharing your podcast directly with listeners, there are a couple of ways your shows can get discovered.

Directories like Apple Podcasts and Spotify are where most people are at these days. Submit your podcast to as many places as possible to get noticed. Alternatively, let us do all the leg work for you by submitting podcasts on your behalf.
Pod pages list all your episodes and updates automatically, so you don't have to lift a finger. A dedicated place is ideal for listeners that want to catch up on all your shows. Easily create your pod page by following this guide.
Players are by far the handiest tool to share your podcast. Embed all your shows or one-off episodes on your website - here's our own founder's podcast on business best practices and insights:

How Podcast.co Can Help 💁

With more people listening to podcasts than ever before, now is the best time to start converting your audiobook into a podcast series, but you don't have to go it alone.
Podcast.co has a maverick team of audio experts ready to help you get started. From editing your files to make them sound professional to strategy and concept development to help grow your audience, everything you need is all in one place. Get the ball rolling and create a FREE account today or talk with our team by hitting the bubble in the bottom right corner.